Bonanza: The Official Sixth Season, Volume 1
List Price: $58.98 [Buy now and save at Amazon]
---
The Cartwrights continue to ride the range. CBS DVD and Paramount continue their terrific, extras-filled releases of the 1960's most successful TV series with Bonanza: The Official Sixth Season, Volume 1, a five-disc, 18-episode collection of the legendary, iconic TV Western, starring Lorne Greene, Pernell Roberts, Dan Blocker, Michael Landon, and a host of superlative guest stars in this their 1964-1965 season. CBS and Paramount, not stinting on the bonuses for these beautifully restored transfers, comes up with another load of extras for the fans, including commentary tracks, cool snippets of the stars in action on other TV shows and specials, more of those sweet, sweet Chevy ads, and socko behind-the-scenes stills of the series in action.
It's 1862, and gold and silver fever are sweeping through the hills and valleys of the celebrated Comstock Load. Virginia City, Nevada, sitting right on top of those millions of dollars' worth of ore, is bustling with miners, settlers, businessmen, rustlers, con artists, and killers. And butting right up against Virginia City is the massive Ponderosa ranch, a thousand-square mile New World Eden filled to the brim with pine and beef. Overseeing this operation is voice-of-God Ben Cartwright (Lorne Greene), the thrice-widowed land baron who watches over his spread as fiercely--and as tenderly--as he does his three grown sons. Eldest, Adam Cartwright (Pernell Roberts), is the most serious of the three siblings, and the one who works most directly under Ben in running the Ponderosa. His mother the daughter of a New England sea captain, Adam was schooled back East as an architect and engineer. Middle son Eric "Hoss" Cartwright (Dan Blocker) gets his massive physique from his mother, a six-foot tall Swede who reportedly could punch like a mule. Hoss, who may seem rather dim or naive at times when he's not killing a bear with only his hands or knocking down a tree, is in reality quite sensitive to his surroundings and to the sufferings of others. Finally, Little Joe Cartwright (Michael Landon), the youngest son, gets his smoldering dark looks and equally tempestuous nature from his beautiful half-Creole mother, whom Ben met during a trip to New Orleans' French Quarter. Little Joe is certainly the most reckless of the clan, relying on his charm and his fast fists to both get him into trouble, and out of it again...especially if there's a lady involved. Protective of the Ponderosa, which they carved out of the wilderness, the Cartwrights nonetheless inevitably get involved week after week in the troubles of others, who look to the land barons as one of the few stabilizing forces in the wild and wooly excesses of the Old West.
In my previous reviews of Bonanza, I wrote extensively about the series' inception, its production, and the aesthetic and thematic framework underpinning the show's construction. So, as I wrote before, I'll try not to cover the same ground in this review...although it's next to impossible not to when Bonanza's forte--compelling drama anthology stories within a Western framework, expertly produced and performed--is so consistently, even routinely, on display here, week after week, season after season. It's always more difficult to get a complete handle on a particular season after only viewing half of it, but several themes do make themselves apparent in these first 18 go-arounds.
As with previous volumes of Bonanza, a few episodes fall into what I call the "meat and potatoes" category of entertaining, well-done, solid outings...which nonetheless could crop up in any dramatic anthology series, minus the Western trappings. The Hostage is a familiar, standard kidnapping story, with Greene working on leader Harold J. Stone's insecurities when it comes to his young wife, Jacqueline Scott--well done...but no surprises here. A Man to Admire seems to promise so much more when we're introduced to the quirky, drunk lawyer James Gregory, who worked with Abraham Lincoln and who seems to be a master of all games. Too bad the story then rather quickly morphs into a watchable but well-worn courtroom exercise with a neat finish that Perry Mason would have enjoyed. And The Ballerina, featuring a stand-out performance by character actor Douglas Fowley (Battleground), is a heartfelt but rather curious mix--even for Bonanza's flexible format--of familiar father/daughter/beau dynamics coupled with a dance story featuring several extended dance sequences, all of which seems to have only the faintest relationship to the Ponderosa and the Cartwrights.
Several episodes this first half-season continue on with one of the series' well-established themes: the Cartwrights' almost selfless desire to put themselves out for any stray that comes along in the hopes of rescuing or reforming them. In The Scapegoat, Hoss comes upon hapless, accident-prone boxer George Kennedy trying to kill himself. Promptly inviting him to the Ponderosa to live and work, Kennedy's secret past soon envelopes the Cartwrights in a life-or-death showdown (Kennedy, one of my favorites, should never try for "bumbling" comedy). In Square Deal Sam, written by Jessica Benton and director Murray Golden, Hoss brings home yet another set of strays, this time con artists Ernest Truex and Nydia Westman (The Waltons), where the delightful Truex gets caught in (and slips out of) more scrapes than the Cartwrights can keep track off (stage legend Truex is absolutely adorable here in this funny outing). Hoss isn't the only one to take kindly to strangers; Ben takes a shine to half-breed Indian Charles Bronson, defending him against racist townies in Don Mullavy's The Underdog. The switch here: Bronson's in on the gag, doing a bit of the Skin Game dodge with his white crony Tom Reese to fleece all those well-meaning liberals who feel guilty about how the Indians were being treated (interestingly here, Bronson isn't reformed, as is usually the case with Cartwright "projects;" he's killed in a fight with Little Joe).
Even old friends of wise Ben Cartwright lie to him and deceive him; in Logan's Treasure, ex-con Dan Duryea returns from prison after 20 years, grateful for Ben's sole support and belief in his innocence over the theft of some Wells Fargo gold dust. Of course, it's later revealed that he's far from innocent, but in more typical Bonanza fashion than The Underdog, he's reformed at the end (Greene shows what an authoritative, skilled performer he was with a wonderful scene where he lays it out for equally-talented Duryea: he's traded the prison's chains and walls for new binds--greed and hate (young Tim McIntire is quite effective here, too). And in The Far, Far Better Thing, Joe discovers the Indian brave he stood up for in school, even when Joe was beaten for it by the other boys, no longer feels obligated to honor that loyalty when he tries to kill Little Joe, Last of the Mohicans-style. Apparently, only cynical, sardonic Adam seems immune to falling for duplicitous sentiment and nostalgia on the Ponderosa.
Bonanza's willingness to tweak or even criticize long-held Old West myths (or perhaps more accurately: Hollywood Old West myths) continues here, as well. In the season opener, Invention of a Gunfighter, scripter Daniel B. Ullman paints an entirely different portrait of a bounty hunter than was found in Steve McQueen's hit Western, Wanted: Dead or Alive. Timid, humiliated Guy Stockwell has Little Joe teach him how to defend himself, and then quickly becomes a sadistic, cock-sure gunslinger goading his quarry into deadly duels. The highly American notion of a wimp evolving into a self-reliant, macho hero, is shown to disgust the Cartwrights and the law-abiding citizens of Virginia City, who come to view Stockwell as an amoral monster that needs to be stopped (the episode doesn't have the courage, though, to examine the gray area where he operates: as a bounty hunter, killing criminals the citizens don't want around, either). In The Wild One, Aldo Ray plays another positive Hollywood Western archetype--the rugged loner who works off the land, busting broncs--but here, the archetype is shown to be a boozy, violent, near-psychopath who has no compunction maiming horses or callously rejecting his unwanted child (of course he's reformed at the end!). Best of all, A Dime's Worth of Glory, written by Richard and Esther Shapiro, finds Western pulp fiction writer Walter Brooke taking sadistic pleasure in molding drunken sheriff Bruce Cabot into a phony, pumped-up hero lawman to sell books...and, grotesquely, to titillate himself. It's a remarkably clear-eyed view of how the process of art can distort reality, particularly when personal frustrations and demons pervert and obscure perception (Greene again has a marvelous scene with Cabot when he tells him a painful truth: people will eventually forget a man's accomplishments as he slows down and grows old because that's life). Considering the fact that many so-called TV critics and historians today would unfairly consider Bonanza an example of glossed-over 60s television "entertainment" airing something like A Dime's Worth of Glory shows just how deep the series truly was on a consistent weekly basis.
Standout episodes this half season run the gamut from drama to comedy...with the noteworthy humorous outings beginning to outnumber the more serious efforts (perhaps not unexpected, considering the continued rise of sitcoms on network TV at this time). The Saga of Squaw Charlie, written by Warren Douglas, gives familiar "heavy" Anthony Caruso a chance to shine as a kind, gentle-hearted Indian who is taunted by both the White and Indian cultures for refusing to fight. We get a rather muddy picture of how Ben acquired the Ponderosa here (he claims he didn't "take it" from the Indians...and yet he plans to give some land back to them), with the episode refusing to go any further into the weeds on this sticky subject (the trumped-up "trial" of Squaw Charlie is certainly pertinent with today's headlines, with the town's rabble saying screw the facts and the rules of law: we want blood because we think we should have blood). Ed Adamson's Between Heaven and Earth is a nerve-wracking outing for Michael Landon, who does quite well in this intriguing Freudian actioner, as Little Joe is pushed to the psychological breaking point when he can't understand why he's so afraid of heights. My favorite serious episode this half-season, though, is scripter Jerry Adelman's Thanks for Everything, Friend (doesn't that sound like the coolest spaghetti Western you never saw?), a remarkably deft, sly effort for Pernell Roberts and particularly Rory Calhoun, who plays an ultra-cool, ultra-manipulative anti-hero to absolute perfection (real-life tough guy Calhoun, a routinely underrated performer, out-Huds Paul Newman here in an Emmy-worthy performance). There's a teasing, "is he or isn't he a friend?" quality to this outing that's as sophisticated and cynical and sardonic as anything you would have seen on the big screens in 1965, marking this as one of my favorite Bonanza episodes from any season (that unexpected ending is just right).
On much lighter notes, standout comedy episodes this half-season include The Flapjack Contest, from Frank Cleaver, that highlights the delightful comedic timing between Landon and Blocker as Hoss yet again lets Little Joe bully him into a shady get rich quick scheme, this time involving starving himself to win a flapjack eating contest (director William F. Claxton's framing and editing during the slapstick moments are flawless). Another convoluted business scheme gone awry pops up in the sweet Old Sheba, from writer Alex Sharp, when the Cartwrights get stuck with an affectionate elephant from crafty circus con man, William Demarest (Greene, so good at being serious, is also quite funny when he plays broad; his reaction shot at seeing Sheba for the first time is priceless). Director John Florea's nimble hand is evident throughout (I love the modern feel of Little Joe's "thumpin' exercises," which apparently include braining Hoss with an 8 x 4). Quirky, talented Joan Hackett makes a strong comedic impression in Suzanne Clauzer's delicious Woman of Fire, a Taming of the Shrew homage that gives departing Pernell Roberts something to sink his teeth into, with smooth Cesare Danova lending good support. Perhaps in an effort to convince Roberts to stay, yet another juicy comedic effort is thrown his way in A Knight to Remember, a beautifully crafted episode by scripter Robert V. Barron and director Vincent McEveety, and co-starring one of my all-time favorite performers, Henry Jones (his supporting stint in the macabre The Bad Seed is about as good as it gets). Jones thinks he's King Arthur (or does he?), and he rides around the range in a tin-plated knight's getup, repeatedly rescuing Adam from a spooked gang of banditos...before inadvertently sending Adam right back into jail when nobody believes his story. It's a charming outing for Roberts (who looks like he's having a ball) and especially Jones (god I miss actors like him today), effortlessly combining slapstick and whimsy and even a tiny bit of sadness, in yet another example of Bonanza's ease at delivering top-flight entertainment across a broad spectrum of styles.
The DVD:
The Video:
Excellent. The full-screen, 1.33:1 color transfers for Bonanza: The Official Sixth Season, Volume 1 look amazing, with rich, deep color, minimal grain and picture noise, and a sharp, sharp image. I know these look better than they ever did back when they were first broadcast.
The Audio:
The Dolby Digital English split mono audio tracks have been cleaned up and re-corded with little if any hiss and at a vigorous level. English subtitles are available.
The Extras:
Here we go again with certainly the most consistently loaded set of extras for any extended television release I've ever reviewed. First, you can watch Invention of a Gunfighter, The Hostage, Logan's Treasure, and a A Knight to Remember with the option of the original NBC network logo, bumpers and Chevy promos. I live for these vintage promos, when stars were contractually obligated to sell the products that budgeted their shows (how much fun would it be to see Mad Men hack Jon Hamm speiling for Alpo?). Check out the extended special, "Chevrolet City," on The Hostage, where The Man From U.N.C.L.E.'s Robert Vaughn drives a Corvair, and where a mini-Bewitched episode, complete with lots of pop-ins and outs, showcases Elizabeth Montgomery and Agnes Moorehead to decidedly odd, even strange advantage (check out hotter-than-hell Montgomery's weird, sexy stare...and Blocker's priceless double take to Morehead's purring come-on). Special on-air promos for Bonanza can be found on The Wild One and Old Sheba, while rare photo galleries can be accessed on every episode exceptThe Wild One and . Episode commentary tracks are included on A Dime's Worth of Glory (Esther and Robert Shapiro speak, with lots of solid info on the TV writing game at the time), and Between Heaven and Hell and Old Sheba, both with DVD producer and historian Andrew J. Klyde (as I've written several times before, I really enjoy his stuff...but please don't mention Tarantino and racist garbage like Django Unchained on a Bonanza commentary). Finally, two cool clips of the Bonanza cast in action on other TV shows are included: Michael Landon sings Lonesome Road for the Highway of Melody TV special, and Lorne Greene does a brief comedy bit with Allan Sherman before sing-talking his big hit, Ringo...which Sherman then delightfully sends up. Again, another amazing collection of extras.
Final Thoughts:
How do you keep finding different ways to say the same thing? Simply put, Bonanza was one of the most accomplished series in television history, while these DVD sets from CBS DVD and Paramount are some of the cleanest, sharpest, most extras-packed TV releases I've ever seen. Our highest award here at DVDTalk for Bonanza: The Official Sixth Season, Volume 1: the DVD Talk Collector Series.
---
Paul Mavis is an internationally published movie and television historian, a member of the Online Film Critics Society, and the author of The Espionage Filmography.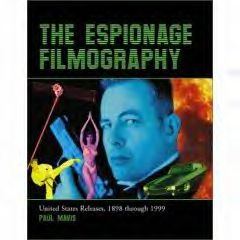 ---
C O N T E N T

---
V I D E O

---
A U D I O

---
E X T R A S

---
R E P L A Y

---
A D V I C E
DVD Talk Collector Series
---
E - M A I L
this review to a friend
Sponsored Links
Sponsored Links