Midsomer Murders: Series 2
List Price: $59.99 [Buy now and save at Amazon]
---
"Every time I go into any Midsomer village, it's always the same thing: blackmail, sexual deviancy, suicide, and murder."

Early Midsomer mayhem, and no less tasty for the vintage. Acorn, now repositioning their Midsomer Murders releases along proper, original U.K. broadcast order, has released Midsomer Murders: Series 2, a two-disc, four-episode collection of the second "season" ("series" in BritTV-speak) of the long-running international smash hit mystery. Episodes included are: Death's Shadow, Strangler's Wood, Dead Man's Eleven, and Blood Will Out, all of which aired in the U.K. back in 1999. Minor text bonuses are included in these okay full-screen transfers.

For those new to the series, Midsomer Murders details the continuous mayhem (which nobody seems to notice or comment on) that afflicts rural, affluent (and fictitious) Midsomer County. Bodies drop like flies, and in the most appalling ways, and it's up to Detective Chief Inspector Tom Barnaby (John Nettles) of Causton's Criminal Investigation Department, to clean up the mess. He's aided by Detective Sergeant Gavin Troy (Daniel Casey), a young, callow officer who frequently states the obvious to the sarcastic Barnaby, and who makes no bones about his prejudices--but whom Barnaby finds increasingly helpful during their investigations. Lending a hand with vital forensic data is seasoned, sardonic coroner Dr. George Bullard (Barry Jackson), with blase, unconcerned Dr. Dan Peterson (Toby Jones) stepping in a few times here for Bullard. Barnaby's settled home life is represented by Joyce Barnaby (Jane Wymark), Tom's put-upon wife (who frequently loses her husband to a case right before an important event in their social life), and Cully Barnaby (Laura Howard), their somewhat directionless daughter (she wants to be an actress), making frequent appearances.

Having sort of jumped into the middle of Midsomer Murders back in 2006 when I first started reviewing for this site, I couldn't resist the chance to "start over" with these new Acorn re-releases, arranged in proper U.K. broadcast order (a big plus for DVD-OCDers like myself). As I've written before, what marks Midsomer Murders as unique is its knowing embrace of the genre its simultaneously sending-up and celebrating, with its delightfully strange, English black humor mixture of eccentric, deceptively quaint characters, a delicious sense of reveling in the macabre (as only the English seem to do with a straight face), and a distinctly English standoffishness in the face of Midsomer County's utter mayhem. Much of Midsomer Murders is smart send-up of the classic "English village" mystery genre; however, it's so competently done, with a genuine intent to surprise and mystify, that it can be enjoyed as either straight representation of that form, or as farcical commentary on it.

DEATH'S SHADOW

"A successful theatrical director, Simon Fletcher, returns to Badger's Drift, his head filled with disturbing childhood memories. Soon after, a local property developer becomes the first in a string of baffling murders. Barnaby and Troy investigate the murders, looking for a common thread." on-screen synopsis

Written by Anthony Horowitz and directed by Jeremy Silberston, Death's Shadow, incorporates quite a few motifs that will become standard issue for many subsequent Midsomer outings, such as: the silly, petty squabbles of insular village life, such as wranglings over church steeple committees and cranky petitioners trying to save old trees--squabbles that hide deep rage and anger that suddenly turn deadly; the frustration of perceiving to live a lesser, reduced life in a hide-away, small village (here, the vicar's wife unsatisfied with his puny position in Badger's Drift); the ever-encroaching threat of modernization that always seems poised to destroy these preserved-and-pickled villages and towns, a situation usually brought about by a scrabbling businessman or an upper class heir looking to get out...and opposed by class-conscious traditionalists; and of course, Midsomer's favorite target--the Christian zealot, who is either a delusional madman, or a killer...or frequently both (no other religions need apply for ridicule from England's P.C.-obsessed, aggressively secularist television industry). An entertaining entry, with an arresting opening of ominous flashbacks leading to a shock cut of a boy getting strangled, Death's Shadow gets some good laughs, as well, particularly from Tom's unconscious efforts to dodge his own re-commitment ceremony to Joyce (although I was disappointed not to see one particular corpse after Bullard's deliberately tantalizing tease: "Most of it is in the hall...the head bounced into the living room,"--a classic Midsomer line).

STRANGLER'S WOOD

"When a beautiful Brazilian woman is found strangled with a striped necktie in Raven's Wood, Barnaby experiences a disturbing sense of deja vu. His investigation leads him to a trail of blackmail, greed, and betrayal." on-screen synopsis

An oddly distant, subdued outing, considering the subject matter, with sexual perversion and another religious kook/killer on the loose. Something very basic about the mystery, the center of it--the death of the Brazilian model--doesn't feel solid or connected to the rest (maybe they should have introduced her as an actual character before killing her off-camera), while the tobacco angle feels message-y rather than clever. Laura Howard, looking dishy in her close-cropped do, gets more screen time than usual as she tries in vain to connect with her distracted father, Tom. Why, though, do they drop her budding romance with Troy before it even begins (maybe it comes up in later episodes)? Seems like that would have been fun, considering the two likable performers. As well, and I'm sure I'm in the minority...but I rather enjoyed Toby Jones' turn as the new forensics doctor, Dan Peterson. Bullard's grim irony is amusing at times, but I found Peterson's grubby, blase disinterest in his duties a funnier contrast to Barnaby's slow-boil frustration with this incompetent (what's interesting about Bullard always being right, and in lockstep with equally infallible Barnaby?). The measly one or two times that Barnaby breaks the rules is always interesting to watch (here, he lies about a non-existent investigation to score free theater passes for Cully), while scripter Horowitz slips in a steady stream of droll throw-aways (not knowing what a nervous Troy wrote to the local "Agony Aunt" is better than if we were told, while some of the drier lines are priceless: "She's been dying for years," says an unconcerned son of his sick, old mother, "We're getting used to it.").

DEAD MAN'S ELEVEN

"Shock ripples across the village of Fletcher's Cross when a prominent businessman's trophy wife is bludgeoned to death with a cricket bat. While the victim has no apparent enemies, her avaricious husband, Robert Cavendish, is hated by all." on-screen synopsis

A bloody, mean-spirited entry (just the way we like them in Midsomer County), Dead Man's Eleven unfortunately continues series creator/scripter Horowitz's obsession with Christian whack-jobs: this time, it's the thoroughly reprehensible Duncan Preston and Imelda Staunton who leave a suffering woman to die so they can steal her valuable coin...a situation they derive sadomasochist sexual pleasure from, when they re-live the guilt of their act (contrary to what some might assume, I'm not outraged by the creation of these characters; I don't have a dog in this hunt, so to speak...but is it necessary to have this stereotype pop up in seemingly every other episode?). Midsomer episodes that focus on, or use as a backdrop, uniquely English aspects--in this case, cricket--are always welcome, while the cast is first-rate here (old pro Robert Hardy, in particular). Don't-rock-the-boat Tom's tribulations at the hands of his adventurous wife, Joyce, find some laughs here, too, as she shops around for a new house, but the best bit of the episode comes from Hilda Braid, who, as a home owner right off the cricket green--where balls routinely smash her windows--answers the door holding a garbage can lid ("I don't want to take chances.").

BLOOD WILL OUT

"Barnaby is enlisted to keep the peace when the arrival of two clans of travelers disrupts the tranquility of Martyr Warren. Local magistrate and Falklands War veteran Hector Bridges gets fired up about the interlopers and unwisely marches into the fray." on-screen synopsis

A dizzyingly convoluted--and pleasantly so--mystery that keeps you guessing almost to the end. Scripted by Douglas Watkinson, Blood Will Out uses the common term "travelers" for what we Americans would call "gypsies," but surprisingly, the episode doesn't make as much out of that fascinating backdrop as I would have liked (despite all the talk about the danger of "these people" by everyone, the generalized characters as written here could easily be transplanted into an "upper classes" Midsomer entry without much strain). What I did particularly enjoy was the feeling that everyone was in on the crime here, and that Barnaby knew it...but couldn't prove it (until the end, of course). It's always fun to see Barnaby realize he's being toyed with, lied to, deceived, and purposely misdirected, only for him to come back and outwit his tormentors. A complex little mystery, with plenty of enjoyable red herrings and blind alleys...but with a denouement that's unfortunately telegraphed too soon. Excellent supporting cast in this one (as is expected in most of the Midsomer entries)

The DVD:

The Video:
As I wrote in my Series 1 review: can you imagine a major television program from 1999 still shot in 16mm? The full-screen, 1.37:1 transfers look pretty good within the limitations of the stock...but the bigger problem is why didn't someone at Acorn upload these full-frame transfers to an anamorphic platform? What are they just windowboxed flat? Too bad they missed the boat there (if you want to re-package these for sale, you need some kind of marketing angle other than "original U.K. broadcast order,"). Otherwise, image quality is okay, with expected grain and a reasonably sharp image.

The Audio:
The Dolby Digital English stereo audio track is better, with infrequent but discreet separation, reasonable base, and no hiss. For the first time, these transfers included English subtitling, which is a big plus.

The Extras:
Two minor bonuses, both on-screen text: a map of Midsomer and production notes (new extras would have helped sales, as well...).

Final Thoughts:
Good, clean mayhem, with that distinctive, delightfully perverse British reserve. Midsomer Murders: Series 2 includes episodes that set the pattern and tone for many subsequent entries, so if you're a fan of the series, these should go down a treat. I'm highly recommending Midsomer Murders: Series 2.
---
Paul Mavis is an internationally published movie and television historian, a member of the Online Film Critics Society, and the author of The Espionage Filmography.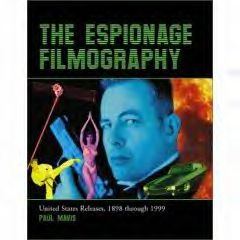 ---
C O N T E N T

---
V I D E O

---
A U D I O

---
E X T R A S

---
R E P L A Y

---
A D V I C E
Highly Recommended
---
E - M A I L
this review to a friend
Sponsored Links
Sponsored Links