Midsomer Murders: Series 4
List Price: $59.99 [Buy now and save at Amazon]
---
"This village is normally so...so peaceful."
Vintage Midsomer slaughter: some great...more not so great. Acorn, now repositioning their Midsomer Murders releases along proper, original U.K. broadcast order, has released Midsomer Murders: Series 4, a three-disc, five-episode collection (that's one more than the previous sets) of the fourth "season" ("series" in BritTV-speak) of the long-running international smash hit mystery. Episodes included are: Garden of Death, Destroying Angel, The Electric Vendetta, Who Killed Cock Robin?, and Dark Autumn, all of which aired in the U.K. back in 2000-2001. Minor text bonuses and a short 8 minute promo reel are included in these okay full-screen transfers.
For those new to the series, Midsomer Murders details the continuous mayhem (which nobody seems to notice or comment on) that afflicts rural, affluent (and fictitious) Midsomer County. Bodies drop like flies, and in the most appalling ways, and it's up to Detective Chief Inspector Tom Barnaby (John Nettles) of Causton's Criminal Investigation Department, to clean up the mess. He's aided by Detective Sergeant Gavin Troy (Daniel Casey), a young, callow officer who frequently states the obvious to the sarcastic Barnaby, and who makes no bones about his prejudices--but whom Barnaby finds increasingly helpful during their investigations. Lending a hand with vital forensic data is seasoned, sardonic coroner Dr. George Bullard (Barry Jackson), with blase, unconcerned Dr. Dan Peterson (Toby Jones) stepping in a few times here for Bullard. Barnaby's settled home life is represented by Joyce Barnaby (Jane Wymark), Tom's put-upon wife (who frequently loses her husband to a case right before an important event in their social life), and Cully Barnaby (Laura Howard), their somewhat directionless daughter (she wants to be an actress), making frequent appearances.
As I wrote in my previous Midsomer reviews of Acorn's re-release re-boot, having sort of jumped into the middle of Midsomer Murders back in 2006 when I first started reviewing for this site, I couldn't resist the chance to "start over" with these new Acorn re-releases, arranged in proper U.K. broadcast order (a big plus for DVD-OCDers like myself). As I've written before, what marks Midsomer Murders as unique is its knowing embrace of the genre its simultaneously sending-up and celebrating, with its delightfully strange, English black humor mixture of eccentric, deceptively quaint characters, a delicious sense of reveling in the macabre (as only the English seem to do with a straight face), and a distinctly English standoffishness in the face of Midsomer County's utter mayhem. Much of Midsomer Murders is smart send-up of the classic "English village" mystery genre; however, it's so competently done, with a genuine intent to surprise and mystify, that it can be enjoyed as either straight representation of that form, or as farcical commentary on it.
GARDEN OF DEATH
"When the owners of Inkpen Manor announce plans to turn the memorial garden on their grounds into a tea room, the villagers of Midsomer Deverell are outraged. But are any of them angry enough to kill? After members of the Inkpen family are murdered, Barnaby and Troy investigate." on-screen synopsis
Utilizing one of the now-standard Midsomer frameworks--a despised local gentry has plans to modernize (and thus eliminate) a village tradition, and subsequently gets it right in the neck for their effrontery--scripter Christopher Russell has fashioned a delightfully pissy, gruesome outing here, one of the best ones from these early seasons. The Inkpen family is another in a long line of insufferably snobby, entitled, imperious artistos from the Midsomer canon; as an Anglophile who fully wishes for the return of aristocratic rule in America (as long as I'm the one running the show), this outing was particularly entertaining due to Russell's many snappy, snotty put-downs and one-liners. Wonderful Margaret Tyzack has the icy, incredulous act down pat, with her, "Odious little upstart," rejoinder, or her amazed, "I have not sat 'further back' in my entire life," when she's asked to take a seat in the back of a meeting hall; however, Belinda Lang gets the best line of the episode, when an angry mob comes calling: "Oh, dear...rustics approaching," she sighs. Russell adds in equally expected (and welcome) Midsomer doses of kinky sex and quite amusing black humor (when Tom Chadbon is asked about his missing wife, he says he felt a deep sense of loss..."like losing one's favorite golf club."), complemented by Peter Smith's equally perverse direction (there's a remarkable shot from a shovel's P.O.V., sinuous and threatening and absolutely hilarious, as it sways back and forth before braining gorgeous Sarah Alexander, a shot that seems to be saying, with vicious delight, "You're gonna get it!"). A winner.
---
DESTROYING ANGEL
"The owner of the Easterly Grange Hotel dies and, on the day of his funeral, one of the new owners is murdered. Barnaby discovers plenty of suspects, but someone appears to be trying to kill them off before he can finish investigating." on-screen synopsis
A dense, convoluted (enjoyably so, of course) mystery from scripter David Hoskins. The use of the village fete is always a convenient Midsomer signifier for ritualized "happy" celebration masking deep-seated hostilities among the various village dynamics, and here, expanding that theme to include a not-so-innocent "Punch & Judy" show as a yearly vehicle for referencing village gossip, is a novel, intriguing idea. Quite a few sharp retorts here, particularly from the wonderful Samantha Bond (those sharp, pretty, angular features rather remind one of a puppet), whose arch bitchery and opportunistic sexuality is frequently diverting: telling the village fete committee that the festival will no longer be held at her hotel, she states, with the just slightest hint of a smirk, "I'm afraid you'll have to find someplace else to stick your May pole." More funny moments here, including Roger Frost as an oddball nudist conservationist, and the absolutely marvelous Robert Lang (one of my all-time favorites) as Woody, the friendly, befuddled croquet player ("If he tries to show you his pendulum stroke, just watch his hands," his wife tells Joyce Barnaby). Solid, tense direction from David Tucker, who juggles the dizzying number of red herrings and blind alleys with admirable skill (when he gives us a close-up of a number of suspects Tom is interviewing, he also shoots a tight shot of the Punch puppet listening, too; a funny moment that's also nicely creepy). Another superior example of the maturing Midsomer style, mixing black humor jokes, suspense, and brief flashes of violence and perversity, with genial aplomb.
---
THE ELECTRIC VENDETTA
"In Midsomer Parva, a gentleman farmer finds a naked, mutilated body in a crop circle. A local UFO expert suspects the involvement of extraterrestrials, but Barnaby and Troy think the crime originated a little closer to home." on-screen synopsis
What promises to be a fun, randy outing against the backdrop of phony UFO sightings and mysterious alien abductions/experimentations...turns rather predictable and pedestrian and downbeat at its conclusion. Written by Terry Hodgkinson, The Electric Vendetta initially had me stumped when bodies started popping up in local crop circles, sporting one burned hand and suspicious "probe holes" in their spines. A good supporting cast here includes the always-welcome Alec McCowen (adding his slightly weird, eccentric intensity), stalwart John Woodvine (having some fun as a randy, perhaps murderous landowner), Kenneth Colley as a hapless, naive "ufologist," and the effortlessly erotic Amanda Mealing playing the village bike, so to speak (she can generate an electric charge just by moving across the screen). McCowen's electrified house is a marvelous Midsomer invention...although I find it hard to believe coppers as smart as Tom and Gavin couldn't find a pair of rubber gloves or a rubber-backed bath mat or something insulated to use on those AC/DC door handles. There's also one of the more spectacular deaths I've seen in a Midsomerepisode: the town lothario (Patrick Baladi) fried in his car, which had been connected to a midway electric station. However, when the story starts to shake out as a decades-long love triangle gone sour (and homicidal), the fun peters off into dour familiarity. Too bad...but the performances help.
---
WHO KILLED COCK ROBIN?
"Plans for a wedding in Newton Magna are interrupted when the best man's father is found murdered. Turns out the whole village knew that the victim was having an affair with the groom's mother." on-screen synopsis
With the exception of an interesting murder here (Jane Lapotaire is killed, intercut with several spooky shots of Christopher as Dracula, where he's playing on the nearby tube), Who Killed Cock Robin? is a rather routine outing from scripter Jeremy Paul. The most intriguing element of the storyline--Tom's interaction with former convict and shady dealer Larry Lamb--is unfortunately given short shrift in favor of more familiar bed-swapping subplots and a final denouement that the audience sees coming a good half-hour before anyone else (it doesn't help that we never really believe the "Irish horse whisperer" is either dead...or that he's so central to Lamb's scam of selling a horse to an Arab sheik). Polly Hemingway as Lamb's ex, "Bubbles," is more interesting in her 2 minutes on screen than all of the major players here combined. Not an out-and-out misfire, so to speak...but it is rather blah.
---
DARK AUTUMN
"When the local postman is brutally murdered, many women in Goodman's Land are bereft. Since the postman had bedded them all, a jealous husband or jilted lover might be the culprit." on-screen synopsis
Unfortunately, what promises to be a funny, randy outing--the local postman is making far too many, um...deliveries, resolves itself with a rather ridiculous solution to the mystery. A beautiful set-up by scripter Peter J. Hammond, with postman Rupert Walz almost decapitated with a nasty billhook after several of the town lovelies have wistfully listened to his early morning rounds, continues with one puzzling blind alley after another, as a series of typically eccentric village suspects are paraded out. Funny moments include Tom caught dancing by Gavin and newcomer Gillian Kearney, and Tom's apt statement, "Why does everyone at this village seem to be 'at it?'" A good cast here, including Kearney (who has nice chemistry with Daniel Casey), and the always fun Nicky Henson as a loser antique dealer. Too bad the mystery's resolution is so ridiculous: once we're shown the killer, and he's forced by Tom to explain away each of his murders, his motivations for killing two of his victims are so lame and generalized as to not even make sense. Top-notch mystery, until you discover the ending is as dumb as you suspected.
The DVD:
The Video:
Much better. The anamorphically-enhanced, 1.78:1 widescreen image, though still a bit noisy and grainy due to the original Super 16mm filming stock, looks much improved over the previous three sets. Colors are bright, and the image is reasonably sharp.
The Audio:
The Dolby Digital English stereo audio track is solid, with infrequent but discreet separation, reasonable base, and no hiss. For the first time, these transfers included English subtitling, which is a big plus.
The Extras:
Two minor bonuses, both on-screen text: a map of the fictional Midsomer and production notes (new extras would have helped sales, as well...), are complimented by a short 8 minute promo reel from The Hallmark Channel, where Nettles and Casey, along with other behind-the-scenes personnel, briefly discuss the series.
Final Thoughts:
An uneven offering, with more episodes that are problematic than successful...but the ones that do work are as good as the early Midsomers get. I'm recommending Midsomer Murders: Series 4
---
Paul Mavis is an internationally published movie and television historian, a member of the Online Film Critics Society, and the author of The Espionage Filmography.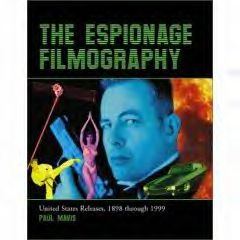 ---
C O N T E N T

---
V I D E O

---
A U D I O

---
E X T R A S

---
R E P L A Y

---
A D V I C E
Recommended
---
E - M A I L
this review to a friend
Sponsored Links
Sponsored Links