Air Hostess (Sony Choice Collection)
List Price: $20.95 [Buy now and save at Amazon]
---
"A Date in the Skies ... a Rendezvous in the Heavens...Where Love Zooms with Thrill After Thrill ... but Finds a Happy Landing!"
Familiar but crackerjack little pre-Code B programmer. Sony Pictures' Choice Collection line of hard-to-find cult and library titles has released Air Hostess, the 1933 action meller from Columbia directed by Albert S. Rogell, scripted by Milton Raison and Kenne Thompson, and starring Evalyn Knapp, James Murray, Arthur Pierson, Jane Darwell, J.M. Kerrigan, Thelma Todd, Mike Donlin, and Dutch Hendrian. No one is going to accuse Air Hostess of attempting anything new in its tired love triangle amid the clouds...but they're not going to fault it, either, for getting in there, telling its story without a lot of fuss, and then getting out. No extras for this super-sharp black and white transfer.
World War I, somewhere in France. American flyer Bob King lays dying, having been shot down by a German ace. His friend, Pa Kearns (J.M. Kerrigan), holds him, reading him a letter from his young daughter, Kitty, as Bob's other friend, ace "Lucky" Ted Hunter (James Murray), returns to Earth, having avenged Bob by greasing the Hun pilot. Putting on a good face for the dying Bob, Ted jokes about looking up his daughter when she gets older--a rather disturbing pronouncement that probably does more than German bullets to put Bob down for the final count. Fast forward to today, America, 1933. At the Albuquerque International Airport (one dirt runway), TWA pilot Dick Miller gets jealous when all-grown-up dish Kitty King (Evalyn Knapp), working as a TWA stew, innocently flirts with a passenger. Kitty tells Dick to blow (hmmm....), and they're off to the Glendale Grand Central Air Terminal in California, where Pa Kearns, now blind and possessing Steve Austin-worthy hearing, determines that Dick's approaching plane has a timing problem with one piston. That's not all that's wrong with the timing: a new pilot makes a date with Kitty, only to find the protective ground crew threatening to ground him permanently--into dust--if he doesn't break it off, which the little chicken does, to Kitty's fury. So imagine how ticked off they are when they discover blowhard lone wolf Ted Hunter, formerly a mercenary flying for the Bolivian and Manchurian armies, has whisked Kitty away for a bit of gambling and a little hey-hey south of the border. Eventually, Kitty marries Ted, against the advice of everyone, including Ma Kearns (Jane Darwell), with Kitty hoping he'll eventually land a sponsor for his experimental airplane (the wings fold up or something). However, when Ted does get a bite, it's from the clean, white, feral teeth of man-eater Mrs. Sylvia Carleton (Thelma Todd), three times married and many more-times mounted, and she's looking for a new victim....
I'm not sure what more you could want from an unpretentious programmer like Air Hostess. Scripted by Milton Raison (lots of B quickies like Billy the Kid's Smoking Guns and Bombs Over Burma, as well as numerous episodic TV credits, especially Westerns like The Roy Rogers Show and The Adventures of Kit Carson) and Keene Thompson (The Virginian, Mama Loves Papa, Wives Never Know), Air Hostess's love triangle between professionals in a dangerous, glamorous business--commercial air travel this time--was as old as the hills in 1933, let alone 80 years later. However, the scripters keep things snappy with some funny slang (hospitals are "pain laundries" and "chloroform distilleries"), some amusing gags (Ted crows that the other pilots are "sissies" for flying safe commercial flights...before his wrecked crate drops a strut on his head), and a fair number of semi-naughty pre-Code moments that might tickle your fancy. When Dick starts getting jealous of Kitty's flirting, she spits back to him, "You mean, when a passenger wants me to do a little high flying on my own account?" On her Mexican date with Ted, Kitty puts on a fashion show of revealing lingerie, clearly offering herself for sex (Ted, inexplicably, gets angry and tells her to scram). When they're married, Ted playfully spanks Kitty, making her laugh and giggle before a passionate embrace, while later, Mrs. Carleton, slinky in black satin and a heart-shaped beauty mark on her supple shoulder, tells tipsy Ted to ease off on the booze, because she doesn't want him too drunk, for, well...you know (and so did audiences back then, too).
True, there are moments here in Air Hostess that will crack you up with its outdated meller conventions, like the happy-go-lucky mugs who work on those crates, sticking up for their goil Kitty, who's gonna grow up to be a proper little lady, see (like none of them got to thinking when they saw wowzer Kitty smoothing down that skin-tight uniform?). Or the increasingly amusing ping-ponging accusations between Kitty and Ted, when Kitty can't believe that Ted would cheat on her...when she purposefully sent him to Mrs. Carleton for just that reason to score the contract, and when Ted can't believe that Kitty thought so little of him that she would make it easier for him to cheat...when he was clearly going to do it, anyway. Those moments in Air Hostess may get you snickering, but credit where it's due--everyone goes about their business here with an admirably straight face, giving the sometimes ridiculous situations an air of respectability we have no right to expect.
Evalyn Knapp, a WAMPAS "Baby Star" along with the likes of Ginger Rogers and Gloria Stuart the year before, was heading fast for more Bs and serials like Air Hostess, which is too bad, because she's a doll here: peppy and sassy, with a slightly off-kilter profile that's as sexy as her lean, lithe body (she sure looks good in those form-fitting uniforms...). James Murray, the "tragic" star of King Vidor's The Crowd, is clearly on his way to alcoholic oblivion here, looking quite soused (either good acting...or good acting while really drunk), with nasty bags and lines under his bleary eyes as he convincingly slurs his words. Too bad, as well, because even this obviously impaired, he has a natural tough-guy charisma that's as good as anybody else working in Hollywood at the time. Incredibly, within a year or so, Murray would be panhandling in the streets of Los Angeles, reduced to occasional uncredited bit parts, before he drowned (no one knows the exact circumstances) in the Hudson River in 1936 ("tragedy," by the way, is an innocent kid with cancer--not a famous, well-paid movie star who can't handle his fame and booze). As for talented, smoldering "Ice Cream Blonde" Thelma Todd...what can one write that isn't already apparent in that still below? Her role here is stock, but she plays her snotty, scheming socialite vampire as overripe and sensuous--just the way we want her to (a few years later, a lot of people in Hollywood would wonder what happened to her, too, when she inexplicably wound up dead in her car...in her garage).
Shepherding all of this is pro Albert S. Rogell, who cut his teeth on countless short subjects before he started churning out Bs in the early 1920s (Air Hawks, The Lone Wolf in Paris, Li'l Abner and probably his best known today, the horror outing, The Black Cat). With the help of ace cinematographer Joseph Walker (A-list entries like Only Angels Have Wings, His Girl Friday, Here Comes Mr. Jordan, A Night to Remember), giving Air Hostess a depth of field and sheen you wouldn't expect, Rogell keeps things moving along at a rapid clip, with some rather dynamic framing and blocking (there's a terrifically staged fistfight, with a cool foreground/background vibrancy), along with a corny, yes, but quite suspense wrap-up, including some hairy fly-bys next to a speeding train (which may have been lifted from other movies, as the opening WWI stuff was), and the obligatory washed-out trestle as fliers Ted and Dick try and stop the on-rushing train. Call it dated and predictable if you want, but Air Hostess has some crackle and spitfire to its frisky, lightning-fast plot, with a boffo ending to wrap it all up on a high note. In a cheap little B, that's a lot more than you can usually expect....
The DVD:
The Video:
The fullscreen, 1.37:1 black and white transfer for Air Hostess is razor-sharp, with a creamy gray scale, solid blacks and few if any screen imperfections. Excellent.
The Audio:
The Dolby Digital English mono audio track is good, too, with moderate-to-little hiss and a decent re-recording level. No subtitles or closed-captions available, though.
The Extras:
No extras for Air Hostess, not even a menu: put it in, and the movie just loops.
Final Thoughts:
Spiffy programmer, filled with action, snappy dialogue, some pre-Code naughtiness, decent performances, lots of vintage airplane porn, and a boffo action finale. Air Hostess, for what it is, comes highly recommended.
---
Paul Mavis is an internationally published movie and television historian, a member of the Online Film Critics Society, and the author of The Espionage Filmography.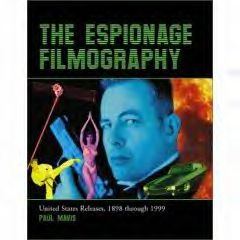 ---
C O N T E N T

---
V I D E O

---
A U D I O

---
E X T R A S

---
R E P L A Y

---
A D V I C E
Highly Recommended
---
E - M A I L
this review to a friend
Sponsored Links
Sponsored Links