List Price: $22.98 [Buy now and save at Amazon]
---
In 10 Words or Less
Dad is fat (and back on stage)
Reviewer's Bias*
Loves: Stand-up comedy
Likes: Jim Gaffigan
Dislikes: How often Gaffigan is spot-on correct about parenthood
Hates: Extra-less Blu-rays


The Show
Jim Gaffigan has established himself as a good-vibes comic who is neither angry nor mean. He also has a few signature bits that now somewhat define him as a stand-up, most notably his "Hot Pocket" jokes. It's hard for a comic when they achieve such a definitive level of success. You have to make a choice to either embrace your popular jokes and run with them or try to come up with something new and possibly disappoint your paying customers. For someone like Patton Oswalt, it's unlikely his fanbase, which is of a more alternative nature, is expecting him to pull out his "sadness bowl" bit every time he takes the stage. For Gaffigan, who is more mainstream and likely to appeal to middle-American crowds, there's always a chance that a Freebird-esque cry for "Hot Pocket" will rise from the crowd.

So it is no surprise that Gaffigan's act, several specials into his career, still leans on some standard elements, including talk of food and family. Though that famous food pouch jingle is not heard during his set, recorded at the Wilbur Theater in Boston, he does make good use of his trademark commentating voice to offer the audience's disapproving criticism, so anyone who enjoyed his previous shows, like "Beyond the Pale" or "Mr. Universe," will have that to hold onto as Gaffigan touches on new areas like the similarities between cats and humans, men's relationship with Victoria's Secret and bar culture. If they happened to read Gaffigan's Dad is Fat, there will be added familiarity, as several sections of the book are delivered verbatim in this special, including some of the funniest moments, like a comparison of nursery school and bars and a look at babies as bad roommates.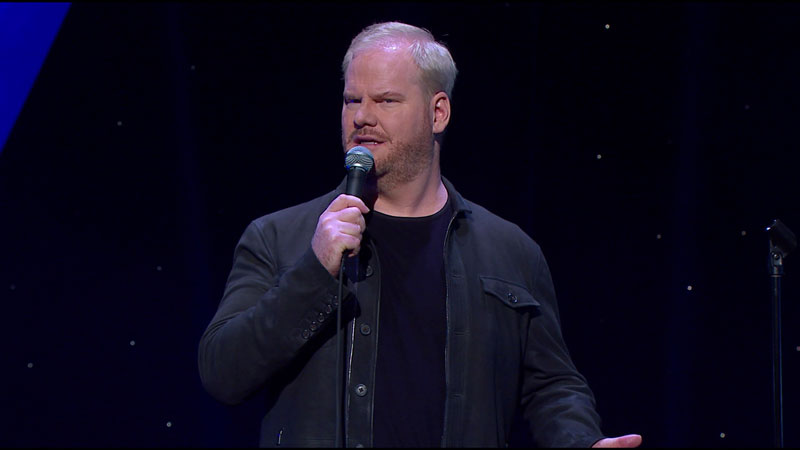 Gaffigan's bits about food are his best, and make up most of the first half of the special, including his thoughts about fruit, donuts and ranch dressing, as well as a discussion of health foods, focusing on kale and the ridiculousness of Whole Foods These riffs offer segues into things like southern culture, over-the-top weddings and hygiene products, but the best is when he talks about Boston and its obsession with seafood. I'm not an easy laugh, but when he talks about lobster, crabs and oysters, I was in tears, as he hilariously dismisses the popularity of each creature as food. Coming right in the middle of the special, it's perfectly situated to pace out the show, and is a high point of the food section of the special.

Aside from covering food, family gets the spotlight, powered by talk of his five kids and his experience with babies. Though considered a clean comic, his tales of fatherhood are hardly saccharine, as he talks about dying in order to get out of his daughter's future wedding and the likelihood that he'll die of cancer. It's some dark stuff for a guy known for silly material, even during the rest of this very special, and the audience is caught a bit off-guard, but it remains quite funny, in part because of the irreverent way he talks about family. Gaffigan manages to strike a balance between what's expected of him and something new and different, while making both sides as funny as he's always been.

As of this writing, the show has not premiered on Comedy Central, where it is expected to be about 30 minutes shorter. It's unknown what material won't make it to TV, but there's certainly not 30 minutes of jokes that could be easily cut. Those not seeing this version will definitely be missing out on some good stuff.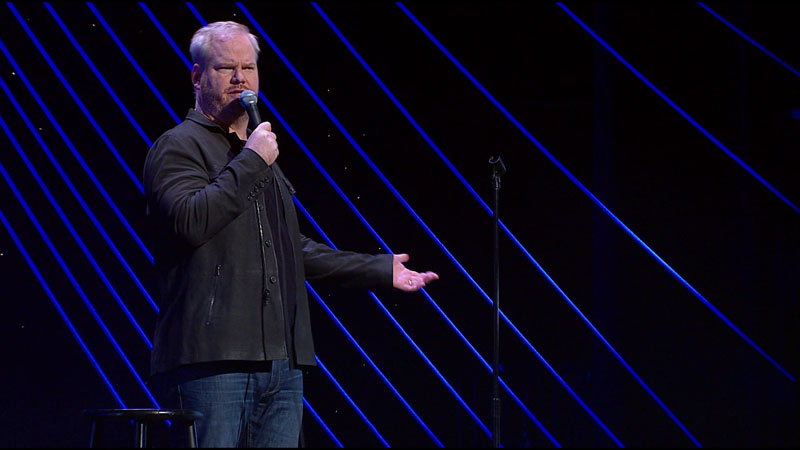 The Disc
"Obsessed" arrives on one Blu-Ray disc in a standard Blu-ray keepcase. The disc has a static menu giving the choice to watch the special, select scenes and adjust the set-up. Audio options include English TrueHD 5.1 and Dolby Digital 2.0 tracks, while subtitles are available in English SDH.
The Quality
The 1080p, AVC-encoded transfer does the trick for this special, despite the specific challenges the nearly-albino Gaffigan offers. Fleshtones appear to be appropriate (who would really know) while the limited colors of the stage (which is mostly dark, with some blue highlights) are solid. The audience isn't shown much, so there's not much to say about the look of the theater. In fact, the whole presentation is on the staid side. The image is good, but it isn't consistent, with the main head-on camera looking the sharpest and most detailed, while other angles don't impress as much. Black levels are deep, but they don't need to be too deep to contrast with Gaffigan.The level of fine detail is reasonably high.
The 5.1 TrueHD audio track is the kind of presentation you want from a stand-up act, with Gaffigan sitting center stage, while the crowd takes up their spots in the surrounds. His voice is nice and clear, while the audience is strong, with some slight echoes from the mic in the sides and rear. A solid track for this kind of disc.
The Extras
The DVD for Gaffigan's "King Baby" special was loaded with fun extras, but since then, with "Mr. Universe" and now "Obsessed," there has been zero bonus content, reducing your incentives for owning this release.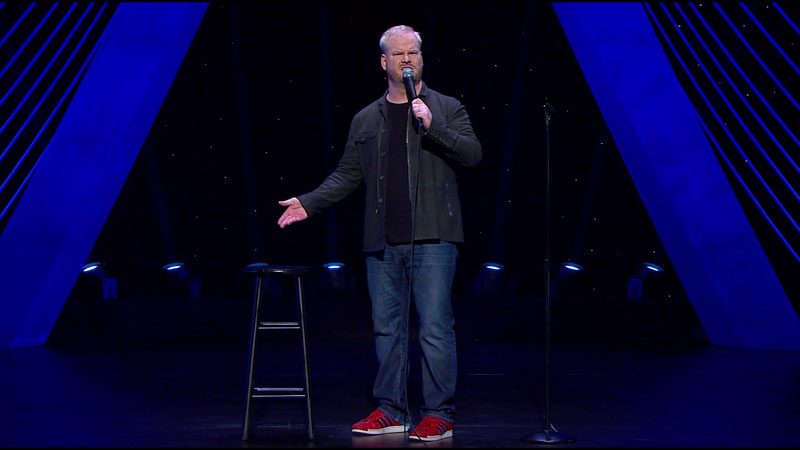 The Bottom Line
Often drawing on material from his best-selling book, "Obsessed" mostly covers Gaffigan's usual topics, like food and his family, along with a smattering of tangentially-related areas, and the results are, as is the norm for Gaffigan's specials, always humorous and often hilarious. One segment about northeastern seafood might leave you gasping. The disc looks and sounds very nice, but offers no extras of any kind. Big Gaffigan fans will want to own it but more casual followers will be satisfied watching him in a cut-down version on TV or streaming the show on his website.
---
Francis Rizzo III is a native Long Islander, where he works in academia. In his spare time, he enjoys watching hockey, writing and spending time with his wife, daughter and puppy.Follow him on Twitter
---
*The Reviewer's Bias section is an attempt to help readers use the review to its best effect. By knowing where the reviewer's biases lie on the film's subject matter, one can read the review with the right mindset.

---
C O N T E N T

---
V I D E O

---
A U D I O

---
E X T R A S

---
R E P L A Y

---
A D V I C E
Recommended
---
E - M A I L
this review to a friend
Sponsored Links
Sponsored Links