List Price: $39.99 [Buy now and save at Amazon]
---
Goodbye Barnaby Jones, apparently...and what a non-event that is with these three less-than-impressive outings. Acorn has released Midsomer Murders: Set 24, a three-disc, three-episode collection of the last half of the U.K. murder mystery's 15 "series" (season), which originally aired in England from September, 2012 to January, 2013. Episodes included here are Written in the Stars, The Sicilian Defense, and Schooled in Murder. It's not news anymore that Neil Dudgeon now comfortably helms the series, but one would think it was a big deal that Jason Hughes was leaving the show after almost nine years of solid, fun work as Sergeant Benjamin Jones. Well...apparently not to the producers, who refuse to give his character a proper send-off (looks like Hughes' complaints about the production had merit...). Viewers can complain about the slipshod quality of the episodes here, along with a distressing increase in cutesy-pie crap involving that awful dog...and a slight but distinct odor of touchy-feely P.C. nonsense creeping in to the storylines. A biography of Sykes the dog (I kid you not) is the only extra here for these sparkling widescreen transfers.
Having reviewed twenty (!) previous sets of Midsomer Murders episodes, I can assure you that if you're not familiar with the series, don't feel that you can't begin watching the show, even this late in the game (please click here, if you wish to read my previous Midsomer reviews for background). Each mystery is essentially "stand alone," so newcomers are welcome--particularly now that a new main character is anchoring the show. Not to spend too much time on recapping the series for the twenty-first time, but to briefly acquaint new readers with the basic set-up, Midsomer Murders details the bizarrely continuous mayhem (which nobody notices or cares to comment on) that afflicts rural, affluent (and wholly fictitious) Midsomer County, England. Bodies drop like flies--and in the most appalling ways--and now it's up to Detective Chief Inspector John Barnaby (Neil Dudgeon) of the Causton Criminal Investigation Department, to clean up the mess. John Barnaby is aided in his inquiries by Detective Sergeant Ben Jones (Jason Hughes), an inquisitive, competent copper who offers an oftentimes wry, slightly baffled compliment to Barnaby's low-key detective skills (as well as snarky comments about his new boss' degree in psychology). Lending a hand with vital forensic data is newcomer Dr. Kate Wilding (Tamzin Malleson), the Causton Police's lead pathologist (and another snippy wiseass), while we're offered glimpses of Barnaby's home life with his sexy wife, Sarah Barnaby (Fiona Dolman), the new head at Causton Comprehensive School, and their "adorable" terrier dog, Sykes.
WRITTEN IN THE STARS
Slimcase synopsis: "A blow to the head kills an amateur astronomer during a total eclipse of the sun. Was he the victim of a curse, a straying spouse, corporate greed, or a clandestine scientific discovery. Barnaby and Jones find that all the sings point to murder."
Written by Steve Trafford and directed by Renny Rye, Written in the Stars has quite a few interesting subplots swirling around that should have meshed into an intriguing Midsomer: the cutthroat world of academic astronomy versus the upstart discoveries of amateur stargazers; a failing, corrupt newspaper exploiting local murders by inventing headlines to sell papers, headlines featuring the phony predictions of an astrologer; and a stern, conservative father's culture clashing with his young daughter's own way of living (with brief asides about corporate funding superseding long-held trust requirements, gay plumbers, and yoga). Too bad, then, that Trafford and Rye can't manage to tie any of them together into a suspenseful whole, the results coming off as flatly repetitive and leaden. Critical to any successful Midsomer are the murders, and they're either too familiar (a full-on spearing) or down-right silly here (the guy who gets the razor-sharp Moonstone disc is comically just holding it in the folds of his neck). Worryingly, the hypocritical treatment of reactionary father Harry Dutta (Ace Bhatti) is a disquieting indication that more P.C. amelioration is creeping into Midsomer Murders. Fans of Midsomer are aware that series creator Brian True-May was tainted by a phony "scandal" concerning his views on incorporating different ethnic actors into the series. He eventually stepped down from the show prior to this 15th season, with the new executive producer, Jo Wright, setting off on a different course for the series.
And there's nothing wrong with that if it expands the series...if the spirit of Midsomer's original perverse puncturing of any and all social targets is maintained (...unless we're talking about other religions and cultures, which previous seasons ignored). Unfortunately, it looks like that's not the case anymore, at any rate here with the show's first Asian main character. As I've written before in several Midsomer reviews, U.K. television, at least represented by the majority of shows that find their way over the pond, is largely a poisonous well of secular contempt for the Christian religion...and quiet as a church mouse on others. Midsomer's persistent anti-Christian bias (I don't remember the show featuring any Jewish zealot/murderers...and we know they wouldn't have the guts to feature a fanatical Muslim one), is, in addition to being intellectually dishonest, frankly tiresome. It's boring as hell just from a murder mystery convention angle: it's the cliched equivalent of "the butler did it," anytime anyone mentions God (and please don't post or email, accusing me of bias--we atheists crack up at those). SPOILERS ALERT! In an earlier Midsomer, a character like Harry Dutta would be labeled a crackpot Christian front and center, and either discovered to be the killer (because of the narrowness of his religous views), or lambasted for his ignorance (because of the narrowness of his religious views). Here, however, Harry is clearly not Christian (nobody even dares specifically state what religion he practices), and yet this stony-eyed fanatic who's ominously set up as the killer, is given a pass by the series (he constantly spouts hoary-old cracker-barrel Eastern epigrams inbetween confronting his daughter about her birth control and staying out late). Indeed, at the fade-out, he gets to make up with his daughter, with Jones (and the series) giving them his blessing by bestowing upon them a long-held grin at the sight of their chummy reunion. If Midsomer in the past was skittish about criticizing non-Christian religions and cultures by largely ignoring them, it now compounds that problem by further labeling anything non-Christian that turns up in the episodes as "hands off" when it comes to nasty lampoons and satirizing (when the writer has Barnaby make specific points to endorse goofy yoga and visualization techniques--something the old Barnaby would have grumbled and scoffed at--it's clear that Midsomer now is about "selectively endorsing" instead of "mostly inclusive skewering."
---
THE SICILIAN DEFENSE
Slimcase synopsis: "As the detectives investigate the murder of a chess society president, they find a connection to the previous year's attack on a couple trying to elope. To break the case, Barnaby must immerse himself in the world of chess."
Another missed opportunity. Scripted by Paul Logue and directed by Alex Pillai, The Sicilian Defense's chess backdrop seems to promise a fun romp through declasse, grubby local tourneys, populated by outwardly calm, collected--but inwardly seething--eccentrics. However, The Sicilian Defense's inexplicably grim, humorless tone is weirdly out-of-synch with what we expect from a typical Midsomer. Very little works in this slow-paced outing, from a mystery that's not at all difficult to figure out (if you make a point of showing one suspect inexplicably have pictures of the victim on his/her phone, and another suspect act in as suspicious a manner as is humanly possible, it's not going to take the average mystery lover long to finger both in some sort of joined plot), to poorly staged murders (that rope strangulation was a hoot), to pretentious, cliched framing (when Pillai shoots through a swooshing ceiling fan, I thought for a moment that we were in an 80s music video). I did particularly enjoy Cheryl Campbell's sly, amusing turn as the suddenly liberated "Aunt Vivian," but some of the other turns were comically overdrawn (when Fay Ripley coos, "My beauuuuutiful Finn!" I hit the floor). However...what's with director Pillai either encouraging or letting Neil Dudgeon mug outrageously with these exaggerated peerings and squints and stink-eyes at his suspects that seemed more "musical comedy" rather than "murder mystery?" Just when I had given up on The Sicilian Defense, it goes into minor The Silence of the Lambs territory with an agreeably spooky finale where a frightened Jones finds himself in an underground lair. Unfortunately, the mood is killed quickly when Barnaby shows up on the other side (not much of a lair) and turns the climax into an Oprah Winfrey Show segment where he's role-playing a dead relative for the killer, before he's hugging him/her and stroking his/her hair. Jesus Christ is Barnaby a copper or a therapist (how many times are the producers going to have the character announce he went to college and got a degree? Is someone on the show that insecure about their own position)? And enough with that crappy dog Sykes, okay? Its so obvious the producers are relying on him as an audience sop. It's embarrassing. A real mess of an episode that doesn't work on any level.
---
SCHOOLED IN MURDER

Slimcase synopsis: "A woman crushed by a giant wheel of cheese had been embroiled in controversy both at the diary where she worked and at the local prep school her daughter attends. As a group of prep school alumnae with ties to the dairy find their long-held secrets coming to light, the death toll mounts."

Overall much better than the previous two, although they blow the final reveal...because they already revealed it before the reveal. The unlikely setting for murder--specialty cheese-making juxtaposed with a snooty, exclusive prep school--is both fascinating and quite humorous (our first Midsomer-worthy killing in this set: a victim's noggin is cracked open with a huge wheel of cheese). Con O'Neill as an obsessed cheese crafter, Kate Ashfield as a harried widow (she has a fantastic scene where she destroys a "frenemy"), and the simply magnificent Maggie Steed as the imperious, snide head of Midsomer Pastures Preparatory School, stand out in this well-cast episode. It's too bad, however, that the script, from Lisa Holdsworth, baits us with initial trouble at the school--SPOILERS ALERT! poor scholarship kids are getting expelled to save money--leading us to think there's a bigger, more twisted mystery to be revealed...before we find out in the end that that is the big mystery. You know...the one we were told a half hour ago. Instead, the ending (not particularly well thought-out or excitingly staged by director Andy Hay) meanders off into pedestrian "bullying" territory, with Barnaby (incredibly sympathetic to a murderer's neuroses in the previous outing) now yelling at his perp about how sick and tired he is of this kind of whining criminal who blames others for his/her problems (I prefer this latter, unforgiving Barnaby, but to be honest: which way does the wind blow, Mr. Inconsistent?).

And please: enough with that f*cking dog Sykes. As I wrote in a previous review, he's cute, alright, but he's not...natural. He's always petrified in one spot, obviously looking at his trainer just off-camera, as he's put through his stiff, robotic paces. Eating up more and more screen time (I'll bet the delicious Fiona Dolman loves playing straight man to that fleabag) this particular Sykes subplot is a pathetic, low one: Barnaby accidentally fed Sarah's anniversary ring to Sykes (his explanation on how he did this is cringe-worthy), and now he's waiting for the dog to crap it out. Noel Coward territory, what? I'm not watching Midsomer Murders for cutesy-pie garbage like this--I want hilarious, sick-joke murder mysteries. As for Jason Hughes' last appearance on the series, you'd never know it here--no mention is made that his character will be promoted and moved away. Did the producers not have enough warning to film something? It's possible, I suppose, although I doubt it. After leaving the show, Hughes was quoted as saying the show didn't exactly pay him a lot, not even springing for his commute to the set, or lodgings on location (typical cheapjack Brit-TV fashion; if this had been an American television series, with the same level of international acclaim and sales figures that Midsomer has achieved, Hughes undoubtedly would have been made a multi-millionaire in terms of compensation, and set for life). Well, if that's the way they treated the actor, I don't suppose they cared too much what happened to his character, either. A pity, too, because Hughes was a consistent bright spot (I think the best of all the Barnaby sidekicks), and criminally underutilized. Maybe he's better off....

"

The Video:
As always, Acorn's transfers for Midsomer Murders never miss: they're superlative. The anamorphically enhanced, 1.78:1 widescreen transfers for Midsomer Murders: Set 24 look, as always, very good: crisp, sharp images with nicely balanced color and no compression issues whatsoever. The image is remarkably bright and clean.

The Audio:
The Dolby Digital English 2.0 stereo mixes for Midsomer Murders: Set 24 are more than adequate for these largely dialogue-driven mysteries. Discreet left-right directionality, with solid recording levels. English subtitles are included.

The Extras:
Just that stupid text bio on the dog.

Final Thoughts:
If you're going to offend...offend everyone. P.C. creep is obvious in the Midsomer Murders: Set 24 episodes, with certain religions and cultures off-limits (take a wild guess which one isn't), while Barnaby continues to "evolve" into a total pussy. I don't tune into Midsomer Murders for understanding and enlightenment and acceptance. I tune into it for sick, twisted humor filtered through expertly-crafted cozy village murder mysteries--neither of which I get here in this thin collection. A few of the performances, I guess, and most of the final entry, Schooled in Murder, are enough to suggest a rental for hard-core fans of the series...but even that is pushing it here.
---
Paul Mavis is an internationally published movie and television historian, a member of the Online Film Critics Society, and the author of The Espionage Filmography.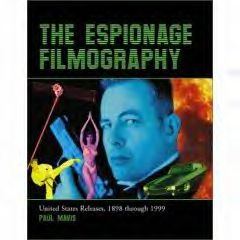 Sponsored Links
Sponsored Links