SpongeBob and Friends: Patrick SquarePants
List Price: $14.98 [Buy now and save at Amazon]
---
Gloriously stupid fun. Nickelodeon and Paramount have released SpongeBob and Friends: Patrick SquarePants, the 14-episode animated compilation dedicated to SpongeBob's best friend, Patrick Star (the first-rate voice talent of Bill Fagerbakke). Episodes included here are Big Pink Loser and The Secret Box from season two of SpongeBob SquarePants, I'm With Stupid and New Student Starfish from season three, Dunces and Dragons, Patrick SmartPants, That's No Lady, Driven to Tears, and The Gift of Gum from season four, Karate Star and Big Sister Sam from season seven, and Squidward's School for Grown-Ups, The Googly Artiste, and Pet Sitter Pat from season eight. According to press releases, this is the first SpongeBob disc that focuses exclusively on a character other than headliner SpongeBob, and although I would have voted for that honor to go to my favorite SpongeBob character, Plankton...you can't argue with the people: if my kids are any indication, Patrick is the most popular goofball on that marvelous little toon, and the fourteen shorts collected here are a knock-out showcase for the character. No extras for these colorful, sharp fullscreen transfers.
Tallying up the numbers over the past eight years here at DVDTalk, I discovered I've reviewed 23 SpongeBob SquarePants discs, so I'm not going to go over yet again why I think it's still one of the funniest--if less consistently so over the past few years--toons on cable today. You know it's funny (or you wouldn't be reading this) and I know it's funny--particularly when we're talking about the earlier seasons sampled here in SpongeBob and Friends: Patrick SquarePants. So let's just get to the toons. Big Pink Loser, from Jay Lender, William Reiss, and Merriwether Williams, opens the disc, a perfect example of the show's brilliance during its earliest outings. SpongeBob, hoping to help a despondent Patrick get an award for something, decides to get the dim bulb starfish a job at The Krusty Krab, with typically disastrous results. The jokes come fast and smart (when we think Patrick's job pays $50 dollars an hour, SpongeBob then marvels that when he started, he had to pay $100), before the toon really takes off, first with SpongeBob trying to walk Patrick through the simplest tasks, with Patrick copying SpongeBob's every move. The obsessively repetitious gag--a SpongeBob standard--involving Patrick's inability to take off a jar lid is perfection, but nothing compares to another SpongeBob standby: the smart-assed anonymous fish bystander. When Patrick begins sweeping the floor with the handle end of a broom, a fish walks up, takes a beat, and deadpans: "Hey, pal...you just blow in from Stupidtown?" Classic. The Secret Box, from Walt Dohrn, Paul Tibbitt, and Merriwether Williams, is much simpler in design--SpongeBob goes crazy trying to figure out what Patrick is hiding in his "secret box"--but it's filled with sly gags, from SpongeBob listing all his secrets (among them: dancing to loading zone announcements), to Patrick's eloquent self-assessment ("The inner machinations of my mind are an enigma," he pontificates...as they show his thought bubble where a quart of milk is tipped over), to a hilarious montage showing best friends SpongeBob and Patrick giggling grotesquely, from ridiculously cute babies, to ghostly giggles from two fresh graves (delightfully sick).
I'm With Stupid, from Aaron Springer, C.H. Greenblatt, and Mark O'Hare, takes the simple set-up of Patrick panicking that his parents--who, for some reason, think he's dumb--are coming for a visit, and keeps the jokes and visual gags running at a decent clip. SpongeBob, though, gets the best bits here: his would-be exit line to a frantic Patrick is a classic ("I can see you're busy having an 'episode,'") while the brief, subversive shot of SpongeBob wearing a frilly, girly blouse under his clothes earns a big yok. The classic New Student Starfish, from Paul Tibbitt, Kent Osborne, and Mark O'Hare, is a beautifully-built take-off on early school days, when SpongeBob, out of pity (never a good sign), decides to take Patrick along with him to Mrs. Puff's boating school. Lots of solid jokes about school that parents and kids will appreciate: O.C.D. go-getter SpongeBob arriving at school at 6:20am, which is "almost late for being early"; the "Good Noodle" board and SpongeBob's insanely funny freak-out when he loses a star for bad behavior; Patrick's "Life! Death! Life! Death!" taunt as he flicks the warming light on and off for baby chick egg Roger; Patrick's drawing of "Big Fat Meanie" Mrs. Puff, complete with "poo poo" at the bottom; and without a doubt one of the series' best throwaway jokes, where, on SpongeBob's ignominious back row seat, is carved, "Skool is 4 Chumps." One of the best of the early SpongeBobs. Dunces & Dragons, a rather elaborate (Nickelodeon even did a toy tie-in with Burger King) half-hour spin on the old A Connecticut Yankee in King Arthur's Court theme from Zeus Cervas, Erik Wiese, and Tim Hill, not only looks impressive with its period medieval knights art direction, but also delivers frequent big laughs. The opening "Medeval Moments"-themed restaurant ("swords, sorcery, and bad hygiene"), complete with jousting and suicidal doormen ("Someday...but not today!") sets the smart-assed tone, before SpongeBob's and Patrick's travel back in time continues the humor. Several memorable bits here, including Squidward the Fool's amusing songs ("I made merry, mirth and laughter. But I told one bad joke, and the king had a stroke. And now I hang from ye olde rafter!"), SpongeBob's kah-rah-tay fight with Sandy (the real picture of the squirrel with x'd-out eyes is great), and of course, the evil Planktanemore ("Bring it on-eth, knave!").
Patrick SmartPants, from Casey Alexander, Chris Mitchell, and Tim Hill, more fully develops the "idiot savant" element that often pops up for a joke or two in other outings with Patrick. Here, a fall off a cliff necessitates SpongeBob putting the top of Patrick's brain back on, which plugs him into super-intelligence. A simple outing, with an easy feel to it (and even a sweet moment or two, when SpongeBob, dumped by now too-smart Patrick, cries over a picture album, thinking, "At least Patrick is my best friend...in my memories,"). That's No Lady, another beloved outing from Casey Alexander, Chris Mitchell, and Steven Banks, expands on the ages-old "guy in drag" comedy set-up (a favorite of Warner's Looney Tunes), this time putting Patrick in girlwear, with Mr. Krabs and Squidward acting like Tex Avery horndogs the minute "Patricia" sashays into view (it's brilliant having Patrick not act at all feminine). Driven to Tears, from Luke Brookshier, Tom King, and Steven Banks, finds Patrick acing a boating license test he didn't even want, as SpongeBob fumes. A good vehicle to exploit "Patrick as obnoxious braggart," with the tension coming from SpongeBob's incredulity that clueless, destructive Patrick gets away with murder behind the wheel. Best bits include Mr. Krabs', to SpongeBob's "I used to have a dream," responding with "Oh, yeah? Well I used to have a kidney stone. Everything passes," and the hot-dog cop chasing out-of-control Patrick ("Oooooooh, I got me a runner!"). Even better is The Gift of Gum, also from season four (was that the series' best?), from Zeus Cervas, Erik Wiese, and Dani Michaeli, an officially "disgusting" SpongeBob (I love it when the animators shoot for grotesque; it's such an amusing contradiction with the show's overall sweet tone). On "Best Friends Day," SpongeBob gets Patrick nothing less than his own personal robot slave, while Patrick gives him...a gigantic ball of already-chewed gum, complete with garbage stuck to it. A steady bead of funny lines ("Oh Majestic and Much Masticated Gummie!", "Get ready for your dirt nap, Gummie!"), some fun gross-out close-ups (I love the Gummie's spokesman--one of Patrick's dirty pair of underwear--croaking threateningly to SpongeBob, "You're not Patrick!"), and a couple of genuine belly laughs (the anonymous fish-guy who finally escapes from his prison, the Gummie, frantically yelling, "I'm free! I'm free! I'm sugar-free!" is beautiful).
Anytime SpongeBob and kah-rah-tay come together, there's sure to be some laughs; in Karate Star, from Casey Alexander, Zeus Cervas, and Derek Iversen, SpongeBob tries to teach Patrick the ancient martial art, with the result being Patrick's "perfect chop," which he subsequently uses to destroy most of Bikini Bottom. A pretty basic outing, but often amusing, with one really good line: at the ice cream store, Patrick tries to pay for a cone with lint-covered trash; when he's refused, he imperiously warns, "You dare refuse my barter? Then accept my chop!" Classic. Big Sister Sam, from Casey Alexander, Zeus Cervas, and Richard Pursel, expands on That's No Lady and morphs drag Patrick into Sam, Patrick's hulking, simpleton sister. Big destructive gags in this one (best bit is SpongeBob bringing back a seemingly dead Patrick...with cookie dough). Squidward's School for Grown-Ups, from Aaron Springer, Sean Charmatz, and Richard Pursel, really has SpongeBob as the fulcrum for gags, rather than Patrick, in this funny outing where the boys "grow up," thanks to Patrick's new-found beard. SpongeBob acting gauche at the men's club ("Oh, boy! Eats!"), or ruining a painting at the art museum (he leans back against one and the paint soaks into him), or dressing as a female Wagnerian opera singer (He starts his aria with, "There once was a man from Nantucket...sorry: wrong one,"), get the biggest laughs here. The Googly Artiste, from Luke Brookshier, Nate Cash, and Derek Iversen, is an amusing riff on the gullible critics ("I'm a critic...I don't make things. I judge things,") and art buyers ("It's so expensive!") on the lookout for the "next big thing"...which in this case is Patrick's plain, old rocks, with googly eyes glued to them. Best bit: Ted, the art "junkie," who sweats and jitters, begging, "You have any art? I have a real craving for art!" And finally, Pet Sitter Pat, from Casey Alexander, Zeus Cervas, and Richard Pursel, has the promising set-up of inadvertently homicidal Patrick taking "care" of Gary, while SpongeBob goes to his grandmother's birthday party. A good view of Patrick as "dangerous innocent," with a lot of potential for "pain and cruelty" jokes. However, most of the gags are cut off before they build, while the finale drifts away (it needed a bigger finish). The last short in SpongeBob and Friends: Patrick SquarePants, is also the least of them...but still watchable.

The Video:
The fullscreen, 1.37:1 transfers for SpongeBob and Friends: Patrick SquarePants look perfect, with eye-popping color and a sharp, sharp image.
The Audio:
The Dolby Digital English stereo audio mix is healthy, with discreet separation effects, and no hiss. Clean. No subtitles or closed-captions, though.
The Extras:
No extras for SpongeBob and Friends: Patrick SquarePants.
Final Thoughts:
Over three hours with Patrick Star is more than enough...if you want over three hours of some of the best SpongeBob SquarePants toons. In their first supporting character-focused collection, Nickelodeon comes up with a winner in SpongeBob and Friends: Patrick SquarePants, with the 14 shorts here guaranteed to keep you laughing. Fun for kids and their parents, SpongeBob and Friends: Patrick SquarePants comes highly, highly recommended.
---
Paul Mavis is an internationally published movie and television historian, a member of the Online Film Critics Society, and the author of The Espionage Filmography.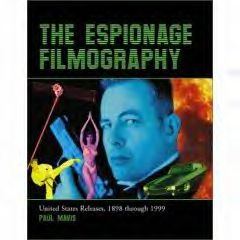 ---
C O N T E N T

---
V I D E O

---
A U D I O

---
E X T R A S

---
R E P L A Y

---
A D V I C E
Highly Recommended
---
E - M A I L
this review to a friend
Sponsored Links
Sponsored Links