Too Tough To Kill (Sony Choice Collection)
List Price: $20.95 [Buy now and save at Amazon]
---
Workmanlike cheapie actioner. Sony Picture's Choice Collection line of hard-to-find library has released Too Tough to Kill, the 1935 programmer from Columbia Pictures starring Victor Jory, Sally O'Neil, Thurston Hall, Johnny Arthur, Robert Gleckler, Robert Middlemass, Monte Carter, and Ward Bond. Set amid deadly industrial sabotage at the site of a massive public works tunnel, fans of these kinds of B actioners will probably get a mild kick out of Too Tough to Kill's recognizable 30s genre conventions...as well as with the amusing production cost-cutting measures. No extras for this good fullscreen black and white transfer.
18 cities in the American southwest are awaiting water and power from the Parker Dam via the brand new $220 million dollar Colorado River aqueduct system--350 miles of conduit and tunnels, all ready to go...except for 18 lousy miles of unfinished tunnel system smack dab in the middle, gumming up the whole works. Whitney (Thurston Hall), the owner of the Whitney Construction Company, and the future namesake of the Whitney Tunnel, has been given his last warning from the Feds: blast through the hardrock and get the tunnel finished--no matter how many more suspicious accidents occur--or else get pink-slipped on the job. Whitney, fearful of losing all those tax-payer dollars, wants John O'Hara (Victor Jory), the best hardrock man in the business, to take over as foreman...with the promise of a partnership when he completes the tunnel on schedule. Meanwhile, newspaper managing editor Hubbel (Robert Middlemass) smells a story in all those fishy deaths at Whitney Tunnel, but so far his reporters have struck out getting any info. So, he hatches a new plan: send sexy smartass Ann Miller (Sally O'Neil) up there, along with whining milquetoast photographer Willie Dent (Johnny Arthur), to see if a woman has any better luck getting the dope from the 300 sex-starved maniacs-slash-apes-slash-miners well-mannered roustabouts working the drills. However, getting an impossible scoop is the least of her worries, when industrial saboteur Bill Anderson (Robert Gleckler) steps up the mayhem as tough-as-nails O'Hara cleans house.
This is going to be short and sweet...because there isn't a whole lot to mine here in Too Tough to Kill (it was laying right there...). One of five features swifty B whiz D. Ross Lederman (Tarzan's Revenge, Boston Blackie and the Law, The Lone Wolf in Mexico) directed in 1935, Too Tough to Kill is passably entertaining if you enjoy the quick, snappy (and admittedly thin) tones and rhythms of 30s B moviemaking. Written by Lester "Hollywood Ten" Cole (The Invisible Man Returns, Objective, Burma!, Born Free) and Griffin Jay (The Mummy's Hand, Junior G-Men of the Air, The Mummy's Tomb, The Mummy's Ghost), from Robert D. Speers' story, Too Tough to Kill doesn't have time to screw around with anything like character development or subtext, instead resolutely sticking to its simple, action-packed story of industrial sabotage. Except for one deliberately foregrounded statement from the company doctor bitching about FDR's "New Deal" fakery of a "false economy" ("You can't lift a country by inflating the dollar! ")--no way did Commie scripter Cole write that one--you won't find anything topical or then-"relevant" in Too Tough to Kill's storyline. Instead, the quick 58 minute runtime is filled with wisecracking tough-talk from scrappers Jory (pretty stiff) and O'Neil (notably sexy and modern-sounding), some mildy amusing sissy humor from Johnny Arthur (they loved this one in Pamona), fist-fights (well choreographed), explosions (mostly unseen to save a buck), and lots and lots of cheap rear-projection shots. If you're at all familiar with how these 30s Bs looked and sounded and played out, then nothing in Too Tough to Kill is going to surprise you...and that's okay, because a big part of B movie pleasures from this era, comes already anticipated.
The Video:
The fullscreen, 1.37:1 black and white transfer for Too Tough to Kill looks okay, with decent-enough contrast, a sharp image, and the expected grain and screen imperfections, like scratches and dirt.
The Audio:
The Dolby Digital English mono audio track is fine, with moderate-to-low hiss (expected), and no subtitles or closed-captions.
The Extras:
No extras for Too Tough to Kill.
Final Thoughts:
If you're into these vintage Bs...you'll dig it (What? You didn't see that coming?). Action storytelling at its most basic, with some smartass repartee, a particularly nice turn by Sally O'Neil (shame about her career going south too soon), and a quick turnover before you get bored. Acceptable programmer, and for those fans, Too Tough to Kill comes recommended.
---
Paul Mavis is an internationally published movie and television historian, a member of the Online Film Critics Society, and the author of The Espionage Filmography.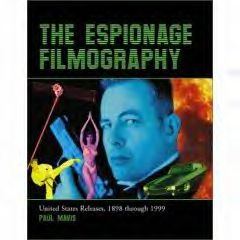 ---
C O N T E N T

---
V I D E O

---
A U D I O

---
E X T R A S

---
R E P L A Y

---
A D V I C E
Recommended
---
E - M A I L
this review to a friend
Sponsored Links
Sponsored Links