Canal Zone (1942, Sony Choice Collection)
List Price: $20.95 [Buy now and save at Amazon]
---
Familiar but crisp WWII (sorta) B aviation drama. Sony Pictures' Choice Collection of hard-to-find library and cult titles has released Canal Zone, the 1942 meller from Columbia Pictures starring Chester Morris, Harriet Hilliard (better known later as Harriet Nelson), John Hubbard, Larry Parks, Forrest Tucker, Eddie Laughton, Lloyd Bridges, George McKay, and Stanley Andrews. With a highly derivative love-in-war triangle you've seen a million times before, the only surprise you'll find in Canal Zone is how competently this well-worn story is put over by its talented cast and crew. No extras for this good black and white transfer.
Ginger Bar, relay terminal in the Panama Canal Zone for U.S. bombers being sent to Africa. "Hardtack" Hamilton (Chester Morris), pilot training officer, is in charge of getting his green civilian recruits ready to ferry these massive bombers overseas. His superior, retired Commander Merrill (Stanley Andrews), is only interested in results, while the Commander's daughter, Susan (Harriet Hilliard) is only just interested in Hamilton--she'd like to give herself completely to the handsome flier, but she knows that only the skies really own "Hardtack." A new group of "fledglings" arrive at Ginger Bar--Kincaid (Larry Parks), the green kid from Alabama, Madigan (Forrest Tucker), an ex-Marine "tired of doing nothing," Hughes (Eddie Laughton), baseball player from Brooklyn, and Baldwin (Lloyd Bridges), an insurance agent--but the most worrisome is Harley Ames (John Hubbard), a country club playboy and hotshot pilot who almost crashes into Hardtack when he arrives in his own private plane. Smooth and smartassed, Harley zeros in almost immediately on Susan, while Hardtack puts him down not because he isn't a good flier, but because his rashness and refusal to follow orders is going to get someone killed ("Flying isn't a novelty to me, Mr. Ames...but discipline is to you,"). Naturally, Susan becomes attracted (but warily so) to Harley, and naturally Harley winds up killing someone. But a dangerous mission and a willingness to risk his life will determine whether or not Harley really has it in him to grow up in this man's war.
Since Canal Zone began shooting just three days after the cowardly Japanese sneak attack on Pearl Harbor, and continued on for a brief 17 days, there's a chance some of it was tweaked during production to more clearly align it with then current events (although in Columbia's tight B movie factory, producers were loathe to change anything once production began because of possible cost increases). Seen within the timeline of the earliest WWII pictures, Canal Zone skirts around its own context. It's never really spelled out who these Ginger Bar people are exactly, or under whose direct authority they work and report. We get the feeling that Morris and Andrews are ex-servicemen, but then again...they keep stressing this is civilian work, with no combat flying. And yet...Morris teaches the recruits combat maneuvers, and they all go out on "missions." Nobody says anything about how these guys came down to Panama...although it seems like they joined (one at least willingly, the others not specified) some service or other. Morris acts like every D.I. ever shown on the screen...but everyone is "Mister this or that," with no uniforms or formal military protocol, nor are we ever told why civilians need to ferry the bombers to Africa. People mention "the war," but no specifics are ever given (no mention of any enemy), just a vague sense of global conflict is alluded to inbetween the romance and the flying.
Those last two elements are what Canal Zone is really about: loving and flying. Written by Robert Lee Johnson (Tarzan's Revenge, The Enchanted Forest), from Jean and Blaine Miller's short story, Heroes Come High, and directed by human dynamo Lew Landers (who had eleven other movies come out in 1942), Canal Zone's tale of a spirited filly caught between a no-nonsense, unyielding professional, married to his work, and a charming ne'er-do-well who has to redeem himself to earn her love (and his own self-respect), had been worked over so many times by 1942 that a viewer could be forgiven for thinking momentarily they're watching any number of other similar movies (the timeline and context made me immediately think of the A & C comedy, Keep 'Em Flying). Luckily, Canal Zone meets this potential obstacle of cliched storyline head-on by keeping the dialogue clipped and sassy, the pace brisk, and the performances very nicely "smart." Viewers will no doubt laugh at the model work here (strings are visible, and the planes' aeronautics frequently defy the laws of physics), but Landers makes sure these suspenseful flight scenes are cut tightly, to keep our interest (no matter how primitive your model work, you simply can't screw up a scene where a pilot, flying blind in fog through mountainous terrain, is ordered to shut off his engines in order to "hear" a landmark...). The three leads go a long way towards making this all work. Working under her bandleader husband Ozzie Nelson's professional name for her, pretty Harriet Hilliard is pleasantly tart and knowing as the patient woman who's seemingly game for either guy (if they had her knowing how to fly a plane, too, you could have slotted her easily into a Howard Hawks movie). Hubbard, glib with the wisecracks and slang ("Sleep tight, suckers!" as he skips curfew), expertly walks that fine line between being a privileged assh*le we should hate, and a cocky-yet-competent sh*t we can't help but like (by the end of the movie, he's bussing Harriet and leaving with a jaunty, "Pardon me if I seem to kiss and run...but I can't hold up the war,"). As for Chester Morris, by this point a rejuvenated property at Columbia thanks to the success of his B-level Boston Blackie franchise, he judiciously underplays against Hubbard, never blowing his stack while maintaining a grim, hard-core demeanor that completes the triangle (the more I see of talented, modern-sounding Morris, the more I'm convinced this guy should have been huge in his day, compared to the only relative success he had). Given snappy dialogue and a director who knew how to keep the pressure on, these three pros pull off Canal Zone's admittedly hackneyed material without a hitch.
The Video:
The fullscreen, 1.37:1 black and white transfer for Canal Zone looks fairly good, with just-okay contrast (a little dark at times), a medium-sharp picture, grain, and the expected level of imperfections.
The Audio:
The Dolby Digital English mono audio track is healthy, with a solid re-recording level, and minor hiss. No subtitles or closed-captions available.
The Extras:
No extras for Canal Zone.
Final Thoughts:
Well-done hokum. You've seen Canal Zone's story countless times before, but familiarity doesn't breed contempt here, because the scripting is agreeably smart-alecky, the direction to-the-point and speedy, and the performances admirably straight. I'm recommending Canal Zone.
---
Paul Mavis is an internationally published movie and television historian, a member of the Online Film Critics Society, and the author of The Espionage Filmography.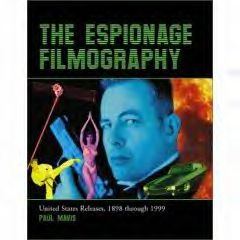 ---
C O N T E N T

---
V I D E O

---
A U D I O

---
E X T R A S

---
R E P L A Y

---
A D V I C E
Recommended
---
E - M A I L
this review to a friend
Sponsored Links
Sponsored Links