List Price: $59.99 [Buy now and save at Amazon]
---
Initially enjoyable vintage BBC miniseries that unfortunately peters out and gets downright fuzzy towards the end. Acorn has released A Horseman Riding By, a 4-disc, 13-episode DVD presentation of the 1978 BBC mini, based on the novels by R.F. Delderfield, and featuring a big cast of familiar U.K. TV faces including Nigel Havers, Glyn Houston, Fiona Gaunt, Prunella Ransome, David Delve, Gillian McCutcheon, Martin Fisk, Pam St. Clement, Forbes Collins, Wendy and Valerie Holloway, Richard Beale, Mary Chester, Bruce Purchase, Madge Ryan, Joby Blanshard, Glyn Owen, Jack May, Valerie Phillips, Sarah Porter, Frank Moorey, David Prowse (he's a big boy), and Jack Watson. Concerned with only the first book (published as two volumes here in the States) in Delderfield's two-book series, A Horseman Riding By attempts to dramatize the vast changes that came to England's rural areas after the turn of the 20th century and the First World War, through the story of newly-minted squire Paul Craddock and his attempts to make prosperous a run-down valley community. And while it's a frequently entertaining long-form story, the whole is much less than its individual parts, with even this unfamiliar-with-Delderfield viewer clearly realizing that critical characters and events of the novel must have been left out of this adaptation. No extras for this okay fullscreen color transfer.
England, 1902. Returning Boer War veteran Paul Craddock (Nigel Havers, who somehow forgot to act more mature as his hair turned grayer), whose deceased father made millions in scrap metal in London, has come to South Devon, looking to invest his money in an entire valley for sale--a valley that includes six farms for let, and everything that moves or sits or grows on the land. The crusty-but-kind estate manager, John Rudd (Gly Houston, the best thing here), is honest with young Craddock: the valley is an economic disaster after the previous owner squandered the estate's capital, and a city-boy novice like Paul with no "country life" experience would have an impossible job of making it a going financial concern. Paul agrees...and promptly asks Rudd to stay on as manager while teaching him the ropes. Rudd agrees, as well...as long as Paul is sincere in wanting the valley not just for the money potential, but also to be the community's much-needed "center"--the squire who offers benevolent guidance to his people while loving the land above all else. Squire Craddock meets his various tenants, running the gamut from common-as-muck Tamer and Meg Potter (Forbes Collins, Pam St. Clement), and their rowdy brood of poachers (Martin Fisk) and earthy sluts (Wendy and Valerie Holloway, quite funny), and hard, pragmatic Edward Derwent (Richard Beale) and his family, to vicious, brutal nag Arabella Codsall (Madge Ryan, a terrific villain) and her addle-patted, henpecked husband Martin (Joby Blanshard). Paul takes particular interest in Derwent's pretty daughter, Claire (Prunella Ransome, gorgeous), but he's soon captivated by difficult, fiery Grace Lovell (Fiona Gaunt, sexy and off-putting). As the years roll on, Paul's romantic life becomes as vexing as the gradual-yet-inevitable changes to the Valley, as the two combined horrors of World War I and the Liberal politics of MPs like James Grenfell (Frank Moorey), change forever the orderly, peaceful, traditional way of life for rural England.
Right off the bat: I've never read R.F. Delderfield, so I can only take the movie version of A Horseman Riding By for what's in front of me, without reference to its literary inspiration. I do clearly remember my Anglophile mother in the 1970s, however, swooning over her hardcover copy of To Serve Them All My Days--the illustration on the dust jacket somehow stayed with me--back when the recently-deceased author enjoyed a brief, vaguely morbid resurgence in popularity (before slipping, it now appears, into permanent obscurity). I did a little bit of research into how fans of the author and the books that inspired the TV mini view this small screen version (A Horseman Riding By was split into two novels her in the States: Long Summer Day and Post of Honour, while the sequel, The Green Gauntlet details events long past the mini's time frame); the general consensus appears to be that great, whacking sections of the first book have been left out of the miniseries, along with some fairly important central characters. Of course this means nothing to me, since I haven't read the books, but there's no question that big jumps in the storyline do occur here, while minor characters that threaten to be central to the story remain fuzzy and vague. Considering the fan unanimity on this point, one would assume this subsequent narrative choppiness is the result of either the mini's script, by writers Alexander Baron, John Wiles, and Arden Winch, or a heavy hand at the editing table, rather than anything originally written by Delderfield.
At A Horseman Riding By's beginning, this wasn't a problem. Indeed, the first few opening episodes were quite nicely structured, seemingly building towards a fascinating look at a specific sector of English rural life--the county squire and his responsibilities--that was succinctly and clearly explained, and further fleshed out by some reasonably compelling melodramatic, romantic, and even political elements. Before watching A Horseman Riding By, if you had asked me specifically what a "country squire" was from this time period, what was his socio-economic position, and what were his specific duties, I would have thought I knew the answers...only to promptly get them wrong (my biggest mistake was thinking that they were, at the turn of the century, still exclusively ancestral in appointment; apparently, you could "buy" your way in, as son-of-London-scrap-dealer Paul Craddock does). The classic "fish out of water" construction of seemingly naive Paul coming to an insular community and making a right cock-up of it, was nicely turned by his teaming up with the gruff-but-sensitive Rudd, who convinces the initially leery Paul of the traditional value of the community continuing as-is (Rudd speaks with quiet pride of his father's works as the estate's manager, all meticulously recorded in ledger books that will disappear--along with the valley's history--should the valley go under). Further depth of story and character is set up with Rudd's warning for romantic Paul to avoid looking for "simple country folk" in the residents, a caveat subsequently illustrated by the complex, interwoven histories of the various farmers landlord Paul "controls." There's nothing "simple" about the emotions and desires and frustrations they experience, outside of the unique "squire/subject-if-you-will" dynamic still in effect at the turn of the century (Rudd correctly cautions Paul that, "between man and master, it's dog eat dog,").
Once the storyline makes it clear Paul is succeeding in his new role as squire (his good heart and newfound loyalty to his valley and people are complimented by Rudd's pragmatic advice), the story takes a most interesting turn as Paul falls in love with both solid country girl Claire Derwent and mysterious, mercurial Grace Lovell, a member of the previous squire's family--a family Rudd distrusts on an almost metaphysical level. Here's where A Horseman Riding By could have really taken off. The individual scenes of feminist politics as the wild, fiercely independent Grace rebels against her restrictive societal position, are terrific (actress Fiona Gaunt is great at strident indignation, but less so in bringing out any rounding characteristics to Grace). During a horrendous breech-birth scene, Grace insults and abuses Paul (she even hits him) for putting her, by both biological and legal measures, in this wholly "female" position she utterly resents ("Have you proved your manhood? You have a legal right to make me suffer, to get a male heir!"). She then switches gears and laments his abandonment of her--who could blame him?--when he puts valley duty before husband duty, and goes out to find a crazed, murderous Martin Codsall. There's real fire in these individual scenes with Grace and Paul, with not-easy-to-answer themes momentarily brought up for the viewer to ponder.
However, every time we get jolted with one of these scenes, and anticipate a fuller examination of their relationship, the story switches to another subplot involving one of the farmers or something else, with effective payoffs for Paul and Grace forgotten (and speaking of forgotten: how quickly is Claire dumped). The groundwork is laid for a fascinating character in Grace, with her ghostly, slightly unreal introduction to Paul (she's been hanging around the abandoned mansion), and the suggestion that her character has somehow been corrupted by a shady genetic flaw in her family. She bitterly delights in a shocked Paul seeing her nude portrait among the pornographic photos of the former squire's collection. She tells us many of the tenant girls posed because they were coerced...but there's a smile on her face. Frustratingly, these teases are never developed. Why is she still "haunting" the mansion? Why did she pose for those nudes? Was she forced? Did she enjoy it (several times she uses sex with Paul to avoid emotional intimacy)? We just don't know. And what happens to her when she leaves Paul? One or two little snippets of info about Grace later on in the story isn't enough to satisfy our curiosity when she disappears far too soon into the mini.
Regrettably, Claire's character isn't the only puzzle piece of A Horseman Riding By that is neglected in the long-but-haphazard script. Tempting subplots are initiated, and potentially compelling characters are introduced...only to be dropped, or left to wither away without a satisfactory conclusion. Why is so much weight given to introducing Paul's seeming nemesis, Lord Gilroy (an appropriately steely Jack May), and his plots to take over the valley...only to have him completely disappear as the story progresses? Or how about the story potential of new arrival Dr. Maureen O'Keefe (Gillian McCutcheon), who casually bests an obnoxious Grace in a dinner party argument about feminism (Dr. O'Keefe insists her way--actually working in a man's world, and showing men that women can do what men do, and just as well--beats Grace's suffragette speechifying and violence)? If Grace is such a formidable opponent, why don't we get to know her victor better? And yet, almost nothing more is made of this potentially rich character. Instead, we get further conventionally structured and written subplots we can see coming a mile off, like the German P.O.W. who falls for tentative widow Elinor and her little boy, or Claire's almost-affair with a bounder of a army captain--an episode in the story that's made even more meaningless by its unintentionally comedic ending: Paul laughs at her unconcernedly when he informs her that the captain pulls this seduction number with a lot of women (Paul doesn't even seem all that upset, and we never hear anymore about Claire's "ethical adultery"). I read that critics often negatively cited Delderfield's portrayal of women in his books. If that's why Claire's a relatively uninteresting cipher, so be it...but the screenwriters could have subsequently juiced her up a bit here (indeed, considering all the good, earthy humping supposedly going on in this bawdy valley, A Horseman Riding By generates zero heat--a considerable feat with beauties like Ransome and Gaunt on-hand). By the time A Horseman Riding By winds up, someone named Hazel Potter (Zoe Gonord) is running around the cliffs like a mad thing, burning up hay stacks--an important development, we're told...but one that has no impact on us since we haven't a clue as to who she is, or what she's doing. Paul and Claire head off an attempt by the suddenly all-grown up, sniveling weasel Sydney Codsal (Terence Budd) to develop the valley for luxury housing, before heading off for a horse ride, but we don't feel there's any real, meaningful conclusion to their story. Perhaps more was to come in another BBC mini based on Delderfield's sequel? Who knows. As it stands here, however, A Horseman Riding By is a tolerably entertaining gift horse you don't want to look too closely at in the mouth.
The Video:
The fullscreen, 1.37:1 color transfer for A Horseman Riding By is exactly what you'd expect from late 70s British TV: muddy, faded, noisy, and soft (Acorn runs their by-now standard disclaimer, excusing the quality of the original materials). Not at all unexpected.
The Audio:
The Dolby Digital English mono audio track is clean enough, with a bit of fuzz now and then, and optional English subtitles.
The Extras:
No extras for A Horseman Riding By.
Final Thoughts:
Flags after the first turn. What starts off as a promising look at a newly-minted young squire's problems with his valley of horny farmers and his man-hating wife, eventually devolves into increasingly fractured, hit-and-miss subplots that not only divert attention away from the central story, but also fail to conclude on their own with any reasonable sense of success. A good cast at the mercy of a choppy script, pure and simple: entertaining up to a point, but ultimately frustrating. I think a rental of A Horseman Riding By is best...and that's only for lovers of these vintage British miniseries.
---
Paul Mavis is an internationally published movie and television historian, a member of the Online Film Critics Society, and the author of The Espionage Filmography.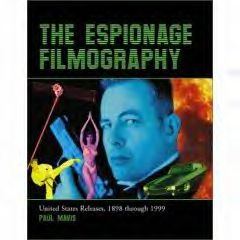 Sponsored Links
Sponsored Links