List Price: $49.99 [Buy now and save at Amazon]
---
Bring back Brian True-May. Acorn has released Midsomer Murders: Set 25, a 3-disc, 5-episode collection of the first half of the U.K. murder mystery's 16th "series" (season), which originally aired in England from December, 2013, to February, 2014. Episodes included here are The Christmas Haunting, Let Us Prey, Wild Harvest, The Flying Club, and the series' 100th episode, The Killings of Copenhagen, shot partially in Denmark (...to distressingly little effect). Big news for fans of the series (of which I count myself, lest the negative tone throw you)--there's a brand new sidekick for the sorta new Barnaby: handsome, young, demographically desirable Welsh ratings bait actor Gwilym Lee checks in as Detective Sergeant Charlie Nelson (...to surprisingly little effect so far). Even bigger news: the Barnabys have a baby ("It's time now for that whacky situational family comedy mystery, The Midsomer Murders Bunch!"). Even that woeful mongrel Sykes looks depressed at that development. As for this collection of episodes, they're a largely desultory affair (save for one, maybe), with a curiously detached, matter-of-fact, by-the-numbers approach that seems miles away from the old sly, perversely funny outings that were the hallmark of the series in its prime. Quite a few extras this time around, for these sparklingly perfect widescreen transfers.
Having reviewed twenty-one (!) previous sets of Midsomer Murders episodes, I can assure you that if you're not familiar with the series, don't feel that you can't begin watching the show, even this late in the game. Each mystery is essentially "stand alone," so newcomers aren't a problem. Not to spend too much time on recapping the series for the twenty-second time, but to briefly acquaint new readers with the basic set-up, Midsomer Murders details the bizarrely continuous mayhem (which nobody notices or cares to comment on) that afflicts rural, affluent (and wholly fictitious) Midsomer County, England. Bodies drop like flies--and in the most appalling ways--and now it's up to Detective Chief Inspector John Barnaby (Neil Dudgeon) of the Causton Criminal Investigation Department, to clean up the mess. John Barnaby is now aided in his inquiries by Detective Sergeant Charlie Nelson (Jason Hughes), a strapping, marginally gung ho D.S. recently transferred from the London Metropolitan Police. Lending a hand with vital forensic data is Dr. Kate Wilding (Tamzin Malleson), the Causton Police's lead pathologist (another snippy wiseass who becomes Charlie's uh...landlord), while Barnaby's home life is filled out--literally now--by his very pregnant wife, Sarah Barnaby (Fiona Dolman), the head at Causton Comprehensive School, with their "adorable" terrier dog, Sykes, padding around for comic relief.
THE CHRISTMAS HAUNTING
Slimcase synopsis: "DS Charlie Nelson arrives in Midsomer to be DCI Barnaby's new partner. His first case involves a stabbing death during a ghost-hunting party at the Morton Shallows manor house. Barnaby and Nelson investigate the true motives behind the villagers' paranormal proclivities."
Let's dispense with the least noteworthy element of The Christmas Haunting, and that's the mystery, unfortunately. Written by Chris Murray, The Christmas Haunting has the components of a potentially successful Midsomer, including a pretty decent set-up (murders committed in "haunted" settings), an age-old grudge carried over into modern times, and the classic Midsomer clash between moneyed elite (who are corrupt to the bone) and the working class hoi-polloi to underpin the characters' mercenary motives (Mark Heap and Nadia Cameron-Blakey are appropriately odious as the Fergus-Johnsons). Fine. But seriously...I'm the worst at figuring out these crimes and even I spotted the murderer a half-hour into this strangely dour outing. This is a Christmas ghost story, from the country that invented the genre, set in a TV series once noted for its delightfully aberrant, black English humor. If it can't be all that mysterious, then can it at least be funny? Instead, we're stuck not with daffy, eccentric characters whom we laugh at before they're bumped off, but rather with depressing humdrums like Les Dennis' loser local historian, who's in full denial about his economic situations (and I thought he was annoying on Corrie...), or James Murray's unintentionally amusing AWOL PTSD suspect (he doesn't look menacing when he glowers like that...he looks painfully irregular). Even the kills here are flat and uninteresting--and that should never be the case in a Midsomer (when I think of some of the more flamboyant, even outrageous deaths that were routinely staged in earlier seasons, I have to wonder if either the writers have run out of ideas...or the new producers are now deliberately de-emphasizing that trademark of the series).
As for Gwilym Lee, the new addition to Midsomer, his Charlie Nelson character is...what? At first I thought he was going to be a scrapper and a bit of a lout) when he first called Barnaby, "Guv," or when he yelled at the suspects to shut up and listen up (he's too carefully dressed and coiffed for true loutishness). And that would have been interesting, had he stayed that way. Unfortunately, he almost immediately transforms into a puppy eager to please Barnaby, and the interest drains away. Why do they have to be friendly to each other right off the bat? Can't we have a little friction? I know Midsomer is the epitome of the "cozy, comfy" show...but some open antagonism between Barnaby and Nelson could have been different and interesting (and maybe even necessary, at this late stage in the show's history). Lee seems like a competent actor, if a bit colorless (he's like a pretty-but-bland Welsh mix of Noah Wyle and Dennis Weaver), but then again, the writers have given him little to do here to make him stand out (and just to get it out of the way: no, he doesn't make an immediate and lasting impression as his predecessor, Jason Hughes, did). Clearly one of (if not the) reason he was hired was to attract young female demographics, so I suppose for that bar, he'll do well (just curious: why does scripter Murray have Fiona Dolman ask so many curious questions about Lee--almost as if she's "interested" in him--and then neither explain her behavior...nor have Neil Dudgeon respond to them?). By the time the episode wound down, with everyone smiling at the Barnabys' door as the snow falls and Dudgeon can be heard to say something Tiny Tim-ish like, "Merry Christmas everyone!" I had grave doubts about this set of episodes.
---
LET US PREY
Slimcase synopsis: "Nurse Nancy Dewar is discovered dead in the river with a mask over her head--a spectacle eerily similar to one depicted on a medieval fresco in the church crypt at Midsomer St. Claire. As more murders follow, each replicating scenes from the fresco, Barnaby uncovers a long-held secret."
Midsomer never disappoints when it comes to its naked hatred of Christianity. As I've written before in several Midsomer reviews, U.K. television, at least represented by the majority of shows that find their way over the pond, is largely a poisonous well of secular contempt for the Christian religion...and quiet as a church mouse on others, to mix my metaphors (let me know when the gutless Midsomer producers and writers craft an episode with that same sneering, excoriating viewpoint aimed squarely and specifically at Judaism or Islam, will you, please...so I can book by snowball fight in Hell?). More importantly, Midsomer's persistent anti-Christian bias is, in addition to being intellectually dishonest, frankly tiresome. It's boring as hell just from a murder mystery angle: it's the cliched equivalent of "the butler did it" anytime anyone puts on a collar or mentions God in one of these outings (and please don't post or email, accusing me--an atheist--of bias). The minute I saw the Church of England was central to the plot here, I could have written Let Us Prey myself. Just to boil it down for you, scripter Paul Logue gives you two choices here in your typical Midsomer vicar: you can either have a grasping, greedy, materialistic conniver who likens God to the Stasi of East Germany, and who pleasurably tingles at the sight of suffering, or...a baby-snatching murderer (have fun in Church, kids!). Too bad, too, because the set-up, although familiar (haven't they done this already with someone recreating a painting's murders?), isn't so bad, with some good moments--a nice foot chase for Charlie, and that Mousetrap chandelier kill, with Dr. Kate saying, "all we need is a little plastic man diving into a tub,"--off-setting the bad (that bulldozer kill was profoundly stupid--the victim couldn't just...step to one side?).
---
WILD HARVEST
Slimcase synopsis: "When wealthy farmer Martin Strickland is mauled to death by wild boars, his demise is linked to a local restaurant, Wyvern House, run by celebrity chef Ruth Cameron. As Barnaby and Nelson question the employees, another suspicious death turns up the heat on their investigation."
Not a pig mauling or even Hayley Mills herself, can save this curiously chilly outing. Written by Rachel Cuperman and Sally Griffiths, Wild Harvest co-opts an always interesting Midsomer framework--the exotic poisoning (a variation of hemlock here, if my notes are right)--for less-than-satisfying results. When a Midsomer delves into this kind of murder, the results are often fascinating, not only because of the inherent interest found in the unusual details we learn, but also the "pleasure" (if you will) in the observation itself of the English murder mystery "exotic poisoning" convention. It's a perversely cozy, comfortable vehicle for murder we associate, say, with Christie or Sayers for example, with its appearance as welcome in any mystery as are the arrival of decidedly eccentric, decidedly "English" characters, and the quaint villages that hide their deadly secrets. Perhaps that's why, then, that Wild Harvest doesn't quite work: the characters aren't particularly interesting in and of themselves (nor certainly eccentric), while the setting--a posh country house restaurant--feels far more sterile and peripheral to the action than it should. We do finally get a kill worthy of the old Midsomer--a horrific eaten-alive-by-a-pig kill that's unfortunately poorly rendered by director Renny Rye--while the cast is top-notch...and unfortunately saddled with unappealing characters not redeemed by satire (Sharon Small, as the mean-spirited chef, is quite good, while Hayley Mills is still magic). This one should have been a natch, but it's a cold, distant misfire.
---
THE FLYING CLUB
Slimcase synopsis: "The co-owner of Finchmere Airfield is killed and dropped from a plane into a reservoir below. With the pilots preparing for an upcoming air show, the detectives get a crash course in romantic rivalries and decades-old grudges."
A little more like it. Written by Michael Aitkens, The Flying Club hits a lot of required buttons for a solid Midsomer mystery: unusual kills (conked on the head and dropped from a plane into a lake); a generational spat between families that finally turns deadly, class issues (someone rich marrying someone poor...and perhaps someone willing to kill to stop it), and a thoroughly "English" context (the mystery grounded decades back during WWII Britain). I didn't know anything about the ATA (Air Transport Auxiliary), so that was a nice touch, positioning the story's matriarch (the wonderful June Whitfield) as a genuine war hero. Factor in one of my favorite 60s British comedy actors, Bernard Cribbins (who doesn't look any different, and who's excellent in an anything-but-comedic role), along with an energetic whodunit (we even get a fairly exciting air sequence, courtesy of director Luke Watson), and The Flying Club easily comes over as the best episode in this set. Too bad, then, that a few clunkers distract, including a silly, poorly-staged kill that apes North by Northwest's crop duster scene (again: the victim could merely have crawled around, or stepped to the right, to avoid a harebrained landing wheel to the brain), and a touchy-feeling wrap-up, with Barnaby sounding more like a therapist than a copper. Worse still, a particularly nasty anti-male feminist streak keeps popping up, one that isn't needed when the episode's obvious hero is an female octogenarian who could land a B-17 (forget the laughable ending, where the killer sounds like she's reading from the Oprah magazine, talking about yet another man trying to control her; just check out the ludicrous vitriol that's directed at poor Geoffrey Whitehead, playing Dr. Kate's retired father. It's the same old cliched take on retired men being impossible to live with...and yet he's not shown really offending anyone. Bizarre.). With more care (and some trimming to focus more on the murders), The Flying Club could have been aces.
---
THE KILLINGS OF COPENHAGEN
Slimcase synopsis: "The head of Calder's Biscuits dies on a business trip to Copenhagen. Upon finding that he was poisoned by a biscuit tin sent from Midsomer, Danish detective Birgitte Poulsen asks Barnaby to join the inquiry. Together they expose the lethal legacy of a double life."
Pretty travelogue used the wrong way, for a mystery that's distressingly easy to suss out. Watching the special features on this disc that discuss the rather complicated production of The Killings of Copenhagen (the first Midsomer, apparently, shot outside England), it's clear everyone involved thought this 100th episode of the series needed to be special somehow. And certainly from a production design standpoint, it is: there's Barnaby and Nelson, traipsing around Denmark, accompanied by the Danish alter egos. Cool. But you quickly realize this is like a picture postcard tour of Denmark, with all the highlights shown--too neat, too clean, too antiseptic, and far too fleeting--to little overall effect. Why does director Alex Pillai talk about how in love the Midsomer production team is with gritty Danish crime thrillers like The Killing and The Bridge...when he's fashioned something as low-wattage and scrupulously scrubbed-clean as The Killings of Copenhagen? The "mystery," from scripter Paul Logue (notice how the same names keep popping up? Maybe we've found the problem with Midsomer lately...), is almost comically easy to discern, moving over into outright farce when we return to a cookie factory in Midsomer that looks like a particularly dirty annex from the Wonka factory (or perhaps the Scrumptious "Toot Sweet" works?). And while we're at it, what's the point of Pillai rhapsodizing about getting the best Danish actors he could find (Ann Eleonora Jorgensen and Birgitte Hjort Sorensen, whom we don't see nearly enough of), when his directorial style--whether by personal choice or because of the demands of ever increasingly chopped-up, frenetic TV shooting and editing--reduces these actors' scenes to nothing more than brief, jumbled up 10 second snippets? These aren't sustained performances: they're glorified reaction shots. As for the Barnabys and the coming arrival of their new baby (which has been threaded throughout the five episodes)...call me a curmudgeon but I'm not looking for the sitcomy delights of John Barnaby's late autumn fatherhood, when I'm tuning into Midsomer Murders. The old Midsomers had it right: Tom's daughter was grown, and infrequently seen. Now, I'm going to have to hear a baby squealing every time they cut to John's house (and worse, see sexy Fiona Dolman as a frazzled mother...who no doubt will be carping about how little time busy John has for the family?). Count me in with Sykes, who looks like one depressed little pooch (he knows all his cutesie pie on-camera shtick is soon to go bye-bye with competition from a darling little baby). When the episode fades out on the loving couple holding their baby, it's very sweet...but then again: I don't want "sweet" when I dial up a Midsomer (...or at least not that sweet).
The Video:
The anamorphically-enhanced, 1.78:1 widescreen color transfers for Midsomer Murders: Set 25 are perfect: razor-sharp image detail, subtle color values, and zero screen imperfections or compression issues. Excellent, as always.
The Audio:
The Dolby Digital English stereo mix for the episodes here are equally impressive, with discreet but nuanced separation effects, deep bass, and pristine background. English subtitles are available.
The Extras:
There's an interview with new cast member Gwilym Lee (I'm surprised the producers let him go on about how Midsomer isn't a show people necessarily "think about" anymore...). It runs 9 minutes. There's a behind-the-scenes featurette (23 minutes), with cast and crew interviews, that looks at the production of a few episodes here (Mark Heap comes over as a most affected, annoying twit). There's a featurette on the making of the 100th episode (17), that features expanded interview scenes found in the previous bonus doc. Photo galleries are also included.
Final Thoughts:
What used to be sly, clever, ironic, and quite delightfully perverse...has become rather shockingly literal, increasingly cloying, and worse, plodding. Hopefully, this is just a momentary set-back for the long-running Midsomer Murders...but I wonder. A rental is the best I can suggest for Midsomer Murders: Set 25, and that's strictly for die-hard series fans.
---
Paul Mavis is an internationally published movie and television historian, a member of the Online Film Critics Society, and the author of The Espionage Filmography .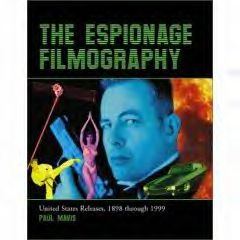 Sponsored Links
Sponsored Links