Bob Newhart Show: Season 5, The
List Price: $24.97 [Buy now and save at Amazon]
---
Why don't you tell me how you feel about this being the next-to-last season of The Bob Newhart Show? Shout! Factory and 20th Century-Fox have released The Bob Newhart Show: Season Five, a 3-disc, 24-episode collection of the beloved CBS sitcom's 1976-1977 season. Starring Bob Newhart, Suzanne Pleshette, Marcia Wallace, Peter Bonerz, and Bill Daily, The Bob Newhart Show, by this fifth go-around, had already suffered a marked decline in its ratings during the previous fourth season, with star Newhart more than ready to pack it in at the end of this run of episodes. How CBS or MTM Enterprises or the fans got Newhart to reconsider and sign up for one more year is apparently open for debate (a lot of stories and explanations out there...). However, there's no question that viewers in this 1976-1977 TV year--according to Nielsen, at least--were continuing to drift off in big numbers (it failed to crack the coveted Nielsen Top Thirty for the first time). That doesn't mean The Bob Newhart Show wasn't still capable of generating those delightfully laid-back, quirky, sly Newhart laughs. It did...only perhaps just a tad less reliably, week after week. No extras for these just-okay fullscreen color transfers.
Do you really need a synopsis of this truly iconic show? My editor says yes, so let's be brief. Wry, deadpan Chicago psychologist Dr. Robert "Charlie Everybody" Hartley (Bob Newhart) basically occupies three spaces in his daily life, and that's it. There's his rather plush, spacious North Beach/Edgewater apartment, where he feeds set-up lines to his smart, sexy wife, Emily (Suzanne Pleshette)--a school teacher whom we never see leave the condo--and where Bob executes perfect 4-beat pauses before batting back some of his neighbor Howard Borden's (Bill Daily) more daffy, surreal observations. Then there's the reception area on an upper floor of the Rimbau Medical Arts Center, on North Michigan Avenue, where Bob often chats with his smart-assed receptionist, Carol Kester (Marcia Wallace), and his frequently annoying friend, orthodontist Dr. Jerry Robinson, D.D.S. (Peter Bonerz). And finally, next to reception, is Bob's cramped, imitation wood-paneled office, where he listens to a variety of humorous cranks, such as certainly psychotic insult machine Elliot Carlin (Jack Riley), or dizzy, elderly Mrs. Lillian Bakerman (Florida Friebus), or spineless, henpecked jellyfish Mr. Peterson (John Fiedler), or perpetually terrified loser Ed Herd (Oliver Clark).
Even though growing up I was a devoted fan of The Bob Newhart Show, things changed between me and the series when the producers swapped out the original opening in the fourth season (it's a crazy thought, I know--but maybe that had a little something to do with the ratings' drop-off that year, with TV viewers who liked things to stay the same?). When the producers 86ed Newhart's classic "Hello?" opening shot as he answered the phone in his office, substituting it with an awkward freeze-frame of Newhart in his home, stiffly smiling directly at the camera before going out the door into the world, something was just...off (Pleshette's frozen purse-hoist was just as amateur hour). I liked Bob coming home to Emily (as the title of the theme music--Home to Emily--obviously intends), with the work day done, and the chilly Midwestern light outside dropping, as the piano music slowed down to a tinkling, and with the viewer suddenly realizing, when Pleshette got her nice, big screen-worthy tracking intro shot, that this unassuming, anonymous city dweller was coming home to one hot wife. That opening credit montage was ironically the epitome of sophistication and coziness, wrapped up into one package. The new opening is funkier, more strident (hey, I love a chunky base line just like anyone else, but not here), and certainly sunnier with its bright, psychedelic oranges and reds, as Bob leaves home and goes to work. It's jazzier, for sure--and that's precisely why I don't like it. It smacks of worry and calculation on the producers' part; that somehow the button-down Everyman, working and living smack dab in the middle of the country, needed a contemporary Curtis Mayfield boost. Bosh.
I know that sounds stupid...but so what? At least it's a start as to why I tuned in less regularly to The Bob Newhart Show after those first three killer seasons. Maybe that fourth season I was more tempted to tune into S.W.A.T. or NBC's Saturday Night at the Movies. Who knows. And I definitely remember avoiding this fifth season because I was bummed that Newhart's lead-in, The Mary Tyler Moore Show (one of my all-time favorites as a kid), was ending its run (with Rhoda gone and that goddawful new apartment, what was the point anymore? Better to just zone out in front of Holmes & Yo-Yo or Emergency!, and forget all about dream girl Mary...). Watching this fifth season of The Bob Newhart Show today, what struck me immediately was an initial misstep that probably didn't help maintain loyal viewer numbers: a relatively poor premiere episode...followed by two further mediocre offerings (that's three weeks of uninspired material: you can lose a lot of viewers in that span of time who never come back). I've written countless times before about the importance of that season opener for any series; anticipation with loyal viewers is at its highest for this opening episode, while the producers have a chance, a small chance, of maybe snagging a few new, tentative viewers who are tuning in for the first time. Enter Mrs. Peeper, from Gordon and Lynne Farr, takes the well-liked reoccurring character, Cliff "The Peeper" Murdoch (Tom Poston), the wild man from Bob's college past, and turns him into a frump who, after his new marriage, doesn't want to joke around anymore, who doesn't want to talk about old times anymore, and who now comes off as decidedly dull. How the hell is Newhart supposed to play off that? There's an underlying tone of unwelcome change and time passing by to the script that's neither all that funny, nor all that appealing when such a lively character is neutered this way. Not an auspicious start to the season.
And things don't get any better with Caged Fury, again from the Farrs, where Bob and Emily unimaginatively reenact an old Old Couple script by getting themselves locked in their basement storage locker. It starts out with a beautifully-timed, surreal Hartley/Carlin dialogue exchange about the difference between agoraphobia and claustrophobia, but it's all downhill from there (when Emily asks Bob if he wishes they had had kids, Newhart is stuck with the clunker, "Right now, I wish we had a kid who was a human mole,"). Some of My Best Friends Are..., from Pat Jones and Donald Reiker, had the potential to be a break-out episode, had the writers been given the leeway to fully exploit the set-up: Bob's new client, Mr. Plager (Howard Hesseman) is gay...and the group doesn't like it. Some new critics will whine that Bob's reaction to his client--swiveling his head around nervously when Hesseman is behind him--is "homophobic," but that deliberately misused and overused term (P.C. dogma=fascism) doesn't apply here, especially when Bob defends Hesseman against his regulars--a rare moment of validation in 70s network TV, when gay issues were rarely if ever discussed...and certainly not on a sitcom). As usual, the highlights of the episode belong to Jack Riley's Mr. Carlin, when he makes it very clear that Bob may not be the most original, deep-thinking therapist out there. When Bob tells Hesseman, "Well...don't look at the dark side; every cloud has a silver lining," Carlin sneers, "Wait a minute: I think I'd like to write that down." Later, Bob quotes a line from that hideous song, People, and passes it off unacknowledged as advice, telling everyone, "I think we've learned something today." Carlin stares at him for 2 beats and replies, "Yeah. I think we learned a new song," (Jack Riley consistently delivers, time and again, and he works beautifully with Newhart, the master of this kind of delayed comedic timing). Hugh Wilson's Still Crazy After All These Years is a good vehicle for Daily, who amusingly assumes the personality of his new therapist, egomaniac Leonard Stone (when Bob tells Stone he's on an ego trip, Stone objects, "That's ridiculous! I'm too fine a person!"). Eventually Stone has Howard watching Gore Vidal on Firing Line, but he's soon back to his mooching, almost imbecilic ways with Emily and Bob. The Great Rent Strike, from David Lloyd, could have been a golden opportunity when Mr. Carlin buys Bob's apartment building (it should have written itself). But a paucity of good one-liners and an uninteresting, overly familiar storyline make for a disappointment. "Familiarity" is also a problem with Gary David Goldberg's Et Tu, Carol?, where Bob has to find a replacement for Carol (didn't they already do that in a previous season?). Newhart pouting, though, is hilarious.
Of all the characters on The Bob Newhart Show, the one I enjoyed the least was Bonerz's almost consistently unfunny Jerry, so Send This Boy to Camp, centered around Jerry roping Bob into helping some fellow orphans go camping (jesus--enough with Jerry moaning about being a foundling), was a tough sell for me right from the start (a head's up for Bob Newhart Show experts: has this episode been cut? Because...how the hell do they just magically appear in a parking lot? There's no explanation for them camping out there, no linking scene, nothing. They're just there. It's really abrupt and strange, so if anyone knows, email me and I'll amend the review). I enjoyed Sy Rosen's A Crime Most Foul, because it gives Newhart a chance to let loose a little bit from Dr. Hartley's usual controlled, impassive demeanor, and to become paranoid and angry when his new obsession toy--an expensive tape machine--is "stolen" ("And don't call it a thing! It's my friend,"). A much better "Peeper" episode than the season opener, The Slammer, from the Farrs, is a very funny outing where Bob and The Peeper get arrested for solicitation at an old college bar that has changed drastically since their glory days in school (the construction and build here is quite good, culminating in a great scene where Bob almost stays in jail thanks to big-mouth Poston...before they're arrested again). Jerry's Retirement, from Wilson, and its continuation, Here's To You, Mrs. Robinson, from the Farrs, finds Jerry getting rich and retiring, before he finally finds his birth mother. A couple of funny one-liners here and there from Bob (when Jerry wonders about his heritage, "I could be a duke or an earl," Bob flat-lines, "You could be the Duke of Earl,"), but absolutely nothing is done with the central premise to elicit steady laughs (you never see his mother again, either, which seems strange since over the seasons, Jerry made such a big deal about being an orphan). A better tandem outing, Breaking Up is Hard To Do from Rosen, and Making Up Is the Thing To Do from the Farrs, takes the cliched sitcom set-up--Bob's parents are splitting up--and makes it palatable with stealth surrealism (Bob's mom, played well by Martha Scott, guesses, "Stubby Kaye?" for Bob's mystery guest at Christmas), and some excellent Howard Borden moments (Howard laughing nonsensically at Bob's reluctance towards strangers, offering, "They're not strangers once you talk to them!" is an all-time classic).
Gary David Goldberg's Love Is the Blindest gets big laughs when Mr. Carlin tries to woo his secretary with a string of lies (Carlin's disgust at Bob's less-than-cutting edge advice continues when Bob offers, "Nothing ventured, nothing gained," to which Carling spits out, "I'm paying $40 dollars an hour for advice I can find on a cocktail napkin?"). The Ironwood Experience, from Phil Davis (think about that title...) has a hole in the middle of it that robs it of being one of the best episodes this season. If the story's hook is, "Bob lectures about sex at a nudist camp," don't you think they should have shown even just a little bit of the lecture? They wouldn't have had to show the nudists, obviously, nor would they have had to have Bob get graphic--it could have just been his priceless facial reactions to his unseen audience, while he stammered over his notes. Nobody else saw that potential? Too bad, because the one-liners here are pretty good (when divorced Howard is asked if there were any early signs in his marriage that he was drifting apart from his wife, he answers, "Yes, she started dating,"). On the other hand, Of Mice and Men, from Bruce Kane, is one of the best outings this season, as Bob invites the henpecked men in his group over to his house to hear Emily's point of view...which of course he doesn't listen to. The role playing involving squeaky mouse Mr. Peterson's wife, Doris, is flat-out hilarious, while Howard makes one of his best uninvited pop-overs: thinking the group is a dinner party, he innocently mooches, "Am I in time for dessert?" when Bob angrily snaps, "Howard, please!" for interrupting...to which a momentarily discombobulated, then chagrined Howard plainly asks, "Am I in time for dessert, please?" (and while we're at it, Jack Riley put me right on the floor when, observing Oliver Clark's gloriously inept Ed Herd, he offers, "The losers of the world have a new king!" Absolutely classic Carlin.
Halls of Hartley, from Michael Zinberg, almost feels almost like a proposed spin-off backdoor pilot...starring Bob, weirdly, when he applies for a job at a rural college (when Bob and Emily gently break the news to Howard and ask, "What would you think of us moving to Iowa?" Howard blinks and responds, "All of us?"). Newhart's interview is a scream, with his prevaricating, flibbertigibbet answers about psychology ("Of course I'm not locked into that..."). Newhart singlehandedly rescues the old-hat The Heartbreak Kidd, when he thinks an overly friendly psychology student has a crush on him. Bob and Emily's bizarre discussion of school gravy may be one of the best examples of Newhart's impeccable timing, while his straight-faced declaration of his stud credentials--"Jerry, behind this 45-year-old pudgy facade lies a deceptively sexy person,"--is paralyzingly funny. A few funny sight gags--something not often seen on The Bob Newhart Show, punctuate Death Be My Destiny, from Rosen, when Bob almost falls down an elevator shaft, and begins to ponder his ultimate fate. Rosen's Taxation Without Celebration is a clever outing--Bob forgot to do his taxes and it's his and Emily's anniversary--that plays like a junior league Neil Simon playlette (Bob gets off another hysterically funny reference to his sex life--"Emily and I have been known to have our nights of passion," to which Marcia Wallace snaps a quick, sarcastic, "Oh, mercy!" She was terrific in this role).
The best episode of the season, and surely a series best, finally arrives in Michael Zinberg's and Michael Davidson's Desperate Sessions, where Bob witnesses a bank robbery...only to have the thief hole up in his office. One classic moment after another follows--Bob trying to extricate himself from an inane conversation with the robber ("Is there any way of getting out of this?"); reading the robber's note and getting hauled off by the cops; describing his Army-trained martial arts skills ("Carol...these are still the hands of a killer,"); probably the 4th or 5th Kentucky Fried Chicken joke this season ("Hey, I have good news about the chicken: The Colonel has breasts!"), and absolutely one of Mr. Carlin's best put-downs, this time to the armed, emotionally unstable robber with an ugly girlfriend ("I'm getting out of here--I hope you and Rin Tin Tin have a nice life together." Genius). If Bonerz's Jerry always struck me as at best irritating, I don't even know how to qualify Will Mackenzie's painfully blank Larry Bondurant, Carol's husband. He has his own episode, The Mentor, where he opens a travel agency on Bob's office floor, and while some of the jokes are good (Bob's, "Hi, Sheena," to Carol as she sits in the transformed, jungle-like reception area), we simply don't care about Mackenzie's character (and while we're at it, thank god Pat Finley and Moosie Drier are nowhere to be seen this season). I know it's called The Bob Newhart Show for a reason, but Rosen's Shrinking Violence would have been a perfect opportunity to showcase Pleshette in her own episode...in a season where she's criminally underrepresented. When Emily has trouble with a mechanic, it's Bob who comes to her rescue (since when can't Emily take of herself?). It is funny, though, to see Bob going toe-to-toe with big sweetheart Robert Ridgely...until Bob pushes him too far; when Bob has had enough, he challenges, "That's it--let's go out in the alley!", with huge Ridgely kindly offering, "We don't have an alley," to which Bob pauses and replies, "...you don't know how lucky you are," (when Bob's at his office the next day, wearing huge black aviators to hide a black eye, he looks like he's channeling Rev. Jim Jones). Watch for Mr. Carlin's "death list" of people who were mean to him, and listen to keyed-up, cosmically flustered Mr. Herd when he details what happened when there was no salt at his restaurant ("I was white with rage!").
Finally, what was originally intended and shot as the series finale, You're Having My Hartley, from the Farrs, was quickly reworked into a dream sequence when Newhart was paid convinced to stick around for one more season. It's an awkwardly-developed episode with few laughs in the beginning (Carol's and Emily's pregnancy announcements should have been funnier), but things pick up considerably when Bob and "The Peeper" go get drunk and bring home a present for the future baby: a full grown horse ("Boy, he could make those window boxes bloom!" Bob slurs when he suggests putting the horse out on the balcony). Newhart's Hartley is always so laid-back, always so hilariously deadpan, that it's an equal delight when Newhart cuts loose and lets Bob get crazy (the shot of Newhart and Poston, standing in the doorway and swaying back and forth with that horse, is a series' best moment). Even better is the wrap-up, where Bob wakes up from his dream...and gets a little foreshadowing of what might happen in season six (watch this bit, and see where they got the brilliant idea for his Newhart surprise series finale).

The Video:
The fullscreen, 1.37:1 color transfers for The Bob Newhart Show: Season Five look...okay, with a medium-sharp image, some fuzz and slightly faded color, and the expected level of imperfections, like scratches and dirt (by my count, except for Send This Boy to Camp, all the episodes clocked in very near or over 25 minutes, which tells me they're unedited).
The Audio:
The Dolby Digital English mono audio track is a bit screechy and squelchy at times, but nothing too distracting. English subtitles are available.
The Extras:
No extras.
Final Thoughts:
Perhaps not consistently as funny as earlier seasons (the performers are fine, but the writing isn't as reliable), this fifth season of The Bob Newhart Show still gets laughs anytime Newhart lays out a line, blinks rapidly, pauses a few beats, and then stammers out a qualifier that puts you right on the floor. I'm highly recommending The Bob Newhart Show: Season Five.
---
Paul Mavis is an internationally published movie and television historian, a member of the Online Film Critics Society, and the author of The Espionage Filmography.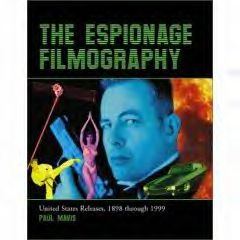 ---
C O N T E N T

---
V I D E O

---
A U D I O

---
E X T R A S

---
R E P L A Y

---
A D V I C E
Highly Recommended
---
E - M A I L
this review to a friend
Sponsored Links
Sponsored Links