''CHiPs'': The Complete Third Season
List Price: $29.98 [Buy now and save at Amazon]
---
The ratings' peak for you, you sun-kissed disco-dancing West Coast Olympian Gods of the Forever Spinning Firestones. Warner Bros.' has released--only a mere seven years after Season Two's DVD release--"CHiPs": The Complete Third Season, a five-disc, 23-episode collection of the smash-hit NBC action/drama/comedy's 1979-1980 season. More explosions, fewer guest stars, less actual time on those sweet, sweet C-Series KZ1000s--and even fewer glimpses of Officer Pretty and Prettier's home lives--mark this as a peppy, action-filled season that drew the series' biggest number of viewers (at least according to Nielsen). Never a critical darling, to say the least (another notch in its favor), "CHiPs" succeeds at precisely what it sets out to do: entertain, in a gossamer-light, attractively breezy fashion. Add in roller disco parties, pyscho freeway killers, racist surfers, the "Energy Crisis," wheelchair-bound hell raisers, punk rock music, demolition derbies, a plethora of gorgeous women (minus a Randi Oakes bikini shot...the hell?), and above all else, Earl Holliman on skates almost falling flat on his ass, and what you have with "CHiPs": The Complete Third Season is deliciously inconsequential TV at its escapist best. No extras for these nice fullscreen color transfers.
But first...click here for a little stunt work, "CHiPs"-style!
If you haven't seen "CHiPs"...then just watch an episode of Adam-12 and Emergency!, as well as Electra Glide in Blue, all at the same time. California Highway Patrolmen (i.e: "CHiPs") Officer Jon Baker (blonde Larry Wilcox) and Officer Frank "Ponch" Poncherello (raven-haired Erik Estrada), out of the Central Los Angeles office, ride around the greater Hell-A freeway system on their powerful, sleek C-Series KZ1000 motorcycles, encountering all manner of vehicular accidents and illegal activity, ranging from the mundane ("skidder" Larry Linville trying to kill fellow freeway drivers) to the truly bizarre (an Actors and Others for Animals roller disco party). Inbetween these various abuses of the Penal Code are Ponch's own penal code violations--i.e.: his constant sexual harassment of any good-looking female who walks by him frequent romantic dates--as well as Jon's mysteriously blank social life (Estrada favoritism on the part of "CHiPs"'s producers? Naah). A lot of laughs are to be had at the precinct house, though, with gruff-but-kindly sarge Joseph Getraer (Robert Pine) good-naturedly shaking his head at all of Ponch's preening bullsh*t, while background stooges Officer Arthur Grossman (Paul Linke), Officer Jebediah Turner (Michael Dorn), Officer Barry Baricza (Brodie Greer), and so-fine-it-hurts Officer Bonnie Clark (Randi Oakes) scrabble for the few on-screen crumbs left over from the constant inserts of Ponch's dazzling choppers.
Way, way back in 2008, I wrote of my religious conversion to "CHiPs" when I reviewed its second season. In that piece, I discussed in detail the series' aesthetics, so there's no need to re-hash my love affair all over again. Suffice it to say: all that is Good and Right about '70s escapist action TV fare--"Good" and "Right" in that most holy of religious sensibility--can be found in Jon's and Ponch's fantastical two-wheeled adventures. So sayeth the Lord. Now...did that same transcendental rapture I experienced with Season Two engulf me for this third go-around? In a word: no. I was relatively new to "CHiPs" back in '08 (I glanced at it a few times as a kid, but for whatever reason I wasn't a regular viewer), and nothing can compare to a supplicant's first Epiphany. Still...watching this third season, I grooved on "CHiPs"' assured goofiness with the same smooth ease of one of those KZ1000s effortlessly slipping into high gear, so let's just get down with Jon and Ponch as they kiss the '70s goodbye.
And what better way to say, "Kiss off, 1970s!" than by mentioning roller disco. Yes, that mutated hybrid of disco dancing and the jogging/exercise craze, is one of two of the decade's most shameful, embarrassing developments--the other of course being Jimmy Carter--so its prominence in the appropriately titled Roller Disco, the two-part season opener for "CHiPs", is nothing short of inspired. Form follows function here, as the producers shamelessly plug one C-lister after another into viewer sensory overload. Forget Larry Linville and Larry Storch trying to burn up people on the highway, or the truly seismic blaxploitation team-up of none other than Jim "Slaughter" Brown and Fred "Black Caesar" Willliamson--aided by a frizzed-out, scrawny Helena Kallianiotes--as a couple of roller-skating thugs ripping people off on the seedy Venice boardwalk. They both look in absolute shock at being reduced to such inconsequential guest shots on a mere TV show...while their skating leaves a lot to be desired (watch The Hammer tip-toeing along that gravel path; it's so sad). The episode's real trouble comes with Ponch, who's in charge of the annual CHP "Skate With the Stars" charity. Naturally, he's a little behind in getting any decent "names" to show up (he doesn't recognize Ed McMahon), so thank god whiny little bitch Leif Garrett is tired of singing for his supper (he just wants to be, um...friends with his manager, Bill Daily). The stressed-out rock 'n' roller shacks up with Jon (don't ask), while Daily calls in some favors from his friends over at Actors and Others for Animals, to show up for Ponch's big tah-do (I felt dizzy when Leif gripped that mic stand and warbled, "I want to enter every part...of your heart and soul, "). And my god what an array of superstars they are! You Will See: Melissa Sue Anderson, Nancy Kulp (Miss Laughs), Lee Meriwether, Robert Mandan, Cindy Williams (who looks quite charmed by turtleneck-and-sports coat-wearing stud Larry Wilcox), George Peppard, Dan Haggerty (looking scary), Michael Cole (looking grateful), Dana Plato (being propped up/dragged along by Todd Bridges and the kid from Alice), Antonio "Huggy Bear" Fargas, Barbara Luna, Vic Tayback, Jo Ann Pflug, Richard Hatch, Peter Lupus, Andrew Prine (in a dead-on Brad Davis Midnight Express outfit), Victor French, Madlyn Rhue, Peter Marshall, Jackie Joseph, Jo Anne Worley (sweetheart), Tina Louise, Susan Richardson (look out everyone!), Dick Van Patten, Adam Rich, Richard Paul, Brett Somers, Vivian Blain, Dody Goodman, the supremely gifted, talented, and altogether remarkable Ruth Buzzi (so don't email me, pal), and, as the unseen announcer maniacally cackles, "even Johnnie Ray is skating tonight!" Sweet jesus that's some group! For me, this kind of TV pop culture "event" is akin to one of the Seven Seals breaking open, so you can bet I watched Roller Disco like the Zapruder film, spotting not-mentioned "celebs" like Dianne Kaye (dream girl Nancy Bradford from Eight is Enough), Alison Arngrim from Little House on the Prairie, actor/scripter Ronny Graham (the hilarious director in Gene Wilder's The World's Greatest Lover), and even Murray Langston, way, way in the back, as The Unknown Comic (can't miss the paper bag). I honestly don't know what else any vintage '70s TV lover could ask for in Roller Disco...unless it's the sight of jaw-dropping Katherine Baumann in the shortest short-shorts ever featured in the "family hour." It's the capper on a truly epic "CHiPs" episode.
How do you top all of that? Well...you don't, but that doesn't mean there still isn't a lot of fun to be had in the remaining episodes (and no...I won't be writing entire paragraphs for each one). Valley Go Home! has racial tensions as its central thematic element--cliched, blonde, Nazi-like Malibu surfers don't like the unnamed "ethnic" Valley visitors on "their" beach--but the episode frankly is more interested in showing Ponch in a blue speedo (Ponch jokes about Jon's lack of a tan...but he gets angry when the Valley kids assume this "brother" cop will side with them). In High Octane, we revisit the magic of the Carter presidency, where long, long gas lines and rationing added to the fun of our humiliating foreign policy and overall national malaise. Everyone's siphoning fuel here, while gas station owner Aldo Ray is more than willing to buy the stolen juice. Roller hockey is brought in as a hail Mary...but we all know that's nowhere, man. Death Watch, from scripter Larry Alexander, has a first-rate premise--Hollywood stunt driver Chris Stone is faking accidents on the freeway for the insurance pay-offs--and some solid gags. We even see one of the (anonymous) CHiPs die. Whoa. Strutting, ingratiating-as-hell Estrada gets one of his best line-readings here, when he thinks he's being tapped for movie stardom: "You hear that? You hear that? My mirror was right!" Priceless. Three subplots in Counterfeit are one too many (from none other than Dean R. Koontz, if you can believe it), with Billy Barty's usual annoying "little people" shtick wearing out its welcome almost instantaneously (a serious actor Barty was not). Silly but better is Andrew Duggan using his church to front a counterfeiting ring (poor Ralph Meeker has a thankless bit part), while Ponch's dilemma with a beautiful but dumb (he thinks) girl is okay drama...if only they had tossed Barty (hee hee) and featured more of it (Estrada plays his initial disappointment with Minda Burr quite nicely).
Return of the Supercycle is kind of blah, considering the build-up (and please--that "supercycle"? It just looks like a regular dirt bike; I was expecting rocket power or fins or something). Oh, and Jon finally gets a girl, pretty Anne Lockhart...only to lose her (Wilcox must have been a saint on that set). Hot Wheels has Estrada still laid up in the hospital (didn't he get hurt a bunch of times on the set?), so laugh-a-minute Andy Robinson of Dirty Harry fame comes back as the station's practical joker. Dire. Much, much better is William D. Gordon's and James Doherty's Drive, Lady, Drive, a busy outing well directed by pro Don Weis, which finds Ponch becoming involved with gorgeous lady stock car racer Kelly Harmon...who also likes Jordan Clarke (Billy Lewis on The Guiding Light). Good subplot with the boys scabbing for the striking Palma Vista police force (there should have been more of Bruce Glover), and some excellent stock car racing footage. The Watch Commander yet again mentions gas rationing (if you didn't live through these years, there's no way to describe how tiresome it all was--only the Earth Shoe and macrame saved it), as the station gets a new hardass--the always dependable Granville Van Dusen--for a watch commander (Robert Prine, who gets to do even less than Wilcox, has a few nice scenes with Van Dusen...and watch for an impossibly beautiful Michelle Pfeiffer, late of Delta House, in a quick cameo). Richard B. Mittleman's Destruction Derby, one of the season's best offerings, directed by pro British helmer Gordon Hessler, is a tight, involving episode, again taking place at the race track (without a motorcycle in sight), as Ponch and Jon go undercover at Ascot to find out who's smuggling coke inside the racers' gas tanks. Excellent location work, exciting figure 8 racing footage, and a silly, fun finale--Jon crunches Ponch's sweet bronze Firebird, warning him that a time bomb is in Ponch's demo derby car--help a lot...as does the presence of a veritable goddess of '70s exploitation cinema: the incomparable Angel Tompkins (she of Prime Cut and The Teacher fame, just to name two as I get the whim-whams thinking about those hard, cruel baby blues).
Estrada shows a softer side again in Second Chance, when a little girl is temporarily paralyzed after a motorcycle-riding thief--being chased by Ponch and Jon--smacks into her (Estrada gets a bad rap for this series--how can you not hate a guy that good-looking and charming?--but he's actually...not bad, when given half a chance). I rather liked the unsympathetic, non-condescending attitude of Wheeling, where a bunch of disabled guys figure it's their right to screw around on the freeway in their hand-operated cars and vans (the script takes a few unconvincing slaps at mildly rebuking their behavior, before people are crashing through telephone poles, with everyone bizarrely making nice at the end as if nothing really serious happened). I actually reviewed Christmas Watch before, when it was included in a Christmas-themed collection from Warner Archive. It didn't wear any better this time around: Ponch doesn't like missing his mommy at Christmas time, while Jon...well, Jon again has nothing to do, so who cares? Some Noel hooey about a stolen bell and crying kids at a church are mixed in with the only element that demanded by constant attention: a possible sighting of Randi Oakes in her form-fitting uniform. Otherwise, this "CHiPs" Christmas special is one big skid mark. Better, by some, is Jailbirds, from scripter James Schmerer. What starts off is a surprisingly interesting story of first Jon and then Ponch caught up in the illogical wheels of justice, as they're jailed for contempt of court for refusing to give up the name of an informant. There's a nice, understated tone of surrealism to the proceedings that perfectly captures the fact that the judge and everyone else knows it's wrong to jail the cops...but that's what the law says to do so they do it. However, as the story goes on, a few slips in continuity distract (no way would cops Jon and Ponch be put in gen pop), before we're frankly bored with it all (seriously: if you're going to put them in jail, then just go ahead and make it the kind of cliched jail story we want, with the weightlifting and the fights in the shower and yard bird tough talk, and kindly old Pop, the wise, crusty jail librarian, who was convicted of petty theft back in '23, but who's terrified of the outside world that he only sees through the bars of his tiny cell window...).
Exploitation god William Smith shows up to unintentionally humorous effect in E.M.T., from Jerry Thomas and Frank Dandridge, which plays very much like an Emergency! episode. Seething Smith is the angriest EMT instructor you ever saw, as he dumps on Jon and Ponch (his son lost his legs in an accident, and he blames the medically untrained cops who were first on the scene). Then two kids get stuck in a culvert dirt cave, and sure enough, there's a cave-in. Oh, I forgot...Jon and Ponch hang glide onto an impossibly steep cliff, and strap on a critically wounded man (head and neck trauma), and glide him down to the beach, where they crash land in the sand: the all-time stupidest--and hence most marvelous--rescue I've ever seen for this type of show. Ready-to-explode Smith is hilariously all wrong for this kind of part--watch him manhandle that kid when he's "helping" him with an oxygen mask. He looks like he's going to snap his neck. Classic. Except for the inspired teaming of oddball supreme Timothy Carey (here colorfully billed as Timothy Agoglia Carey) and funny Warren Berlinger, Kidnap is a fairly dull outing, with a couple of annoying-as-hell kids accidentally getting snatched by the escaped cons (the kid from Salem's Lot stinks). At least beautiful Jayne Kennedy is around...but Estrada looks none too pleased being put in that "Mexican taxi." One of the season's best follows, though, with George Geiger's Off Road, directed with some verve by stuntman Paul Knuckles. Jon convinces a leery Ponch that an off road race in the Mojave Desert is the best way to spend three days off from work (no question that Jon's baby blue 1978 GMC Sierra Grande is nice to look at...but it doesn't look up to the punishment that's coming). What follows is a fast-cut outing full of sweet off road action crammed into a busy plot that includes everything from unexploded land mines to Mob-laundered gold coins to Edd "Kookie" Byrnes as a world-class off-roader (he shows up in a suede sports coat...) who leaves his wife Meredith MacRae to die in the desert when she starts blubbering that "feminine slop" (Kookie is either the greatest actor ever...or a complete dick in real life, because he's instantly dislikeable). Favorite moment here? When Ponch and Jon are out in the middle of nowhere, in the inhospitable, deadly desert wilds...with a perfectly manicured golf course briefly visible a hundred yards beyond. Completely entertaining.
Larry Wilcox turns director (and does an excellent job at it) with Tow Truck Lady. Ponch and Jon's tow truck driver friend, widower Chris Robinson, has a loving little girl, Tonya Crowe...and a big debt to mobster Roger Perry. So, he has to steal cars to pay off Perry. Wilcox shows himself adept at creating a good build, with some funny bits thrown in (familiar pro Dick Patterson gets a good laugh when he thinks he's dead on the freeway) amid the solidly-crafted action scenes (the finale, with Crowe trapped in a car suspended over a junk yard, is as old as the Perils of Pauline...and just as professionally put over). Wilcox isn't bad with the actors, either, getting a nice, quiet turn from Estrada, who's very sweet with little Crowe (Wilcox's bit with chubby little Christian Zika running with those falling eggs is, for some unknown reason, gigglingly funny). Nice job, Larry, on one of the season's best entries. There's a solid, interesting premise at the core of The Strippers: car thieves strip their cars of parts, put them back in when the insurance pays off the owner (and thereby waving all her rights to ownership), and then puts back the parts and sells the car for a huge profit. Too bad they didn't focus more on that subplot, rather than the tired one where one of my all-time favs, Morgan Woodward, is a rancher smuggling dope. Fans of Joie Chitwood's famed Thrill Show (saw it as a kid at the Ohio Fair--never forgot it) will love Thrill Show, where Joie, Jr. and his team execute some fun crashes and two-wheelies, wrapped around Randi Oakes' subplot about leaving CHP for love with stunt driver John McCook. I had been waiting all season for an Oakes-centered story, and while no bikini initially equaled no fun, it was nice to see her get a few dramatic scenes that consisted of something more than just pulling up in her squad car and asking Jon and Ponch if everything was okay (underutilized Robert Pine again shows how good he is with an effective scene with Oakes, where he offers her some "fatherly" advice). Oh...and you bet your ass Ponch puts that sweet bronze Firebird (which has magically repaired itself) up on two wheels. Excellent character actress Louise Latham has a good showcase in Nightingale, where she swoops out of nowhere on the freeway, performing emergency procedures like tracheotomies, before disappearing again--and all without the benefit of a medical license (when she performs a spleenectomy in a parking lot, with her bare hand rummaging around in some guy's gut without a trace of blood anywhere, I hit the floor laughing--this is why I love "CHiPs"). And finally, Dynamite Alley, from Rudolph Borchert and James Schmerer, is a tight little mystery--well...it's no mystery to us--that has a tired, sick Oakes (who's very good here) hallucinating that she hit a truck before her single car crash. CB buddy Bryan Scott, a.k.a. "Blabbermouth" (he's a stutterer, folks) knows different, because he saw the whole thing. Very few stunts here or motorcycling around; just a good storyline (Paul Linke gets to be serious in subplot that blends nicely with the main), handled well--a more than agreeable send-off for this third season.
And what a third season it was for "CHiPs", at least according to Nielsen. In an absolute blind panic, ABC and CBS threw everything they could think of against this third season of "CHiPs", but to no avail; with ratings climbing in its secure, family-friendly Saturday 8:00pm timeslot, "CHiPs" couldn't be stopped during the 1979-1980 TV year. ABC committed suicide by putting their dirty-minded smash-hit spin-off The Ropers (which had, as a mid-season replacement, placed 8th for the entire 1978-1979 season) as their lead-off at 8, with previous summer of '79 scrub, Detective School, with James Gregory and LaWanda Page, at 8:30pm (this stupid move led to The Ropers' earlier-than-expected cancellation later that year). CBS went completely crazy, scheduling no less than six series (insane) against "CHiPs" between the fall of '79 and the summer of '80, including the godawful male Laverne & Shirley clone, Working Stiffs, with James Belushi and Michael Keaton; the Jack Warden TV version of The Bad News Bears (which I remember watching a lot more than "CHiPs"...); the expensive Western miniseries/series misfire The Chisholms with Robert Preston; the dire The Tim Conway Show (the comedian's fourth failed attempt at solo TV stardom); the equally unfunny The Stockard Channing Show; and Universe. None of them worked: on that competition-free night, "CHiPs" went from the 25th most-popular show on television during the 1978-1979 season, to the 18th for this 1979-1980 season. With that kind of build, now it was time for NBC to start juggling things, with a timeslot move to Sunday nights for "CHiPs"'s fourth season....

The Video:
The fullscreen, 1.37:1 color transfers for "CHiPs": The Complete Third Season look quite good, with solid color (perhaps just a tad faded), good contrast, and a sharpish image. Nice.
The Audio:
The Dolby Digital English mono audio track is super-clean, with no hiss, a loud re-recording level, and English subtitles available.
The Extras:
No extras for "CHiPs": The Complete Third Season.
Final Thoughts:
When "CHiPs"'s theme music cranks up, with that fat, sick, funk baseline pulsating under the artificial pings and pops of the disco counterpoint, and the film editor single-handedly invents MTV and Miami Vice with fractured, disjointed, fetishized images of Wilcox and Estrada astride their slick hogs, well...mainstream commercialized TV entertainment just doesn't get any better than that. Is this third season as good as the second? Define "good." I do know this: when they were all over, I wanted more. I'm highly recommending "CHiPs": The Complete Third Season.
---
Paul Mavis is an internationally published movie and television historian, a member of the Online Film Critics Society, and the author of The Espionage Filmography.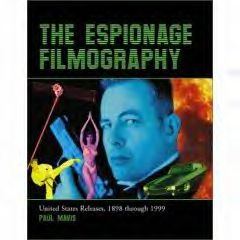 ---
C O N T E N T

---
V I D E O

---
A U D I O

---
E X T R A S

---
R E P L A Y

---
A D V I C E
Highly Recommended
---
E - M A I L
this review to a friend
Sponsored Links
Sponsored Links