List Price: $49.99 [Buy now and save at Amazon]
---
Reviewer's Note: Way, way back in 2007, I began reviewing the BBC's boxed sets of Lovejoy for DVDTalk. Those sets subsequently went out of print, and are now being re-released (with slight title changes) by Acorn. As far as I can tell, though, these are the same fullscreen transfers used for the previous releases (Acorn's now-standard disclaimer about audio/visual imperfections for these older U.K. TV shows is present). So, I'll port over my older review of Lovejoy - The Complete Season Five (with a few minor tweaks...including a new bonus for this collection)...because my opinion of these delightful mysteries hasn't changed a bit, I found, after watching these charmers all over again this past week.

Loose, easy, and fun. Acorn has released Lovejoy: Series 5, a 4-disc, 14 episode collection of the 1993 season starring Ian McShane as that East Anglian Tom Jones of the antique set. Despite two rather shocking cast departures this season, the episodes remain surprisingly light, while the mystery angles takes center stage. McShane is delightfully charming as ever; the location work is dishy (particularly in an expanded American-themed Christmas episode) and the easy laughs come frequently. Besides that Christmas special, no other bonuses for these okay fullscreen color transfers.
I've written before about Lovejoy (you can click on Season One, Season Two, Season Three, and Season Four to read my earlier reviews), so I won't get into too much background detail about the series. If you're new to the series, you can certainly jump right into the middle of Lovejoy; even though there are a few story arcs that thread through the various episodes, they're largely stand-alone, so you needn't be familiar with past episodes to fully enjoy the show. Ian McShane plays Lovejoy, a preternaturally gifted "divvy" (one who can spot and identify rare antiques with absolute accuracy) who also happens to be a horn-dog and a perpetual deadbeat -- as well as a genuine lover of all things priceless and beautiful. Constantly on the run from creditors who want his dosh, and from the cops who suspect him of suspicious deals, Lovejoy breezes through life never knowing where his next pay packet is coming from - or where he might lay his head at night. Aiding Lovejoy in his constant treasure seeking is young novice Eric Catchpole (Chris Jury), who is very slowly coming along in his own antiquing skills, and always slightly inebriated Tinker Dill (Dudley Sutton), an old hand at divvying who's as comfortable identifying a rare piece of Restoration furniture as he is propping up the bar at the Royal Oak. And as always, Lovejoy can count on the seemingly endless pounds that flow from Lady Jane Felsham (Phyllis Logan), who now runs her own successful interior design firm. Lovejoy's closest friend, Lady Jane also provides a maddeningly unobtainable object of love/lust for Lovejoy, made all the more unbearable because she obviously loves him, too (although both are smart enough to realize that should anything really serious happen between, all would be lost).
SPOILERS ALERT
In my previous reviews of Lovejoy, I've commented on how I enjoy the financial precariousness the character always finds himself in; he just wouldn't be Lovejoy if he wasn't scrambling for dosh, a haf'penny away from losing everything (the previous fourth season had a story arc running through it wherein Lovejoy feels fat and lazy always relying on Lady Jane, stirring him to reawaken his inner hustler). This fifth season, however, feels very calm and loose when it comes to matters of money (as well as the potential for jail, another constant looming threat to Lovejoy's enterprises in the past). Of course, the main fulcrum for most of Lovejoy's adventures still revolve around him finding some forgotten treasure and buying it short and selling it long. But no episode this go-around makes Lovejoy's finances a matter of life or death, and McShane's breezier-than-usual turn in these 14 shows doesn't seem to indicate any great desire on the producers' part to repeat some of the more dramatic offerings of Season Four.
And that's rather surprising because the series loses two of its most important characters this season...and Lovejoy, while cognizant of the losses, moves right on with his life and even seems the happier for those people's departures. On the surface, it would seem foolhardy to exit-out Lovejoy's financial guardian angel and unrequited love interest, Lady Jane Felsham; their interactions together are a tried-and-true formula that works time and again for the characters and the show. Lovejoy does something impish and irrepressible and slightly dodgy, which gets him into trouble with someone who wants a lot of dough, prompting Lady Jane to bail him out with either her money or her connections...all the while becoming more and more attracted to the naughty little bad boy who refuses to grow up, and who makes it plain that he loves her above all else. That clash of cultures and classes (rough, lower-class Lovejoy finding impossible love with married-then-divorced posh aristocrat Lady Jane) provided a nice subtext to the romance between the two characters that always underlined the mysteries. Lady Jane's departure would then seem like a deal-breaker for the series.
But it's not at all. While her final episode is handled with understated sadness when she leaves East Anglia and Lovejoy - importantly, with both finally, truthfully acknowledging that in the end, their love was always an impossibility - and while Lovejoy mentions pining for her once or twice in the following episodes, she's largely forgotten by him. And that's good for the series in the end, because the character seems liberated. The sticky complications of desiring spoken-for, hands-off Lady Jane - and the eternal sexual frustration of not being able to sleep with her - are eliminated, freeing up Lovejoy to take up with his newest conquest, Charlotte Cavendish, played by the delicious Caroline Langrishe. The dynamics with his new woman-of-choice are at the same time looser and more complicated than those with Lady Jane. Charlotte sleeps with Lovejoy relatively soon in their relationship, and she's not at all adverse to doing so again. But she's not looking for a deep, committed love from him, either (at least not yet) - just fun, which suits Lovejoy fine...until he starts to fall for her more seriously. She's still adversarial with him when it comes to antiquing (she's a rival auctioneer and antiquer, and she doesn't appreciate Lovejoy's sketchy antics), but she's open to good times and sex with him, and frankly, that attitude is a relief after four seasons of constant sexual frustration caused by the unsatisfactory push-me/pull-you teasing of Lady Jane. Lovejoy can relax into his new relationship; he's allowed to have some pleasure with the smart, sexy, gorgeous Charlotte (there's a marvelous shot in Swings and Roundabouts where, at a local fair, Lovejoy and Charlotte lie on the grass, in the dark, with a huge Ferris wheel lighted behind them, perfectly illustrating the romantic and at the same time, light and fun nature of their relationship). Maybe that's why Lovejoy seems so much more relaxed and satisfied this go-around.
As for the loss of bumbling Eric Catchpole, I suppose there really wasn't anywhere the character could go, since the writers gradually made him more confident in his antiquing skills. But there's no denying that the vaguely father-son relationship established by Lovejoy and Eric was a big source of comedy in the series (as well as providing a frequent and convenient plot device to introduce a story twist: Eric bumbles something that Lovejoy has to fix--he's particularly missed in that Christmas special, The Lost Colony). Curiously, though, considering how well thought-of Eric was with the other characters, his departure in Ducking and Diving is executed as almost an afterthought, and he's not mentioned again. The episode winds up with everyone at a bar owned by a relative of Eric's; he casually (and out-of-the-blue) mentions he's taking over the bar, and the episode ends. Goodbye, Eric. No big send-off, and no further mention of him. And no taking stock of his value to the series (at least Lady Jane's goodbye seemed weighted with emotion). His replacement - the bland, uninteresting Beth character, played by Diane Parish - seems to function merely as a crutch whenever some lines need to be thrown to another character. Nothing much is done to develop her as an integral member of the team, and her anonymous personality is no match for the outsized Lovejoy, Tinker, and Charlie. And thank god for Charlie Gimbert's increased presence this season. Lovejoy's eternal nemesis, softened this time around to a comedic foil, is essayed with great humor by Malcom Tierney, and the character's aspirations this season to a higher class this season offers a wealth of funny throw-away bits. It's one of the best elements of this particular gathering of episodes: another indication of the lightness of touch and good humor that permeates this particular season.
Here are the 13, one-hour episodes of the four-disc boxed set, Lovejoy: Series 5:
DISC ONE

Pig in a Poke
The Queen is coming to visit...which causes big problems for Lovejoy and Associates when it's discovered that a statue belonging to one of Lady Jane's friends is stolen...from the Queen herself!
Who is the Fairest of Them All?
A young girl who is terrified of an antique mirror at her dance academy is the least of Lovejoy's worries: Lady Jane is leaving East Anglia - and Lovejoy - for good.
A Going Concern
Lovejoy meets his match in the gorgeous Charlotte Cavendish, an auctioneer who dislikes Lovejoy's shady ways...but enjoys his rakish charm. Big news around town this episode: Charlie buys out Lady Jane's Felsham Hall, and plays lord of the manor to the hilt.
The Kakiemon Newcomer Beth joins the team, but Lovejoy is preoccupied with coming up with enough money to pay off an old debt - an old debt that has been bought up by a much more...impatient "banker" who may hurt Lovejoy if he doesn't pay up.
DISC TWO

Three Men and a Brittle Lady
The old fainting dodge is employed at auction to swindle Charlie out of a valuable porcelain figurine, and he asks "old mate" Lovejoy to help him recover it.
Ducking and Diving
Lovejoy can't seem to get rid of his huge Welsh dresser...nor the attentions of DCI Sharpe, of the Antiques Squad. And sad news for all: Eric is leaving the antiquing business for good.
Stones of Destiny
Bible Joe, the most honest in antiquing, promptly steals an invaluable Celtic cross - all thanks to Lovejoy's intervention. So Lovejoy and Charlotte are off to Wales to find it...and perhaps love, as well.
DISC THREE

Poetic Licence A disturbed woman needs to sell a valuable bureau in order to stay at an exclusive asylum, and it's up to Lovejoy to find the true value in the piece.
The Peking Gun Lovejoy finds himself in the middle of a Tong war when a valuable Peking canon is brought to light.
Goose Bumps Lovejoy gets his hands on two geese - of the statuary variety - by way of a dealer who took a swan dive off the local ferry. Or did he?
Swings and Roundabouts An old carny is looking to unload his valuable set of brass candlesticks, but a beautiful carved merry-go-round is the real prize for an American investor.
DISC FOUR

Never Judge a Book by its Cover A trio of rare bibles are the centerpiece of a mystery involving two old dears and their shady professor brother.
The Price of Fish A romantic weekend in the country for Charlotte and Lovejoy turns sour when one of Charlotte's friends takes a shine to the flashy dealer.
The DVDs:
The Video:
As with the previous Lovejoy releases, Lovejoy: Series 5 will look better on a smaller monitor. The full-screen, 1.33:1 video transfers look reasonable for this type of program, but the bigger your monitor, the more you're going to notice a slight blur (PAL conversion issue?) whenever the camera moves. It's not too distracting, though, and again, a smaller monitor will help. Colors look a little faded (or sometimes valued incorrectly), but that's about par for these unrestored elements. The picture is at times soft, but overall, this presentation is about on par with normal BBC Video releases.
The Audio:
The Dolby Digital English 2.0 soundtrack for Lovejoy: Series 5 is adequate, with all dialogue heard cleanly and crisply. English subtitles are available.
The Extras:
The Ian McShane interview clips from 2004, included on the previous BBC TV release, have been ditched here in favor of The Lost Colony, a Lovejoy Christmas special ghost story from December 27th, 1993. Scripted by British legends Dick Clement and series creator Ian La Frenais, The Lost Colony is a complete delight, with the change-up in locale--Lovejoy in the swamps of seemingly crazed Southern U.S.A.--really giving the episode a boost. Lovejoy, feeling a bit sad when he realizes the Lovejoy line is running out, after the death of a long-lost uncle, is drawn into a ghost story mystery that reveals lots of American Lovejoy cousins...all of whom are either liars, cheaters, or killers. Lots of funny Lovejoy moments, including McShane's patented 4th wall breaking (his amazed "Another Lovejoy?" into the camera is hilarious), and some repeatedly clever segues (Lovejoy hitting on sexy Kate Vernon cuts to a shot of a dog wagging his tail), while the American location work is evocative (with a terrific, appropriately bluesy soundtrack, too). Of course the American characterizations of the Southern "types" are, to be kind, exaggerated, but this is essentially farce, so it's to be expected (the process is no different than the expected English stereotypes you'll find in any cozy, comfy British drawing room mystery). The mystery is convoluted and interesting (sunken treasure and Sir Walter Raleigh figure in this outing involving a corrupt, murderous family inheritance storyline), while the atmosphere is violent (lots of American guns and beatings...while a death by crocodile is even thrown in). John Gielgud pops up, looking a bit frail, and there's good support from American Gothic's Alex Van (as a, um...challenged deputy sheriff), and particularly Dallas' Ken Kercheval, delightfully chewing up the scenery as an unhinged Southern power broker. All in all, a superior Lovejoy episode, and a nice bonus for this collection.
Final Thoughts:
Lady Jane and Eric...gone? Oh, well--Lovejoy handles it with his usual aplomb: he quickly forgets all about them and shacks up with a gorgeous auctioneer played by the heavenly Caroline Langrishe. Very, very loose and charming this go-around, Lovejoy: Series 5 doesn't worry too much about Lovejoy's finances or his personal freedom (outside of jail), and it's the better for it. It's about time Lovejoy relaxed a little. I highly recommend Lovejoy: Series 5.
---
Paul Mavis is an internationally published film and television historian, a member of the Online Film Critics Society, and the author of The Espionage Filmography.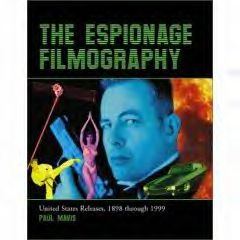 ---
C O N T E N T

---
V I D E O

---
A U D I O

---
E X T R A S

---
R E P L A Y

---
A D V I C E
Highly Recommended
---
E - M A I L
this review to a friend
Sponsored Links
Sponsored Links