History Presents: The Definitive WWI & WWII Collection
List Price: $99.98 [Buy now and save at Amazon]
---
A collection of previous collections. History, via Lionsgate and A&E Video, no doubt to ride some of Europe's World War I centennial celebration fever that has gripped vast swaths of the American public (uh...), has released History Presents: The Definitive WWI & WWII Collection, a two-volume, 20-disc gathering of several series, miniseries, and isolated series episodes that originally aired on the History cable channel. Included here are 2014's The World Wars, WWI: The First Modern War, and D-Day in HD, 2012's WWII from Space, 2009's WWII in HD, 2001's The Color of War, and 2009's Patton 360, as well as episodes from past History hits Modern Marvels, Dogfights, Man, Moment, Machine, and Battle 360. All of these titles have been previously released on disc (some on Blu-ray, which trumps these standard transfers), so there's no need to double-dip if you already own these (not helping are no new bonuses). Hard-core history experts will no doubt take exception to what goes on in these admittedly abbreviated history lessons, so the debate over these History docs' details will continue (and no, I'm not going over them because I'm no scholar on the subjects--just a buff). Since these docs have been reviewed multiple times over their various DVD releases (and since history enthusiasts who may stray on this review only need to know what's in this latest collection), let's look very briefly at each offering.

DISCS 1 & 2

THE WORLD WARS

Bucking the current trend in all those commie college history departments, The World Wars returns with a vengeance to the "great man" theory of historical perspective, focusing on the key players of WWII (Hitler, Stalin, FDR, Churchill, Patton, and others), and how their experiences in World War I shaped their destinies almost 30 years later, in what the writers consider essentially one long engagement, rather than two separate world wars. Lavishly mounted, with expensive-looking historical re-creations (they even stage side events like Patton's involvement in the Pancho Villa skirmishes), The World Wars was hyped quite a bit prior to its Memorial Day, 2014 debut (I missed it on purpose when I saw who was introing it...). Watching it here, I can't say I saw anything new in terms of info laid out, though. It's gussied-up for a History miniseries, to be sure, but unless you're entirely new to this particular section of world history, I doubt you're going to be surprised by what you see in The World Wars. Historians featured here in typical "talking head" inserts include noted scholars such as Michael Beschloss, Douglas Brinkley, and Max Hastings...along with assorted irritants like Senator John McCain (who has the nerve to say Patton was "over the top" in that chuckling, patently fake "aw shucks, I'm embarrassed to say" passive aggressive manner of his) and excruciatingly pointless Colin Powell. Extras for this edition of The World Wars include over 25 minutes of Characters in Depth, an ironically-titled collection of brief thumbnail takes on our key historical players (newsreader Tom Brokaw shows up to predictably gush over FDR). There's also over a half-hour (32:36) of Featurettes, numbering 9 total, that look briefly at subjects from Tech Developments of WWI to the Harlem Hellfighters. All of it looks like outtakes, as do obviously the included Deleted Scenes section, running almost an hour long.
---
DISCS 3 & 4

100 YEARS OF WWI - THE HISTORY OF WWI: THE FIRST MODERN WAR

Somewhat oddly retitled, since this series originally aired simply as WWI: The First Modern War, this four part miniseries that first debuted this past summer looks at four crucial technological advances that distinguished WWI from previous military engagements: the tank, lighter-than-air superstructures, poison gas, and the submarine. Good, if familiar, information presented here (you're going to be reading that a lot as we go along...), particularly the detail concerning the early "death trap" tanks, and the primitive submarines. Context is necessarily light, but this is a good one for tech-heavy buffs. The second disc features single episodes from older History Channel series. Included are 2004's WWI Tech, from the Modern Marvels series (typically superficial, brief example of this series), 2007's The First Dogfighters, from the Dogfights series (boy...do all those CGI battle scenes look awfully crude after seven years of technological improvements), and 2006's The Red Baron and The Wings of Death, an informative, even exciting look at the famous ace, from the old Man, Moment, Machine series with Hunter Ellis.
---
DISCS 5 & 6

75 YEARS OF WWII

Disc 5 features the two-part, three-hour special D-Day in HD, from 2014, a hypnotic, terrifying account of D-Day told straight from the mouths of some of the few remaining survivors of the deadly battle. Utilizing newly-found vintage color battle footage, along with the usual high-tech-looking on-screen maps for continuity, D-Day in HD just lets these heroes describe, simply and powerfully, what happened to them on June 6th, 1944, and the mesmerizing results are harrowing and heartbreaking. The focus may necessarily be narrower here, detailing first-person anecdotes concerning the battle, but that makes these oral histories no less valuable, nor compelling. Unfortunately, the same can't be said for the three offerings on disc 6. Two episodes from 2008's Battlefield 360 (Bloody Santa Cruz and Enterprise vs. Japan) could have used more first-person perspective and less clunky CGI gamer sequences to tell its story of the U.S.S. Enterprise's epic missions in the Pacific. As for WW II Ultimate Weapons, which onscreen is titled World War II Game Changers, I can only guess this standard "Top 10" countdown of WWII tech innovations is actually a spin-off or bonus outing from the WWII from Space entry we'll look at later (same graphics, same cosmic maps, same talking heads). No surprises here, including the number one game changer of all times: the A-bomb.
---
DISCS 7 through 11

WWII IN HD

Spanning five discs (the fifth one stored in this collection's second volume) and 10 episodes, with 2 later-produced bonus episodes, WWII in HD is quite simply one of the best documentaries you'll see on the conflict, not only in terms of content, but also from a visual standpoint. Narrated by Gary Sinese, and focusing on 12 real-life American servicemen and women (vocally portrayed by performers such as Rob Corddry, Ron Livingston, LL Cool J, Rob Lowe, Amy Smart, and Steve Zahn), WWII in HD lets these vets speak for themselves as we see the war through the eyes of combatants as varied as a Tuskegee Airman, Army nurse, short story writer-turned-fighter pilot, Jewish immigrant-turned-infantryman, and combat journalist. As informative and moving as their own recounts of their war experiences prove, the visual record of WWII in HD is equally stunning (and frequently horrifically graphic), utilizing long sought-after vintage color footage that was scrounged from all over the world, and painstakingly restored to 4K transfers here, giving viewers a pictorial representation of WWII that will simply blow them away (aurally, the doc sports superior sound editing, with the footage's verisimilitude heightened by the variable, directional sound design). After the success of this miniseries, two subsequent bonus episodes were produced, and they're included here: The Air War and The Battle of Iwo Jima. A brief Character Profiles (14:53) featurette is included, along with two very short looks at how this astounding color footage was found, and how it was preserved for posterity. Seen in total, an astonishing achievement from directors Frederic Lumiere and Matthew Ginsburg.
---
DISC 12
WWII FROM SPACE
Certainly the weakest entry here in History Presents: The Definitive WWI & WWII Collection, WWII from Space is a gimmick in failed search for a purpose. Somehow trying to convince the viewer that its standard rundowns of major WWII battles are comprehensively enhanced by graphing them onto satellite simulations of the globe, all WWII from Space succeeds in doing is straining the viewers' eyes as they try and discern through the dark, cloud-covered shots of the globe just where the hell they're looking at all those red dots and waves of soldiers. It's a surprisingly stupid concept to have been greenlighted (didn't anyone at a pre-production meeting speak up and say, "A map is so much easier to read?"), the doc's info isn't as dim as the visuals...but it's also not nearly as "bright" as I've seen in countless other WWII docs. A misfire right from conception, and hardly worthy of inclusion in a collection titled "definitive."
---
DISCS 13 through 17

THE COLOR OF WAR

A five-disc, 13-episode series from 2001-2002, The Color of War was a notable early effort to showcase then-rare color footage captured by the armed services' combat cameramen. Narrated by Peter Coyote, the only reason the contemplative, respectful The Color of War seems a tad staid now is only due to the newer upped-game HD-transferred color docs reviewed above. The Color of War's slower tempo and a heavy reliance on prior "Hitler Channel" schematic and aesthetic conventions also contribute to this passed-by feel...but it's still a fairly comprehensive overlook.
---
DISCS 18 through 20

PATTON 360

You can read my 2009 review of Patton 360 here.
---
The Video:
The World Wars is presented in an absolutely crisp, clean 1.78:1 anamorphic widescreen transfer, with no compression issues and fine detail. WWI: The First Modern War is anamorphically transferred at 1.78:1, with the newly-shot interview material looking okay (if a little smeary), while the old 1.33:1 vintage footage is cropped and blown-out grainy. The Modern Marvels' WWI Tech and Man, Moment, Machine's The Red Baron and The Wings of Death episodes are presented here in unimpressive 1.37:1 fullscreen transfers. Dogfights' The First Dogfighters is flat letterboxed at 1.66:1, reasonably clean and sharp. D-Day in HD has a razor-sharp anamorphically-enhanced 1.78:1 transfer. The two episodes from Battlefield 360 and WW II Ultimate Weapons also sport clean anamorphically-enhanced 1.78:1 transfers. WWII in HD, unfortunately, is presented in a flat, letterboxed 1.66:1 transfer, which nonetheless is finely detailed. WWII from Space looks good in an anamorphic 1.78:1 transfer (colors are a little dark at times). The Color of War is presented in a fullscreen 1.37:1 transfer looks necessarily grainy, made worse when some of the post-tinted vintage footage is shown. And finally, Patton 360 is presented in a flat, letterboxed 1.66:1 transfer, with a somewhat dark look, and a bit of fuzz.
The Audio:
The World Wars and WWII from Space both sport nicely differentiated 5.1 Dolby Digital English stereo mixes, with English and Spanish subtitles. All other titles are presented in serviceable Dolby Digital English 2.0 mixes.
The Extras:
Extras are detailed above.
Final Thoughts:
"Definitive," no...but hefty. All of the entries in History Presents: The Definitive WWI & WWII Collection have been previously released on DVD, so nothing new here for fans of the WWI and WWII TV doc genre. A superlative introduction for novices in the time period...as long as they recognize some of the facts and conclusions are iffy. So for them only, I'm recommending History Presents: The Definitive WWI & WWII Collection.
---
Paul Mavis is an internationally published movie and television historian, a member of the Online Film Critics Society, and the author of The Espionage Filmography.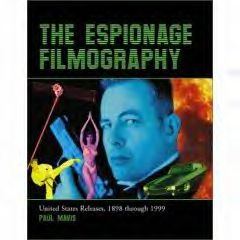 ---
C O N T E N T

---
V I D E O

---
A U D I O

---
E X T R A S

---
R E P L A Y

---
A D V I C E
Recommended
---
E - M A I L
this review to a friend
Sponsored Links
Sponsored Links