Little House On the Prairie: A Merry Ingalls Christmas
List Price: $9.98 [Buy now and save at Amazon]
---
Gentle Christmas stories with the Ingalls. Lionsgate has released Little House on the Prairie: A Merry Ingalls Christmas, a single-disc, two-episode collection of holiday-themed outings from the long-running NBC family drama. Included here are 1974's Christmas at Plum Creek, from the series' first season, and 1981's A Christmas They Never Forgot, from the 8th season. Starring Michael Landon, Karen Grassle, Melissa Gilbert, Melissa Sue Anderson, Lindsay and Sidney Greenbush, Richard Bull, Katherine MacGregor, Alison Arngrim, and Victor French, these Little House episodes are simple, wholesome family fare for the Christmas season--something that's increasingly more difficult to come by in today's television landscape (just be careful who you watch that last one with...). No extras, but these fullscreen episodes have been nicely remastered. Let's look briefly at each one.

CHRISTMAS AT PLUM CREEK

In the 1870s, on the banks of Plum Creek, near Walnut Grove, Minnesota, the hard-working, loving Ingalls family excitedly prepare for Christmas. Farmer Charles Ingalls (Michael Landon), secretly noticing his wife, Caroline (Karen Grassle) eyeing a stove in Nels Oleson's (Richard Bull) general store, realizes he's going to have to hustle up some extra work if he's going to have any money to buy it. Making a secret deal with Oleson, Charles proposes to fix up four buckboard wagon wheels for 8 dollars. The fact that Charles isn't a wheelsmith isn't important: necessity is the best teacher, he tells little Laura Ingalls (Melissa Gilbert). She can't think of anything to give her mother or father from Christmas...although snotty, spoiled friend Nellie Oleson (Alison Arngrim) wouldn't mind buying Laura's pony, Bunny, if only she'd sell it. Caroline has an idea to make "Pa" a shirt...but so does older sister Mary (Melissa Sue Anderson), who takes a part-time seamstress job to earn the extras money for the fabric. Even little Carrie Ingalls (Lindsay and Sidney Greenbush) has an idea of what to buy for the penny she's found: a tinfoil Christmas star in Oleson's store window.

Written by Arthur Heinemann, and directed by series producer William F. Claxton, Christmas at Plum Creek, which debuted on NBC on Christmas night, 1974, is a lovely, quiet episode from Little House on the Prairie's first season. To be honest, I don't have any real experience with Little House. Growing up, my family watched The Waltons (my three brothers and I probably thought that Little House was a "girl's show"), and I don't think I've seen more than a handful of episodes (just by chance) in reruns over the subsequent decades. All The Waltons Christmas episodes I know by heart (the series' 1971 pilot movie, The Homecoming, is one of the best made-for-television movies of any decade), but Christmas at Plum Creek was new to me, and as such, a welcome surprise.

What immediately struck me about Christmas at Plum Creek was its agreeably deliberate, methodical pace. It has a simple story to tell, but it takes its time doing so over the 50-minute run time. A good example is a beautifully-crafted scene in Oleson's general store, where the Ingalls silently wander about, eyeing the particular gifts they want, as they ponder how they're going to afford them. No dialogue. The simplest camera set-ups. But wonderfully effect at getting across the family's poverty, their desires (importantly--the gifts they look at are forothers, not themselves)...and their determination to work hard to get what they want. Indeed, that underlying message--even the little children are expected to pull their own weight, and work for what they need--is rather bracing in this day and age of entitlements. Even better is the hard-luck resolution, SPOILER ALERT! when Laura must give up her pony, as agreed, even though she's bought the same stove for Ma as Pa did. You keep thinking the scripter will come up with an "out" for the heartbroken little girl, but no--a deal's a deal, and she gives Bunny over to Nellie. Christmas at Plum Creek's ultimate message--love and family over material goods--is a necessary one this time of year, and one that still works well in this 40-year-old episode.
---
A CHRISTMAS THEY NEVER FORGOT

Mary (Melisa Sue Anderson) married and now blind, with her husband Adam Kendall (Linwood Boomer) in tow, arrive for Christmas at the Ingalls' rather enlarged "little" house. Hester Sue (Ketty Lester), a teacher for the blind, accompanies them. Joined by Laura (Melisa Gilbert) and her husband, Almanzo (Dean Butler), as well as new additions to the Ingalls clan, the family hunkers down for a Christmas blizzard, as Caroline (Karen Grassle), Almanzo, Laura, and Hester Sue remember pivotal Christmases of their childhoods.

I can't write that I was as equally impressed with A Christmas They Never Forgot, as I was with Christmas at Plum Creek. Granted, it was more difficult for me as a non-fan of the Little House series to initially figure out who some of these new people were (not to mention wondering what happened to Mary to cause her blindness). The flashback structure wasn't a problem (although some of the transitions from director Michael Landon were a bit clunky), and the individual stories--or at least, three of the four--were nicely worked-out by scripter Don Balluck. I can't imagine too many parents approving of the harsh story from Almanzo's youth, but Hester Sue's memories of a Black Santa, and Laura's recollection of the family's first Christmas in Kansas--with footage taken from the pilot episode--were quite nicely drawn. What troubled me, though, was the overall episode's frequent narrative missteps that seemed to indicate there was no real Santa Claus...which, to any child reading this review, is complete nonsense. I myself had to reassure my eight-year-old daughter that indeed he did exist every time Michael Landon or another character did something that called that certainty into question (like mentioning getting the stockings stuffed now that the kids were asleep). In the flashbacks, Hester Sue's story also makes it (falsely) clear that there's no Santa, while Almanzo's story shows his father not only lied about Santa visiting their house that year, but that his father cruelly withheld all presents from his older son, only to say that Santa did this (which doesn't happen, kids). If you have younger children, a seemingly small but critical hitch like that can take on big repercussions when viewing one of these videos at Christmastime, negatively impacting the overall experience of the episode--which is precisely what happened when I saw this with my little daughter. Unfortunately because of this, I'd recommend not watching A Christmas They Never Forgot with your little children.

The Video:
With the recent remastered releases of the first few seasons of Little House on the Prairie, fans have welcomed the restored runtimes and the enhanced image fidelity--both of which are on display here in Little House on the Prairie: A Merry Ingalls Christmas. Colors are beautifully valued, the image is extra-sharp, contrast is balanced, and no compression issues are present.

The Audio:
The Dolby Digital English 2.0 stereo mix is super-clean, with almost no hiss, and a hefty re-recording level. French and Spanish 2.0 language tracks are also available, as are English subtitles.

The Extras:
No extras for Little House on the Prairie: A Merry Ingalls Christmas.

Final Thoughts:
Warm, simple family drama, done cleanly and thoughtfully. I was most impressed with Christmas at Plum Creek's straightforward, quiet tone, and lovely message, and while A Christmas They Never Forgot is generally well-crafted, be careful of little viewers paying too close attention to it. Overall, I'm recommending Little House on the Prairie: A Merry Ingalls Christmas.
---
Paul Mavis is an internationally published movie and television historian, a member of the Online Film Critics Society, and the author of The Espionage Filmography.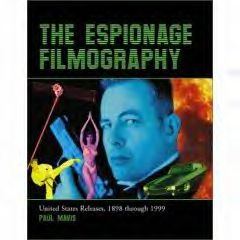 ---
C O N T E N T

---
V I D E O

---
A U D I O

---
E X T R A S

---
R E P L A Y

---
A D V I C E
Recommended
---
E - M A I L
this review to a friend
Sponsored Links
Sponsored Links