Mythbusters: 10th Anniversary Collection
List Price: $99.99 [Buy now and save at Amazon]
---
For a science show...you'd think someone there could count. Discovery and Cinedigm have released Mythbusters: 10th Anniversary Collection, a strangely-titled 10-disc, 50-episode gathering--"strange," since the hit Discovery Channel science/blow sh*t up series has been on the air since 2003. Featuring 10 supposedly hand-picked favorites from the five co-hosts, Mythbusters: 10th Anniversary Collection is yet another cool-but-frustrating release for the popular show: "cool" because it gives a big chunk of outings for the fans, but "frustrating" because it's not a complete season offering, in proper air date order. No extras for these okay widescreen enhanced transfers.

I picked up Mythbusters: 10th Anniversary Collection because it's been a few years since I had seen the show, and several since I was a regular, set-the-DVR viewer. I'm always curious to see why a viewer trails off on a show they used to catch like clockwork, and Mythbusters seemed to fit that bill for me. Back when it premiered in 2003, my eldest daughter, already set on an engineering career, was still at home, so Mythbusters, with its science/physics/chemistry experiments wrapped up in a Jackass prank-like framework, was a good show to catch together (and it didn't hurt that my eldest son was a fifth grader who liked to see things squished and smashed). For a couple of years we never missed it, but eventually, once the formula was set--Adam's the spaz and Jamie's the grump and the various "other three" are all jumping around to prove to us how exciting everything is--we got it, and moved on. I would tune in occasionally if I happened to see a promo for a new episode, but frankly, I checked out permanently when I saw these champions of science education for America's youth do an episode at the White House with the guy who changed a gutted NASA's primary mission while making sure our astronauts fly around on Russian rockets (and a few years later, when their show came mighty close to killing some people with a cannonball and the producers put the lowly "B Team" on-screen to apologize and not Adam and Jamie--no doubt to minimize damage to the brand--I pretty much laughed them right off my radar).

Now I read that for the upcoming season, the B Team is gone, and the show is "going back to its roots," with just Jamie and Adam busting myths. That's probably a good thing...if anyone still watches. I went back and looked at about half of the episodes here, trying to get a sense of where the show started, and where it has wound up (annoying, since all the episodes' order are jumbled up here), and definitely the show was stronger at the beginning. The first pilot episode, Jet Assisted Chevy, is one of Adam's picks (at least that's what's listed on the episode guide: there aren't any new intros from the hosts, explaining this collection or how episodes were chosen). Trying to dispel the infamous "Rocket Man" urban legend in Arizona, this cheap, grungy-looking, tech info-heavy episode shows how appealing the format was when it was new. Adam and Jamie get their hands dirty while we see the whole process of the experiment, with everyone adopting a laid-back, bemused attitude that fits the essential silliness of the endeavor. Yes, Mythbusters may be giving very broad, generalized science lessons (in shorthand) to receptive viewers, but its primary function is to entertain with outsized stunts and explosions and cool destruction delivery systems that appeal to every kid who smashed his old metal Tonka truck with a ball-peen hammer. And there's nothing wrong that goal.

A second season outing, Pingpong Rescue, hit all the buttons for me as a quintessential Mythbusters episode: the boys sink a boat, just to raise it with ping pong balls, while the B Team (with my favorite line-up of Scottie Chapman, Kari Byron, and Tory Belleci) tries to recreate The Red Balloon by lifting a small child with a mass of helium balloons. Perfect. We have land, sea, and air, we get destruction and resurrection, as well as whimsy (the little girl seems alternately delighted and scared to death) and a solid glimpse at that much rumored-about friction between Jamie and Adam (listen to how genuinely nasty a sneering Jamie sounds when he insults Adam: "Ah, you big baby. Stop whining. You're always whining about something. You want to waste time on all sorts of crap," before a shaky Adam gives a pissed-off, "F*ck you!" and walks off). After those first few seasons, though...repetition begins to set in. Too much time is given over to the B Team, who are often laughably bad at "conversationally" getting over exposition information that sets up the experiment. The production values inch up, more time is spent on goofy filler, and the grunge feeling of guys banging sh*t together in a warehouse to blow stuff up gets lost. By the middle seasons we have episodes where dead cockroaches are counted after getting blasted with radiation (there's some visually exciting TV) and a car is filled with foam, over and over again, until someone jumps up and down and exclaims how amazing that "prank" is...in case we fell asleep. By the time I got to episodes like Breaking Bad Special, a ponderous shill for the cable series, I was convinced the producers had the right idea of going back to the show's basics this upcoming season. Taken in quick little bites--which is hard to do because of all the cross-cutting between the competing experiments in an episode--these later episodes are still mildly diverting, but 12 years is a long time to blow up beat a formula into the ground. I enjoyed this big helping of Mythbusters, and I suppose it made me curious to see the rebooted series whenever it premieres...but it had better be different in substantial ways from the last six or seven seasons to get me tune in more than once.

Here are the 50 episodes selected by the hosts, for Mythbusters: 10th Anniversary Collection:

ADAM'S PICKS


DISC ONE

Airplane on a Conveyor Belt (Episode 110, January 30, 2008)
Alcatraz Escape (Episode 11, December 12, 2003)
Birds in a Truck (Episode 90, April 18, 2007)
Bullets Fired Up (Episode 61, April 19, 2006)
Inverted Underwater Car (Episode 170, November 24, 2010)

DISC TWO

Jet Assisted Chevy (Episode 1, January 23, 2003)
Lead Balloon (Episode 109, January 23, 2008)
NASA Moon Landing (Episode 117, August 27, 2008)
Penny Drop (Episode 7, October 17, 2003)
Swimming in Syrup (Episode 132, May 6, 2009)
---
JAMIE'S PICKS


DISC ONE

Big Rig Myths (Episode 93, June 6, 2007)
Breaking Bad Special (Episode 227, August 12, 2013)
Confederate Rocket (Episode 51, October 26, 2005)
Drain Disaster (Episode 192, November 2, 2011)
Fire vs. Ice (Episode 198, April 1, 2012)

DISC TWO

Motorcycle Water Ski (Episode 223, June 5, 2013)
Pingpong Rescue (Episode 24, November 3, 2004)
Seesaw Saga (Episode 134, May 20, 2009)
Shattering Subwoofer (Episode 69, August 16, 2006)
Trench Torpedo (Episode 211, October 14, 2012)
---
KARI'S PICKS


DISC ONE

Blue Ice (Episode 176, April 13, 2011)
Chinese Invasion Alarm (Episode 50, October 19, 2005)
Duct Tape Hour 2 (Episode 158, May 12, 2010)
Exploding Pants (Episode 64, May 10, 2006)
Fright Night (Episode 213, October 28, 2012)

DISC TWO

Myth Evolution (Episode 145, November 18, 2009)
Paper Armor (Episode 186, June 29, 2011)
Phone Book Friction (Episode 119, September 10, 2008)
Red Rag to a Bull (Episode 98, August 22, 2007)
Viral Hour (Episode 118, September 3, 2008)
---
TORY'S PICKS


DISC ONE

Alaska Special (Episode 129, April 15, 2009)
Cannonball Chemistry (Episode 215, November 11, 2012)
Duel Dillemmas (Episode 207, June 10, 2012)
Indy Car Special (Episode 221, May 22, 2013)
Killer Brace Position (Episode 43, June 22, 2005)

DISC TWO

Revenge of the Myth (Episode 203, May 6, 2012)
Salsa Escape (Episode 32, February 23, 2005)
Titanic Survival (Episode 210, October 7, 2012)
Vodka Myths (Episode 52, November 2, 2005)
Zombie Special (Episode 228, October 17, 2013)
---
GRANT'S PICKS


DISC ONE

Baseball Myths (Episode 96, August 8, 2007)
Bikes and Bazookas (Episode 187, September 28, 2011)
Bouncing Bullet (Episode 204, May 13, 2012)
Bubble Pack Plunge (Episode 206, June 3, 2012)
Coffin Punch (Episode 125, November 5, 2008)

DISC TWO

Crimes and Myth-demeanors 1 (Episode 65, July 12, 2006)
Flu Fiction (Episode 161, June 9, 2010)
Prison Escape (Episode 136, June 3, 2009)
Underwater Car (Episode 85, January 24, 2007)
YouTube Special (Episode 131, April 29, 2009)
---
The Video:
The anamorphically-enhanced, 1.78:1 widescreen transfers for Mythbusters: 10th Anniversary Collection look okay, with the later episodes faring better in terms of video noise and color, and sharper image detail.
The Audio:
The Dolby Digital English 2.0 stereo audio tracks are solid, with no hiss and discreet separation effects. English close-captioning is available.
The Extras:
No extras for Mythbusters: 10th Anniversary Collection.
Final Thoughts:
Blow up the format. I hadn't watched Mythbusters in years, so it was fun to look back at some of these host-favorite episodes--particularly those from the earlier seasons. Clearly by this point, though, some changes are needed in the long-running show's format, which sounds like what's happening in the upcoming 2015 season. This collection primed me for checking out that evolution, so...I suppose it did its job. I'm recommending Mythbusters: 10th Anniversary Collection.
---
Paul Mavis is an internationally published movie and television historian, a member of the Online Film Critics Society, and the author of The Espionage Filmography.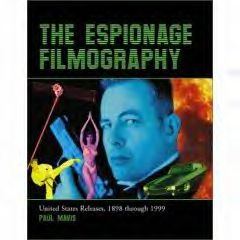 ---
C O N T E N T

---
V I D E O

---
A U D I O

---
E X T R A S

---
R E P L A Y

---
A D V I C E
Recommended
---
E - M A I L
this review to a friend
Sponsored Links
Sponsored Links