Colbys: The Complete Series, The
List Price: $119.00 [Buy now and save at Amazon]
---
Shout! Factor and CBS DVD have released The Colbys: The Complete Series, a 2-volume, 12-disc, 49-episode collection of the failed 1985-1987 ABC prime time soap starring Charlton Heston, John James, Katharine Ross, Emma Samms, Stephanie Beacham, Tracy Scoggins, Maxwell Caulfield, Ricardo Montalban, and Barbara Stanwyck. A direct spin-off of ABC's huge Nielsen hit, Dynasty, The Colbys, despite an opulent budget and extensive promotion befitting its stellar cast, never caught on with the public the way its host series did, disappearing into obscurity when it was rather quickly cancelled in its sophomore session. The fullscreen, 1.37:1 transfers here look fine, while some new interviews with the cast should tempt fans of the series.
Los Angeles, California, 1985. At the palatial Belvedere mansion high atop the hills of Bel Air, intrigue--foreign, domestic, and most importantly romantic--is brewing. For Jason Colby (Charlton Heston), the head of the multibillion dollar multinational Colby Enterprises, it's not enough that he has to watch over his real estate, oil, and shipping concerns...while also (incorrectly) believing he's dying. He also has to keep his scheming wife, Sable (Stephanie Beacham) from killing her sister, Francesca Scott Colby Hamilton Langdon (Katherine Ross), who used to be married to Jason's long-dead brother...and for whom Jason now lusts. Jason's nephew, Jeff Colby (John James) has been summoned to L.A. from Denver to help run Colby Enterprises--the invitation came from Constance Colby (Barbara Stanwyck), the formidable sister of Jason. Jeff, mourning the loss of his wife Fallon Carrington Colby (Emma Samms), is shocked to find her in Los Angeles, suffering from amnesia and married to no less than Miles Colby (Maxwell Caulfield), the hotshot playboy son of Jason and Sable. Jason's two daughters occupy opposite ends of the political and business spectrum: attorney Monica Colby (Tracy Scoggins) is Colby Enterprises' chief counsel and all-around shark, while Bliss Colby is a romantic, naive young woman who doesn't like how her father runs his frequently unethical business. Background is filled in by shipping magnate Zach Powers (Ricardo Montalban), who has a yen for Sable; Hutch Corrigan (Joseph Campanella), Constance's cowboy lover, and staid Colby Enterprises lawyer Garrett Boydston (Ken Howard).
In 1985, legendary TV producer Aaron Spelling, the guiding hand behind a slew of hits on ABC (The Mod Squad, The Rookies, Starsky & Hutch, Family, Charlie's Angels, Fantasy Island, Hart to Hart, The Love Boat), was given carte blanche by the struggling network to create anything he wanted...as long as it was a hit. This wasn't exactly surprising, considering the only two shows ABC had in the Nielsen Top Twenty for the 1984-1985 season were both his: 12th-rated Hotel and Dynasty, the number one-rated show in America. Dynasty, with its complicated, convoluted prime time soap opera framework, seemed like a natural for a spin-off series, so Dynasty creators Richard and Esther Shapiro, along with Dynasty writers Robert and Eileen Pollock, and Christopher Morgan, were signed up to create The Colbys. Sticking as close to the original host series as possible (during the first few episodes, the show was actually known on-screen as Dynasty II: The Colbys), The Colbys was green-lit with a lavish budget (reportedly, $2.5 million was allocated for sets alone) and some then-stellar "names" for the small screen, including big screen legends Charlton Heston and Barbara Stanwyck.
All signs pointed to a massive new hit for the network. However, the previous season's ascent of Dynasty to the number one Nielsen spot also marked the peak of viewer fascination with the prime time network soap genre. Sitcoms came back with a vengeance, with the rise of Nielsen killers like The Cosby Show, Roseanne, Family Ties, The Golden Girls, and Cheers. ABC, making the fundamental mistake of not "babying" this new spin-off by cocooning it inbetween some established hits (having it either precede or follow Dynasty on Wednesday nights would have been the most logical move), threw Dynasty II: The Colbys to the wolves on Thursday nights at 9:00pm, against a still-potent Simon & Simon on CBS (29th for the year), and NBC's Cheers (5th) and Night Court (11th). The Colbys logged in at a distressingly low 35th for the year. Its following season was even more dire. Going up against NBC's Cheers and Night Court again (both logging even higher ratings this 1986-1987 season), The Colbys now faced newly-moved Knots Landing (26th) and then Designing Women (33rd) over on CBS. Spelling, counting up the dollars spent versus the ratings achieved, pulled the plug in the spring of 1987.
The Video:
The fullscreen, 1.37:1 color transfers for The Colbys: The Complete Series look quite acceptable, with decent (if a tad faded) color, a sharpish image, and just a bit of edge enhancement.
The Audio:
The Dolby Digital English mono audio track is quite strong in its re-recording here. Closed-captions are included.
The Extras:
On disc 5 of volume two of The Colbys: The Complete Series, a 25-minute featurette, Dynasty II: The Californians, includes new interviews with stars John James, Maxwell Caulfield, and Stephanie Beacham. James and Caulfield return for more on disc six, with Sibling Rivalry, which features 28 more minutes of their respective interviews.
Final Thoughts:
The Colbys: The Complete Series is recommended viewing for 80s prime time network soap fans.
---
Paul Mavis is an internationally published movie and television historian, a member of the Online Film Critics Society, and the author of The Espionage Filmography.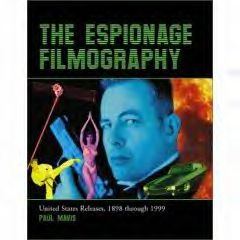 ---
C O N T E N T

---
V I D E O

---
A U D I O

---
E X T R A S

---
R E P L A Y

---
A D V I C E
Recommended
---
E - M A I L
this review to a friend
Sponsored Links
Sponsored Links