Mister Ed: The Sixth and Final Season
List Price: $16.97 [Buy now and save at Amazon]
---
Shout! Factory and M-G-M have released Mister Ed: The Sixth and Final Season, a 2-disc, 13-episode collection of the CBS sitcom's 1965-1966 (half) season. Starring Alan Young, Connie Hines, Barry Kelly, and the voice talent of Allan "Rocky" Lane, Mister Ed wound down its run in the network graveyard (not even prime time: Sundays at 5:00pm), after failing to ever break through to the Nielsen Top Thirty (whenever it did manage to get an evening time slot). That didn't stop kids and families from taking the show to heart, with endless reruns over the decades cementing its status as a truly iconic sitcom from the genre's golden age. No extras for these very sharp, clean black and white fullscreen transfers.
Southern Californian architect Wilbur Post (Alan Young) has moved out of the city and into the hills overlooking the San Fernando Valley. Living in his beautifully appointed country house (at 17230 Valley Spring Drive) with his sweet, charming wife Carol (Connie Hines) by his side, Wilbur has converted the ramshackle barn out back into his drafting room and office. However, way back on moving day, both he and Carol discover something in the barn that wasn't there when they first bought the house: an equally ramshackle palomino horse. Wilbur, remembering his childhood days growing up in a similar house--but without the pony he always wanted--is all for recapturing his youth and keeping the horse, something his wife Carol is against...and with good reason, as the years wear on and Mr. Ed (himself) took up more and more of Wilbur's time and attention. Mr. Ed, convinced of Wilbur's kindness, shocks Wilbur into wild-eyed incredulity by talking to him. Wilbur isn't hearing thing: Mr. Ed the horse could really talk. And to top off that miraculous feat, Mr. Ed was also a bit of a smart-ass and very probably more intelligent than the kind-but-fumbling Wilbur. And that context sets up the myriad number of gags and misunderstandings that will follow, because Mr. Ed, out of a combination of stubbornness and laconic, needling perversity, will only speak to Wilbur--no one else.
With Mister Ed's often iffy scheduling during its production run, it's not surprising it was frequently out of the top Nielsen ratings (its early timeslots precluded inclusion there several times)...although its demos with kids and families were usually strong. Initially sold in January, 1961 as a first run syndicated series (from George Burns' production company), Mister Ed may not have been included in prime time rankings that first half season, but the stations that ran it against network fare often reported it beating the "Big Three" offerings. Those rankings were noteworthy enough for CBS (which had originally passed on the sitcom, as did NBC and ABC) to bring the show onto its 1961-1962 schedule--one of the very few times that a series went from syndication to network broadcasting (and not the other way around). Premiering on Sundays at 6:30pm, it was well positioned to get the small fry eyeballs prior to the evening's lineup. Here it did well enough to garner a prime time slot the following season on Thursdays at 7:30pm, where it had a hard time gaining traction against ABC's more established family line-up: The Adventures of Ozzie and Harriet, The Donna Reed Show, Leave It To Beaver, My Three Sons, and McHale's Navy. Moved back to the minors in its old Sunday 6:30pm timeslot, it stayed there for a year and a half before CBS tried one last time to give it a prime time boost in December, 1964: Wednesdays at 7:30pm...where it got killed by ABC's The Adventures of Ozzie and Harriet and The Patty Duke Show, and NBC's Nielsen hit, The Virginian. The sixth and last go-around of Mister Ed only received a half-season order, clearly an indication--along with that "death zone" move to Sundays at 5:00pm--that CBS had zero faith in the show lasting any longer.
The Video:
The fullscreen, 1.37:1 black and white transfers for Mister Ed: The Sixth and Final Season look exactly how I would expect them to look: very nice, with a creamy gray scale, nice blacks, and little if any imperfections.
The Audio:
The Dolby Digital English mono audio track is okay, with a little bit of noticeable hiss, and a fair re-recording level. No subtitles or closed-captions available.
The Extras:
No extras for Mister Ed: The Sixth and Final Season.
Final Thoughts:
Fans of the series of course won't pass up this last go-around. Mister Ed: The Sixth and Final Season comes highly recommended.
---
Paul Mavis is an internationally published movie and television historian, a member of the Online Film Critics Society, and the author of The Espionage Filmography.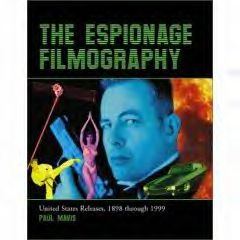 ---
C O N T E N T

---
V I D E O

---
A U D I O

---
E X T R A S

---
R E P L A Y

---
A D V I C E
Highly Recommended
---
E - M A I L
this review to a friend
Sponsored Links
Sponsored Links