Greatest Heroes of the Bible: Volume Two - God's Chosen Ones (Moses, Joshua & Jericho, Story of Esther, Abraham's Sacrifice)
List Price: $14.98 [Buy now and save at Amazon]
---
Reviewer's Note: Yesterday, I reviewed the first volume of Paramount's three Greatest Heroes of the Bible releases. Since these volumes constitute episodes from the same series/miniseries, I'll port over the same opening from that review for volumes 2 and 3, with additional thoughts on the new episodes.
Goddammit...they're starting to get good? CBS DVD and Paramount have released Greatest Heroes of the Bible: Volume Two - God's Chosen Ones, a single-disc gathering of four episodes of the NBC...miniseries? series? special events? that aired sporadically during the 1978-1979 season (I'll be reviewing volume 3 this week). Episodes included here are: The Story of Moses, Joshua and Jericho, The Story of Esther, and Abraham's Sacrifice. Produced by the legendary Schick Sunn Classic Pictures indie (I'm about to faint...), Greatest Heroes of the Bible looks to be an effort by the studio and NBC to hopefully recreate the success of their previous joint effort, The Life and Times of Grizzly Adams. As far as I can tell--and info is scarce on this series/miniseries--Greatest Heroes of the Bible didn't repeat that ratings victory. In my review for Greatest Heroes of the Bible's first volume (which was written before I watched two and three), I recommended that lovers of all things Sunn Classic (and that would most fervently include me) would absolutely not want to miss out on these three discs, even if these episodes appear to be out of air date order, with runtimes all over the map...and with three episodes missing from the group. That's still true, I guess, but there's no getting over my disappointment that a few of these particular episodes are...somewhat competent (jesus). Transfers are atrocious--which is just what we want with these nostalgic fullscreen discs.
I've written many times before about my childhood love affair with those insanely hyped Schick Sunn Classic Pictures from the early-to-mid 1970s--that golden age of whacky pseudo-science/pseudo-history--when the nation's pop culture was saturated with B movies and sketchy documentaries and pulp books and magazines and TV shows and toys dealing with UFOs, Bigfoot, the Bermuda Triangle, crystal power, ESP, the Loch Ness Monster, and ancient astronauts (to list just a few). Certainly in my memories Schick Sunn Classic Pictures was one of the central drivers for all that giddy, hysterical fun, during a time of my adolescence when anything supernatural seemed not only possible but completely plausible...depending, of course, on the marketing skills of whatever company was flogging a product connected with that particular phenomenon. And nobody beat Schick Sunn Classics at marketing and promoting "must-see" family-friendly exploitation entertainment. Based out of Salt Lake City, Utah, indie Schick Sunn Classic Pictures compensated for their relative inexperience in actual moviemaking by taking a full-court press approach to pre-production marketing research (to determine target audience and choice of subject matter--why waste money making a movie nobody wants to see?). This "scientific" approach was then followed by strictly-controlled, low, low-budget production costs for the feature, and then smacked home for maximized profits by "four-walled" releasing schemes (renting the movie theatres outright for 100% of the ticket sales), hyped by ballyhoo-worthy saturation promotion on television, radio and print ads. With an almost foolproof, low-risk method of producing and/or releasing movies that were in essence "pre-sold" to a waiting public, Schick Sunn Classic Pictures produced and/or released one insanely profitable family adventure/documentary/drama after another: When the Wind Blows, The Outer Space Connection, The Adventures of Frontier Freemont, The Amazing World of Psychic Phenomena, The Mysterious Monsters (that one scared me), In Search of Noah's Ark, The Lincoln Conspiracy, Beyond and Back, The Bermuda Triangle (same), In Search of Historic Jesus, Beyond Death's Door, Hangar 18, and perhaps their most recognizable title, the 1974 theatrical version of The Life and Times of Grizzly Adams (which by various accounts pulled in somewhere between 25 to 35 million dollars in ticket sales--most going directly into Schick Sunn Classic's pockets--on a paltry $500,00 dollar investment). I saw them all, and absolutely loved them, and the day someone puts out a widescreen boxed set of those Sunn Classic titles, that's the day I drop dead from the vapors.
With the kind of profit margin success that the mainstream studios could only dream of, it was inevitable that savvy, chintzy Schick Sunn Classic Pictures would be approached to produce for television, with the studio's most famous effort being 1977's The Life and Times of Grizzly Adams series. According to what I've read, NBC approached Sunn when a televised airing in 1976 of the same-named 1974 movie won a sizeable chunk of the night's demographics. Third-placed NBC, with nothing to lose, signed up Sunn's one-man-band producer Charles Edward Sellier, Jr. to gather the movie's cast together for a 13-episode mid-season replacement tryout in February, 1977 (in addition to producing the original movie, Sellier also wrote the highly-fictionalized 1972 novel from which the movie was adapted). It was a demographic (but short-lived) hit for the network, so it's not surprising that desperate, struggling NBC would ask for more. And that's where Greatest Heroes of the Bible comes in. Or at least that's what I'm assuming happened, since hard, reliable info on the show is surprisingly scant. Sellier and star Sunn house director James L. Conway are listed as executive producers here (with Conway helming some of the first episodes), while various sources list Greatest Heroes of the Bible episode counts at either 17 or 15 (two episodes are listed as two-parters in the notoriously iffy IMDB, but that may be incorrect, since The Story of Noah, presented in this volume, seems complete in one episode). And that's all I could find. Was it initially a miniseries offered in the fall of '78, which led immediately to more episode orders for a quasi-series in the spring of '79 (sort of like ABC's How the West Was Won)? Or was it always an official series that got preempted and bumped around a lot? Or were these episodes "special events" for one of NBC's umbrella titles that were just slotted in and "burned off" to fill in weak spots in the schedule (...which would have been the whole schedule on NBC)? I don't know (and if there are any Greatest Heroes of the Bible experts out there, by all means email me, and I'll amend the review). Hopefully, James Conway will call me, and we'll talk about Sunn for three days straight, and then we'll all know.
I wracked my brain to try and remember either watching Greatest Heroes of the Bible back in '78-'79, or seeing it listed in the TV Guide, but for the life of me I couldn't summon it up. None of the episodes rang a bell, although they did instantly feel as if I had seen them before, owing to their unmistakable--and thoroughly delightful--Schick Sunn Classic house style: amusingly portentous narration, shaky-at-best production values (that's being nice: they're cheap as hell), a certain barely-contained hysteria in the dialogue, and wildly varying performances from the casts of familiar faces. In the spirit of openness: if you've read a few of my reviews, you might think it odd I'm writing about these Greatest Heroes of the Bible volumes in the first place (outside of my affection for Sunn), making no bones about being a non-believer in several other religious-themed reviews (too many critics nowadays shy away from declaring their positions on anything, preferring to keep things fuzzy in the misguided, silly attempts to stay "objective" and not "offend" anyone). Well, this born-and-raised Methodist is now a most reluctant atheist...but one who also wholly supports the continued Judeo-Christian influence on Western civilization (basically, I'm distrusted by every side in the argument). As well, as nostalgic as I am for those days of my youth spent at Southwyck Cinemas and the Maumee Indoor and the Jerry Lewis Twin, where I was plunked down at a Saturday matinee with a bunch of other screaming kids who didn't know what the hell they were watching, either, until Brad Crandall's booming voice scared the bejeezus out of them, I'm also quite sentimental about those long-gone, innocent days at Sunday School, learning about the timeless stories presented here in Greatest Heroes of the Bible. I may not believe today, and I'm certainly no Biblical scholar (according to what I've read, these little adventures sometimes play quite loose with the original Bible texts)...but that doesn't mean I don't see the potential value in these morality plays, or deeply respect the faith that others have in them.
Mawkish, mostly irrelevant (and certainly irreverent) Easter Sunday sermon over. So...how about the episodes of this volume of Greatest Heroes of the Bible? How are they? Well...one is the kind of delicious crap I'd expect from Sunn: Joshua and Jericho. The dialogue is oftentimes comically overstated (in that delightfully florid, declarative, faux-Biblical style from so many earlier Hollywood religious epics), the production is simultaneously outrageously ambitious and incredibly chintzy (check out the pasteboard and canvas walls of Jericho wobble in the breeze), and the performances range from embarrassingly pretentious here (Robert Culp, who else) to, um...awful (the mesmerizingly bad Sydney Lassick...no wait: he's cosmically dreadful). Distressingly, the other three episodes in this volume--The Story of Moses, The Story of Esther, and Abraham's Sacrifice--are somewhat reasonable attempts at cheap religious TV drama. And that's fine...if it was a Sunday morning in 1975 and I was watching Insight because Channel 7 had slotted the dire Dance With Me, Henry on The Abbott & Costello Theater. But I'm not in the mood for tepid earnestness and okay performances after that hilarious first group of episodes--I want that completely calculated Schick Sunn Classic wretchedness, the kind that was on display in abundance in Greatest Heroes of the Bible: Volume One - Bible's Greatest Stories.
First up is The Story of Moses, starring John Marley's hair (beautifully washed, set, and combed-out), back from volume one as the man with God's plan: Moses. Now that God has laid down The Law, it's time for the Chosen People to split from evil Pharaoh (Joseph Campanella). Pharaoh's advisors (Robert Alda, Lloyd Bochner) sneer that the Jews are just loafing it, but apparently Moses means business: let my people go, or I swear to Jehovah that the work stoppage on those bricks will make a dock worker's strike look like a potty break. Of course this stiff-necked Hebrew defiance enrages Pharaoh, who increases the Jewish slaves' work quotas...which in turn ticks off God, who decides a nice set of plagues are in order for uppity Pharaoh. So guess who wins. The minute Robert Alda and Lloyd Bochner appear, both made up in full Cover Girl glory (maybe it's Maybelline?), and start camping around like the road company of La Cage Aux Folles, high hopes are indeed set for The Story of Moses. Alas, their bitchy, hilarious parts are brief, and we're stuck with the likes of brawny Joe Campanella, pulling a surprisingly credible British (?) accent as Pharaoh (he's actually not half-bad), and Frank Gorshin unattractively, nastily grimacing and shouting like he always did in anything other than Batman. The worst, though, is Marley, who delivers his lines in the same hoarse, uninflected, declaratory manner, regardless of the line's import, each and every time (at my local deli I've heard, "I'll have a pastrami on marble rye," put over with more feeling than his remarkably colorless, "Let my people go." And watch him tap-tapping his staff at Pharaoh's door. Positively feeble). Seriously: you couldn't find anyone else with hair to play Moses other than Marley? Finally, the funniest part of The Story of Moses is not what you would expect--the parting of the Red Sea, which looks to be a $1.98 chroma key wonder--but rather: the slow realization that Marley has a chili dog stain on his tunic, and the producers had not either the time or the extra tunic, to have him change. Now that's Sunn Classic!
This is more like it: Joshua and Jericho. Joshua (Robert Culp) knows that that the decadent, morally corrupt city of Jericho stands between freedom for his people, and death, so it must fall. But how? God (who else) has a plan, but Joshua's subordinates are having a hard time believing that just marching around Jericho's walls every day, while sounding their trumpets, will somehow bring down the city. Meanwhile, crazy-as-a-bedbug King Agadiz (Sydney Lassick) wants to either have an orgy with everyone...or have them all put to the sword, the latter a plan his general Assurabi (Cameron Mitchell) can definitely get behind. Intrigue at the court increases when former "dancing girl" Rahab (Sondra Currie, ridiculously, perfectly coiffed) decides to aid the rebels in attacking Jericho. Okay...what's with all the lead actors affecting phony British accents in this group of Greatest Heroes of the Bible episodes? Culp does it here, too, although not nearly as well as Campanella in the previous outing. Did someone think it would make these quickies sound more "respectable?" More "epic?" Hard to say...but it's hilarious, particularly when already pretentious-as-hell Culp attempts it. An actor who always had a terminal case of the "cutes," Culp is up to his usual shenanigans, pulling out his patented array of phony pauses and hesitations and faux-meaningful glances off into space before he delivers one affected line-reading after another (even the simplest business in his hands comes off as phony--watch him sharpen that sword, childishly ignoring the other actors like he's Brando picking his navel: it's a hoot). Thank god for Cameron Mitchell and Sydney Lassick. Exploitation superstar Mitchell, sporting an iron grey hairdo (wig?) that's a cross between Jane Wyman circa 1954 and Spock's father on Star Trek, gets to yell and bulge out his eyes and neck veins every few minutes, growling out gems like, "You are nothing but the biggest hog in this stinking swine-filled pigpen!" and "Come to me, Joshua! Come to death!" Classic. Even better (on another astral plane, really) is Sydney Lassick, best known as one of the inmates from One Flew Over the Cuckoo's Nest and Sissy Spacek's douche bag English teacher in Carrie. Screwing up his face into perverted joy/rage/impotent frustration, Lassick, eyes shut tight, screams in horror to the ceiling, "Why must you always shame me!? I am the King of Jericho!" to such hysterical effect, it's difficult to take the rest of the episode seriously, such is the imbalance (you just wish the whole episode had been about him). By the time a nicely-animated William Daniels calls him fat and disgusting, as Lassick squeals like a stuck pig when the cardboard walls of Jericho come down in rather unimpressive flashes of lightning, you know you've seen a Schick Sunn Classic production.
And then come the "respectable" outings again. Now, let's be clear: The Story of Esther and Abraham's Sacrifice are far from perfect; in fact, they're just reasonably acceptable. But that's an accomplishment worth noting with Schick Sunn Classic Productions, so give them their due (both were written by TV pro Norman Lessing, and directed with a more measured approach by Jack B. Hively; it's safe to say they're responsible for the change in tone from other entries in the series). Schick Sunn mile markers inevitably pop up. In Esther, it's the appearance of The Big Ragu (!) as Uri the rebel fighter (boy is he earnest in his blandness) and none other than Pamela Sue Barnes as Queen Esther. Principal is gorgeous, of course, but her stacked charms are hidden by too many robe ensembles, and that curious neurasthenic allure she has (like permanent dental work) morphs from "erotic" to "uninteresting p.o.a." real quick. And I'm sorry, but talented Robert Mandan (Chester from Soap) is so naturally amusing I just couldn't take him seriously as King Xerxes, the other half of that romance of the ages (I kept expecting him to rage...and then drop to his knees, begging Principal to just understand him, in Mandan's always amusing manner). Still...the dialogue is acceptable, and the story at least moves, while supporting work from Michael Ansara is quite good. Abraham's Sacrifice is even better; only the overripe presence of Lainie Kazan (!) as Hagar mars an otherwise simple, straightforward, and surprisingly involving take on this familiar story (when Kazan hears her son is fated to die, she can't resist pulling a mug, laughably convulsing like she ate a bad clam). Three of the best voices in television--Gene Barry as Abraham, Andrew Duggan as King Herabol, and Ed Ames as Lot--help make the spare, to-the-point dialogue sound appropriately important, with pros Ross Martin and Beverly Garland rounding out the best cast (so far, at least) that I've seen for these Greatest Heroes of the Bible episodes. Finally, some cool, stylized sets show up (Duggan's throne room), while the location shooting in Page, Arizona, has a bit of scope to it, with a nicely-realized finale as rocks and boulders crush Duggan's forces, the movie switching to an effective monochrome during God's wrathful storm. It's a lean, simple, nicely executed episode...I just wish it was a little awful.

The Video:
The fullscreen, 1.37:1 video transfers for Greatest Heroes of the Bible: Volume Two - God's Chosen Ones are just like volume one: pretty bad, with second or even third generation VHS copies looking to be the masters here. Grainy, noisy image detail, compression issues, faded color (think "beige" for everything), and lots of scratches and dirt. Runtimes are inconsistent, too (one is over an hour long...and another comes in below 48 minutes). However, for nostalgia sake...they're perfect.
The Audio:
The Dolby Digital English stereo track is loud and squelchy (I couldn't distinguish any notable separation effects). English and Portuguese subtitles are available.
The Extras:
No extras for Greatest Heroes of the Bible: Volume Two - God's Chosen Ones.
Final Thoughts:
Oy gevalt what's with this meshugganah collection? I wanted that minimally ridiculous Schick Sunn Classic Productions experience here--you know: ridiculous scripts, ridiculous special effects, and ridiculous performances. Unfortunately, only one of the four episodes of the Greatest Heroes of the Bible meet that low criteria. The others...well, they're okay. In the wrong way. Still, any Sunn Classic lovin' is better than none, so I'm recommending Greatest Heroes of the Bible: Volume Two - God's Chosen Ones.
---
Paul Mavis is an internationally published movie and television historian, a member of the Online Film Critics Society, and the author of The Espionage Filmography.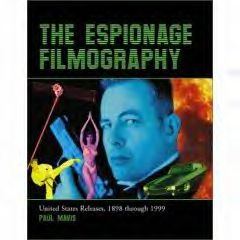 ---
C O N T E N T

---
V I D E O

---
A U D I O

---
E X T R A S

---
R E P L A Y

---
A D V I C E
Recommended
---
E - M A I L
this review to a friend
Sponsored Links
Sponsored Links