Best House in London (Warner Archive Collection), The
List Price: $21.99 [Buy now and save at Amazon]
---
Flat, passed-it "X-rated" Victorian sex satire. Warner Bros.' Archive Collection of hard-to-find library and cult titles has dug up a rare one: 1969's The Best House in London, a Carlo Ponti production released here by Metro-Goldwyn-Mayer, and starring David Hemmings (in dual roles), Joanna Pettet, George Sanders, and a host of familiar British comedy faces, including Warren Mitchell, John Bird, William Rushton, Bill Fraser, Maurice Denham, Wolfe Morris, Martita Hunt, Hugh Burden, Jan Holden, Tessie O'Shea, Peter Jeffrey, Thorley Walters, and John Cleese. Yet another box office dud for fast-fading British totty David Hemmings, The Best House in London came and went without a trace here in the States; receiving the early MPAA "X" rating before that designation became exclusively associated with porn, did nothing to boost b.o. ticket lines (...nor, quite frankly, did the presence of Hemmings and Pettet help, either). Despite that rating, a flash here and there of bare bottoms and breasts wasn't big news anymore in 1969's cinemas, and that left The Best House in London with just its satirical jabs and jokes...which were obvious and weak, even back then. An original trailer is included with this very nice-looking anamorphically enhanced widescreen color transfer.
The filthy, vice-ridden streets of Victorian London, where prostitution, "The Great Social Evil," runs rampant. Josephine Pacefoot (Joanna Pettet), niece of moneyed Sir Francis Leybourne (George Sanders), heads up "The League of Social Purity," an organization zealously devoted to taking those unfortunate "fallen" women off the street, and teaching them a trade. Uncle Sir Francis wants the prostitutes off the street, as well, but his concern has nothing to do with morality; they're interfering with trade, and nothing must interfere with British trade. Enter Queen Victoria's Home Secretary (John Bird), who's convinced that adopting the "French model" might be the solution to the problem: the Queen's government will run its own high-class brothel...and Sir Francis will run it. Sir Francis, however, must go to India to put down a rebellion at his opium fields (the drug is vital to conquering Chinese trade), so he puts his French mistress Babette (Dany Robin), in charge. Babette, in turn, puts her lover in charge: the disgraced son of Sir Francis, Walter Laybourne (David Hemmings), a blackguard scoundrel with a penchant for unrestrained sexual adventures. Unbeknownst to Walter, his identical half-brother, publicist Benjamin Oakes (David Hemmings), who is equally unaware that he has a brother, is working to not only promote a lighter-than-air helium airship, designed by Italian inventor, Count Pandolfo (Warren Mitchell), but also to support Josephine--whom he admires from afar--in her league activities. Trouble begins when Sir Francis is killed in India. Josephine inherits everything, including the brothel, which Walter will go to great lengths to hide.
Trying unsuccessfully to weave too many elements into its superficially busy but ultimately thin plotline, The Best House in London wants to be a with-it "Swinging Sixties" sex comedy, a with-it '60s satire on those old hypocritical Victorian fuddy-duddies, and, dragged in at the last moment apparently, a with-it lampoon of those penny dreadful adventures featuring an evil "Oriental" criminal bent on harming our cleft-chin and true-hearted heroes. And as often happens when the number of ideas outstrips the abilities of the screenwriter and director to meaningfully corral them, satirical focus is subsequently scattered, and none of those elements gets proper--or even interesting--development. Made during a stage in British movie history where any period in the nation's time line was ripe fodder for historical reappraisal (and then vicious attack), The Best House in London's central subject matter--the hypocrisy of Victorian attitudes towards prostitutes and by extension, women in general--would seem to be perfect for that line of satirical revision. However, that theme and the previously mentioned ones are here pin-pricked with shallow, facile snarks, rather than true righteous bile and anger. And that easy tone would have been just fine...if Noel Coward had written the screenplay; he could walk that line between breezy, flip-yet-sophisticated lightness, and real commentary. But he didn't write The Best House in London; Denis Norden did (The Bliss of Mrs. Blossom, Buona Sera, Mrs. Campbell, lots of British TV), and what comes out are rather tired, obvious observations shoehorned in equally stale jokes and sight gags, all dressed up in expensively-appointed sets (many supposedly left over from Oliver!) to fool us into thinking The Best House in London has "weight." Women were either virgins or whores in Victorian England? You don't say. Men in positions of power took advantage of this for sexual gratification, while spouting hypocritical bromides about morality? Well shut my mouth!
The obviousness of Norden's targets isn't the hitch here--it's the fact that his barbs and ridicule are so...predictable. Revisiting a well-worn subject is never a problem for a burlesque if the jokes are funny, and simply put: they just aren't all that amusing in The Best House in London. Take the opening precredit sequence (always critical in setting the audience's expectations and mood for the movie). Hemmings is in a balloon--no explanation; bad blue screen effects--with a gorgeous girl, undressing her as she mildly protests, "Oh, dear, oh!..." over and over again, while Alfred Lord Tennyson (yep) watches from his garden. Seeing the couple's clothes falling to earth, he cries out (referencing his famous poem), "Maud! Come into the garden, Maud!" There's nothing inherently funny about what Hemmings is doing to the girl, but I suppose some laughs could have come, if the director, Philip Saville (Stop the World: I Want to Get Off, Oedipus the King, lots of British TV), knew how to inject some bits of business into the action, or at the very least, blocked and paced the scene correctly. As for the Tennyson appearance, he's the first of many historical figures that pop up in The Best House in London, including Charles Dickens, Lord Alfred Douglas (he loses his comb), and Elizabeth Barrett (Browning). We're supposed to think it's funny and outrageous that these famous figures are walking through a smutty sex farce, but nothing they do or say is very witty (Jeffrey's and Walters' faux-Holmes and Watson get a chuckle, I'll admit), with their overall impression being that of a testament to Norden's intellectual pretensions, and little else. I'm glad you're well-read, Mr. Norden, and I do appreciate the Maud reference--too bad it isn't particularly funny. Watching that opening scene, the Carry On series of vulgar sex farces came to mind; chiefly: if they had shot that balloon scene, the girl would have had bigger breasts, and the double entendres would have been crude and coarse...but both would have got the job done, which is to make us laugh (later in the movie, there's a truly vile joke that I'm surprised got by censors back then--a little, little girl sings a song about her "kitty cat"--she sings the other word--which prompts roue Sanders to pull a grinning mug. That extremely tasteless, uncomfortable moment, and the other frequent gags about underage sex, would make anyone wonder what the hell Norden was thinking about when he wrote this).
I suppose you could have a serious discussion about the movie's overall treatment of women (read Roger Ebert's hysterically emotional over-reaction to it...from the guy who wrote for Russ Meyer and then later single-handedly championed Tarantino), but as students of drama know, those sexual stereotypes about horny, hypocritical old goats and voluptuous, easy women who want nothing but sex (and money), are standard conventions of sex farce--if you're offended by them here, then don't read Shakespeare or Wycherley's The Country Wife, either (nor does the historical reality of prostitutes' plight in Victorian London interfere with the potential for farce, either--otherwise, don't laugh at Mel Brooks' Springtime for Hitler or The Inquisition musical numbers). No, what's truly offensive about The Best House in London is how lazy it is in its humor (because "funny" solves most problems a movie comedy can have), and how cheaply it thinks it can buy us off with some bum and titty action. Utilizing two lead actors (or three, if you count Hemmings twice) that notoriously seemed more into themselves onscreen than they ever did with the characters they played, director Saville has Hemmings and Pettet earnestly fumble and banter and argue with each other to absolutely zero effect (they have no on-screen chemistry), while the other evil, morally corrupt Hemmings tries to affect some sort of wicked, silky, charmingly sinister deportment that's utterly beyond him (a good actor, Hemmings ultimately didn't make the grade the way fellow 60s British icon Michael Caine did, for one very simple reason: after his smash-hit Blow-Up, every movie he made bombed at the box office, until his little four or five year window of A to B-list leading man days, were permanently over).
So when shouting Italian airship inventors don't get a laugh (all that airship nonsense, with the expensive sets and models and special effects...for that final non-event gag?), or when George Sanders awkwardly pulling up his pants or taking a bath fails to raise a chuckle (no wonder he took those Nembutals--look what he had reduced himself to), we get some brief nudity to remind us that it's 1969 and that we're all so wicked and modern, before the movie falls totally apart (don't get excited, though--that original "X" rating wouldn't translate to a "PG-13" today...even if WA, in a bit of marketing flim-flammery, keeps that "X" on the DVD box). We're given a big buildup to the brothel's opening night, the editing starts to quicken as doors are opened and slammed closed on lame, too literally-themed "sex rooms" ("The Riding Room" has Maurice Denham, what else, being ridden like a pony--excuse me while I die laughing), Hemmings starts crashing through hallways, Pettet is hung Fu Manchu-style over a vat of boiling acid (why the hell was this element thrown in at the last minute? It's painfully dispirited), and then...nothing. No pay-off, after that enormous build (at least Pettet's Casino Royale had the right idea: if you take a farce and inflate it to gargantuan levels, the only possible thing left to do is literally blow up the whole cast). The Best House in London just resolves itself in a series of humdrum coincidences, as we the audience finally confirm what we suspected all along: we wasted our time not because there's no discernable point to any of this--we wasted it because The Best House in London is pointless and worse, unfunny.

The Video:
The anamorphically enhance, 1.85:1 widescreen color transfer for The Best House in London looks quite nice, with even color values (perhaps just the tiniest bit faded), sharpish image detail, and minimal screen imperfections.
The Audio:
The Dolby Digital English mono audio track is okay, with almost no hiss, and a middling re-recording level. No subtitles or closed-captions available.
The Extras:
An original trailer is included...it doesn't sell the movie.
Final Thoughts:
Oh how daring. If you want your comedy to come off as smarter than the subject you're lampooning, you better walk a fine line between valid satire and genuine entertainment for the audience--something The Best House in London fails at completely. David Hemmings and Joanna Pettet add nothing to the proceedings (except, perhaps, an additional layer of overweening narcissism). A bust. Skip The Best House in London.
---
Paul Mavis is an internationally published movie and television historian, a member of the Online Film Critics Society, and the author of The Espionage Filmography.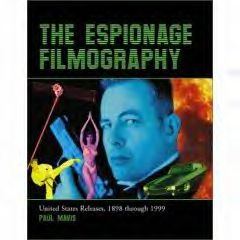 Sponsored Links
Sponsored Links