This Is My Affair; Battle Of Broadway; Professional Soldier (Fox Cinema Archives Victor McLaglen Triple Feature)
List Price: $37.95 [Buy now and save at Amazon]
---
Uncomplicated, entertaining fare from he-man Victor McLaglen. 20th Century-Fox's Cinema Archives line of hard-to-find library and cult titles has re-packaged three solo discs starring McLaglen into the triple feature This is My Affair; Battle of Broadway; Professional Soldier. Professional Soldier, from 1935 (originally titled Damon Runyon's Professional Soldier during its first run), was directed by Tay Garnett and co-starred Freddie Bartholomew, Gloria Stuart, Constance Collier, and Michael Whalen. McLaglen took third billing to real-life love birds Robert Taylor and Barbara Stanwyck in 1937's This is My Affair, directed by William A. Seiter and co-starring Brian Donlevy, John Carradine, Douglas Fowley, Robert McWade, Sidney Blackmer, Frank Conroy, and Sig Ruman. And 1938's quasi-B comedy from director George Marshall, Battle of Broadway, co-starred Brian Donlevy, Louise Hovick, Raymond Walburn, Lynn Bari, Sammy Cohen, and Jane Darwell. As always with these Cinema Archives triple features, how much you'll be pressed to buy one will depend on your interest in the featured star, and whether or not the grouping is a strong one. McLaglan is always fun, and his three outings here, while certainly not taxing, are none-the-less entirely watchable...so that's a recommend from me. The black and white fullscreen transfers, sans extras, are serviceable--and that's all. Let's look briefly at each movie.
PROFESSIONAL SOLDIER
Washed-up soldier-of-fortune Michael Donovan (Victor McLaglen) is fed-up with playing babysitter to spoiled, drunken playboy George Foster (Michael Whalen). So when revolutionaries Paul Valdis (Lumsden Hare) and Christian Ledgard (Walter Kingsford) track down Michael in Paris, and ask him to do a special job, he's more than ready. You see, Valdis and Ledgard need to have their vaguely Balkan country's beloved king, Peter the Second, temporarily kidnapped, so his corrupt government can be overthrown before Peter is reinstated and the revolutionaries form a new coalition (uh...sure). Michael quickly agrees and winds up in the unnamed country with now-sober George in tow as willing sidekick (uh...right), who promptly falls in love with Sonia (Gloria Stuart) during a masked ball (uh...okay). When Michael and George enter the palace to seize the king, they're astonished to find Peter is a little boy (Freddie Bartholomew) who believes--quite delightedly--that the men are American gangsters. Sonia, who is the king's nanny, is horrified at George, but she comes along to protect him. Soon, the men and Sonia are at the revolutionaries' hideout, where after a rocky start, Michael and Peter form a close father/son bond. Unfortunately, double-crossing shenanigans from Premier Bernaldo (Pedro de Cordoba) put the boy king's life in danger.
Based loosely on a Damon Runyon short story, Professional Soldier, was a sizeable box office success in early 1936 (it was released at the end of December, 1935) for the unlikely pairing of McLaglen and Bartholomew. English-born child actor Bartholomew had become an overnight A-list star earlier in 1935 with David O. Selznick's David Copperfield, his status in Hollywood solidified by appearing in Garbo's profitable Anna Karenina that same year. Character actor/lead McLaglen, English-born as well, would reach his professional peak (at least critically) in 1935, having scored two big hits with director John Ford: the adventure classic, The Lost Patrol in 1934, and 1935's The Informer, which would win McLaglen the Academy Award for Best Actor for that year. I can't imagine Professional Soldier would ever be classed with any of those above-mentioned titles (perhaps it would have, if original director John Ford had stayed with it), but it is an enjoyable--if often sketchy--big screen adventure. Modern sources credit Gene Fowler and Howard Ellis Smith to the screenplay, but on screen Smith and George Jessel are listed (with Gene Towne and Graham Baker reportedly also putting in their two uncredited cents...as did no doubt producer/studio head Darryl Zanuck). This typical tangle of screenwriters certainly wasn't unusual at the time, but what does feel somewhat strange is that such an expensive A-list outing (with a reported budget of at least three quarters of a million dollars) would come out so choppy-feeling and abbreviated. Professional Soldier's biggest plus--its whipfast breeziness--is also what keeps it from being even remotely memorable: you watch it; you enjoy it while it's playing...and then you instantly forget what happened.
Events and situations are set-up with the barest of context, before the next plot development incoherently pops up. Why is McLaglen washed up as a soldier of fortune? How did he get the gig of babysitting Whalen? And why does he suddenly enlist drunken Whalen, whom he hates, for a dangerous mission? How about that trip to the Balkan country? One brief pan of a map of Europe followed by a painting of some snowy mountains and poof! we're there, with Whalen instantly falling for Stuart, and vice versa, at a ball we know nothing about (later, she states his loving her makes no sense--you got that right, Gloria). To its credit, you don't really care that Professional Soldier bounces nonsensically around like that, because the dialogue is light and amusing (when McLaglen tells a whopper, exclaiming his own participation in the exaggerated exploit was "fantastic," a knowing Bartholomew quips a simple, "Quite,"), while the players, particularly McLaglen and Bartholomew, are charming together. McLaglen's big, brawling, childlike appeal is nicely tempered by perfectly poised, correct Bartholomew, who's cannily designed as an America (and better yet: American gangster) worshipping "foreigner," lest American audiences get put off by a "snooty" little Brit. Director Tay Garnett knows how to stage a comedy scene as well as an action set-piece (McLaglen's final machine gun assault--criminally too short--reminded me rather strangely of pre-Aldrich and Peckinpah gusto); it's just too bad Professional Soldier flies by so lightly and quickly, without ever really registering.
---
THIS IS MY AFFAIR
Washington, D.C., April 22nd, 1901. At a White House reception for the armed services, President William McKinley (Frank Conroy) has his secretary, George Andrews (Willard Roberton), privately summon U.S.N. Lieutenant Richard L. Perry (Robert Taylor) for a secret meeting. The president, well aware of rambunctious Perry's cat-like ability to get out of scrapes of his own doing as relayed to the President by Perry's superior, Admiral Dewey (Robert McWade), wants Perry for an ultra-covert mission. Perry is to resign from the Navy and "disappear." Assuming an alias, Perry is to try and find a gang of bank robbers who have been hitting banks all throughout the Midwest. Once inside the gang, Perry is to find out who is supplying the critical inside information--bank codes and safe combinations--to the gang, and relay that info to the President, for his eyes only, arranged through a special mark Perry will leave on his anonymous letters addressed to McKinley. No one will know about this arrangement except the President and Perry...which puts Perry in a most dangerous position should anything go wrong with his sleuthing. Soon, Perry discovers a suspicious gang working out of a fancy saloon/dance hall in St. Paul, Minnesota. Smooth, deadly Batiste Duryea (Brian Donlevy) owns it; brute jokester Jock Ramsay (Victor McLaglen) enforces it; and Duryea's half-sister Lil (Barbara Stanwyck) sings headlines it. Naturally, Perry and Lil fall for each other...which proves troublesome for Perry since Jock considers Lil his private stock. When Perry must decide between Lil and the gang, he briefly considers abandoning his presidential mission for love, but he soldiers on, hoping to learn the name of the head honcho behind the heists. Fate, however, has other plans for Perry....
A reasonably involving spy plot...unnecessarily weighted by a bloated romantic middle. I haven't seen This is My Affair since I wrote my spy book, The Espionage Filmography, back in 2001 (...still available at fine retailers and haberdashers all over the world). Before watching this disc, I remembered it as being entirely too long...and my memory served me correctly: too much Babs and Bob mooning at each other disapates an otherwise suspensefully-crafted spy outing. Written by the crackerjack teaming of pros Allen Rivkin (Dead Reckoning, The Farmer's Daughter) and Lamar Trotti (The Ox-Bow Incident, Drums Along the Mohawk), with some help from various other kibitzers like Kubec Glasmon and Wallace Sullivan, This is My Affair originally was to be a straight spy/murder mystery focusing on the McKinley assassination. After years of production turnaround (with Ty Power and Alice Faye slotted in at one time), it was refocused as spy pic/love story for real-life lovers Robert Taylor and Barbara Stanwyck (although by the time the movie was released in 1937, Zanuck deliberately downplayed the real-life parallels between the fictional lovers and the real ones because Stanwyck and Taylor's "living in sin" arrangement, prior to their 1939 marriage, was generating increasingly negative p.r.). Regardless of the studio's last-minute revamp of the movie's promotion, This is My Affair turned out to be a profitable outing for Fox.
Seen today, however, This is My Affair is pokey as hell, with a too-fuzzy set-up, far too generic villains, and just too, too much lovey-dovey crap with "Stan-lor" (or "Tay-wyck") gumming up the exciting final reel. The opening scene--modern day nuns visiting Arlington Cemetery tell their young school girl charges that Taylor's prominent-but-unexplained grave must mean he did something important for his country--nicely sets up Taylor's clandestine, mysterious character as historically important...while giving a foreshadowing of doom to the proceedings. Great. Equally good is the initial set-up, with Taylor given by the President the classic "rogue agent" instructions to ditch his identity and to set off on his dangerous mission knowing he has zero backup except for the distant President. Fine. However, the montage showing Taylor "tracking down" the bank robbing gang makes no sense--he found them how?--and once he does find them, they turn out to be leftovers from every two-bit grade Z Western programmer you ever saw. Don't get wrong: I love watching Donlevy play his 1,000th smooth, likeable villain (he did that better than anyone), and McLaglen playing tough and dumb and jealous is always fun. However, the cliched nature of their characters unfortunately works in tandem with Taylor's sudden, inexplicable, "Hi, are you the gang I'm looking for?" needle in a haystack investigation, both of which immediately dumb-down This is My Affair (and who the hell was pushing all that tiresome Teddy Roosevelt "bully!" bullsh*t that kept popping up?). So by the time terrified-to-even-move Babs starts croaking out I Hum a Waltz, I was drifting (and then when the couple went on a rowboat ride/picnic, I sank). The final reel of This is My Affair is quite nicely laid-out, with the built-in suspense of that great historical twist of McKinley's assassination turning the screws on the viewer (how could an Ohio boy like me have forgotten that?). However, it's a case of too little way too late into this handsome-looking but stilted affair.
---
BATTLE OF BROADWAY
Homer C. Bundy (Raymond Walburn), the milquetoast president of the Bundy Steel Company of Bundy, Pennsylvania, has a big problem: his playboy son, Jack (Robert Kellard), is in New York City, and he's engaged to gold digger Marjorie Clark (Lynn Bari)--or at least Homer thinks his son's fiance is a gold digger. Enter "Big" Ben Wheeler (Victor McLaglen) and "Chesty" Webb (Brian Donlevy), two of Homer's employees...and the biggest troublemakers this side of the Mississippi. Instead of busting the two battling rivals for a brawl at the mill, he sends them on a mission: break up Jack's engagement when the mill's Legionnaire unit assembles in NYC. In the Big Apple, Wheeler and Webb continue their rivalry when luscious Linda Lee (Louise "Gypsy Rose Lee" Hovick) checks into their hotel, with each of the men trying to ace the other one out in Linda's affections. Jack is wise to his father Homer's plan, so he asks Linda for help: pretend she's his girlfriend. When bill-paying Homer comes to New York, intent on stopping Chesty's and Ben's out-of-control expense account, he falls for Linda, too, and soon everyone is in on the act.
Knockabout farce, energetically handled. A "high B" from Fox's whiz programmer producer Sol M. Wurtzel, Battle of Broadway consistently gets laughs from its smart-assed script, its peppy direction, and its energized cast. Written by Lou Breslow (Murder, He Says, My Favorite Spy) and John Patrick (Mr. Moto Takes a Chance, High Society), from an original story by Norman Houston, Battle of Broadway was shot fast (four weeks) and released even quicker (less than a month after the cast and crew wrapped), but that sense of urgency does no harm to the movie's comedic tone, which certainly isn't sophisticated, but is nevertheless sure and swift. Even though McLaglen would have one of his biggest hits come out the following year (Gunga Din), his starring role here in a Wurtzel quickie indicated McLaglen's days of headlining important A-list movies was coming to an end. That might explain his rather rough treatment of anyone who comes near those ham fists of his (watch him genuinely manhandle poor Sammy Cohen). His anger, though, is used correctly here by director George Marshall (Destry Rides Again, You Can't Cheat an Honest Man, The Ghost Breakers), already a pro at handling comedy, who pumps up almost every scene in Battle of Broadway with some little bit of physical business, giving the movie an undeniable zip. With Donlevy on board, McLaglen has a willing partner in all that drunken male grab ass physicality; Donlevy handles this assignment the same way he handled all his roles: with an easy air of absolute professionalism (it's nice to see braggart McLaglen have another ballsy blowhard to play off of). Gypsy Rose Lee, here credited with her real name, Louise Hovick, is quite charming in a nothing role (why her movie career wasn't bigger is a guess...but I think the studios made a mistake shying away from billing her with her stage name). She's particularly appealing when interacting with Battle of Broadway's biggest scene stealer, Raymond Walburn, who's hilarious no matter what he's doing: shying away from hulking McLaglen, or nervously twittering on about his son's impending marriage, or when he's making surprisingly successful time with Lee. By the time the movie wraps up with its third or fourth unapologetic big brawl, Battle of Broadway's hard-won rough-and-tumble pose becomes positively endearing.
The Video:
All of the movies here are presented in fullscreen, 1.37:1 black and white transfers. Battle of Broadway looks the best, with a relatively clean, bright image, with sharp image detail. This is My Affair is a tad dark for my liking, with some print damage here and there, while Professional Soldier is not very good at all, with a near-permanent appearance of a video line roll throughout the movie (obviously this transfer was taken from a VHS master).
The Audio:
The Dolby Digital English mono audio tracks for the This is My Affair; Battle of Broadway; Professional Soldier triple feature are adequate, with the expected amount of hiss and occasional squelchiness. No subtitles or closed-captions available.
The Extras:
No extras for This is My Affair; Battle of Broadway; Professional Soldier.
Final Thoughts:
Certainly no great shakes...but entertaining for the most part. If you're into Victor McLaglen (hee hee! Who, anymore, is "into" Victor McLaglen?), then you should thoroughly enjoy these three lesser outings from his resume. I'm recommending the This is My Affair; Battle of Broadway; Professional Soldier triple feature.
---
Paul Mavis is an internationally published movie and television historian, a member of the Online Film Critics Society, and the author of The Espionage Filmography.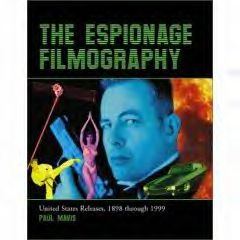 ---
C O N T E N T

---
V I D E O

---
A U D I O

---
E X T R A S

---
R E P L A Y

---
A D V I C E
Recommended
---
E - M A I L
this review to a friend
Sponsored Links
Sponsored Links