Remember The Day; A Life In The Balance; Tonight We Sing! (Fox Cinema Archives Triple Feature)
List Price: $37.95 [Buy now and save at Amazon]
---
A semi-sensible grouping of three variably entertaining outings. 20th Century-Fox's Cinema Archives line of hard-to-find library and cult titles has recently been repackaging solo titles into triple features, usually grouped around a single performer, or a shared theme. Here, in the Remember the Day; A Life in the Balance; Tonight We Sing! triple feature, one could say the common link is either Anne Bancroft (appearing in two here: 1953's Tonight We Sing! from director Mitchell Leisen, with David Wayne, Ezio Pinza, Roberta Peters, Tamara Toumanova, the voice of Jan Peerce, and Isaac Stern, and 1955's A Life in the Balance, from Harry Horner, with Ricardo Montalban, Lee Marvin, Rodolfo Acosta, and Jose Perez), or that two of the movies feature a young child at the center of the story (A Life in the Balance and 1941's lovely Remember the Day, from Henry King, with Claudette Colbert, John Payne, Douglas Croft, John Shepperd, Ann E. Todd, Jane Seymour, and Frieda Inescort). What all three movies have in common, though (outside of Fox's participation), is beyond me. A word about transfers, right up front. We all know there have been problems with some Fox Cinema Archives transfers for post-1953 movies either shot in a widescreen process or shot with the intention of being projected "wide." A Life in the Balance was shot at Mexico City's Estudios Churubusco in early 1954, and released more than a year later in the summer of 1954. No widescreen process is credited on-screen, nor could I find any information on whether it was actually matted and projected "wide" during its release. There's a more-than-good chance it was...and yet there's also a chance it was shot down in Mexico without thought for an eventual projection cropping. Regardless, the fullscreen, 1.37:1 transfer here looks perfectly framed (trimming it to a minimum 1.66:1 chopped heads), nor could I spot any obvious image cropping on the sides due to this transfer. So...unless I get solid info one way or the other, I'm giving A Life in the Balance's fullscreen transfer the benefit of the doubt. No extras for any of the titles. Let's look briefly at each one.
REMEMBER THE DAY
At U.S. presidential nominee Dewey Roberts' (John Shepperd) first big radio speech at the Washington, D.C. Mayflower Hotel, a solitary figure sits quietly, hoping for a glimpse of the important man, and a chance perhaps to tell him how proud she is of his achievements. Elderly teacher Nora Trinell (Claudette Colbert) once taught a young Dewey, and as she patiently waits, she remembers back all those years, back to 1916, and to Auburn Grammar School where she was a new teacher. Brash but intelligent Dewey (Douglas Croft) clashes with Nora when she unwittingly schedules a field trip to a Shakespeare play the same day as Dewey's big baseball game. However, young boy Dewey's entreaties to his coach, manual arts teacher Dan Hopkins (John Payne), fall on deaf ears when Dan first speaks to the pretty, charming Nora. A compromise is reached, but Dewey injures himself during the game. Nora takes the opportunity to bond with the boy over a shared love of sailing, and soon, Dewey has an innocent, reverent crush on his understanding, beautiful teacher. So does Dan, however, who fails to get "proper" Nora to spend their summer vacation together...that is, until he finally visits the thorough bored Nora (who's tired of her spinster teacher cohorts), and convinces her to stay the remainder of the summer--innocently--at his vacation hideaway. A chance discovery of this fact by the school's principal leads to Dan taking the fall without Nora initially knowing why (he leaves the school), but this doesn't stall their romance; they plan to marry that Christmas. However, Dewey finds out about the couple's relationship, and feels betrayed. Will Nora help Dewey find his way to maturity, and will Dan come home from the war?
Absolutely lovely. I had never heard of Remember the Day prior to this disc coming my way, so I was more than pleasantly surprised at how accomplished it is in delicately evoking its sentimental story--not at all a pejorative in my book--of an understanding, caring teacher navigating two loves: one innocent and charming, and the other passionate (and as expected, ultimately tragic). You'd never guess, though, that that's the tone of Remember the Day if you only looked at that original poster art, with young, gorgeous Colbert glammed up in anachronistic (to the story) modern dress, looking soulfully-yet-defiantly off into the distance as the ad copy leers, "With all my heart...I say I'd do it again...!" while we notice the other picture of uniformed Payne embracing her (what would you do again, Claudette...?). Clearly the Fox suits felt a quiet, nostalgic female take-off on Goodbye, Mr. Chips might be a potentially dicey prospect with moviegoers who expected effervescent Colbert to either be headlining a sophisticated comedy or a full-blown melodrama, so the false promotion was accordingly adjusted. From what I could gather, reviews at the time were respectful if muted, perhaps owing as much to the unsettled national tenor at the time as to the movie itself--the Japanese sneak attack at Pearl Harbor had just occurred a few weeks prior--while the box office was a modest financial success. Eventually wartime movie audiences would be clamoring for slices of nostalgic Americana like this (particularly if they were set to music), but Remember the Day's lovely-but-sad ambiance was the wrong sentiment at the wrong time.
Based on a play by Phillip Dunning and Philo Higley, Remember the Day's confidently-constructed flashback scrip, as befitting an A-list project for one of Hollywood's top female stars at that time, comes courtesy of pros Tess Slesinger, who died at the peak of her screenwriting career (The Good Earth, Dance, Girl, Dance, A Tree Grows in Brooklyn), her husband Frank Davis (The Woman on the Beach, Jim Thorpe -- All American, The Train), and Allan Scott (Swing Time, So Proudly We Hail!, Imitation of Life). Of course today, many younger viewers will either puzzle or laugh at Remember the Day's central dramatic conflict: Payne chivalrously quits his job to avoid potential scandal for Colbert when he innocently "spends" (...or was it innocent?) the summer with her, a relationship that devastates young Croft when he discovers it (it's hard to believe in today's upside down world, but there was a time in America--and not all that long ago--where a teacher's personal behavior outside of the classroom was expected to be "beyond moral reproach"). They might also squirm at the movie's penchant for scenes of nostalgic languor, as if the screenwriters knew somehow that our inevitable involvement in WWII would wipe out the last vestiges of that earlier, more leisurely America. Offering up honest sentiment in these god-awful cynical times is a pop culture thought crime worthy, at the very least, of critics' sneering derision, so I don't expect too many new reviewers to respond to director Henry King's simple yet expertly-guided scenes of emotion, such as Colbert crying by the Christmas tree and fireplace, when she realizes Payne has joined the military (1941 audiences knew all about the dynamics there), or when the couple say their goodbyes in the town square's moonlit gazebo, with Payne reassuring her, "I'll always be with you," and her prophetic reply, "When you go...there's nothing left." I go back and forth on King, whose smooth, anonymous Fox house style could unpredictably yield winners (Twelve O'Clock High, The Song of Bernadette, Captain from Castile) and losers (Wilson, Untamed, Beloved Infidel). However, his gentle, calm, straightforward technique, without a wasted shot or cut, is perfectly suited for Remember the Day's story, direction aided of course by that pro cast. Payne, a relative newcomer to Fox in '41 where Zanuck was promoting him as a genial, handsome backup utility player to Ty Power, meshes with Colbert nicely (talented Payne had an interesting career, with the ability to do everything from musicals to noir...but he should have been bigger). Colbert, playing old for the first time, isn't remotely believable as an elderly school teacher (she obviously told them to go easy on the white powder, pencil lines, and rubber appliances), but she's luminous as the young, sympathetic teacher who's charmed when Croft impulsively tells her she's beautiful, and who relishes smacking husband Payne with a pillow on their honeymoon (her delighted laughter seems genuine when Payne leaps onto the bed in retaliation--a rather naughty skirting of the Production Code since both have their feet off the floor...). It's one of Colbert's best roles, in one of her more (unfortunately) obscure outings.
---
TONIGHT WE SING!
The Ukraine, 1895. Young boy Soloman Hurok (John Meek) is told by his exasperated instructor that he has absolutely no discernible musical talent. 1910, St. Petersburg, Russia. Young man Sol Hurok (David Wayne) quits his job at a hardware store (...before he's fired) because all he can concentrate on is leading his choral group. Attending the opera with his fiance, Emma (Anne Bancroft), Sol is mesmerized by singer Feodor Chaliapin (Ezio Pinza). Worming his way into Chaliapin's dressing room, Sol convinces the vain artist that he needs a representative in America to arrange lucrative tours, a suggestion the flighty Chaliapin immediately seizes on...with absolutely no intention of honoring, unbeknownst to Sol. Sol leaves for America, and struggles as a street car conductor, since Chaliapin doesn't answer Sol's many letters. Emma eventually arrives in America, and marries Sol, who finds happiness putting on small concerts for the local immigrant population. When Sol is suddenly summoned to Paris by Chaliapin, he goes...only to be crushed when he's told it was a practical joke so Chaliapin could win a bet. Sol takes a boat back to America, where onboard he meets the great violinist Eugene Ysaye (Isaac Stern), who warms to Sol's notion of playing America to working-class audiences. Soon, Sol is a big success, representing many artists including prima ballerina Anna Pavlova (Tamara Toumanova), but money is going out more than it's coming in, and his constant attentions to his prima donna artists is straining his relationship with Emma. When he's at his lowest, both financially and emotionally, will she and his clients come to his aid?
Thank god for the music and dancing, because otherwise.... A long-gestating project courtesy of singer/actor/producer George Jessel (it was green-lit when The Great Caruso made a mint for Metro), Tonight We Sing! may have an exclamation point in its title, but that's about the only note of urgency in this pallid biopic. I'll be honest and state I had never heard of producer and impresario Sol Hurok before, but after a brief scan on the net, he sounded like an interesting subject for a biography. A brief scan of Tonight We Sing!'s production history, however, told me that I was in store for the same kind of biopic one always gets from Hollywood during this time period: a phony one (according to one source, the movie's original press release openly admitted the storyline was entirely fabricated for the big screen). And that's just fine with me. I figured out a long time ago when I was a kid that something had to be up when biopic after biopic from that period of Hollywood moviemaking played exactly the same, despite the varied historical figures that populated them. And Tonight We Sing! is no different. Sol Hurok is a schlemiel who can't play a note, but he loves Music and Art, so by pluck and perseverance, he succeeds, thanks to the love of a good woman...until of course he forgets what's important and almost loses it all. And again--that's cool with me. I know the biopic conventions, and I enjoy them. Add in the level of musical and dance talent that's on display in Tonight We Sing!, and everything should be jake, right?
Wrong. Oh, the individual scenes of Pinza and Peters belting out their arias and Toumanova hoofing it and Stern sawing away at that 250-year-old fiddle are top-notch--the only scenes worth anything in Tonight We Sing!. Now I'm certainly no culture snob (just look at my list of previous reviews for proof of that), but who wouldn't respond to Pinza singing Mussorgsky's Boris Goudonov in Russian or Gounod's Faust, or hearing Peters warble "Sempre Libera" from Verdi's La Traviata, or seeing the electrifying Toumanova dancing to Saint-Saens' Le Cygne? However, to get to those moments, you have to slog through some remarkably stilted exposition as a seriously miscast David Wayne tries to convince us that the movie is at least marginally intended to be about him, and not the artists. Written by Harry Kurnitz (Shadow of the Thin Man, Land of the Pharaohs, Goodbye, Charlie) and George Oppenheimer (Adventures of Don Juan, Born to Be Bad), Tonight We Sing! follows the established, corny biopic conventions alright, but it does so in a cheap, cheating way, jumping nonsensically from scene to scene without much context, and even less logic. For instance, for the two or three critical times that Wayne needs money to travel, exclaiming, "Don't worry, I'll get the rubles somehow!" we never, ever see how he gets up the scratch. Now, for a movie where the story is predicated almost entirely on how lack of money drives the protagonist from beginning to end, it's not nitpicking to ask how the hell he got the cabbage to travel to America and Paris when he's supposedly broke. But then Tonight We Sing! cheats like that all the time, whipping through its musical numbers while purportedly telling us Hurok's life, when in reality we know next to nothing about this character other than he's passionate about the arts. Director Mitchell Leisen, a director of uncommon good taste at times (the sublime Remember the Night and Hold Back the Dawn) should have been a natural for Tonight We Sing!. However, his utterly flat, uninspired handling of this yawn-inducing material is rather shocking, considering that he only had to connect the biopic convention dots to at least get a marginally entertaining outing. Instead, we have seemingly endless scenes of colorless, bland Wayne trying out a new accent (the only one he misses is South Carolina corn-pone) as he painfully and earnestly explains! that he indeed loves The Arts! and if he was only given the chance! he could bring such artistry! to the unwashed masses! Bancroft fares even worse, looking bored to tears, trying and failing to summon up Russian fatalism about being denied love from, uh...David Wayne (hee hee!!). Only Pinza gets any laughs; when he occasionally blows in and nails his ego-maniacal diva, you wish someone had had the guts to make The Feodor Chaliapin Story instead, and feature this magnificent hambone for an entire 90 minutes of so.
---
A LIFE IN THE BALANCE
In Mexico City, a nameless psychotic with religious mania (Lee Marvin) is killing beautiful women--six victims now, with no witnesses and no clues. The last woman was found near little Paco Gomez's (Jose Perez) apartment building. Paco lives with his widowed father, Antonio (Ricardo Montalban), a frustrated musician who, unbeknownst to Paco, has lost yet another job, putting the little family in even more precarious economic straits. Childless neighbors Andres and Carmen Martinez (Jose Torvay and Fanny Schiller) want the boy for themselves, especially after they hear Antonio promise something he can't possibly deliver to the boy: a guitar. Antonio goes to an old flame, Carla (Eva Calvo), to ask her to repay the 500 pesos he loaned her--a request that spurs a loud fight, before she finally agrees to reimburse. Unfortunately, neighbors, including Carmen Martinez, spy this fight, and see Antonio leave. So when the killer then enters the apartment and ices Eva, slipping away, Antonio is the prime suspect. Paco, however, saw the killer leave Carla's apartment; he knows his father is innocent, so he follows the killer through the dark streets of Mexico City. Meanwhile, an oblivious Antonio, flush with money, buys the guitar and meets troubled Maria Ibinia (Anne Bancroft). They slowly fall in love that evening...while Paco tries to escape from the killer, who eventually realizes that Paco can finger him for Carla's murder. Will Antonio be able to convince cops Captain Saldana and Lieutenant Fernando (Carlos Muzquiz and Rodolfo Acosta) that he's innocent, and save his son?
Based on Georges Simenon's short story mystery, A Matter of Life and Death, A Life in the Balance starts off just fine, with some evocative location shooting in Mexico City (the movie was co-produced by vet Leonard Goldstein and Mexico's Cinematografica Tele Voz, S.A., and released by Fox), and a decent-enough noir set-up: young, pretty girls are getting knifed in the streets, and poor little Paco is inevitably going to get mixed up in the investigation. Written by Robert Presnell, Jr. (Man in the Attic, The Third Day, TV's Smash-Up on Interstate 5) and Leo Townsend (Bikini Beach, Beach Blanket Bingo, Fireball 500), A Life in the Balance has some funny bits (Paco trying to pelt the police captain with his slingshot), some amusing dialogue (the coroner joking about his young girlfriend killing him), a good hook during the final chase (Pablo knocking out glass police call boxes, giving the cops a "map" to his whereabouts), a solid cast, and some arresting framing and photography, courtesy of cinematographer J. Gomez Urquiza and co-directors Harry Horner and Rafael Portillo. So what's not to like?
Well...nothing, at first. The story is competently set-up, even though after seeing better movies like The Window, we're pretty sure we know where little Paco is going to wind up in the plot. Familiarity doesn't have to breed contempt, though (or there'd be no genre work), if something new is attempted or at the very least, the familiars are ably and solidly handled. Unfortunately, A Life in the Balance begins to break down right when we're really starting to respond to its noirish framework. Once Lee Marvin comes on the scene and starts believably manhandling visibly spooked Perez, events get darker and darker as the frames become more baroque and crowded. Too bad, then, that far too much crosscutting between Marvin and the boy, and the thin, uninteresting romance between Montalban and Bancroft, dissipates much of the tension of those suspenseful scenes (they're good actors, of course, but they have little chemistry together, and their romantic noodlings are painfully dull and obvious). After all, we're interested in what's going to happen to little Paco, not his father's love life (and quite frankly, we lose sympathy for Montalban when he forgets his appointment with his kid--which is supposed to be the most important thing in the world to him--after mooning over Bancroft). Worse, we suddenly realize the scripters and the co-directors (how did that break down? Was Portillo running the show? Was he just an interpreter? Hard to say) haven't really crafted a true noir--it looks like one, but no attempt is made to thematically link Marvin and his killings with Paco and his father's adventures in poverty and romance. A Life in the Balance turns out to be a straight thriller, not a noir...which would be perfectly fine if it got the thriller aspects right. But it doesn't, particularly when it makes the fatal mistake of "ending" the movie right at the climax of Marvin's chase with Paco. The movie--and the resulting suspense--suddenly stops when evening turns to day (a huge mistake), and the chase has to gear up and re-start with the dawn. Why in the world would you go to the trouble of creating this rather elaborate set-up--the two "couples" are on a collision course through the nightmarish back streets of midnight Mexico City during a frenzied festival--only to ditch it and re-group during the morning? One suspects it was to better photograph A Life in the Balance's final set-piece at the admittedly spectacular Universidad Nacional Autonoma de Mexico, but everyone could have wound up there the night before anyway--just throw a few arc lights up in order not to lose the suspense. Would that have been so hard? By the time everyone gets their just desserts, the movie's collapse is complete. Montalban, with a straight face no less, starts speechifying about the insanity of man while the cops judiciously nod in agreement; the kid starts defending Marvin; and Bancroft waits for a hug--that's when we know for certain that A Life in the Balance is a regrettable missed opportunity.
The Video:
A Life in the Balance's black and white, fullscreen, 1.37:1 transfers looks the best here, with sharp, sharp image detail, good blacks and nice contrast. Remember the Day looks okay, with a tad contrasty black and white fullscreen transfer, with some screen anomalies and a sharpish image. And Tonight We Sing!'s fullscreen color transfer is reasonable, with only okay color values (a bit muddy).
The Audio:
The Dolby Digital English mono audio tracks for the three movies here are what you would expect: serviceable, with low hiss. No subtitles or closed-captions available.
The Extras:
No extras for the Remember the Day; A Life in the Balance; Tonight We Sing! triple feature.
Final Thoughts:
A strange combination of decreasing value. Remember the Day is a fine yet relatively obscure Claudette Colbert drama that needs to be better known. A Life in the Balance is a promising pseudo-noir that finally reveals itself to be only a marginal thriller. And Tonight We Sing! features some remarkable stand-alone musical and dance numbers...wrapped around a woeful biopic. You can purchase any of these titles separately, which I highly recommend for Colbert's outing. This triple feature though, only gets a "rental" from me.
---
Paul Mavis is an internationally published movie and television historian, a member of the Online Film Critics Society, and the author of The Espionage Filmography.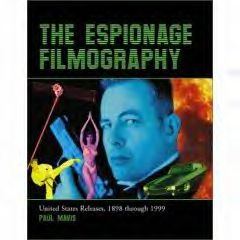 Sponsored Links
Sponsored Links