Stranger Trilogy (Warner Archive Collection: A Stranger in Town, The Stranger Returns, The Silent Stranger), The
List Price: $21.99 [Buy now and save at Amazon]
---
"Just who are you, anyway?"
"I guess you'll just have to figure that out for yourself."
Three cult westerns all'italiana that are no strangers to fans of the spaghetti Western genre. Warner Bros.' Archive Collection of hard-to-find library and cult titles has released The Stranger Collection, a two-disc, three-movie gathering of star Tony Anthony's first three "Stranger" Italian oaters, all of which were originally released in the States by Metro-Goldwyn-Mayer. Included here are: 1968's A Stranger in Town, originally released in Italy in 1967 where it was titled Un dollaro tra i denti (A Dollar in the Mouth); 1968's sequel, The Stranger Returns, originally released in Italy in 1967 as Un uomo, un cavallo, una pistola (A Man, A Horse, A Gun); and finally The Silent Stranger (Lo straniero di silenzio), which was shot in 1968 but held up for U.S. distribution until 1975 (apparently, it never received an official European release). The first two Stranger spaghetti Westerns were surprisingly beefy international b.o. hits, and they still have second-tier name recognition among more-than-casual fans of the genre (somewhere around the Sergio Corbucci or Sabata area, maybe?). While they're not in the league of Leone (what is?), Anthony's grimy, sneaky little punk killer is an interesting addition to the genre, and these three very different movies are definitely worth a look for fans of macaroni Westerns. A hilarious original trailer for The Stranger Returns is included with these very nice anamorphically enhanced widescreen color transfers. Let's look briefly at the movies.
A STRANGER IN TOWN
Into a sleepy, seemingly deserted Mexican village, The Stranger (Tony Anthony) rides. At a cantina, a henchman pulls a knife on The Stranger, telling him to ride 10 miles out of town...or else. The Stranger takes a whiskey bottle and instantly kills said bandito. Watching from a main street window, The Stranger sees notorious bandito Aguilar (Frank Wolff) and his gang zap an approaching Mexican army unit, and don their uniforms. The Stranger, putting on his own "borrowed" Union cavalry blue coat, greets Aguilar and passes himself off as a friend of the American officer who's in charge of delivering a shipment of gold to Mexico's government. The Stranger offers his help in ripping-off said shipment, assistance which Aguilar accepts, and that comes in the form of The Stranger pulling a gun on Captain Ted Harrison (Enrico Capoleoni) and telling him he's outnumbered. When it comes time to settle up, though, Aguilar proves correct his bad reputation by beating up The Stranger and flipping him one little gold piece for his troubles. Wounded, The Stranger escapes their hideout and takes a girl from the village that Aguilar has held prisoner. Will The Stranger exact his revenge and kill every last member of Aguilar's gang?
I haven't seen a Tony Anthony Stranger movie in quite some time (I have stronger memories of the big, clunky JVC machine the cassette played on, rather than the fuzzy images from who knows which Stranger movie it was...). When you mention "Tony Anthony" to me, I think first of either his better-known spaghetti Western, Blindman, from 1971, or Comin' At Ya!, his surprise 1981 macaroni oater hit--the first title I ever saw projected in 3-D (a big, big deal back in 1981, when movie fans thought the format was, for all intents and purposes, gone for good). So I was stoked to see Warner Archive bring out the first three Stranger titles in anamorphic widescreen (this is the kind of relatively obscure stuff they do so well). Compared to the reams and reams of material on Leone and his Dollars trilogy, there's not a whole lot out there on Anthony and his Euro-Westerns. From what I could gather, stage-trained (Actors Studio) Anthony was a go-getter from the get-go, making a couple of low-budget features here in the U.S. in the early 60s (including a children's short that won some minor acclaim at the Venice International Children's Film Festival), before he went to Italy to co-write and star in two more features. A co-producing partner, Saul Swimmer, who was based in the U.K., had become friends with Abkco Records' Allen Klein, the manager of The Rolling Stones and a Metro-Goldwyn-Mayer stockholder. Making movies in Italy, Anthony saw the profit potential of doing a spaghetti Western, a subgenre which in the mid-60s was completely dominating the Italian boxoffice (before making major inroads in the international markets with the delayed release of Leone's and Eastwood's Dollars movies). Two sources I found indicate Anthony contacted Swimmer, who contacted Klein, with the outcome being money put up by both Klein and Anthony for a cheap spaghetti Western to be released by M-G-M (the budget apparently was no more than $50,000 U.S.). The movie was shot quickly in 1966 and released in Italy to good numbers in January, 1967, before it made similar successful runs throughout Europe. M-G-M's prez Robert O'Brien thought A Stranger in Town might be a good way to soak up some of that spaghetti Western money that United Artists was minting with Leone and Eastwood, so Anthony's opus was released in the States in the spring of 1968. Critical reception was dire (for a giggle, I recommend Roger "The Most Overrated Movie Critic of All Time" Ebert's truly wretched goof of a Hemmingway-esque review, which not only shows he didn't get Hemmingway at all...but which also gives us yet another example of his scurrilous penchant for slamming movies he didn't actually watch all the way through...). Then as now, though, critical barbs meant little to the ticket buyers, who made A Stranger in Town a nice-sized hit for M-G-M that spring.
I wasn't sure what to think about A Stranger in Town when it first started to unroll. Initially, it certainly seemed derivative of Leone's work, with Anthony sporting a black hat, serape, and a quasi-Eastwood squint, riding into a deserted Mexican village as he pits two forces against each other (Wolff's gang and the U.S. cavalry) in an effort to scam some gold...inbetween all the sadism and sweaty faces. Sound familiar, right? Of course that kind of, ahem, "borrowing," was S.O.P. in most countries' exploitation/genre moviemaking--not just Italy and the spaghetti Westerns (Leone certainly "borrowed" from Yojimbo for that first Eastwood opus...enough to get a lawsuit successfully slapped on him). If something struck gold at the box office, a flood of imitations would follow, no matter what the language or national borders. So, if A Stranger in Town sorta looked and sounded like A Fistful of Dollars...so what? What post-1965 spaghetti Western didn't echo Leone in some small fashion? So...is A Stranger in Town as good as its inspiration? No, but again...who cares? I wasn't expecting iconic moviemaking to strike twice here (Anthony's take on "The Stranger" is intriguing...but is it "iconic?" I'll leave that for the hard-core spaghetti Western experts). No, the only thing A Stranger in Town had to do was entertain me with a reasonable collection of spaghetti Western conventions, and this it did--and quite nicely, too.
What I found most strangely appealing about A Stranger in Town is the one element that seems to piss off most of the movie's annoyed critics, including the few mainstream reviewers who wrote about it back in '68: its protracted, deliberate pace. During the first 15 minutes or so, I sympathized with them--I just couldn't see the endless, constant close-ups and pregnant pauses as anything more than director Luigi Vanzi (credited as "Vance Lewis," as if that would fool Hollywood) taking one of Leone's innovations and unimaginatively stretching it to the breaking point. And maybe that's all his visual/editing schematic was intended to be...but somehow, some way, eventually, it worked for me. As the movie drives on with this measured, steady beat, it starts to feel like a weirdly twilight comic book (the old school kind), with just one scene/"panel" after another of The Stranger prowling or shadowing after someone else, enlivened by short bursts of action (for once they show you what happens when you're hit in the head with a whiskey bottle: you die) and howlingly exaggerated sound effects of someone getting shot or beaten or tortured (Vanzi and cinematographer Marcello Masciocchi come up with several visually impressive moments, like the shoot-out in the pitch-black cellar, illuminated by muzzle flashes). Dialogue is almost non-existent; most of the movie operates in silence, save for composer Benedetto Ghiglia's somewhat repetitive score (I suppose little dialogue equaled further savings on dubbing sessions). The storyline from Giuseppe Mangione Warren Garfield (the trailer guy) is exceedingly violent if not particularly bloody (which again may have been a budget factor; when that Mexican army unit gets slaughtered by a machine gun, there's no exploding squibs or blood smears), with Anthony an exaggerated version of the typically abused spaghetti Western anti-hero (the most perverse element of these various offenses being that the masochistic, half-grinning Stranger doesn't seem to be minding them all that much). According to what I've read, Anthony and director Vanzi designed The Stranger to be a scheming, street-wise punk who "did good by accident." Anthony may not be cruelly handsome like Eastwood or Nero or Hill, but he does have a certain tentative, watchful way about him that fits in perfectly with Vanzi's measured pacing. Whether he's half-smiling at the sight of a woman and her baby (something The Man With No Name would never do) or half-smiling after killing a woman (the scene where Pilar whips him and then begins to paw him, right before he viciously smashes her head into the floor, is deliciously overripe), you have to work to figure out where Anthony's head is...before you realize it probably doesn't matter in the end. All you want to see is another 20 minutes or so of that protracted, expertly edited finale, where The Stranger, with cat-like agility and silence, stalks his prey, amusingly popping up out of floorboards or walking along rooflines, blowing away his tormentors with nary a flicker of his idiotic grimace/smile. When the movie closes with Anthony adroitly flipping out one final quip, you know you've seen something a bit above the literally hundreds of cheap Dollars knock-offs that flooded Italian cinemas in 1967 (and I've seen a few)--and that's saying something.
---
THE STRANGER RETURNS
Crooked postal inspector Russ of the Western Mail and Courrier Company has the dope on Mr. Stanley (Giuseppe Addobbati), an embezzling bank manager headed for the Mexican border with $200K, and he gives said info to Mexican bandit En Plein (Dan Vadis) and his gang. Crooked postal inspector Russ is promptly killed for his troubles. The Stranger (Tony Anthony) finds Russ and swipes his I.D....before killing two of En Plein's men. Meanwhile, En Plein makes it clear to local Moon Village postal inspector "Good" Jim (Daniele Vargas), that he's to greet Stanley's coach as if everything's okay...or else. The ruthless gang massacres the unsuspecting coach but what they don't know yet is that Good Jim is looking to scam them, too: there's another look-alike coach, made of solid gold (hee hee!), and he's going to swipe it. That is...unless The Stranger gets to it first, with the help of cynical old coot The Prophet (Marco Guglielmi).
When A Stranger in Town did very nice business for Metro-Goldwyn-Mayer that spring of 1968--arguably the peak box office year for spaghetti Westerns in the United States, what with the Dollars trilogy finally concluding with The Good, The Bad, and The Ugly--M-G-M secured producer Allan Klein's already-filmed follow-up, The Stranger Returns (Italian title: Un uomo, un cavallo, una pistola), for immediate release that summer (no doubt wanting to strike quickly before the fad for macaroni Westerns inevitably waned). It did just as well as the first Stranger...while pleasing no more mainstream critics than did the first outing (A.H. Weiler stated, "There's no real reason for this Stranger to return,"). Much lighter in tone than the first outing, The Stranger Returns is the best entry in the trilogy (who can say how good the pre-mangled The Silent Stranger was--more about that below). Pre-dating by a couple of years Terence Hill's massively successful They Call Me Trinity, The Stranger Returns isn't an all-out slapstick spoof of spaghettis, but it does have an agreeably off-beat, even at times absurdist lilt to it which proves to be quite fun. Written by Bob Enescelle, Jr. and Giuseppe Mangione (who co-wrote the first Stranger), from a story by star Tony Anthony, The Stranger Returns begins on an amusingly eccentric note--The Stranger, wearing his standard pink shirt and now sporting a pink ladies parasol, rides in on a horse named "Pussy"--and manages to more or less stay in that off-beat zone for the remainder of the movie. Do I think there was any deep intent on the moviemakers' part having The Stranger thusly attired? No...but it's diverting to muse about the implications, while visually it provides a nice little introductory kick that says The Stranger Returns is trying to be an out-of-the-ordinary macaroni oater.
I don't know how closely The Stranger Returns' production followed A Stranger in Town's shoot (it couldn't have been more than a few months), but star Tony Anthony does well here in expanding The Stranger's appeal. Anthony himself seems to be a bone of contention with a lot of spaghetti Western enthusiasts (his acting style and personality are either "liked" or "hated"--there's no passionate "love" out there for him, apparently). However, I find his genial, almost goofy "play along" attitude a pleasing tonic after Eastwood's and Nero's brutal impassiveness. I'm not sure he's entirely successful when he goes for outright comedy (trying unsuccessfully to roll his own cigarettes), but when he comes at the humor sideways, he's pretty good (the grave digging scene is expertly drawn out, with Anthony striking exactly the right tone of insouciant fatalism masking cool killer confidence when, informed that he's digging his own grave, he responds, "Well...I finally got myself a profession,"). His Stranger here is a genial, cynical opportunist who doesn't seem to mind get the sh*t kicked out of him as long as he can grin at something playing inside his own head. When told to leave Moon Village, he digs in: "Fact is...I like places that smell of trouble. Something good might come up." And when quasi-sidekick The Prophet offers spiritual redemption with a "one-way ticket to Paradise," the eminently practical Stranger doesn't miss a beat: "How much does it cost?" Director Luigi Vanzi returns for this sequel, and proves adept at staging effective action scenes that help drive the story. The violence is more intense--one woman is shot in the back, another has her dress strings shot off, drawing blood, while Jill Banner is almost raped--particularly when that violence is aimed at The Stranger, who's viciously and methodically beaten at one point, and then dragged into a square where he's almost run over by a stagecoach. And yet Anthony and Vanzi still have time for plenty of off-kilter laughs, such as The Stranger offering a post-mortem "Shhhhhhh" to two henchmen he skewers with a machete, or the smiling villain The Stranger eats with, who comes up from under the table for one more painful grimace after getting blown in two by The Stranger's shotgun. That four barrel rotating shotgun gets as many laughs at The Stranger in the movie's beautifully-designed finale, where The Stranger exacts good-natured revenge by silently stalking his victims, before getting up as close as possible to them with his shotgun and firing with cartoon-like violence. The final showdown in the cemetery is equally memorable, with The Stranger and soon-to-be Eastwood regular Dan Vadis playing cat and mouse among coffins arranged like a fun house. Too bad such a good entry in the Stranger series would be Anthony's and audiences' "last" for the next seven years....
---
THE SILENT STRANGER
(Reviewer's note: Advance apologies for misspellings of the Japanese characters' names, and the lack of matching actors, since they're not in the credits, nor available online). The Klondike, 1884. In a barn, The Stranger (Tony Anthony) lassoes three villains who just shot a Japanese man. The dying man gives The Stranger a small scroll and tells him to go to Osaka, Japan, where Matori will pay him $20,000 for it. Cut to Japan, where The Stranger and his horse, Pussy, are met with instant suspicion by the native population. After an assassination attempt is made on him, The Stranger is netted and carted off by a samurai, before he manages to escape. The Stranger eventually turns the tables on the warrior and arrives at a small village, where he spots the vicious head of a gang, Gorheto, receiving tribute from the terrified peasants. When The Stranger is discovered, he escapes with the warrior who originally netted him, as Gorheto's American co-hort (Lloyd Battista) tears apart The Stranger's hiding place with a Gatling gun. Lord Matori, a rival war lord, has The Stranger brought to him, demanding the scroll, before offering The Stranger more money to kill Gorheto--a deal Gorheto offers The Stranger, to kill Matori. Gorheto's niece, a little princess who lives with her other uncle Matori (I think he's also her uncle...), sees The Stranger as her only hope to avoid all out bloodshed between the village's warring factions. However, The Stranger wants to get paid for such restraint....
When financially struggling M-G-M saw how much money the first two Stranger movies made for them in 1968 (against a relatively small investment), they were keen to have another one made as quickly as possible. Producer Allan Klein secured a substantial increase in the new budget to allow star and now writer and producer Tony Anthony the Japanese location shooting he needed for his unique storyline. Anthony decided that The Stranger would go to Japan and fight opposing "Indian" tribes--samurai--in yet another variation on the Stranger movies' Yojimbo-like set-ups. Costs escalated due to unforeseen problems during production (chiefly: massive typhoons that wrecked sets and delayed shooting), but according to Anthony and Klein at least, the finished picture was the best of the trilogy. Unfortunately, the producers' chief booster at Metro, Bob O'Brien, was at that moment on his way out at the studio (if this was 1969, I'm assuming it was the Kirk Kerkorian takeover?), with Klein's vocal support of the executive a strategic blunder that doomed The Silent Stranger to studio politics purgatory. The movie's release was delayed indefinitely, while Metro perversely packaged up the first two Strangers as a double bill, making even more money of Anthony...just as U.A. had done with their Dollars re-releases. According to what I've read, The Silent Stranger was never given an official release in Europe, nor was it released in the United States until 1975, when M-G-M (late again) decided its "West-meets-East" framework would work with audiences enjoying the current "chop socky" craze, after spaghetti Westerns had all but disappeared from the grind houses. Unfortunately, someone at Metro decided The Silent Stranger needed a trim, so 20 minutes were hacked out of it (it sounds like a James Aubrey move, if the edit was done before he left in '74), with Anthony persuaded to record the sporadic narration that now plays over the movie. Too much time had passed, however, between sequels, and since Anthony had failed to secure a more prominent profile in international movie markets, The Silent Stranger didn't make a dent at the box office, while critics, unaware of its original production date, incorrectly called it derivative of other, better known "West-meets-East" outings like Terence Young's Red Sun, from 1971.
Who knows if The Silent Stranger would have been better with those 20 minutes left in? Most newer critics take the automatic stance that if the big, bad, evil Hollywood studios cut a movie, then the excised footage is lost treasure that needs to be restored, lest artistic butchering go unpunished. It's a silly pose because of course all movies are monkeyed with prior to releasing--the bitching only comes when the movie bombs (I never heard Woody Allen complaining when Annie Hall was chopped up and "re-worked" into a classic by Ralph Rosenblum). However, it's clear that regardless of the quality of those 20 minutes lost in The Silent Stranger, the resulting continuity of the movie was grievously compromised. While the first two Stranger movies were fairly tight in their narrative schematics, The Silent Stranger is choppy as hell, with frequently illogical segues and incomprehensible sequences that lack any kind of context. Considering how carefully Anthony and Klein shepherded the first two Strangers, I'm going to side with their version of events and agree that the studio executed a hack job that wrecked what remained. The opening sequence is a good example--and one that no doubt put most viewers in a puzzled and unhappy frame of mind right at the start of the movie (never a good move). We get a glimpse of Anthony trudging through the snow, yelling, "Jose!" (or at least we think it's him...or maybe that yelling is part of the awful theme song playing). Cut to a barn where three men are shooting it out with a Japanese man. Cut to The Stranger roping the men before he gets the scroll from the dying man. Pray tell what the hell does any of that mean? Why leave the "Jose!" opener in? Why not just open on the barn? At least we get the gist of what's happening there, even if the details are non-existent (who's the Japanese guy? Who are those villains? Why are they in the Klondike? Why's The Stranger in the Klondike? How'd he find the barn?). It's a disastrous opening to the movie (that barn set is ridiculous-looking, too) that instills zero confidence in the audience that the moviemakers know what they're doing here.
Once The Silent Stranger gets to Japan, things do pick up. We understand the basic storyline (of course we do...we've seen the first two Strangers), and we respond to Anthony's semi-confusion/bravado at being a stranger in a strange land (it's odd, but there's almost a Shogun feel to those early scenes, as an increasingly humiliated, aggrieved Anthony tries to navigate the strange Japanese culture...until he almost gives up, moaning, "I wanna go home" his face down in the mud). The potential clash of cultures, thankfully, is dismissed with a cynical good sense: anytime The Stranger sees an outrage committed by the Japanese, he knows the same thing goes on all over the world (when the little princess assures him he doesn't understand Japan, he shrugs and states, "What's to understand? When it comes to money, it's just like back home,"). And there are quite a few amusing scenes that remind you how Anthony's performance as The Stranger is, in the end, quite appealing...in a funky kind of way. You would never sympathize with anything that happened to Clint Eastwood because he comes off, ultimately, as impervious. But Anthony is a schmoe who's constantly getting beaten and pushed around--he's even crucified here--until his laid-back demeanor finally reveals his sneaky determination to never quit, and to win at any cost. As fun and amusing as some of these elements may be, however, they don't make up for vague context and fuzzy details. We don't really know who that warrior is--the one that nets The Stranger in the movie's first reel--until almost the end of the movie (is he related to the little princess? Is it her father? Or a protector? I still don't really know...). And then boom! he's helping out The Stranger. Huh? One of the movie's best sequences--a bizarre, violent confrontation between The Stranger and three murderous geishas in a steam bath--is undeniably cool and weird (you can bet rip-off artist Tarantino watched this a couple of times)...but why the hell are they trying to kill him? Did they get orders to do so? Who ordered it? And why do the geishas have to do it? Eventually, the back and forth gamesmanship of the battling village factions becomes repetitious, with director Luigi Vanzi doing little to spruce up his unimaginative framing and tired blocking (with all the interior sets, it doesn't seem to matter that this was shot in Japan, and once they do go outside, it's either dark and raining, overcast and raining...or sunny with a chance of another flat composition). The finale, another "stalking" sequence for The Stranger (who is now equipped with no less than a cannon for god's sake), as he navigates through the Japanese huts killing his tormentors up close, is reasonably well done...but also awfully familiar by this third re-tread. Anthony would return to The Stranger character one more time in 1975 for Get Mean (which I haven't seen), but for all intents and purposes, the series died when The Silent Stranger was silenced for seven years. I suppose a restoration could be coming...but I wouldn't bet on it.
The Video:
Not bad at all. Anamorphically-enhanced at 1.78:1 (which looks like a nice fit, ratio-wise, if these weren't shot in 'scope), the widescreen transfers for the three Strangers movies look quite sharp, with good, solid color, bright images, and moderate grain (A Stranger in Town has a bit more digital noise).
The Audio:
The Dolby Digital English mono audio tracks are relatively clean, with very little hiss and strong re-recording levels. No closed-captions or subtitles are available.
The Extras:
There's a brilliant original trailer for The Stranger Returns included here, set bizarrely to the classic Shout! (what the hell?), that perfectly captures the fun waiting for you.
Final Thoughts:
A welcome return for The Stranger. Tony Anthony did some very interesting things with the spaghetti Western genre, including, perhaps, presaging the Trinity movies, while certainly "inventing" the West-meets-East subgenre (one or two earlier oaters had samurai elements, but The Stranger was the first gunslinger to go to Japan). All of which would mean little if the Stranger movies weren't entertaining in their own right...which, luckily, they are. Warner Bros. does a big favor for lovers of macaroni Westerns by bringing out these well-known but little seen classics. I'm highly, highly recommending The Stranger Collection.
---
Paul Mavis is an internationally published movie and television historian, a member of the Online Film Critics Society, and the author of The Espionage Filmography.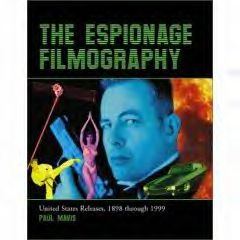 ---
C O N T E N T

---
V I D E O

---
A U D I O

---
E X T R A S

---
R E P L A Y

---
A D V I C E
Highly Recommended
---
E - M A I L
this review to a friend
Sponsored Links
Sponsored Links