Escape from East Berlin (Warner Archive Collection)
List Price: $21.99 [Buy now and save at Amazon]
---
Passable Cold War nail-biter. Warner Bros.' Archive Collection of hard-to-find library and cult titles has released Escape from East Berlin (known internationally as Tunnel 28), the 1962 exploiter--based loosely on a true story--released by Metro-Goldwyn-Mayer, directed by Robert Siodmak, and starring Don Murray, Christine Kaufman, Werner Klemperer, Ingrid van Bergen, Carl Schell, Edith Schultze-Westrum, Bruno Fritz, Maria Tober, Horst Janson, Kai Fischer, Kurt Waitzmann, Helma Seitz, and Ronald Dehne. Shot on location in West Berlin with a storyline ripped, as they like to say, straight from the newspaper headlines, Escape from East Berlin plays okay when its focus is on creating basic, conventional suspense. However, when the characters start talking, Gott im Himmel does it get a bit slow...and more than a little fuzzy. An original trailer is included in this nice anamorphically-enhanced widescreen black and white transfer.
East Germany, 1962: a city divided by a wall of concrete and barbed wire--the first built by a government to keep its citizens in, as prisoners. Chauffer Kurt Schroder (seriously miscast Don Murray) has it good--a cushy job ferrying around East German Army officer Major Eckhardt (Carl Schell, a model Nazi East German Commie)...with the fringe benefit of schtuping the Major's sexy blonde wife, Heidi (Kai Fischer). Why would Kurt want to escape East Germany's oppressive regime, as his friend, mechanic Gunther Jurgens (Horst Janson), yearns to do? So when Gunther, no longer able to bear being separated from his girl who lives in West Germany, decides to smash his truck through the wall in a futile attempt to break through, Kurt is horrified at the sight of his buddy being shot to death. However, the gruesome sight only reinforces Kurt's feelings of staying put. When Gunther's grief-stricken sister, Erika (Christine Kaufmann, lovely and surprisingly deft at just 17), tries to go under the wire, Kurt stops her, and hides her from approaching guards in the dilapidated home he shares with his mother (Edith Schultze-Westrum), his sister Ingeborg (Ingrid van Bergen), his younger brother Helmut (Ronald Dehne), and his uncle Albrecht (Bruno Fritz). When Kurt devises a plan to smuggle Erika back to her home--a necessity since attempted escapees were subjected to prison or worse--a neighbor, Marga (Maria Tober), tries to blackmail Kurt into smuggling her, too. The neighbor's pitiful plight moves the Schroder family to begin expressing their own deep dissatisfaction with their shackled, restricted lives, but Kurt remains contemptuous. Eventually, however, he agrees to dig a tunnel to help everyone escape, with the proviso that he stay behind...but that plan falls through when Kurt begins to fall for the beautiful Erika.
In today's Orwellian America, where we're subjected to illegal 24 hour-a-day surveillance through our cell phones, our street cams, and even our smart TVs, where in cities across the nation U.S. combat troops are ordered by a politically-correct Pentagon to train for warfare not against our enemies but against fellow U.S. citizens, and where "border enforcement" equals taxpayer-funded plane rides for illegal aliens strategically dumped into America's heartland, it may now be easier, quite perversely, for today's viewers to truly grasp the siege mechanics of the Antifaschistischer Schutzwall ("Anti-Fascist Protection Rampart") illustrated in Escape from East Berlin, than it was for those untethered, breathtakingly free-by-comparison American moviegoers back in 1962. And when Escape from East Berlin sticks to that goal--showing the fear and terror of living under a suffocating, oppressive, murderous regime, and the resulting suspense of trying to flee from it--this low-budget exploiter does...okay. Written by Gabrielle Upton (Gidget, TV's The Guiding Light), Peter Berneis (Portrait of Jennie, Breakthrough), and Millard Lampell (The Idol, TV's Rich Man, Poor Man - Book II), Escape from East Berlin's storyline was inspired by a real breakout under the Berlin Wall earlier that same year--a death-defying escape that made headlines all over the world, providing the biggest propaganda humiliation up to that point for the Soviet-backed German Democratic Republic. Prior to the Berlin Wall's initial construction in August of 1961, almost four million East Germans had fled to the West after the end of WWII, resulting in a "brain drain" of skilled workers that threatened to knock the backward Soviet-style economy further into the dirt. A jerry-rigged, haphazardly designed and planned wall--in some places concrete, in others just barbed wire--was quickly assembled as the exodus of panicked East Germans swelled in 1961 due to increased Cold War tensions and mismanagement of the economy. For the next three decades the wall was continually fortified as the numbers of East German emigres--now more accurately described as political escapees--were reduced to little more than about 5,000 people over those 29 years, before the wall was taken down...with over 200 men, women and children shot and killed during those years, trying to escape.
Escape from East Berlin is loosely based on 27-year-old Erwin Becker's exploits, who along with family and friends, dug an 87-foot tunnel under the Berlin Wall in a remarkably short period of time--only nine days. Becker was able to safely get 28 other people out with him on January 24th, 1961, creating international headlines due to the impressive scope of his makeshift success. Producer Walter Wood knew subject matter ripe for exploitation when he saw it, and Escape from East Berlin, with German co-financing, was put into fast turn-around to take advantage of the still-fluid situation at the wall. Director Robert Siodmak, who had fled Nazi Germany to become one of Hollywood's top suspense directors (the brilliant double whammy of 1945's The Spiral Staircase and 1946's The Killers), had gone back to work in his native Germany as an independent helmer in the early 1950s. No doubt he was hired for Escape from East Berlin as much for his facility at directing the largely German cast in the authentic West Germany locales, as he was for his past suspense resume (with Escape from East German's tight budget and its short, logistically-complicated shooting schedule, even someone like Ed Wood would have been at least briefly considered by the producer if he spoke German). Filming quickly took place in May and June of 1962 at the UFA-Templehof studios in West Berlin, with the movie's most expensive set being a 165-yard replica of the Berlin Wall built at Graf-Spee-Strasse. Released by M-G-M on a double bill with another Christine Kaufmann foreign pick-up (the Italian peplum Swordsman of Siena, with Stewart Granger) Escape from East Berlin turned out to be marginally profitable for the studio when it was released in the fall of 1962.
According to reports, Siodmak viewed the script as a piece of "tedious liberalism;" the story's conventional thriller elements were what really engaged him, with the director focusing his energy on the straight action and suspense sequences like the heroes dodging the border guards, and the digging of the tunnel. That workmanlike attitude may go a long way towards explaining why Escape from East Berlin is only just watchable, and not particularly memorable (Siodmak blithely dismissed the finished movie, too, according to sources). Escape from East Berlin opens with gritty newsreel footage of the wall and some filmed escape attempts as the narrator intones the spiritual depravity of Communism. So far, so good. Who doesn't get--besides, apparently, the President and the Pope--that some level of human misery will always be the end result of Communism? And I can certainly sympathize with the script's simplified-yet-sincere attempts at humanizing the plight of the East Berlin citizen/prisoners. It may seem superficial for Ingeborg to rail about wanting to take a hot bath for as long as she wants, or pine for the promise of a travel poster advertising some far-off land, but such creature comfort longings are no less valid expressions of a desire for freedom than yearning for the power to vote. The end narration sums it up nicely: "It's man's nature to escape confinement. Millions remain imprisoned, but 28 more human beings cherish anew the happiness of being free--to cross a street, to stroll in any direction, to talk above a whisper," (and if you're tempted to point to the irony of blacklisted scripter Lampell's involvement here, regardless of your feelings for that time period, the analogy might be intellectually apt...but hardly a proportional one to the life of an average East Berliner: Lampell could cross any street he wanted, stroll in any direction he wanted, he could talk above a whisper...and no one shot him in the back for ghostwriting TV shows).
The characters' longings for freedom are considerably dulled, however, by the prosaic opposition of the villains as they're portrayed here in Escape from East Berlin. After watching this, it's no wonder the West German critics, of all people, reportedly found fault with its sanitized version of what life was really like behind the wall. If Escape from East Berlin resembles anything, it reminds you of one of those British WWII P.O.W. camp movies from the 1950s, where the buffoonish Nazi goons are merely substituted with Communist goons who are too dopey to figure out the heroes' shenanigans (there are several scenes were we're encouraged to see the murderous Volkspolizei as nothing more than a bunch of dolts who repeatedly come this close to stumbling onto the tunneling). They're just not a believable, weighted threat here, so the heroes' mouthings about freedom ring a little hollow; we give those sentiments a nod only because we know the actual context outside the fictional drama, is real. Far more problematic to the movie's success, however, is the central character Kurt. Put simply: we don't buy his motivations...if we can even properly suss them out. Contemptuous of the "whiners" who cry for what they can't have, Kurt states he's "making out very well here," so he has no intention of leaving. Unfortunately, we're never shown how well he's got it in East Germany. Sure he's fondling the foot of hot blonde Heidi, or absent-mindedly groping the garage's blonde secretary, but that seems to be the only thing he has. It sure can't be money; he lives in a bombed-out apartment building where the floors are missing. For us to believe he wouldn't stick his neck out for anybody, we have to see or at least feel that Kurt is a self-centered jerk (or a coward), and we just don't--neither from Siodmak, nor from Murray, who's far too American and square and colorless here to register as a horny, opportunistic, apolitical East Berliner forever on the make. So when Kurt suddenly, inexplicably converts to Bronson's "The Tunnel King," literally within the span of one scene, the transformation is not only unbelievable, it's meaningless because we never bought him as a self-absorbed louse in the first place.
And that just leaves the digging, doesn't it? Siodmak and his cinematographer Georg Krause, craft some effectively-lit frames, shown to best advantage during the tunneling scenes (...even if that looks like one mighty spacious makeshift tunnel). And of course Siodmak knows how to stage an effective suspense sequence (the final flight down the tunnel is precise and energetic). Taken out of context, it's a reasonably distracting entertainment that comes over like... reasonably entertaining television (not a surprise with those writers). It's just too bad Escape from East Berlin skipped any complexity to play more like Escape from Every Cinematic German WWII P.O.W. Camp You Ever Saw.
The Video:
Despite a few instances of damage to the print, the anamorphically-enhanced, 1.85:1 widescreen black and white transfer is quite nice. Blacks are reasonably solid, contrast is okay (maybe a little blown out in parts), and the image sharp. Not bad.
The Audio:
The Dolby Digital English mono audio track is okay, with low hiss. No subtitles or closed-captions available.
The Extras:
An original trailer (making the movie seem a hellava lot more exciting) is included here.
Final Thoughts:
(Joke deleted here by editor). Escape from East Berlin doesn't come close to illustrating the soul-grinding horror that was life behind the Berlin Wall--not in political, philosophical, or even sensationalistic terms. It is, however, a mildly diverting WWII German P.O.W. camp movie, masquerading as a Cold War thriller. Rent Escape from East Berlin if you're a completist for these 60s actioners.
---
Paul Mavis is an internationally published movie and television historian, a member of the Online Film Critics Society, and the author of The Espionage Filmography.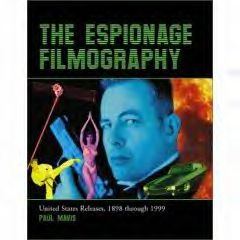 Sponsored Links
Sponsored Links