Dakotas: The Complete Series (Warner Archive Collection), The
List Price: $47.99 [Buy now and save at Amazon]
---
Warner Bros.' Archive Collection of hard-to-find library and cult titles has released The Dakotas: The Complete Series, a 5-disc (pressed, not M.O.D.), 20-episode collection of the 1963 ABC Western's sole--and abbreviated--season. Starring Larry Ward, Jack Elam, Chad Everett, and Mike Greene, The Dakotas, from legendary WB TV producer William T. Orr, was intended as a replacement for ABC's and Orr's Cheyenne series. However, low ratings and a controversial episode that (reportedly) sent viewers to dialing up their TV stations with complaints, saw The Dakotas disappear before all its filmed episodes were aired. No extras for these very sharp black and white fullframe transfers.
The Dakota Territory, during America's so-called "Gilded Age." Former Territorial Marshal Frank Ragan (Larry Ward), sporting an eye patch (for the pilot only) and a grim, fatalistic disposition, is looking for a murderer in Stark City. Ragan lost his eye and his beloved wife in a Sioux Indian attack, and he's awaiting confirmation of his request to resign from the marshal service. In Stark City, he meets three men--all of them initially antagonists to the dogged marshal--who in the future will play vital roles in the lawman's life. Wry, sarcastic gunslinger J.D. Smith (Jack Elam) has been hired to take out Ragan...but he's not so sure he's going to after meeting the one-eyed marshal. Earnest but impetuous Del Stark (Chad Everett) is convinced Ragan wants to see Stark's father hang...and he won't let that happen. And deputy sheriff Vance Porter (Mike Greene) is bought and paid for by the town's richest man: Del's father. These four very different men, all with complicated, troubled backgrounds, will eventually band together to bring law and order to the Territory.
The Dakotas began as A Man Called Ragan, a quasi-"backdoor" pilot on Cheyenne, the iconic ABC Western that opened the door for Hollywood movie studios providing new product designed exclusively for their hated rival, television. Few series have had as tumultuous and convoluted a production history as Cheyenne: a drastically abbreviated run-down is in order here. Begun as part of the hour-long, weekly rotating anthology series Warner Bros. Presents in 1955, Cheyenne, starring Clint Walker, outlasted its original co-series (Kings Row and Casablanca, and then Conflict) before it reached a bit of stability with the alternating addition of Sugarfoot in 1957. When Walker walked out on his WB contract over a salary dispute, the character of Bronco Lane (Ty Hardin) was inserted into the Cheyenne series, eventually becoming its own show Bronco, when Walker returned to Cheyenne. By the 1961-1962 season, Sugarfoot was cancelled, leaving only the Cheyenne and Bronco segments. At the end of that sixth season, in April, 1962, A Man Called Ragan was broadcast as a proposed pilot for a Western series to eventually replace Cheyenne the following season (everyone knew the writing was on the wall for Cheyenne, due to a continual downward spiral in the ratings, and Walker's increasing frustration with his contract). By December, 1963, Cheyenne was finally canceled, and Ragan's series The Dakotas was slotted in as a midseason replacement, in Cheyenne's old time slot: Mondays at 7:30pm.
Unfortunately, The Dakotas did no better there than Cheyenne. There was no ratings' competition from NBC's ground-breaking-but-little seen It's a Man's World. However, CBS creamed The Dakotas with a classic game show double-whammy: To Tell the Truth (19th) and I've Got a Secret (16th), leading off their killer line-up: The Lucy Show (4th), The Danny Thomas Show (7th), and The Andy Griffith Show (6th). Nobody tuned into ABC until 10:00pm, when Ben Casey (7th). Several sources cite The Dakotas' cancellation coming when an episode depicting two outlaws killed in a church sparked outrage with viewers, who demanded ABC pull the show. It's certainly possible (although that kind of publicity you can't buy, so why cancel?), but I would guess it was a convenient excuse to ditch an underperforming show.
The Video:
The fullscreen, 1.37:1 black and white transfers for The Dakotas: The Complete Series, look mighty crisp and clean, with solid blacks, subtle contrast, and few screen imperfections like dirt or scratches. Very nice, as expected with these old Warner Bros. oaters.
The Audio:
The Dolby Digital English mono audio track is clean, as well, with almost no hiss and a decent re-recording level. No subtitles or closed-captions available.
The Extras:
No extras for The Dakotas: The Complete Series.
Final Thoughts:
Fans of Warner Bros. TV oaters like Cheyenne, Maverick, Sugarfoot, and Bronco, will enjoy The Dakotas: The Complete Series. Highly recommended.
---
Paul Mavis is an internationally published movie and television historian, a member of the Online Film Critics Society, and the author of The Espionage Filmography.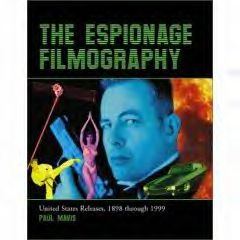 ---
C O N T E N T

---
V I D E O

---
A U D I O

---
E X T R A S

---
R E P L A Y

---
A D V I C E
Highly Recommended
---
E - M A I L
this review to a friend
Sponsored Links
Sponsored Links