Shaun the Sheep: Season 2
List Price: $14.98 [Buy now and save at Amazon]
---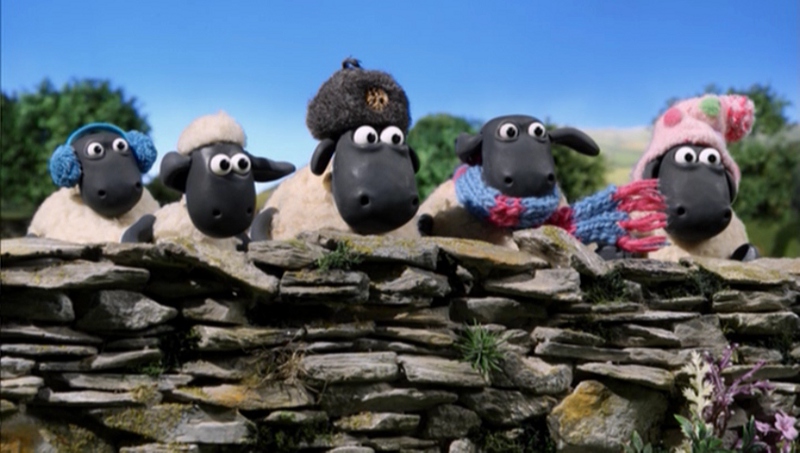 Originally making his first appearance in Aardman Animation's Wallace and Gromit: A Close Shave (1995), the inquisitive and clever Shaun the sheep has quickly become the company's most popular supporting character. Unfortunately, Shaun didn't make an appearance in the duo's first feature-length adventure---but Aardman hadn't forgotten fans of the woolly hero: later that year, a television series featuring Shaun hit the British airwaves, with Region 1 eventually catching up a short time after. Produced in the company's trademark style of expert stop-motion animation, the aptly-named Shaun the Sheep reminds first-time viewers of classic Road Runner and Tom and Jerry cartoons: it's entirely absent of traditional dialogue, utilizing clever sight gags and music to tell each seven-minute story.


Like the ever-popular Wallace and Gromit, Aardman's production is aimed at the younger set but perfectly suitable entertainment for fans of all ages. This isn't traditional "kiddie fare" with endless pop culture references and, aside from a surprisingly high number of fart jokes, doesn't normally take the easy route for its most successful gags. Perhaps the biggest compliment I can give Shaun the Sheep is this: it's a consistently pleasing show that, in the wrong hands, would've worn out its welcome less than a dozen episodes in. The restrictive premise (no dialogue, very few human characters, and rarely more than one "set" per episode) is ripe for potential pitfalls but the creative team dodges almost every single one, creative a fun and lively atmosphere when similar kid's shows resort to lazy repetition.


The second season---or "series", according to British terminology---expands the rural world of Shaun the Sheep ever so slightly, refining the show's understated effectiveness without losing sight if what made it so likable in the first place. Visually, it's obvious: unlike the first season, the terrific stop-motion animation was captured digitally and edited as high-definition video. Character models are also quite a bit different: The Farmer and his pets Bitzer and Pidsley are much more detailed (the latter two have textured fur this time around), and the opening sequence was even re-shot to reflect the visual updates. Otherwise, it's business as usual: aside from Pidsley (the antagonistic orange cat) being much more of a regular foil this time around---which, of course, makes sheepdog Bitzer a more likable neutral party by default---the simple structure of these six-minute shorts hasn't changed a great deal. But it's obvious that the creative team has settled into a comfortable groove by now: many more individual episodes serve as highlights, and the core stories are a bit more ambitious without feeling stretched too thin for the format.


Here's hoping that the third and fourth seasons of Shaun the Sheep arrive a bit more quickly: this second season of 40 episodes (episode names and descriptions here) is over five years old at this point. But, like Lionsgate's re-release of the first season a few months ago (timed to coincide with the release of the Shaun the Sheep movie), it's a step in the right direction: if nothing else, these shorts are again presented in their original 16x9 aspect ratio. The extras leave a lot to be desired...but for now, it's tough to complain about five hours of content for less than $15.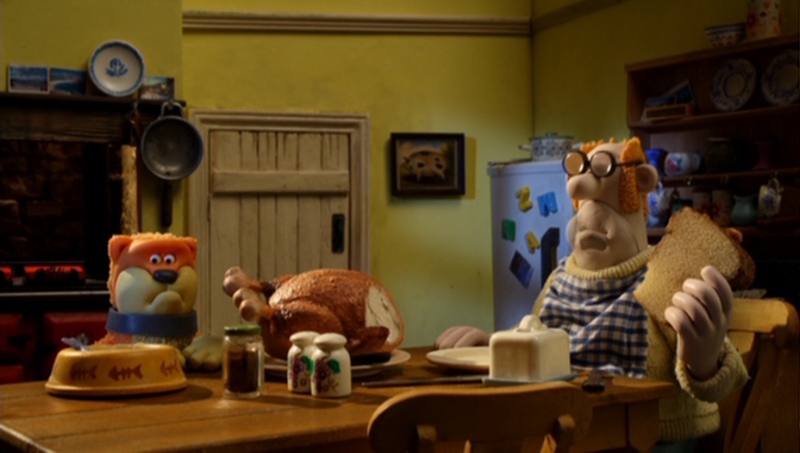 Quality Control Department
Video & Audio Quality

As mentioned earlier, Lionsgate has finally seen fit to present Shaun the Sheep in its original 16x9 aspect ratio, unlike their earlier stand-alone volumes and the initial release of the first season (which, again, was corrected on their re-issue of that season last October). As this second season was entirely produced in a more HD-friendly format, it's not surprising that image detail and textures look more clean and refined this time around. The series' natural color palette is handled nicely with no bleeding, and black levels are decent enough for a standard definition release. The only problems I could spot were occasional issues with interlacing on some episodes, perhaps due to incorrect PAL-NTSC conversion or a lack of progressive flagging. Either way, it's not terribly distracting and, compared to the older pan-and-scan Shaun DVDs, this almost looks like a completely different series. It's a shame there's no Blu-ray option available; otherwise, I doubt fans of the series will find a great deal of room for improvement here.


The Dolby Digital 2.0 Surround track fares well enough considering its limited nature, with good channel separation and clear "dialogue". Inquisitive bleats fill the sound stage on more than one occasion. Shaun's playful music also comes through loud and clear, rarely fighting for attention and typically anchored right in the center. Optional English captions are available during all 40 of these shorts, not that anyone would need help figuring out what's going on.

Menu Design, Presentation & Packaging
Seen above, these plain-wrap menus include episode selection and a handy "Play All" option. Each 7-minute episode has been presented with three chapter stops, while no obvious layer changes were detected during playback. This two-disc release is housed in a hinged keepcase; also included is a matching slipcover and a
Digital Copy
redemption slip.
Bonus Features

The extras look good on paper until you realize one thing: they're
exactly the same
as those from
the first season
, which is as mind-boggling as it is incredibly lazy on Lionsgate's part. These recycled bonus features include a pair of simple menu-based
Games
("Whack-A-Pig" & "Sheep Shearing"), a
"Sing-Along with Shaun"
video (essentially, the opening song with lyrics at the bottom) and a trio of short behind-the-scenes featurettes including
"Meet the Animals"
(a brief tour of the art department with a group of young Shaun fans),
"Building a Pig"
(the same kids get a hands-on sculpting lesson) and
"The Mini Making-of Shaun"
(a more general behind-the-scenes tour). Also here is a
Production Gallery
of sketches and photos, as well as a brief
Bonus Clip
from Aardman's spinoff-of-a-spinoff
Timmy Time
. These are presented in 4:3 and rough around the edges, which isn't surprising: they're almost ten years old at this point.
Final Thoughts

Shaun the Sheep is charming, enjoyable kiddie fare that parents can enjoy with absolutely no shame: produced with the same deft comedic touch and impressive stop-motion tricks as Wallace and Gromit, there's a lot of fun to be had in each bite-sized episode. The replay value isn't quite as high...but with 40 episodes to its name, this second season is another impressive run that easily avoids the sophomore slump. Lionsgate's DVD package is another step in the right direction: after their fumbled release of Season One back in 2010, they've recently resurrected the series in its original 16x9 aspect ratio at bargain prices. There's a terrific amount of content here for $15 and the A/V quality is decent, although the recycled bonus features leave a lot to be desired. Firmly Recommended for fans of all ages.

---
Randy Miller III is an affable office monkey by day and film reviewer by night. He also does freelance design work, teaches art classes and runs a website or two. In his limited free time, Randy also enjoys slacking off, juggling HD DVDs and writing in third person.
---

---
C O N T E N T

---
V I D E O

---
A U D I O

---
E X T R A S

---
R E P L A Y

---
A D V I C E
Recommended
---
E - M A I L
this review to a friend
Sponsored Links
Sponsored Links