List Price: $19.98 [Buy now and save at Amazon]
---
In 10 Words or Less
A madcap chase with an abrupt end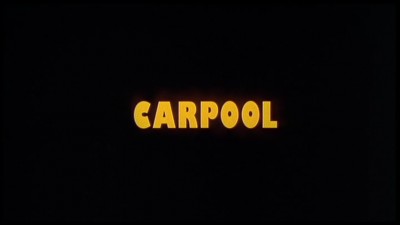 Reviewer's Bias*
Loves: Goofy, not dumb comedies
Likes: David Paymer Kim Coates
Dislikes: Trying-too-hard Tom Arnold
Hates: Over-the-top mugging

The Movie
"Let's go! It's a school day, not a carnival day!"
And with that nonsensical statement that no one has ever heard anyone without a major head injury say, Carpool is off and running. Dan (David Paymer) has a busy day at work ahead of him, including a major presentation, but it's off to a bad start when he wakes up late and finds he has to take his sick wife's spot driving the carpool for his kids. So with his honey doped up in bed, he's off to drop the kids off at school. But since this is a movie, and there has to be conflict, things don't go as planned.
The main problem comes when he stops for coffee at the local gourmet supermarket and runs into Franklin (Tom Arnold), the down-on-his-luck owner of a failing carnival with an overbearing, little-seen mother. Looking to get the cash to keep his sideshow going, he's planned to rob a nearby bank, but instead gets caught up, along with Dan, in a robbery at the supermarket. One thing leads to another and eventually Franklin has taken the money and Dan and his car-full of kids hostage. Of course, this goofy gaggle falls for Franklin's charms and enjoys their day off from school, running from the cops, including Kim Coates' angry detective and Rhea Perlman's possibly angrier meter maid.
The movie is basically one big chase scene broken up into little chapters, including one which sees the group navigating the family minivan through a huge mall in Seattle (which is inexplicably packed with shoppers in the middle of a weekday.) Not much about it makes a lick of sense. Though there's an attempt to wind a plot involving the supermarket robbers around the chase, it feels like just an opportunity to move Dan and Franklin's story ahead. And that story, which is suppose to involve Franklin's devil-may-care attitude rubbing off on the work-focused Dan, is so bluntly delivered that the film's final scenes feel completely unbelievable, unearned and almost entirely out of nowhere. Coming from the unfortunate "last gasp" era of recently-deceased Arthur Hiller's directing career, you'd have a hard time guessing that this is the work of the man behind films like Love Story, The In-Laws and See No Evil, Hear No Evil.
Paymer, as is usually the case, is fun as the put-upon lead, delivering the lines of veteran TV and kids movie writer Don Rhymer smoothly, giving Dan a sense of humor that's just slightly buried under his business-first attitude. His interactions with the kids, particularly Jordan Warkol as the bizarre goggles-wearing Travis, are quite enjoyable. Arnold, on the other hand, displays the persona that's made him the pop-culture punchline he's become over the years--the heavy-handed yuckster who never met an over-reaction he didn't like. There's a double-take in this film--directly into the camera--that Benny Hill would have been embarrassed by. The thing is, Arnold is not entirely unlikable and can be very funny. But his schtick is so overbearing that it makes it hard to cope with his characters.
By the way, along with a wasted scene with Rod Steiger, Carpool features a very early appearance for Rachael Leigh Cook, who plays Kayla, the local hot teen in a preppy, midriff-revealing schoolgirl outfit. Kayla's only real purpose here is to serve as the protesting target of Dan's oldest son's awkwardly-lecherous leers and grabby hands, all of which disturbingly occurs directly in Dan's rear-view mirror. Take one guess as to how this part of the story ends. Ah, the '90s. The '90s? Seriously? Sure feels like a goofy comedy from 1983. Not a movie from the same year as Fargo and Trainspotting. How is that possible?
The DVD
Carpool arrives on one MOD DVD, which is packed into a standard-width keepcase. The disc offers a generic, static, anamorphic widescreen menu with one option: play the film. Audio options include English Dolby Digital 5.1 and 2.0 tracks,while subtitles are available in English SDH.
The Quality
Part of the reason why this film feels like it's from the '80s is likely its look. The anamorphic widescreen transfer is just not up to snuff, with a soft image that's light on details, an overall dull color palette (admittedly, it's Seattle, but even indoors colors don't pop), and black levels that don't quite get the job done. Noise is apparent throughout, along with some notable compression artifacting and little imperfections, like dirt and damage, can be spotted on a regular basis. It's not the finest presentation ever.
The Dolby Digital 2.0 track delivers a solid center-balanced mix, making sure dialogue and sound effects come across clearly. The soundtrack features a few noteworthy moments, including a Ramones song and a Blondie cover that have good power. It's a simple, but distortion-free presentation.
The Extras
None. Nada. Zero. Zip.
The Bottom Line
An inoffensive and meaningless comedy that offers the kind of over-the-top crotch hits and double-takes enjoyed by children and the elderly, Carpool's best attributes are the performances by Paymer and Coates, but that's not enough to make you want to owen this film, which offers OK quality but no extras. Maybe there's a hardcore Arnold fan (or more likely some very creepy Cook fans) who want this, but most anyone else will be satisfied with a rental (if that).
---
Francis Rizzo III is a native Long Islander, where he works in academia. In his spare time, he enjoys watching hockey, writing and spending time with his wife, daughter and puppy.Follow him on Twitter
---
*The Reviewer's Bias section is an attempt to help readers use the review to its best effect. By knowing where the reviewer's biases lie on the film's subject matter, one can read the review with the right mindset.
Sponsored Links
Sponsored Links