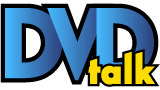 (Jules Verne's) Rocket to the Moon
Other // Unrated // June 25, 2001 // Region 2
List Price: $27.22 [Buy now and save at Sendit]
---
Note: This is an import title in PAL format from Great Britain. Though available online and at many specialty shops throughout America, a region-free player is required when viewing this title.

(Jules Verne's) Rocket to the Moon (1967), better known in the United States under its domestic general release title, Those Fantastic Flying Fools (as well as yet another title, Blast Off!) is a shamelessly derivative but entertaining period satire/science fiction film. Suggested by earlier Verne adaptations and especially the popular roadshow epic Those Magnificent Men in Their Flying Machines (1965), this independently-produced mini-epic wears thin during its aimless middle section, but has enough amusing ideas and performances to sustain it through to the end.


Rocket to the Moon finds Phineas T. Barnum (Burl Ives), one step ahead of his creditors, and fleeing to Victorian England where he quickly forms a syndicate of eccentric scientists intent on sending a rocket to the moon. Barnum proposes sending midget General Tom Thumb (Jimmy Clitheroe) as mankind's first astronaut, and plans to reap huge profits exhibiting the "moonship" in the months prior to its presumably doomed launch.


Even less scrupulous is Captain Sir Harry Washington Smythe (Terry-Thomas), who is put in charge of the project's finances by the Duke of Barset (Dennis Price), a none-too-bright inventor. Also involved with the moon launch is a German explosives expert (Gert Fröbe), whose "bulovite" will propel the rocket to the moon from a cannon-like tunnel dug deep into a mountain in the Welsh countryside; and a young American (Troy Donahue), whose designs for the moonship prove the undoing of a crooked scientist-rival (Lionel Jeffries).


Producer Harry Alan Towers pilfered ideas and characters from a dozen other movies for Rocket to the Moon. Terry-Thomas and Gert Fröbe all but reprise their characters from Those Magnificent Men in Their Flying Machines, while Lionel Jeffries finds himself designing his second 19th century rocketship in three short years, having had better luck in First Men "in" the Moon (1964). Troy Donahue's character seems derived from that played by Pat Boone in Journey to the Center of the Earth (1959).


Nevertheless, the picture is particularly good at evoking its period. Towers and director Don Sharp had vividly captured the atmosphere of 1920s London with their low-budget Fu Manchu movies. Here, with a much larger budget (though still tiny compared with the $10 million Those Magnificent Men . . . ), the two seem to be having fun with little details that successfully evoke the period, more so even than otherwise better Verne adaptations like Journey to the Center of the Earth. Fröbe, for instance, uses a primitive, wind-up megaphone-type device at the construction site, only his invention doesn't quick work, giving Fröbe's voice a hilarious, distorted effect. Terry-Thomas drives an early horseless carriage, but is so cheap that he steals gas from streetlights when his tank runs dry. Throughout the picture there is the beguiling presence of late-Victorian bicycles, tractors, and other products of the early Machine Age, and the rocket itself, a giant full-size prop some 40 feet high, is attractive and convincingly period.


Other production elements likewise do well in evoking Victorian times, from the excellent use of Irish locations to the delightful title design which suggests Georges Méliès.


The comedy is hit-and-miss, with the best ideas coming early on. The film opens with a series of amusing gags in which the scientists' inventions go wrong, from Lionel Jeffries's collapsing suspension bridge (a funny special effect courtesy Les Bowie), to Fröbe's proposed mini-cannon, mounted on a soldier's helmet. One of the picture's strengths is that the group of inventors obviously love what their doing. "To this generation," notes the film's narrator (Maurice Denham), "all things seemed possible." Unfortunately, there's not enough of this, particularly as the film becomes bogged down with Terry-Thomas's efforts to thwart the rocket's launch. Dave Freeman, a writer heretofore associated with comedian Benny Hill, is credited with the script, but its herky-jerky structure and unmotivated action is very much in keeping with Towers's style, who contributed the story under his usual pseudonym, Peter Wellbeck.


For instance, in one scene Terry-Thomas and Lionel Jeffries are inside the moonship, attempting to sabotage it. Out of nowhere appears ingenue Daliah Lavi, whose presence aboard the rocket -- in the middle of the night, no less -- goes completely unexplained. Perhaps Towers isn't to blame, though. Towers seems to have had big plans for Rocket to the Moon, and may have had to cut his picture down once it was completed. Momentum Picture's British DVD of Rocket to the Moon runs 104 minutes (not 101 as listed on the jacket), but a longer version, running just shy of two hours, apparently also exists, somewhere. The U.S. version, released by American International Pictures, is even shorter, with a running time of just 95 minutes.


Video & Audio


Filmed in Panavision, Rocket to the Moon is presented here letterboxed in a 16:9 anamorphic transfer. (This is not clear on the packaging, but the movie definitely is enhanced.) The image is a bit soft, a bit dark, and the color is generally off, with exteriors looking greenish and exteriors appearing rather brown. The heads and tails of reels have a fair amount of scratches as well, though some of this appears inherent in whatever pre-print material was used. The image gradually improves after the first few reels, but gets slightly unsteady during the final minutes. This is clearly a title that needs a lot of work, but for such a relatively obscure film released in the early days of DVD, the transfer isn't bad, and at £15.99 isn't overly expensive, either. The 2.0 mono sound is okay, with John Scott's melodious score coming through just fine. No subtitles are offered.


Extras


Alas, there are no extras at all for this release, not even a trailer.


Parting Thoughts


The domestic rights for Rocket to the Moon appear to be held by MGM (as inheritors of most of the AIP library), but the picture seems never to have been officially released to home video under any title. Though hardly a classic, Rocket to the Moon is pleasant enough, with a fine cast of familiar faces and a look surprisingly faithful to its source.


Stuart Galbraith IV is a Los Angeles and Kyoto-based film historian whose work includes The Emperor and the Wolf -- The Lives and Films of Akira Kurosawa and Toshiro Mifune. He is presently writing a new book on Japanese cinema for Taschen.
---
C O N T E N T

---
V I D E O

---
A U D I O

---
E X T R A S

---
R E P L A Y

---
A D V I C E
Recommended
---
E - M A I L
this review to a friend
Sponsored Links
Sponsored Links