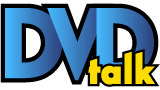 Other // Unrated // September 30, 2002 // Region 2
List Price: $18.25 [Buy now and save at Sendit]
---
Note: This is an import title in PAL format from Great Britain. Though available online and at many specialty shops throughout America, a region-free or Region 2/PAL player is required when viewing this title.

Simon Sparrow returns in Doctor at Sea (1955), an entertaining sequel to Doctor in the House (1954), and the second of seven "Doctor" movies produced by Rank. The humor is low-key and the once moderately racy humor now so tame one can unashamedly watch the picture with one's grandmother. The DVD is short on extras but features a luminous transfer of this early widescreen effort, to say nothing of French bombshell Brigitte Bardot, making her English-language debut.


The picture brings back most of the first film's cast, though except for Dirk Bogarde's newly graduated doctor, all play different roles. Apparently abandoning Joy (Muriel Pavlow), his girlfriend from Doctor in the House, Simon Sparrow becomes a physician's assistant, only to flee the position when the elder doctor's amorous daughter (Joan Sims) makes advances.** Swearing off women, he goes to sea as ship's doctor aboard the S.S. Lotus, a cargo vessel ruled with an iron hand by blustery Captain Hogg (James Robertson-Justice, all but reprising his character from Doctor in the House).


The Lotus eventually makes port in Bellos, a mythical South American community of the sort that only exist in the movies. Hogg is eventually obliged to pick up two passengers, Muriel Mallet (Brenda De Banzie), the middle-aged daughter of the shipping company's president, and Helene Colbert (Bardot), a beautiful French singer. Sure enough Muriel, who is blithely ignorant of all things nautical, begins pursuing Hogg romantically, while Simon sets his sights on Helene.


While Doctor in the House has dated somewhat with the passage of time, Doctor at Sea still holds up quite nicely. In its own charmingly confident way, it works through tried-and-true seafaring machinations: Simon gets seasick (amusingly realized on a fully rocking stateroom set), has to perform an emergency appendectomy miles from the nearest port. And, not surprisingly, most of the crew gets rip-roaring drunk and thrown in jail while the Lotus is docked in Bellos.


The best things about Doctor at Sea are its great cast and its lush VistaVision photography (by Ernest Steward). Besides Bogarde, Robertson-Justice makes the biggest impression. Indeed, with that memorably booming, authoritative voice, the actor pretty much steals the film away from Bogarde, and his incredulous, humorless reactions to Muriel's ignorance about ship operations are very funny. Bogarde also shares screentime with the late, great character player Maurice Denham (Night of the Demon, 84 Charing Cross Road) as Easter, Simon's worldly-wise steward. Bardot, pre-And God Created Woman, was barely 20 years old when Doctor at Sea was being made and looks it. She appears to have learned her lines phonetically, but does a good job with what is a limited role to begin with.


Also memorable (and carried over from Doctor in the House) are Geoffrey Keen, demoted from university dean to first mate; George Coulouris as an eccentric sailor with the DTs; Michael Medwin (who later produced If... and co-wrote Scrooge) as a skirt-chasing officer; and bushy-bearded Irishman Noel Purcell as a wild-eyed sailor getting a tooth pulled.


Video & Audio


Doctor at Sea was one of the first British films to be shot in the wide-frame, horizontal film format VistaVision. Carlton has done a fine job giving the film a solid 16:9 anamorphic transfer. Apart from some minor negative dirt and a few scratches, the image is nice and sharp and the rich color is reflective of the original Technicolour printing. Much of the film was shot aboard a real vessel, and the exteriors look great. While a good portion of the picture takes place inside cabins and shot on studio sets representing Bellos, the image is consistently visually sumptuous and interesting. Indeed, one scene with Bogarde and Bardot on deck against an obviously rear-projected sunset is so well lit and the color so good -- even that's impressive on its own level. The mono sound is clear and on par with mid-1950s technology. Optional English subtitles are included. On my cheapo Cyberhome CH-DVD 500 player (which this reviewer uses for all PAL discs) the English subtitles on both this and Doctor in the House appeared even when I turned the subtitle option off.


The only extra is a trailer narrated by Bogarde, in 4:3 letterbox, which notably gives De Banzie equal billing with Bardot, suggesting the French actress had not yet reached international star status when the film was being readied for release.


**Joy and actress Pavlow would return, however, in Doctor at Large (1957).


Stuart Galbraith IV is a Los Angeles and Kyoto-based film historian whose work includes The Emperor and the Wolf -- The Lives and Films of Akira Kurosawa and Toshiro Mifune. He is presently writing a new book on Japanese cinema for Taschen.
---
C O N T E N T

---
V I D E O

---
A U D I O

---
E X T R A S

---
R E P L A Y

---
A D V I C E
Recommended
---
E - M A I L
this review to a friend
Sponsored Links
Sponsored Links