Tuesday February 21, 2017

Why is this picture here? CLICK on it.
Savant's new reviews today are:


Deluge
KL Studio Classics
Blu-ray
Do rediscovered 'lost' movies always disappoint? This Depression-era pre-Code science fiction disaster thriller was unique in its day, and its outrageously ambitious special effects -- New York City is tossed into a blender -- were considered the state of the art. Sidney Blackmer and a fetching Peggy Shannon fight off rapacious gangs in what may be the first post-apocalyptic survival thriller. Also with Lois Wilson. The disc is given a fact-filled commentary by Richard Harland Smith, as well as a complete second feature attraction with Peggy Shannon. On
Blu-ray
from
KL Studio Classics
.
02/21/17
3 Classic Films by Claude Chabrol
The Cohen Collection
Blu-ray
Being called the French Hitchcock does Claude Chabrol a disservice, as his dark thrillers approach mystery and suspense almost completely through character, not cinematics. These three very good 1990s productions are completely different in tone and approach, and each showcases a stunning French actress. Marie Trintignant is a fallen woman in
Betty
, Emmanuelle Béart is the target of an insanely jealous husband in
Torment (L'enfer)
, and Isabelle Huppert is a confidence crook up to her ears in trouble in
The Swindle (Rien ne vas plus)
. With a pair of commentaries, and other extras. On
Blu-ray
from
The Cohen Collection
.
02/21/17
and

By Sidney Lumet
FilmRise
Blu-ray
A lengthy talk-fest interviews the underrated filmmaker, who takes us through his life story as a personal journey, not a string of movie assignments. Sidney Lumet seems to attract a lot of criticism, and so did this docu for not challenging his opinions or rubbing his nose in his less admirable movie efforts. The docu is just Lumet's thoughts, and the words of a man of integrity are always inspiring. Of special interest is Lumet's experience as a child actor in the Yiddish Theater and on Broadway. With deleted interview sequences and a separate interview with Treat Williams. On
Blu-ray
from
FilmRise
.
02/21/17
---
Hello!
What's new in the review hopper? Up and itching to be reviewed are Kino's 23 Paces to Baker Street, A.P.E. (in 3-D), Orson Welles in Prince of Foxes and Joe Don Baker directed by Phil Karlson in Framed; Olive's Evelyn with Pierce Brosnan, Maurice Pialet's Police with Gérard Depardieu, and Panther Girl of the Kongo, the Republic serial with the crawfish monsters; Criterion's The Before Trilogy -- Before Sunrise, Before Sunset, Before Midnight and Ermanno Olmi's The Tree of Wooden Clogs. I also have a Kit Parker/The Sprocket vault DVD of Douglas Sirk's Summer Storm that I can finally screen.
On the horizon but not yet in-house are the February Twilight Times -- Chilly Scenes of Winter, Edge of Eternity, Interiors and Kiss of Death, and leaking into March, Kino's Lifeboat, Compulsion, Lovers on the Bridge and The Skull; Criterion's 45 Years, Arrow Academy's Ludwig, Property is No Longer Theft and Story of Sin; the Warner Archive Collection's The Valley of Gwangi; and the March Twilight Times, Our Man in Havana, Peyton Place, and How to Succeed in Business Without Really Trying.
Thanks for reading! --- Glenn Erickson
Saturday February 18, 2017

Why is this picture here? CLICK on it.
Savant's new reviews today are:


The Boy Friend
The Warner Archive Collection
Blu-ray
It's hard to think of a musical that would benefit more from a Blu-ray boost than Ken Russell's kaleidoscopic all dancing, all singing send-up of theatrical clichés on the music hall stage circa 1925. We're just happy that the adorable Twiggy got to be put in a film like this, to be enjoyed forever. Gosh! The Russell crowd is all aboard, led by Glenda Jackson and Murray Melvin. Also featuring Christopher Gable, Max Adrian, Georgina Hale, Sally Bryant, Vladek Sheybal and Tommy Tune. On
Blu-ray
from
The Warner Archive Collection
.
02/18/17
The Gate
Lionsgate / Vestron Video
Blu-ray
Screen horror gets a fun-ride boost as a trio of home-alone kids squares off against demons from 'right in their own back yard.' Creative, expertly daring special effects heighten a perfect spook thriller for young kids, that's has more and better 'Boo' moments than most of the hardcore genre classics of its decade. A backyard excavation may lead to Hell, while impish 'Minions,' a cadaverous Work Man, and a monstrous grub-demon worm their way into the house. A wealth of extras explains how it was all done, before the advent of CGI. On
Blu-ray
from
Lionsgate / Vestron Video
.
02/18/17
and

Breakout
Koch Media / Explosive Media (De)
Blu-ray
Charlie Bronson cashed in big with this lightweight action thriller co-starring Jill Ireland and Robert Duvall. It's the true story of the first major prison breakout using a helicopter. Did Duvall get involved because the original concept was a serious look at political scandals between big business, the CIA and Chile? The clues from the real source story are still there. With Randy Quaid, Sheree North, John Huston, Jorge Moreno, Paul Mantee, Emilio Fernandez, Alan Vint, Roy Jenson, John Huston. On
Blu-ray
from
Koch Media / Explosive Media (De)
.
02/18/17
---
Hello!
It's raining Spaniels and Siamese out there, which made it amusing to come back from an errand to find a new batch of Kino discs had arrived -- including the much-coveted new disc of the 1934 Deluge, starring Sydney Blackmer. I'd listen to your commentary first, Richard Harland Smith, but I've never seen the movie... which should be a common thing since it's been lost for 83 years.
Of prime interest tonight is John McElwee's new book The Art of Selling Movies, which goes on sale next Monday. I've been a huge fan and constant reader of John's website Greenbriar Picture Shows since its inception, and his previous tome Showman Sell It Hot! was a big hit a few seasons back. That book concentrated on the marketing of famous movies, whereas this one is a fascinating collection of print ads for films going back to the early silent days, showing trends, styles, themes and various attention-getting tricks of the exhibitor's trade to get patrons to choose their movie over the next one down the street. It's packed with John's attention to detail, his specialized (specialized is not a good enough word) knowledge of this terrain, and his grasp of the showman's mindset down through the decades. We see films being promoted in all kinds of strange ways, plus we get a good idea of what a mid-sized town had to offer on an average weekend -- a chosen full newspaper spread from 1956 heralds The Searchers, The Man in the Gray Flannel Suit, Our Miss Brooks, Sins of the Borgias (with Martine Carol, but surely not topless), The Violent Years and the French thriller Diabolique! We also see that big city first run bookings usually bracketed the main feature with a live theater show, with big talent, as well as a raft of short subjects. John's text makes it all fascinating.
It's an attractive gift book with excellent reproductions of all the art -- going back to the 'teens -- printed on heavy, glossy paper and handsomely bound. So there's a plug for a worthy product.

In other news, after my whining about my favorite Ray Harryhausen movie being unreleased on Blu-ray, The Warner Archive collection just announced a disc of 1969's The Valley of Gwangi. The terrific dinosaur romp is wedded to a storyline that's watchable mainly because of the exciting music score by Jerome Moross. It's promised for March 14.
On the 3-D front, the 3-D Film Archive's restoration of the musical Those Redheads from Seattle is going to premiere at this year's TCM Film Festival, coming up shortly. And the Archive's restoration of the CinemaScope and 3-D September Storm has been given a hard release date -- Kino Classics has it down for March 28. That, and the Archive's Bob Furmanek is dropping hints that he has another, yet unannounced restoration in the works. Bob had better slow down or he's going to run out of 'fifties classics. Just kidding, full speed ahead.
A couple of horror announcements came down the pike... Gary Teetzel reports that Terence Fisher's Island of Terror with Peter Cushing is set for a Blu-ray release from Scream Factory, early this Summer. Severin is touting an upcoming Blu of the '80s gore shocker Cathy's Curse in an uncut state. A trailer has been posted on YouTube.

And just in from Twilight Time is their release schedule for May and June... and it's got some big favorites. On May 16 come The Man in the Moon, Who'll Stop the Rain, Inferno 3-D, The Stone Killer and Brutal Tales of Chivalry aka Showa Zankyo Den. On June 13th arrive The Bridge at Remagen, The Quiet American, Hell and High Water, The Valachi Papers and Snake in the Eagle's Shadow/Drunken Master. Not shabby at all ... I count several favorites and two or three I've been whining to see since Blu-ray first appeared.
Plus, now I can slap myself for springing too early for a foreign disc... I just just got finished reviewing a Brit release of Inferno 3-D. I shoulda listened to Robert Ryan.

Thanks for reading! --- Glenn Erickson
Arrival
Yep, a fleet of giant alien spaceships are on the way, just as seen in several other science fiction spectaculars. But Denis Villeneuve's movie is not your garden variety invasion fantasy. Amy Adams and Jeremy Renner have a limited time to figure out how to communcate with alien creatures whose intentions are a complete unknown. It's a rare sci-fi thriller that succeeds on a personal and emotional level -- while teaching us how to converse in coffee stain hieroglyphics. A Dual-Format edition on Blu-ray and DVD from Paramount.
02/14/17

A Walk in the Sun
Lewis Milestone's poetic character study of an infantry landing in Italy gives us a full dozen non-cliché portraits of men in war, featuring a dramatic dream team of interesting character actors. Dana Andrews was the only big star in the cast, joined by hopefuls Richard Conte, Lloyd Bridges and John Ireland; the standout crew includes Sterling Holloway, Norman Lloyd, Steve Brodie and Huntz Hall. On DVD from The Sprocket Vault / Kit Parker.
02/14/17

Loving
The story of Mildred and Richard Loving could easily have become a sledgehammer epic about social injustice. Writer-director Jeff Nichols instead sticks to the facts and recounts their ordeal with a quiet subjectivity that neither exaggerates nor sanctifies. The result is a marvelously affecting demonstration of how a civilized, progressive America rights a wrong. Ruth Negga and Joel Edgerton are terrific as just plain folks oppressed by an obsolete law. A Dual-Format edition on Blu-ray and DVD from Universal Studios Home Entertainment.
02/14/17

The Edge of Seventeen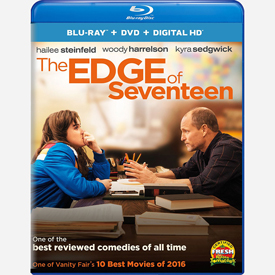 It's another teen angst drama with fine writing & direction (courtesy Kelly Fremon Craig) and bright performances from a charming cast. Unhappy sophomore Hailee Steinfeld is so bummed out over her family situation, her best friend's defection and her life in general that she's making some really bad decisions. Will her inattentive mom (Kyra Sedgwick) completely blow a fuse? A patient but surly teacher (Woody Harrelson) may be the only barrier against Steinfeld's losing her self-respect. The bright and funny show is sometimes a bit too clever, but it also has a big heart. With Haley Lu Richardson, Blake Jenner, Hayden Szeto and Alexander Calvert. A Dual-Format edition on Blu-ray and DVD + Digital HD from Universal Studios Home Entertainment.
02/11/17

Manchester by the Sea
A top contender for various Oscars gives us a sober, intense story of an ordinary man who cannot reconcile a personal tragedy -- a social pariah, he can barely live with himself. It's a fair account of how an imperfect man deals with human / emotional wreckage. Casey Affleck and Lucas Hedges are compelling as an uncle and nephew trying to go forward under difficult conditions; the script and direction are remarkably sensitive to the terrible misfortunes that can befall people like you and me, knock on wood. With Kyle Chandler, C.J. Wilson, Gretchen Mol, Michelle Williams and Matthew Broderick. Contrary to some reports, I didn't find this movie to be depressing. A Dual-Format edition on Blu-ray and DVD + Digital HD from Lionsgate.
02/11/17

Hacksaw Ridge
Mel Gibson wants it both ways -- it's the deeply sensitive pro-Faith story of a conscientious objector, but also an obscene war comic with bloody gore for the action crowd, leading a rah-rah cheer for military glory. Andrew Garfield, Sam Worthington, Hugo Weaving and Vince Vaughn do great work, while director Gibson shows us more of his schizophrenic passion for extreme gristle 'n' grue carnage. Why is so much of what Gibson directs so aesthetically and morally bankrupt? All the cartoonish mayhem looks great on this dual-Format edition on Blu-ray and DVD + Digital HD from Summit Entertainment.
02/11/17

Valkoinen Peura
The White Reindeer. This gloriously uncomplicated folk tale from the past in Lapland visits a theme familiar to other primitive cultures -- an unhappy woman makes a diabolical pact, which changes her into a shape-shifting vampire. The movie has a classic European look, but star Mirjami Kuosmanen has a look and manner that predate Hammer horror: she's a sensual seducer with a horrid secret to hide from her husband. This may be the first film in which a vampire is seen to sport visible fangs... and they're very effective. Film art from Finland, in 1952, on an imported Region B Blu-ray. On Blu-ray from VLM Media (Finland).
02/04/17

One Million Years B. C.
The best prehistoric monster vs. cavemen epic is still a little bit of a slog, dramatically speaking. But the ingredients are first-class: ornery dinos courtesy of Ray Harryhausen, the breathtaking primitive vistas of Las Islas Canarias, and the dazzling Raquel Welch as a prehistoric blonde beach bunny with a great... personality. Those Rock people and Shell people preach different philosophies of living, but a irate volcano levels their karma equally, ending the debate over 'loser' ideas like peaceful coexistence. And did I mention the dinosaurs? A cranky Allosaurus is the technical champ, but a gentle giant sea turtle called Archelon is the sentimental favorite at the betting window. Directed by Don Chaffey, and given a wailing music score by Mario Nascimbene. On Blu-ray from KL Studio Classics.
02/04/17

Hundreds more Savant reviews at the Other End of this Link!
Archives
Don't forget to write Savant at dvdsavant@mindspring.com.
Advertise With Us
Review Staff | About DVD Talk | Newsletter Subscribe | Join DVD Talk Forum
DVD Savant Text © Copyright 1997-2007 Glenn Erickson - Copyright © DVDTalk.com All rights reserved | Privacy Policy | Terms of Use