Saturday February 25, 2017

Why is this picture here? CLICK on it.
Savant's new reviews today are:


Edge of Eternity
Twilight Time
Blu-ray
Ace director Donald Siegel uses superior direction to transform a so-so who-dunnit into a thrilling big screen spectacle, using the Grand Canyon as a backdrop for A multiple murder set in an Arizona mining town in decline. The cameraman focusing on the scenery and the hair-raising stuntwork -- everything we see is real -- is Burnett Guffey. Starring Cornel Wilde, Victoria Shaw, Mickey Shaugnessy, Jack Elam and Edgar Buchanan. On
Blu-ray
from
Twilight Time
.
02/25/17
The Tree of Wooden Clogs
The Criterion Collection
Blu-ray
Ermanno Olmi's three-hour saga is a masterful ethnographic recreation of the long-gone way of life of Italian tenant farmers, virtual slaves working for a landowner. We see the entire agrarian lifestyle, with hints of modern times on the way. An ever-present backdrop of spiritualism and faith keeps the laborers going. Using unprofessional actors and an obsolete dialect, this is listed as one of the great Italian films of the 1970s. On
Blu-ray
from
The Criterion Collection
.
02/25/17
and

Panther Girl of the Kongo
Olive Films
Blu-ray
Did Republic's serial-makers lose their marbles? This is an endurance test of a thriller, with 12 chapters that refuse to advance a story beyond the same repetitive ambushes and fistfights. It's got monsters in the form of giant crawfish bred to... well, bred for almost no reason at all. With Phyllis Coates and Myron Healey. I tell you, watching this feels like watching an endless loop. But hey, it's quite handsomely filmed! On
Blu-ray
from
Olive Films
.
02/25/17
---
Hello!
Readers have been sending me links to Kim Masters' new Hollywood Reporter article about the 'amazing Holy Grail' of missing movies, Otto Preminger's Porgy and Bess. The movie hasn't been seen much since the late 1970's, as it's caught in a rights 'n' restoration bind between the Goldwyn heirs and the Gershwin heirs. It's difficult to know what to say about an article like this. Obviously the movie ought to be made available and restored, even if it isn't a classic: just the confluence of talent associated with it should make it an important item. The article gets deep into stories of shadowy collectors with surviving prints, and rights holders that hate the movie and want to suppress it. But the conflict is really all about money. Buried deep in the last third is the admission that the movie isn't lost, and it's not being suppressed by anything more serious than a commercial dispute. The rights holders expect someone else to foot the bill for refurbishing their movie, but then want to own it, control its distribution, and keep all the money. That's no crime: if you own the only bat and the only baseball, you can sometimes take possession of the whole ballpark.
Porgy and Bess is definitely not a lost film. The Academy has the original elements in reasonable shape. And all this talk about finding decent surviving projection prints is a little odd. According to an associate of mine, while doing research in 1987 he saw the Library of Congress's file copy, in 35mm IB-Tech 4-track stereo. The best praise he could offer for Preminger's film is its beautifully adapted André Previn music score. Even Preminger biographer Foster Hirsch says that much of the movie consists of Dorothy Dandridge and Sidney Poitier lip-synching to operatic voices for minutes on end. I'm sure I'd like it anyway.
Sometimes we hear of fundraising efforts and even crowdfunding to restore movies, which is in theory a great idea. The Hollywood woods are teeming with movies part-owned by original authors or composers or big stars, that require renegotiation when agreements have expired. Due to 'negotiation difficulties' Annie Get Your Gun was unavailable for over 25 years. At MGM I saw the letters from retirees all but begging to see it. When it finally came out on Home Video on 2000, I'd wager that a lot of its audience had already passed away. The Michael Anderson/Edmond O'Brien film of 1984 was suppressed by the George Orwell estate, reportedly because Orwell's widow didn't like it. And I've been told of at least one movie, a favorite -- that exists only in so-so copies, with its negative deteriorating, because its star owns a controlling share. His descendants have the same attitude as do the rights holders for Porgy and Bess -- they want the studio holding the elements to pay for the restoration, while they keep the money. (or, you could interpret it the other way around... perhaps the studio expects them to settle for next to nothing...)
I certainly made a fuss in the past, when a movie I wanted to see was 'unavailable.' After being knocked out by Technicolor screenings of Vertigo at Filmex and the Museum, I had to wait ten years to see it again. It's all about business realities. Hitchcock's family controlled a number of his pictures, and were just waiting for the right time to capitalize on them again, 'delaying' the income they would generate. Nobody accused them of wrongdoing. When I complained in the 1980s that Ted Turner was colorizing films in the MGM library, a studio attorney reminded me that Turner owned that library outright. If a rights holder so desires, they can dump their property in the ocean. A great many pictures now owned by corporations are obscure titles that no longer 'pay their way,' yet must be stored and maintained. I'm sure that there are bean counters that would say, 'just keep the moneymakers and junk the others -- and no more stupid talk about film history.' So I'm happy that Ted Turner bought the MGM library, and not Donald Trump.
Sidney Poitier is still with us, and it would be great to see his movie on a screen again, no matter what its quality. I enjoyed The Hollywood Reporter article. In grabbing the reader's attention it gives the impression that Porgy and Bess is an isolated special case. It isn't.
Thanks for reading! --- Glenn Erickson
Tuesday February 21, 2017

Why is this picture here? CLICK on it.
Savant's new reviews today are:


Deluge
KL Studio Classics
Blu-ray
Do rediscovered 'lost' movies always disappoint? This Depression-era pre-Code science fiction disaster thriller was unique in its day, and its outrageously ambitious special effects -- New York City is tossed into a blender -- were considered the state of the art. Sidney Blackmer and a fetching Peggy Shannon fight off rapacious gangs in what may be the first post-apocalyptic survival thriller. Also with Lois Wilson. The disc is given a fact-filled commentary by Richard Harland Smith, as well as a complete second feature attraction with Peggy Shannon. On
Blu-ray
from
KL Studio Classics
.
02/21/17
3 Classic Films by Claude Chabrol
The Cohen Collection
Blu-ray
Being called the French Hitchcock does Claude Chabrol a disservice, as his dark thrillers approach mystery and suspense almost completely through character, not cinematics. These three very good 1990s productions are completely different in tone and approach, and each showcases a stunning French actress. Marie Trintignant is a fallen woman in
Betty
, Emmanuelle Béart is the target of an insanely jealous husband in
Torment (L'enfer)
, and Isabelle Huppert is a confidence crook up to her ears in trouble in
The Swindle (Rien ne vas plus)
. With a pair of commentaries, and other extras. On
Blu-ray
from
The Cohen Collection
.
02/21/17
and

By Sidney Lumet
FilmRise
Blu-ray
A lengthy talk-fest interviews the underrated filmmaker, who takes us through his life story as a personal journey, not a string of movie assignments. Sidney Lumet seems to attract a lot of criticism, and so did this docu for not challenging his opinions or rubbing his nose in his less admirable movie efforts. The docu is just Lumet's thoughts, and the words of a man of integrity are always inspiring. Of special interest is Lumet's experience as a child actor in the Yiddish Theater and on Broadway. With deleted interview sequences and a separate interview with Treat Williams. On
Blu-ray
from
FilmRise
.
02/21/17
---
Hello!
What's new in the review hopper? Up and itching to be reviewed are Kino's 23 Paces to Baker Street, A.P.E. (in 3-D), Orson Welles in Prince of Foxes and Joe Don Baker directed by Phil Karlson in Framed; Olive's Evelyn with Pierce Brosnan, Maurice Pialet's Police with Gérard Depardieu, and Panther Girl of the Kongo, the Republic serial with the crawfish monsters; Criterion's The Before Trilogy -- Before Sunrise, Before Sunset, Before Midnight and Ermanno Olmi's The Tree of Wooden Clogs. I also have a Kit Parker/The Sprocket vault DVD of Douglas Sirk's Summer Storm that I can finally screen.
On the horizon but not yet in-house are the February Twilight Times -- Chilly Scenes of Winter, Edge of Eternity, Interiors and Kiss of Death, and leaking into March, Kino's Lifeboat, Compulsion, Lovers on the Bridge and The Skull; Criterion's 45 Years, Arrow Academy's Ludwig, Property is No Longer Theft and Story of Sin; the Warner Archive Collection's The Valley of Gwangi; and the March Twilight Times, Our Man in Havana, Peyton Place, and How to Succeed in Business Without Really Trying.
Thanks for reading! --- Glenn Erickson
The Boy Friend
It's hard to think of a musical that would benefit more from a Blu-ray boost than Ken Russell's kaleidoscopic all dancing, all singing send-up of theatrical clichés on the music hall stage circa 1925. We're just happy that the adorable Twiggy got to be put in a film like this, to be enjoyed forever. Gosh! The Russell crowd is all aboard, led by Glenda Jackson and Murray Melvin. Also featuring Christopher Gable, Max Adrian, Georgina Hale, Sally Bryant, Vladek Sheybal and Tommy Tune. On Blu-ray from The Warner Archive Collection.
02/18/17

The Gate
Screen horror gets a fun-ride boost as a trio of home-alone kids squares off against demons from 'right in their own back yard.' Creative, expertly daring special effects heighten a perfect spook thriller for young kids, that's has more and better 'Boo' moments than most of the hardcore genre classics of its decade. A backyard excavation may lead to Hell, while impish 'Minions,' a cadaverous Work Man, and a monstrous grub-demon worm their way into the house. A wealth of extras explains how it was all done, before the advent of CGI. On Blu-ray from Lionsgate / Vestron Video.
02/18/17

Breakout
Charlie Bronson cashed in big with this lightweight action thriller co-starring Jill Ireland and Robert Duvall. It's the true story of the first major prison breakout using a helicopter. Did Duvall get involved because the original concept was a serious look at political scandals between big business, the CIA and Chile? The clues from the real source story are still there. With Randy Quaid, Sheree North, John Huston, Jorge Moreno, Paul Mantee, Emilio Fernandez, Alan Vint, Roy Jenson, John Huston. On Blu-ray from Koch Media / Explosive Media (De).
02/18/17

Arrival
Yep, a fleet of giant alien spaceships are on the way, just as seen in several other science fiction spectaculars. But Denis Villeneuve's movie is not your garden variety invasion fantasy. Amy Adams and Jeremy Renner have a limited time to figure out how to communcate with alien creatures whose intentions are a complete unknown. It's a rare sci-fi thriller that succeeds on a personal and emotional level -- while teaching us how to converse in coffee stain hieroglyphics. A Dual-Format edition on Blu-ray and DVD from Paramount.
02/14/17

A Walk in the Sun
Lewis Milestone's poetic character study of an infantry landing in Italy gives us a full dozen non-cliché portraits of men in war, featuring a dramatic dream team of interesting character actors. Dana Andrews was the only big star in the cast, joined by hopefuls Richard Conte, Lloyd Bridges and John Ireland; the standout crew includes Sterling Holloway, Norman Lloyd, Steve Brodie and Huntz Hall. On DVD from The Sprocket Vault / Kit Parker.
02/14/17

Loving
The story of Mildred and Richard Loving could easily have become a sledgehammer epic about social injustice. Writer-director Jeff Nichols instead sticks to the facts and recounts their ordeal with a quiet subjectivity that neither exaggerates nor sanctifies. The result is a marvelously affecting demonstration of how a civilized, progressive America rights a wrong. Ruth Negga and Joel Edgerton are terrific as just plain folks oppressed by an obsolete law. A Dual-Format edition on Blu-ray and DVD from Universal Studios Home Entertainment.
02/14/17

The Edge of Seventeen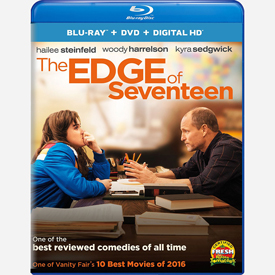 It's another teen angst drama with fine writing & direction (courtesy Kelly Fremon Craig) and bright performances from a charming cast. Unhappy sophomore Hailee Steinfeld is so bummed out over her family situation, her best friend's defection and her life in general that she's making some really bad decisions. Will her inattentive mom (Kyra Sedgwick) completely blow a fuse? A patient but surly teacher (Woody Harrelson) may be the only barrier against Steinfeld's losing her self-respect. The bright and funny show is sometimes a bit too clever, but it also has a big heart. With Haley Lu Richardson, Blake Jenner, Hayden Szeto and Alexander Calvert. A Dual-Format edition on Blu-ray and DVD + Digital HD from Universal Studios Home Entertainment.
02/11/17

Manchester by the Sea
A top contender for various Oscars gives us a sober, intense story of an ordinary man who cannot reconcile a personal tragedy -- a social pariah, he can barely live with himself. It's a fair account of how an imperfect man deals with human / emotional wreckage. Casey Affleck and Lucas Hedges are compelling as an uncle and nephew trying to go forward under difficult conditions; the script and direction are remarkably sensitive to the terrible misfortunes that can befall people like you and me, knock on wood. With Kyle Chandler, C.J. Wilson, Gretchen Mol, Michelle Williams and Matthew Broderick. Contrary to some reports, I didn't find this movie to be depressing. A Dual-Format edition on Blu-ray and DVD + Digital HD from Lionsgate.
02/11/17

Hundreds more Savant reviews at the Other End of this Link!
Archives
Don't forget to write Savant at dvdsavant@mindspring.com.
Advertise With Us
Review Staff | About DVD Talk | Newsletter Subscribe | Join DVD Talk Forum
DVD Savant Text © Copyright 1997-2007 Glenn Erickson - Copyright © DVDTalk.com All rights reserved | Privacy Policy | Terms of Use