High and Low: Criterion Collection (2008 Release)
List Price: $39.95 [Buy now and save at Amazon]
---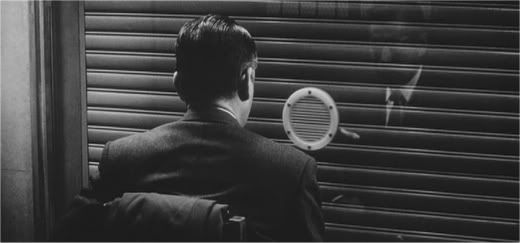 I couldn't possibly forget my first viewing of Akira Kurosawa's High and Low (1963) several years ago; it's been burned into my mind in a way that few films have. Having discovered the director a few years before with perennial favorites like Rashomon and Seven Samurai, I eventually burrowed myself slowly through the bulk of his nearly spotless repertoire. Hot on the heels of commercial successes Yojimbo and Sanjuro, Kurosawa returned to contemporary Japan for High and Low---and upon my initial viewing, I saw it with no pre-conceived notion of what the story was about. Needless to say, High and Low took me completely by surprise: here was a modern tale of kidnapping, betrayal and social class divisions that hit every note right. The film's curious structure and impeccable level of detail were a perfect match for its simple yet layered story, creating a highly entertaining and thought-provoking film that remains one of the director's very best accomplishments.
As the penultimate collaboration between Kurosawa and leading man Toshiro Mifune, High and Low (known internationally as Tengoku to jigoku, or "Heaven and Hell") is a remarkably effective character-driven story. Loosely based upon Evan Hunter's 87th Precinct crime novel "King's Ransom", Kurosawa's adaptation shifts the story to Yokohama during a sweltering heat wave. Mifune stars as Kingo Gondo, the wealthy executive of National Shoe Company, whose commitment to quality and impeccable work ethic has made him somewhat unpopular with the bean-counters. The company is at an obvious fork in the road: its top executives are battling over profits vs. quality control, and Gondo will have none of their cheap marketing pitches. He's made countless enemies since his first apprenticeship decades ago, but has proven to be a crafty man who knows how to defend himself. Secretly planning a buyout of the company after mortgaging every last bit of property, Gondo will certainly have much to defend himself from in the days to come.
Tragedy strikes early on as his son is kidnapped while playing cops and robbers with a friend outside; astoundingly enough, the kidnapper demands ¥30,000,000 as ransom, which would nearly exhaust the bulk of Gondo's fortune...and his career plans, of course. After the missing boy turns out to be the son of Gondo's chauffeur, our protagonist is somewhat relieved: not only is his own son alive and well, but his carefully-laid buyout plans can proceed on schedule. Unfortunately, the kidnapper demands that Gondo hand over the full amount anyway, or the chauffeur's son will be killed immediately. This proves to be no ordinary crime: the kidnapper's disdain for the wealthy executive, and the upper social class in general, is obvious enough. The culprit hides the city below while Gondo paces in his luxurious home on the hilltops---and thusly, our class conflict is set. In certain regards, we can almost empathize with the disadvantaged young man behind the crime...that is, if Gondo weren't such a likeable, hard-working man in his own right.
As luck would have it, the initial kidnapping is more or less resolved before the first hour closes---and like David Fincher's Zodiac and countless others before it, the bulk of this 143-minute film focuses on methodically pursuing the criminal. From here on out, High and Low transforms into a detailed police procedural (strengthened by strong performances from Tatsuya Nakadai and Kenjiro Ishiyama, among others) that maintains a potent level of suspense, from the discovery of damning evidence all the way to the thrilling final standoff between hero and villain. But again, as luck would have it, Kurosawa refuses to take the easy way out, further blurring the lines between opposite ends of the moral spectrum. It's a pitch-perfect ending that puts an absolute exclamation point on an already-fantastic film---and this may be stating the obvious, but a film's ending can truly make or break the events leading up to it. High and Low simply takes it one step further, elevating the film to the heights of Kurosawa's most accessible and satisfying achievements.
Originally released on Region 1 DVD by Criterion ten years ago, it's no secret that High and Low was in dire need of a facelift. The non-anamorphic transfer bested older laserdiscs by a modest margin, though it still wasn't exactly in terrific shape. To make matters worse, there were no bonus features to speak of---and with a film like High and Low as the main course, having no dessert is a bit disappointing. Luckily, Criterion has assembled an excellent two-disc package just in time for the film's 45th anniversary, offering a notably improved presentation across the board. Let's take a closer look, shall we?
Quality Control Department
Video & Audio Quality
Presented in its original 2.35:1 aspect ratio and enhanced for widescreen displays, High and Low looks much improved over Criterion's own 1998 release. The anamorphic enhancement is just one upgrade, as the overall image detail and black levels of this newly-struck transfer are excellent across the board. Given the source material, Criterion has done a satisfying job here, preserving the film's intended look while keeping digital problems to an absolute minimum. One minor complaint is slight blooming of some of the brightest whites (mainly during the first act), but this is hardly a distraction overall.
NOTE: Unlike many of Criterion's recent DVD releases, High and Low has not been window-boxed to compensate for overscan. Given the somewhat controversial nature of this practice among purists, I'd imagine most folks should be pleased.
High and Low's Dolby Digital soundtrack is presented in its original Japanese 4.0 mix, while most of the light surround effects are limited to scenes taking place outside of Gondo's home. Those with 2.0 stereo setups will be pleased to know that this mix automatically folds down into a two-channel mix...but any way you slice it, this is an excellent presentation that gets the job done. Dialogue is clear from start to finish, while background music and other sound effects rarely fight for attention. Optional English subtitles are included during the film and all Japanese-language bonus features.
Menu Design, Presentation & Packaging

Seen above, the 1.33:1 menus for this release are rather dark but easy to navigate. The 143-minute main feature has been divided into 28 chapters, while no obvious layer change was detected during playback. This two-disc set is housed in a clear keepcase with overlapping hubs and double-sided greyscale artwork. A hefty booklet has also been tucked inside, featuring a new essay by critic Geoffrey O'Brien and an on-set account by Japanese film scholar Donald Richie.

Bonus Features

Disc One begins with a feature-length Audio Commentary by Kurosawa scholar Stephen Prince, who dissects the 143-minute film in great detail. For the most part, this commentary is equal parts technical and thematic, as Prince analyzes Kurosawa's precise framing, camera placement and the emotional nuances of the story. Comparisons to Hunter's source novel are peppered throughout, though Prince reminds us how loose of an adaptation this really was. His delivery is candid but very well-prepared: this is obviously someone who appreciates and admires the film, but Prince maintains a scholarly distance to let High and Low's appearance and structure speak for themselves. From top to bottom, this long-overdue commentary is well worth listening to.

Disc Two follows up with another installment of "Akira Kurosawa: It Is Wonderful To Create" (37:01, below left), which fans should certainly be familiar with by now. This retrospective documentary focuses on several major sequences in the film, from Gondo's apartment to the bullet train sequence and the police procedural that follows. Kurosawa and members of the cast and crew are on hand to share their thoughts and experiences on set, which include plenty of fond memories and near-disasters. Even at less than 40 minutes in length, this vintage piece should satisfy fans of the film---and luckily for us, there's little to no overlap with the audio commentary.

Up next is a 1981 Interview with Toshiro Mifune (30:29, below right), conducted by host Tetsuko Kuroyanagi for her talk show, Tetsuko's Room. As Mifune rarely participated in filmed interviews, this is something of a unique experience---and though he doesn't speak about High and Low specifically, it's an entertaining interview that touches upon several points in the actor's career. Among other topics, Mifune discusses his rather turbulent childhood, time spent in the military and his working relationship with Kurosawa...not to mention "upcoming projects" like Shogun and the like. Die-hard fans of the actor might not learn anything new, but it's great to hear Mifune speak so candidly about his life and career.
Also included is a 2008 Interview with Tsutomu Yamazaki (19:03), who plays Takeuchi the kidnapper in the film. This newly-recorded chat features the award-winning actor discussing his experiences as a young man during High and Low, though he speaks briefly about his involvement in future Kurosawa films like Red Beard and Kagemusha. Yamazaki is well-spoken and humbly shares the knowledge he took from the one-year production of High and Low---and though this interview seems a bit short overall, fans should certainly enjoy catching up with the actor.
Closing things out is a Teaser and Trailer Gallery, featuring the Japanese trailer with footage of the original ending (3:36), the Japanese teaser (1:52) and a rather enthusiastic U.S Trailer (1:41). It's interesting to see these promotional clips and how they attempt to sell the film, especially since such basic extras were absent from the previous release. All bonus features on the second disc are presented in 1.33:1 and anamorphic widescreen formats and include optional English subtitles.
Final Thoughts
Streamlined and efficient despite its lengthy running time, High and Low remains one of Kurosawa's lesser-known masterpieces...and arguably the best of his contemporary films. The curiously divided structure creates an unusually chaotic pace, from the stationery first act to the chilling final confrontation. Criterion has one-upped its own 1998 release with energy to spare, pairing an excellent technical presentation with an assortment of valuable bonus features from different eras. From top to bottom, High and Low is an easy choice for Kurosawa disciples, whether you own the previous release or not. This is simply one more feather in Criterion's cap and comes Highly Recommended as an upgrade or a solid blind buy.
More Kurosawa Reviews at DVD Talk:
Seven Samurai | Ikiru | Rashomon | Kagemusha | Red Beard | Ran | Dreams
The Lower Depths | The Hidden Fortress | Stray Dog | Throne of Blood
---
Randy Miller III is an affable office monkey based in Harrisburg, PA. He also does freelance graphic design projects and works in a local gallery. When he's not doing that, he enjoys slacking off, juggling knives, and writing things in third person.
---

---
C O N T E N T

---
V I D E O

---
A U D I O

---
E X T R A S

---
R E P L A Y

---
A D V I C E
Highly Recommended
---
E - M A I L
this review to a friend
Sponsored Links
Sponsored Links