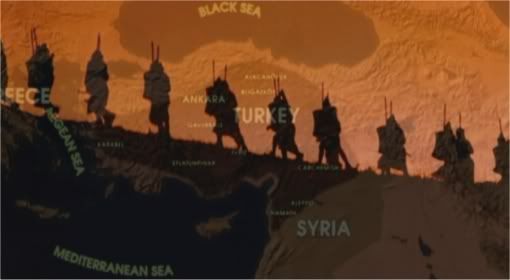 Less than two thousand years before the birth of Jesus Christ, a Middle-Eastern people known as the Hittites established a capital city, Hattusa, in the area now known as central Turkey. Within a few centuries, however, their kingdom would be destroyed and all evidence left in ruins. Though the Bible's Old Testament mentioned the existence of these people more than 50 times, it wasn't until the late 19th and early 20th Centuries that archaeologists discovered concrete proof of this short-lived empire in the form of clay tablets, weaponry and architecture. As one of the world's leading powers when civilization gradually shifted from the Bronze Age to the Iron Age, the Hittite people were certainly a culture of great significance; as such, Turkish writer/director Tolga Örnek's The Hittites: A Civilization That Changed the World pays tribute to their brief but memorable legacy.
Though some of its execution proves to be a bit spotty (more on that soon enough), The Hittites' overview certainly sounds good on paper. Noted actor Jeremy Irons supplies the lion's share of voiceover narration, most of which flows nicely and is delivered in pleasing tones. The film's scope is also another ambitious element: for example, nearly all of the historically-focused words are based on translations from Cuneiform (a language used by the Hittites and countless other cultures, but created by the Sumerians in roughly 3,000 BC). Several battles and dramatic sequences have been recreated in detail, with principal photography at locations in and around Egypt, Syria and Turkey. Thousands of historically accurate props, costumes and sets were constructed during production, including a scale model of Hattusa. An original music score was even provided by the Prague Symphony Orchestra, which anchors the atmosphere quite nicely.
The downside to this high level of detail, of course, is that it's lumped together in just over two hours---and that's not saying you can't watch it in multiple installments, but the material may have been better suited to a mini-series format. Portions of the interview footage are unavoidably dry, and even more so when they're layered back-to-back. Additionally, the re-enacted battle sequences sound a bit more engaging than they actually are; much like The History Channel's Last Stand of the 300 , portions of the computer rendered elements (including text designs and backgrounds) come off a bit cheesy. In fact, The Hittites may have solved both problems by scaling back the battle sequences---or better yet, sticking to a more straightforward documentary style. It's still a well-intentioned film and worth watching, but this isn't one that you'll return to a great deal.
Unfortunately, Koch Entertainment and Cinema Epoch's one-disc package doesn't carry much of its own weight. The film's technical presentation is slightly suspect in the visual department, while the lack of bonus features doesn't help matters any. Even though The Hittites stands up fairly well on its own terms, the barebones treatment of this feature makes it more of a weekend curiosity than a recommended blind buy. Let's take a closer look, shall we?
Quality Control Department
Video & Audio Quality
Presented in what appears to be a 2.00:1 aspect ratio and enhanced for 16x9 displays, The Hittites looks a bit rough from start to finish. Aside from the unusual aspect ratio---which may have been cropped from 2.35:1, as a number of scenes are framed quite tightly---the overall image is generally soft and lacking in detail. Additionally, some of the colors are oversaturated tend to bleed slightly (especially the reds and oranges), but most of the still photography and interview footage is typically clean and sharp. In any case, The Hittites is still quite watchable despite these flaws.
The audio is presented in a standard Dolby 2.0 Surround mix, since only the re-enacted battle sequences call for any sort of dynamic soundstage. Dialogue is generally clean and clear, though small portions of the interview footage tend to be a bit muffled. Unfortunately, no optional subtitles or Closed Captions have been provided during the main feature.
Menu Design, Presentation & Packaging

Seen above, the plain-wrap menu designs are basic and easy to navigate. The 129-minute main feature has been divided into a scant 6 chapters (!), while no obvious layer change was detected during playback. This one-disc release is housed in a standard black keepcase and includes no inserts of any kind.

Bonus Features

Unfortunately, no extras have been included---but given the film's documentary-style presentation, it largely speaks for itself. Aside from an audio commentary or interview with the director, I doubt we're missing a great deal here.

Final Thoughts

The Hittites was obviously a detailed production, as evidenced by the carefully-composed structure and exhaustive attention to props, replicas and costume design. Unfortunately, the end project tends to be on the dry side, especially since we're expected to take in so much at once. This layered wealth of information may have been better suited as a slightly longer mini-series---but as a stand-alone film, it's still not a bad effort by any stretch. Koch Entertainment's DVD package isn't quite as impressive, however: the technical presentation is a bit questionable and there are no extras to speak of. History buffs may want to pick this up regardless of its minor faults, even though the ticket price is a tad high for a barebones release. Due to the lower replay value of such a production, though, The Hittites is ultimately a "try before you buy" DVD. Rent It.
---
Randy Miller III is an affable office monkey based in Harrisburg, PA. He also does freelance graphic design projects and works in a local gallery. When he's not doing that, he enjoys slacking off, second-guessing himself and writing things in third person.
---