Mister Ed: The Complete Third Season
List Price: $39.97 [Buy now and save at Amazon]
---
Wilbur: "Read one of your comic books."
Mr. Ed: "They depress me."
Still gently funny, still light and entertaining, however...the formula may be starting to show faint signs of wear and tear in this third go-around. Shout! Factory has released Mister Ed: The Complete Third Season, a four-disc, 26-episode gathering of the iconic sitcom's 1962-1963 season (its first slotted into the all-important "prime time" network schedule). Die-hard fans of the show won't care: they just want more Ed and Wilbur. But this isn't the series' strongest season.
As I wrote in my extensive first and second season reviews of Mister Ed (you can click here for season one, and here for season two), a synopsis of Mister Ed's central story line seems absurd by this point--who doesn't at least know what this show is about? But here goes. Young Southern Californian architect Wilbur Post (Alan Young) decides it's time to move out of the city and into the hills overlooking the San Fernando Valley. Buying a beautifully appointed country house (at 17230 Valley Spring Drive) with his sweet, charming wife Carol (Connie Hines) by his side, Wilbur is looking forward to converting the ramshackle barn out back into his drafting room and office. But on moving day, both he and Carol discover something in the barn that wasn't there when they first bought the house: an equally ramshackle palomino horse. Wilbur, remembering his childhood days growing up in a house similar to this one--but without the pony he always wanted--is all for recapturing his youth and keeping the horse, something his wife Carol is against...even after Wilbur cleans and brushes the beautiful palomino. But that act of kindness on Wilbur's part towards the horse convinces Mr. Ed to finally speak to a human, shocking Wilbur into wild-eyed incredulity (while convincing his bickering neighbors, Roger and Kay Addison, played by Larry Keating and Edna Skinner, that they sold their adjacent property to a certifiable head case). Wilbur wasn't hearing things--Mr. Ed the horse...can really talk. And to top off that miraculous feat, Mr. Ed is also a bit of a smart-ass and very probably more intelligent than the kind-but-fumbling Wilbur. And that context sets up the myriad number of gags and misunderstandings that will follow in Mister Ed, because Mr. Ed, out of a combination of stubbornness and laconic, needling perversity, will only speak to Wilbur--no one else.
SPOILERS ALERT!
Watching Mister Ed: The Complete Third Season, I was reminded of the problems I had reviewing later seasons of Hogan's Heroes, another classic 60s sitcom that locked in early a very tight, rigid thematic structure, and then proceeded to run it into the ground endlessly for several seasons. As I've written before in numerous reviews of classic, vintage TV, that déjà vu experience isn't necessarily a bad thing: the reliable, "repeatable" experience was certainly network TV's main goal for its viewers (at least by the 1960s), and as long as the content, however familiar over several seasons, was finely crafted and professionally put-over, who cared if Mr. Ed kept whining about Wilbur not paying enough attention to him, season after season? In my second season review of Mister Ed, I celebrated the fact that it hadn't changed too drastically from its first go-around because the jokes and storylines were still strong, and the performers still expertly funny. So if the actors are still razor-sharp in their delivery and timing here (which they are, of course), and the same basic situation, with some minor variation from episode to episode, is put into play (Mr. Ed feels neglected by Wilbur, so he does something "human" and bratty that causes not only havoc but which sets in motion Wilbur's efforts to cover up Ed's ability to think and talk like a human), the only factor that could possibly disappoint me here would be the writing itself...you know: the gags.
And, to a small degree here, that seems to be the case with this third season of Mister Ed. Having watched all 26 episodes of this set over the past few weeks, there are only maybe a handful that I can remember right off the top of my head (without referring to my notes), while the rest seem fuzzy and vague. And of the ones I remember, none of those are top-flight series' best efforts. Don't get me wrong: in its third season, Mister Ed is still funny, still charming in a light, child-like way (with that interesting element of sophisticated romantic comedy provided by the married couples, thrown in for spice). I laughed frequently (or at least chuckled); it's a polished show (and my kids certainly couldn't tell any difference; they love whiney, petulant smart-ass Mr. Ed). But Mister Ed by this point can't really go anywhere, either, in terms of characterizations or comedic situations. Mr. Ed the talking horse is never going to speak to anyone else by Wilbur, and Wilbur is never going to really evolve and become the smarter, dominant partner here in this horse/man buddy friendship, while the supporting characters are never going to put two and two together and realize that Mr. Ed has to be at the center of all the commotion each week at 17230 Valley Spring Drive. And if the show can't really grow or change significantly, it's inevitable that a certain feeling of...sameness will eventually creep into the viewing experience, even if the specific plot details are shuffled around from one episode to the next. That "sameness" is still funny here in season three of Mister Ed--just not as funny as the previous two seasons.
In my season two review of Mister Ed, I talked about a subtle shift in Mister Ed's personality, with the scriptwriters blunting off the edges of first-season hipster smartass Mr. Ed, who bossed Wilbur around with impunity, in favor of a more emotional, more whiney Mr. Ed, who gets his way now by crying and begging as much as by subterfuge. Ed the manipulator turns into Ed the victim who has to rely much more on Wilbur's willingness to acquiesce, rather than on outwitting the poor boob in the first place. That trait certainly seems to be holding true here in this third go-around, with numerous shots of Ed crying and blubbering in attempts to cajole Wilbur into giving in to Ed's demands. There's no denying that it's quite funny to hear the marvelous Allan "Rocky" Lane sniff and moan when he has Ed crying for his mama (Ed The Pilgrim), and it's always genuinely affecting when Alan Young (so effortlessly good here with a tough role) has affectionate scenes with the equally talented Mr. Ed. But I can't deny that I miss the old Ed: randy, whipsmart, bullying Ed. Little glimpses of that Ed peek through now and then, such as Ed wishing he could see his girlfriend Flossie in a black saddle (Wilbur The Masher), or stating his latest flame has a figure that could grace the cover of Playhorse Magazine (Working Wives), or begging Wilbur not to cut him off cold turkey from the apples he's become addicted to (The Price Of Apples). That Ed is flat-out perverse, and the writers used to love suggesting some hidden world that Ed inhabited--a very adult world--that Wilbur was oblivious to (in Ed The Zebra, Ed proudly states, "I was born a nudist, and I'll die a nudist."). However, he's largely gone here, replaced by an Ed that's frequently either willful like a child (still funny), or repentant and sentimental and blubbering like a child (not so funny).
Good episodes this season include (and again: this third season is funny...even if I sound sorta grumpy about it) the season opener, whose title says it all: Ed Gets Amnesia (I'm waiting for that dissertation on television's most popular malady, complete here with its most popular TV remedy: a coinciding bonk on the head). Wilbur The Good Samaritan has a good roundabout with both Wilbur and Roger getting stuck up on a roof...all due to Ed, of course. Ed And The Allergy shows off Larry Keating well as he runs through some funny (and now fondly-missed) mother-in-law jokes. Wilbur In The Lion's Den is a fan-favorite, with some agreeably nonsensical moments as Wilbur gives character actor extraordinaire Charles Lane some pause as Wilbur keeps bumping his business commitments to fly a kite with Ed. Ed the Pilgrim is a funny spoof on the first Thanksgiving (I love it when Kay takes Roger's money--he's in the stocks--for a sale on spinning wheels). Hans Conreid is funny, as usual, as a freeloading impressionistic sculptor in Ed And Paul Revere. Wilbur The Masher gives the talented Alan Young a chance to work out his numerous double and triple-takes in this cute, well-constructed episode. Big Pine Lodge is a fast-moving little farce as Roger gets fleeced at the card table, and Ed helps Wilbur to cheat back the dough. Working Wives is one of the season's better offerings, including a funny bit with Young trying to iron the laundry, and Ed hypnotizing that dope Wilbur. The Price Of Apples escalates nicely into fantasy as Ed acknowledges he's a junkie for Roger's apples (listen to him plead like a hype for his fix), while Wilbur dresses in fatigues to cross No Man's Land (complete with barbed wire and search light) to reach Roger's beloved apple tree. Doctor Ed is a silly-but-fun spoof on all the doctor shows that were so popular on television at the time (check out Ed's Dr. Zorba wig), while Unemployment Show will no doubt crack up a lot of viewers today (for all the wrong reasons) as Wilbur and Ed openly commit welfare fraud (Ed even gets a fraudulent Social Security card)...while still winding up with some cash. Only in California...and everywhere else (when Ed first thinks he can't get disability and unemployment benefits through a faked injury, he mournfully intones, "Four weeks of work down the drain.").
Encouraged, perhaps, by Mister Ed's ratings' performance the previous two seasons, CBS chanced a prime-time slot for the sitcom this 1962-1963 season, at 7:30 on Thursday nights...where it failed to crack the coveted Nielsen Top Thirty. While suffering no direct competition from NBC's contemporary western misfire, Wide Country, with Earl Holliman and Andrew Prine, "iron horse" performer The Adventures of Ozzie and Harriet over on ABC, along with family-friendly fare The Donna Reed Show, Leave It To Beaver, My Three Sons, and McHale's Navy, made it tough for Mister Ed to crack its intended demographic (nor did it help that Mister Ed lead-out, Perry Mason, had begun to slowly fade out of the Nielsen Top Twenty by this time). For it's fourth season, CBS would send Mister Ed back to the minors, to its old, reliable Sunday 6:30 timeslot.
The DVDs:
The Video:
As with season two, the full-screen, 1.33:1 black and white transfers for Mister Ed: The Complete Third Season look quite good, with a mostly creamy gray scale, blacks that hold, a bright, sharp picture, and minimal screen anomalies such as dirt and scratches. I didn't notice any distracting compression issues, and overall, this looks as good as any Paramount vintage TV release.
The Audio:
Same with the sound, in relation to season two. The English mono audio track, however, has some up-and-down levels that did distract from time to time (minor, though), but whether this was inherent in the original materials used for the transfers, or in the authoring of the disc itself, I couldn't say. Overall, though, the dialogue came through. Close-captions were available.
The Extras:
There's a radio interview with Alan Young from Shokus Internet Radio's Stu's Show from several years back included here (it runs over the course of almost four episodes) that sounded awful familiar to another interview I heard on one of the previous Ed releases (I couldn't track down my copy...I think it's buried somewhere in one of the kid's rooms). If so, not much of a bonus, but if it's new to DVD, it's a fun look at Young's career prior to the Mister Ed series.
Final Thoughts:
It's still a talking horse. And that's good...and bad. There's no doubt that Mister Ed still works as a sweet, funny sitcom that families and kids will love. But there's also no doubt that by this third season, the show ain't changing, and it's going to get increasingly...familiar. That's fine, since it's such a good show to begin with, but that's bad, too, because the jokes are eventually going to feel stale. I'm recommending Mister Ed: The Complete Third Season. We'll just have to see with the later seasons....
---
Paul Mavis is an internationally published film and television historian, a member of the Online Film Critics Society, and the author of The Espionage Filmography.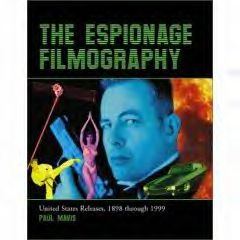 ---
C O N T E N T

---
V I D E O

---
A U D I O

---
E X T R A S

---
R E P L A Y

---
A D V I C E
Recommended
---
E - M A I L
this review to a friend
Sponsored Links
Sponsored Links