Girl in Blue (U-Turn), The
List Price: $19.95 [Buy now and save at Amazon]
---
"I feel as if I've been looking for you for years."
"Not me."
Another misfire from Canadian director George Kaczender. Scorpion Releasing has released The Girl in Blue (known outside the States as U-Turn), a 1973 romantic drama starring David Selby, Gay Rowan, and the incomparably beautiful Maud Adams, and loaded it up with an impressive set of extras for such an obscure title. Fans of the actors might want to pick this up, or anybody into early 70s Canadian cinema (...?), but for most of you, you've seen it before...and better executed.
Toronto lawyer Scott Laithem (David Selby) has a lucky problem: he's living with brunette English teacher hottie Bonnie (Gay Rowan), while daydreaming about gorgeous blond Paula (Maud Adams), a girl he saw and spoke to once, only briefly, on a ferry dock four years ago. His inability (and unwillingness) to get the idealized, romanticized image of Paula out of his head is pushed to the breaking point when Gay becomes insistent about the direction of their long-term but meandering relationship. She's twenty-five, and she wants babies, and that means marriage to her, but to Scott, marriage is "illogical," so he begins a quest to track down Paula--no small feat considering he doesn't have much to go on other than spotting her that one time at the ferry, driving a yellow MG.
SPOILERS ALERT!
Just to set the record straight, and before I get any emails from north of the border stating I've got it in for director George Kaczender because I hated his In Praise of Older Women, too (you can read my review here), I had no idea he directed The Girl in Blue (U-Turn). I just saw Maud Adams on the cover and thought it looked interesting, so sue me. I can state to Kaczender's credit that even though I don't think The Girl in Blue (U-Turn) is successful, it's a hell of a lot better than In Praise of Older Women...faint praise though that may be. Standing on its own, though, The Girl in Blue (U-Turn) can't overcome an all-too familiar storyline (script by Douglas Bowie), sloppy, overlong construction, and a questionable lead performance. However...there is Maud Adams....
I know it's chancy, but whenever I get one of these older film titles (which I prefer, frankly), if they come with original trailers, I like to watch those first, even if I risk seeing a spoiler scene or revelation. I'm always fascinated by the dichotomy between how a film is marketed and sold, and how it's actually perceived by a viewer, and to The Girl in Blue (U-Turn)'s credit, the American trailer made the film look promising. There seemed to be the possibility of romance, humor, and maybe even a little intrigue, and best of all, it had that classic 70s drive-in come-on, "See it with someone you love," that was always instant code for "adults-only" fun. Alas, The Girl in Blue (U-Turn) may have one or two bits of nudity (actually, I think Selby's rear is on display more than anything Rowan or Adams show), but it's not surprising that the film didn't take off here in the States back in '74 when it finally turned up; those brief shots are about the only factor distinguishing the film from any number of similar anonymous made-for-TV movies of the week...and they certainly weren't enough to momentarily stop kids from pawing at each other at the drive-ins.
In the commentary track included on this disc, director George Kaczender speculates that The Girl in Blue (U-Turn) was released at the wrong time, that its emphasis on romance was at odds with the early 70s youth market that had no time for love at the movies. Of course that's ridiculous (some of the biggest box office hits of the early 70s were melodramatic wheezes like Love Story and The Way We Were)); moviegoers regardless of the timeframe, will always respond to a good love story, provided the characters are attractive to us (however you want to take that), and their plight and tribulations palatable. Unfortunately, it's hard to shoehorn The Girl in Blue (U-Turn) into that framework for several reasons, with David Selby's character and performance one of the main obstacles. As Selby himself alludes to in the commentary track, his Scott character seems to float through the movie with little or no passion for what is supposed to be an obsessive love affair. Whether this was by design or by the actor's own approach to the character (Selby can often seem wooden and stiff in his movie roles), it's hard to say, but it's difficult for the viewer to work up much enthusiasm for Scott's romantic quest when he doesn't seem all that animated about the task at hand. And since the movie is told strictly from his perspective, if I as a viewer can't identify with the lead, I don't care what happens in the love story. As portrayed here, Scott is a cipher (and frankly, a rather disagreeable cipher, at that--it's a wonder the loving Bonnie stayed so long with him considering how boorish he comes off here), and by the end of the film, when he finally finds Paula, we frankly think he isn't worthy of her attentions.
Add to the unsympathetic lead two choppy, episodic (and pokey) beginning and middle sections where Scott tries to track down Paula, and the viewer is further distanced from any emotions the director may have wanted to conjure up (unless they're "ennui" or "annoyance" or "boredom"). Whether it's the strangely unerotic lovemaking scene between Scott and Bonnie after they've covered themselves in dirt and mud (on the bed...under the sheets?), or the pointless scenes of Scott playing tennis at night, or hanging out drinking and dancing with a girl he knows isn't Paula, or the whole "Tracey" debacle where the director makes the disastrous choice of playing Hitchcock, letting Maud Adams play this character, as well (and thus setting us up unfairly to anticipate some kind of cockeyed switcheroo that never occurs in the film), Kaczender can't seem to grab hold of what should be a can't-miss plotline, and stay focused on it. And if you want to argue that he's going more for atmosphere than strictly story (the old saw about "European" sensitivity over crass Hollywood A-B-C story emphasis), that atmosphere is no more convincing or evocative or intriguing than the story is tight and persuasive.
Worst of all, once Kaczender gets to where we've wanted to go all along--Scott finding Paula and establishing a relationship--he rushes through it and leaves us entirely unfulfilled as to its conclusion. Certainly the best moment in the film is the opening trucking shot where we first see Maud Adams mysteriously set against the trees and the water as she waits at the rustic ferry crossing. Adams, a stunning beauty (and a seriously underutilized actress of untapped talent), doesn't need to do much of anything to get our attention and to get us wondering about her character. Fine; that's the way it's supposed to work in a mysterious, romantic film like this. But once Kaczender lets us really meet her in the film's final act, we aren't given nearly enough interaction between her and Selby to justify his search, nor are we given a fighting chance at a coherent explanation for their parting. It's a foolproof set-up for a romantic drama, with that truly bittersweet, aching appeal of watching someone trying to go back in time to recapture a moment that wasn't real in the first place. And fortunately, Adams more than fits the bill not only as a fantasy figure when we see those brief shots of her in Selby's flashbacks, but also as a credibly desirable "real" woman with kids and a career. Adams' looks may be stunning, but there's a warmth to her, as well, that effortlessly comes out in her scenes with Selby (she's sexy as hell, too; watch and listen to her little bit where she fake-slaps Selby's face right before they make love). And I wanted more of that from Kaczender. But once the two are together, the director and scriptwriter immediately pull back and separate the lovers, with just a ghost of an explanation as to why they must part. And true to character (or perhaps performer), Scott accepts this faint stab at an explanation with a blank stare and goes back conveniently his girlfriend Bonnie as if nothing happened. It's a cop-out ending for a one big, long tease of a film (epitomized by that final stupid freeze-frame shot of Shelby that basically pisses all over the film with a "What, me worry?" idiocy), leaving the viewer entirely unsatisfied with both the journey, and the journey's end.
The DVDs:
The Video:
The anamorphically-enhanced, 1.78:1 (the opening titles are windowboxed at 1.66) widescreen transfer for The Girl in Blue (U-Turn) is acceptable but certainly not exemplary. The picture is just this side of soft, while the colors seem muted (this certainly may have been the original 70s look of the film). Small scratches and dirt specks do pop up from time to time. No compression issues, though.
The Audio:
The English split mono audio track is acceptable, as well, with a decent recording level and moderate (and expected) hiss. No subtitles or close-captions, though.
The Extras:
As I mentioned above, there's a commentary track with director Kaczender and Selby (as well as a moderator from Scorpion whose name is indecipherable on the track...and who adds little to the conversation, anyway) that's informative and entertaining concerning the film's production and reception. As well, there's a special video introduction from Selby for the film, running 3:38, where he tries to get out what he thinks The Girl in Blue (U-Turn) is all about. Gay Rowan shows up for an interview that runs 15:16, where she discusses her career in Canadian filmmaking. The original opening title sequence for U-Turn is included, looking washed out (the only difference seems to be the title and its font), as well as The Girl in Blue (U-Turn)'s original trailer, and trailers for other '70s Scorpion releases, including Changes, Say Hello to Yesterday, Sweet William, and Voyager.
Final Thoughts:
Other than marveling at how you can't shoot a bad angle with Maud Adams...while at the same time wondering why no one ever fully explored her untapped dramatic talents, I can't think of too much to recommend for The Girl in Blue (U-Turn). It's bad made-for-TV moviemaking (and that's an artform I respect and admire): entirely familiar, and entirely forgettable. Still...Maud Adams.... A rental for her performance alone, I think.
---
Paul Mavis is an internationally published film and television historian, a member of the Online Film Critics Society, and the author of The Espionage Filmography.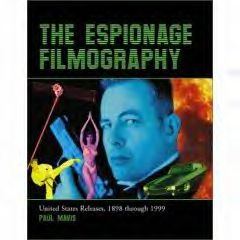 Sponsored Links
Sponsored Links