SpongeBob SquarePants: 10 Happiest Moments
List Price: $14.98 [Buy now and save at Amazon]
---
Back to the good stuff. Nickelodeon has released SpongeBob SquarePants: 10 Happiest Moments, a sweet little compilation of 10 shorts from Seasons 1 through 5, which I understand (although it makes no mention of it on the DVD cover) were chosen by the series' original creator, Stephen Hillenburg. Titles included here are: Tea at the Treedome, Mermaidman and Barnacle Boy, Culture Shock, Karate Choppers, The Algae's Always Greener, Just One Bite, Graveyard Shift, No Weenies Allowed, Roller Cowards, and Christmas Who?. Of course, anyone who owns previous season or stand-alone releases that feature these shorts won't need to double dip here, but for anyone new to the little yellow sponge (um...where have you been?), SpongeBob SquarePants: 10 Happiest Moments isn't a bad way to get acquainted. As an added bonus, the original pilot, Help Wanted, is included here.
I've written extensively about SpongeBob SquarePants in previous reviews, so I won't go into a lot of background on the series and its place in pop culture (you can click on SpongeBob SquarePants: Season 4, Vol. 1, SpongeBob SquarePants: Season 4, Vol 2, SpongeBob SquarePants: Friend or Foe, SpongeBob SquarePants: Season 5, Vol. 1, SpongeBob SquarePants: Pest of the West, SpongeBob SquarePants: WhoBob WhatPants?, SpongeBob SquarePants: Season 5, Vol. 2, SpongeBob SquarePants - Spongicus, SpongeBob SquarePants: To SquarePants or Not to SquarePants, SpongeBob SquarePants: Season 6, Vol. 1, SpongeBob SquarePants: Truth or Square, SpongeBob SquarePants: Viking-Sized Adventures, SpongeBob SquarePants: SpongeBob's Last Stand, and SpongeBob SquarePants: Triton's Revenge for those reviews). A reoccurring theme in several of my previous reviews has been the feeling that if SpongeBob hasn't outright been slipping in quality since around Season Five, it's at least been inconsistent in tone and execution, perhaps due to the increased number of episodes being produced (Season Six had 39 episodes alone, while Season Seven planned 26). So a "hit-or-miss" feeling has definitely creeped into these later stand-alone SpongeBob discs, because you never know what you're going to get.
Happily, SpongeBob SquarePants: 10 Happiest Moments doesn't have that problem because all of the shorts come from the series' best early seasons. Starting right at the beginning, Tea at the Treedome, part of the first SpongeBob episode to air back in 1999, immediately sets the tone for what's absolutely best about a great SpongeBob cartoon: escalating panic. In Tea at the Treedome, SpongeBob, complete with Michael Caine horned-rimmed glasses, meets Sandy the Land Squirrel for the first time, "saving" her from a giant clam before getting himself in trouble with the giant shellfish (I love how the clam whimpers when Sandy kicks it into orbit--a typically funny little SpongeBob detail). Invited over for tea, SpongeBob doesn't realize that without water in Sandy's biosphere dome, he's going to dry up fast...and that's where the panic sets in. This final sequence is an early high point in the series, with SpongeBob looking and sounding a hundred years old as he defiantly asserts, "I don't need water! Water's for quitters!" before he finally succumbs to "Air is not good! I'm a quitter!" (my older kids still pull that one out from time to time). Watch the dying SpongeBob look intently at that water vase--hilarious.
Mermaid Man and Barnacle Boy, from the sixth episode of the first season, is a personal favorite of mine because it features trouper Ernest Borgnine (he's always the goods) in his first appearance as the geriatric TV superhero. I don't know who came up with the brilliant idea of having him and fellow McHale's Navy star Tim Conway voice these characters, but it's an inspired choice. Borgnine in particular gives it his all, quavering his voice and showing a real flair for befuddled, absurdist line readings that makes me wish he had done more comedy in his big-screen career. Lots of classic lines (I love the snide Shady Shoals Rest Home attendant who warns the visiting SpongeBob, "Try not to surprise them."), including Mermaid Man inappropriately drifting off in the middle of an epitaph: "By the power invested in me...I now pronounce you man and wife." And of course, Borgnine's full-throated cries of, "Eeee-viiiiiil!" kill every time. A perfect SpongeBob short.
Culture Shock, part of the tenth episode from 1999's first season, is an amusing variation on all those "let's put on a variety show" episodes from TV series past, with Mr. Krabs orchestrating a talent show to garner publicity for the customer-challenged Krusty Krab restaurant. It falters a bit at the very end, but a lot of good gags are showcased, including SpongeBob tap dancing with the Hippopotamus bubble, Patrick laughing at Squidward's unfunny M.C. routine, Gary's meowing poetry, Plankton, blown up and getting heckled for his trouble, and the short's best physical gag: the audience flying in the air, screaming in terror, as Pearl Krabs' massive bulk shakes the Krab every time she leaps during her cheerleading routine. SpongeBob gets the best line here, though, when he's relegated to menial clean-up duties: "With this mop I shape my destiny!" Karate Choppers, part of the 14th episode from Season One, has a funny opening bit where "kare-ah-tay"-obsessed SpongeBob and Sandy channel Inspector Clouseau and Kato as they unsuspectedly bash each other with karate chops. It's slight on storyline, but funny throughout, mainly from the simple pleasure of seeing SpongeBob attempt bad-ass marital arts moves...and that's enough.
Jumping to Season Three, The Algae's Always Greener is an amusing combination of the frequent "SpongeBob obsessing at work" and "Plankton trying to steal a Krabby Patty" storylines, with one of my favorite SpongeBob minor characters, Old Man Jenkins, probably getting the biggest laugh at the beginning of the episode when he nearsightedly bumps into a pole and exclaims, "What a fox!" Hilarious. SpongeBob gets to enact one of his classic obsessive/compulsive freak-outs when he delivers the wrong sized pop to a customer ("I've soiled the good Krusty Krab name! SOILED IT! SOILED IT! SOILED IT! SOILED IT!" That kind of screaming repetition from SpongeBob is so annoying...and hysterically funny). The gags are well-integrated, and Krabs walks away with the finale, appearing as a naked pirate before he's dressed by SpongeBob's clothes canon, eventually sporting a Warner bra--a priceless moment of unexpected SpongeBob perversion.

Just One Bite, also from Season Three, is a great showcase for Squidward, who switches roles with SpongeBob as the obsessed employee once he discovers he loves the taste of Krabby Patties. Squidward's dream sequence about marrying and having children with a Krabby Patty is quite good, while his craven attempts to secure a Patty are pretty funny. Whoever animated SpongeBob's huge, slow smile of recognition and triumph when he realizes that Squidward is hooked on Patties, should get some kind of award; it's brilliantly funny moment of character animation. Good gag where all the Patties go to Squidward's thighs, too (this version, apparently, is still the edited version of the short, which was altered shortly after 9/11).
A fun, "scary" (for little kids) SpongeBob that adults will appreciate, Graveyard Shift uses the old standby of the headless/handless/legless (take your pick) killer-seeking-revenge stories we all told as kids, and cleverly grafts it onto a "SpongeBob at work" storyline. I always enjoy it when Rodger Bumpass, the voice actor for Squidward, gets quiet and manipulative when he's shining SpongeBob on, and here's one of the best examples of that. We get another classic SpongeBob moment of first uncontrollable screaming, grinding on and one, before a non-stop stream of laughing replaces it. And of course, the brief clip from Murnau's Nosferatu should crack up film-savvy viewers...especially when they animate the vampire's face into a goofy, giddy smile. In many SpongeBob shorts, there's been an underlying theme of macho head-games shenanigans, as SpongeBob battles with his self-image of whether or not he's tough enough, and No Weenies Allowed is a good example of this. Trying to prove he's man enough to get into the Salty Spitoon bar, SpongeBob wrestles (unsuccessfully) with an unopened ketchup bottle, fake-fights with Patrick (managing to beat himself up in the process), and cracks his knuckles menacingly...as he horribly breaks his fingers. Lots of funny tough-guy gags here.
One of my favorite SpongeBob shorts, Roller Cowards perfectly sums up the quasi-sick quality of the show, including the suspiciously perverted "Fiery Fist O' Pain" roller coaster from Glove World ("This ride may cause: crying, screaming, projectile vomiting, amnesia, spine loss, embarrassing accidents, uncontrollable gas, explosive diarrhea."). The ride itself is hilarious, particularly the mushroom cloud that appears every time the cars smash into the ground, and the sight of Patrick and SpongeBob's skeletons being ejected out of their body by centrifugal force. And finally, the season two Christmas special, Christmas Who?, is included here (perhaps as an early, early tie-in for the coming holiday?), which proved to be a fun surprise for my kids. Clearly that insanely catchy song, The Very First Christmas, is the episode's highlight, with Mr. Krabs popping up to lend high soprano support on the final notes never failing to crack me or my younger kids up. It's actually a sweet, funny little Christmas episode, and a worthy capper to this collection.
The DVD:
The Video:
As usual with these SpongeBob SquarePants DVDs, the full screen, 1.33:1 video transfers for the shorts look terrific, with incredibly bright colors and a super-sharp picture. There were no big compression issues to speak of (although interlacing is noticeable from time to time). Edge enhancement is acceptable.
The Audio:
The Dolby Digital English 2.0 stereo audio track is perfectly acceptable here, with appropriately loud recording levels and some discreet directionality. All dialogue is cleanly and crisply rendered. Close-captions are available.
The Extras:
As a fun extra, the original pilot/first episode short, Help Wanted, is included here. Highlights include SpongeBob working out with a stuffed-animal dumbbell, the "I Love Pain" banner, and of course, Tiny Tim singing Having a Wonderful Time.
Final Thoughts:
Nothing is new here for SpongeBob SquarePants: 10 Happiest Moments; all of the shorts, including the bonus pilot, have been released on previous sets, so double-dipping isn't required. And if you wait long enough, they'll all show up on Nick, anyway...with commercials, of course. Still, this is a sure-fire collection of some hilarious SpongeBob moments, so if you don't want to wait for a SpongeBob marathon, you could do worse than to pop in this 2 hour disc. I'm recommending SpongeBob SquarePants: 10 Happiest Moments.
---
Paul Mavis is an internationally published film and television historian, a member of the Online Film Critics Society, and the author of The Espionage Filmography.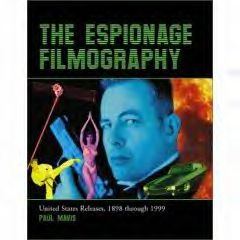 ---
C O N T E N T

---
V I D E O

---
A U D I O

---
E X T R A S

---
R E P L A Y

---
A D V I C E
Recommended
---
E - M A I L
this review to a friend
Sponsored Links
Sponsored Links