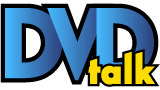 ''Adventure Time'': Jake vs. Me-Mow
List Price: $24.98 [Buy now and save at Amazon]
---
OK, "Adventure Time." Finn the 13-year-old human boy (Jeremy Shada) and Jake the magical shapeshifting dog (John DiMaggio) roam the magical land of Ooo looking for monsters to kill, treasure to keep, and good times to have. The show, created by animator Pendleton Ward, combines bright, gorgeous, creative fantasy animation and a bizarre, non-sequitur sense of humor to enchant audiences old and young. The show has run for four seasons now on Cartoon Network, and this disc is yet another "compilation" release of 16 episodes instead of full-season sets, and it's being presented on DVD but not Blu-Ray, despite the fact that the show airs on Cartoon Network in HD.



Before I get into the rant that any "Adventure Time" fan knows is coming, the episodes on this disc might just be the best batch yet. The title episode, "Jake vs. Me-Mow," is a pretty perfect example of the average "Adventure Time" episode, in which Jake is tormented by a tiny cat assassin who hides in Jake's nasal passage and threatens to poison him unless Jake kills a princess. From the animation of Me-Mow's karate and stealth moves down to the voice casting for the character (played by child actor Kyla Rae Kowalewski), the episode not is not only funny, but develops its characters (with Finn's mom's lullaby) and shows off the show's musical side.



Many of the episodes on "Jake vs. Me-Mow" are newer episodes from Season 3 and 4, and some of them help illustrate the refinement of the show's formula as it continues. "Thank You" only features Finn and Jake as side characters in the story of a snow golem befriending a fire wolf cub. It's a sweet episode that easily communicates its message despite focusing on two characters who don't really speak English, and still gets in some great jokes with Finn and Jake to cap the episode off. Another emotional highlight in this set is "Dad's Dungeon," in which Finn and Jake try to make their way through a challenge designed by their father (although, I have to note that the episode "Memories of Boom Boom Mountain," which establishes that Jake's family adopted Finn as a baby, was only included in the Complete First Season DVD).



Other excellent episodes in this set include "Susan Strong," in which Finn discovers he may not be as alone as he thought (one of the episodes that heavily hints at the show's unexplained, eerie backstory), "Too Young," the finale to a three-episode arc that introduces The Earl of Lemongrab, "His Hero," with a cameo by Lou Ferrigno as a retired adventurer with a troubling warning for Finn and Jake, "Belly of the Beast," about a group of clueless party bears, and "Another Way," which is both wonderfully creative and funny once Finn storms off with his own agenda, but is one of the most bizarre and disturbing episodes of the show I've seen for the first five to ten minutes (read: clowns...lots of clowns).



Now, the obvious rant: after we finally got "The Complete First Season" just a few months ago, it feels dumber than usual to go back to another episode collection (in case you're unaware, I've written up a handy guide to how scattered these releases really are), especially one that includes episodes from Season One (I shudder to think that CN might hope fans will buy the whole series, out of order, via compilations). No amount of pack-in goodies is going to make me think random, single-disc episode collections is better than actual series sets, in both DVD and Blu-Ray. The film and television industry is as concerned about piracy as ever, and a surefire way to wear down people's resistance to pirating something is to insistently refuse to release it in the way most fans want to own it. That's also in addition to the fact that sampler releases are a double-edged sword: the studio releases collections, and fans won't buy the collections because they're waiting for the seasons. Then the studio doesn't release the season in Blu-Ray, so fans don't buy that either. If they do buy the samplers in the hopes of prompting a season release, the studio thinks they want the samplers. It's a no-win situation for everyone. The last sampler release, It Came From the Nightosphere, was at least accompanied by the promise of Season One. This one doesn't ride in on similar good news...will the fans revolt?



Episodes: "Jake vs. Me-Mow", "The Jiggler", "What is Life?", "His Hero", "Susan Strong", "Belly of the Beast", "Videomakers", "Mortal Folly", "Mortal Recoil", "Too Young", "Five Short Graybles", "Thank You", "Ocean of Fear", "Goliad", "Dad's Dungeon", "Another Way."



The DVD

The gimmicky selling point for this release is a free Finn hat, which comes packed inside a transparent plastic box with part of the artwork painted on it, so that the hat can be seen by children who will then cling to their parents' pant legs until the disc is purchased (just in time for Halloween, too). It's hard to gauge how good of an extra this is: it feels cheap-ish, but then I have a hard time believing an item like this could feel much fancier. The disc itself comes in a white eco-friendly Amaray case (the kind that uses less plastic but doesn't have holes punched in it), and inside the case there's a flyer advertising all sorts of "Adventure Time" merch, including the other two DVD releases, the DS and 3DS games, action figures, and books.



The Video and Audio

I'll give Cartoon Network this much: I think the transfer of these episodes in 1.78:1 anamorphic widescreen looks a little better than previous DVD releases. Although the aliasing and slight haloing / edge enhancement that marred the previous standard-def releases is still present, it's been noticeably reduced. The sound, however, has not improved; I don't know if the show airs in 5.1, but this disc, like the others, is presented only in Dolby Digital 2.0, which is bright and clear but not as nuanced as such a musical show ought to be. Extra credit has to go to whoever did the subtitles this time around; the use of exclamation points honestly helps convey the tone of the show through the subtitles, which is both funny and appreciated.



The Extras

Once again, the only extra here is another gallery of Little Did You Know text character bios. Yawn.



The disc opens with four trailers...all for "Adventure Time"! A terrible live-action promo for the fourth season, an equally terrible live-action promo for The Complete First Season, a questionable, partially live-action promo for "It Came From the Nightsophere," and a funny, musical promo for the original release, "My Two Favorite People."



Conclusion

The first two collections, I could be lenient. This third one, hot on the heels of The Complete First Season, I cannot. Rent this disc. Rent it, and send Cartoon Network (note: not Frederator, who is not in charge of the DVD reeleases) a nice polite letter asking them to stop jerking fans around with collection releases of "Adventure Time," and get complete seasons of the show on Blu-Ray and DVD.
---
Please check out my other DVDTalk DVD, Blu-ray and theatrical reviews and/or follow me on Twitter.
Sponsored Links
Sponsored Links