THE FILM:
Click an image to view Blu-ray screenshot with 1080p resolution.
It is hard to believe nearly 25 years have passed since the theatrical release of Who Framed Roger Rabbit, Director Robert Zemeckis' irreverent, thoroughly entertaining mashup of traditional animation and classic Hollywood noir. At once a celebration and a satire of the Hollywood studio system, Who Framed Roger Rabbit floats on the imagination and talent of Zemeckis and producers Steven Spielberg, Kathleen Kennedy and Frank Marshall. Then CEO of Disney Michael Eisner passed the film to sister studio Touchstone, feeling the sexual innuendos and violence were too extreme for the Mouse House, and it became a critical and commercial success. Who Framed Roger Rabbit is silver-screen gold; a timeless reveling in the art of filmmaking and Hollywood allure.
Based on Gary K. Wolf's "Who Censored Roger Rabbit?," the film opens as a traditional animated cartoon but pulls back to reveal "toons" living and acting alongside humans in 1947 Hollywood. Private dick Eddie Valiant (Bob Hoskins) agrees to spy on Jessica Rabbit (voiced by Kathleen Turner), wife of popular toon actor Roger Rabbit (voiced by Charles Fleischer), so Maroon Cartoon studio owner R. K. Maroon (Alan Tilvern) can manipulate his most famous actor. The day after Valiant shows Roger photos of Jessica and Acme Corporation owner Marvin Acme (Stubby Kaye) playing "Pat-a-Cake," Acme is dead and Judge Doom (Christopher Lloyd) fingers Roger for murder. Roger appeals to Valiant for help, proclaiming innocence, but Valiant is slow to trust a toon after the murder of his brother in Toontown.
The live action/animation composition that drives Who Framed Roger Rabbit may not be as innovative as it was in 1988, but the film still looks pretty spectacular. There's much joy in seeing classic cartoon characters like Donald Duck, Betty Boop and Dumbo in frame with the human actors, and the effects required over a year of labor-intensive post-production work by animators and Industrial Light & Magic. Goofy Roger hops and skips around Valiant, shoots skyward after drinking whiskey and commands attention as the star of his own cartoon series, where he takes abuse like a punching bag. The film is filled with colorful, decidedly adult characters, like crass, cigar-puffing Baby Herman (voiced by Lou Hirsch), a 50-year-old toon who looks like a baby and torments Roger on set. Roger's bombshell wife Jessica slinks and shimmies on stage as a lounge singer, and the busty femme fatale is no traditional Disney heroine.
The film recalls the classic noirs of the 1940s and 1950s, and is stocked with boozy detectives, backstabbing dames and gun-toting baddies. Who Framed Roger Rabbit is enjoyable noir, complete with a city in peril undercurrent, and the animation only adds to the excitement. Toontown, the setting for most of the film, is like a giant warehouse of cartoon madness. All the TNT explosions, wacky characters and unseen rivalries are crammed into a few city blocks, and the town is far from a typical Disney paradise. Despite its PG rating, Who Framed Roger Rabbit isn't necessarily a family film; there's an edge to the material that makes it appealing to adult audiences over two decades later. Rumors of naughty frames and profanity deleted - much to the chagrin of cheeky animators - abound, and Who Framed Roger Rabbit is a Saturday morning special all grown up. The film is magical, maniacal joy, a 104-minute burst of filmmaking nostalgia and Hollywood merriment.
THE BLU-RAY:
PICTURE:
Disney continues to improve the quality of its catalog offerings - as I mentioned in my review for The Insider - and Who Framed Roger Rabbit receives a solid 1.85:1/1080p/AVC-encoded transfer that is blissfully free of any artificial tinkering intended to modernize the presentation. At first glance, it's clear the film isn't some slick digital production, and there are always going to be inherent weaknesses related to the animation/live-action blending. Who Framed Roger Rabbit looks like a film, with a pleasant grain pattern and deep texture, thanks to its VistaVision roots, which bolster its old Hollywood appearance. Colors are well saturated, and Zemeckis leaves most of the color pop for Toontown. Detail is generally impressive, and a definite step up from the previous Vista Series DVD. I'm glad Disney techs didn't DNR the hell out of the image. Sure, the cartoon edges might look a little rough, but avoiding this temptation saved the overall clarity of the image. I noticed no issues with compression artifacts or banding, though there's definitely a bit of black crush in nighttime scenes. Speaking of black levels, they tend to waiver just a bit toward purple, but the overall effect isn't terrible. I suspect this Blu-ray presentation is very much in line with what the film looked like in theaters.
SOUND:
The 5.1 DTS-HD Master Audio mix is not as immersive as those of today's blockbusters, but is a nice compliment to the authentic transfer. Dialogue is clear and free of hiss and clipping, and only rarely do chaotic, competing voices become intertwined in the front channel. The surrounds are not used as heartily as viewers may like, but still provide back-up for ambient and action effects. The LFE is decently active, too, and the score is supported with rich bass and good separation. That the mix feels less crisp than today's tracks is attributable to the '80s production, and Who Framed Roger Rabbit sounds as intended. A French 5.1 Dolby Digital track and a Russian 2.0 Dolby Digital track are also included, as are English SDH, French, Spanish, Russian and Portuguese subtitles.
PACKAGING AND EXTRAS:
This two-disc, 25th Anniversary edition of Who Framed Roger Rabbit includes the Blu-ray and a DVD. (Note that at the time of this review, some copies incorrectly include a full-frame DVD. A sticker on the cover includes contract information for Disney so buyers can request a replacement for the correct widescreen DVD if desired.) The discs are housed in an Elite Blu-ray case, which is wrapped in an attractive, embossed slipcover. Viewers may be disappointed in the lack of new bonus materials, but tons of good stuff from the Vista Series DVD is ported over, and some of it even gets an HD bump. Bonus materials are as follows:
Audio Commentary - Director Robert Zemeckis is joined by producer Frank Marshall, associate producer Steve Starkey, screenwriters Jeffrey Price and Peter S. Seaman, and visual effects supervisor Ken Ralston. The filmmakers cover nearly every inch of the production, from the source material to the blending of animation and live action footage to the controversy over the film's adult content. This is an informative, lively track.
The Roger Rabbit Shorts - Three original shorts, "Tummy Trouble" (8:08/HD), "Roller Coaster Rabbit" (8:11/HD), and "Trail Mix-Up" (9:09/HD), have been restored and upgraded to high definition. These Roger Rabbit cartoons are a nice compliment to the film.
Who Made Roger Rabbit (10:55/SD) - This brief behind-the-scenes piece is hosted by Charles Fleischer, voice of Roger Rabbit, and is a lively, EPK-style featurette.
Deleted Scene: The Pig Head Sequence (5:30/SD) - Zemeckis and company explain why a scene where Valiant is trapped inside a giant pig head was deleted from the film.
Before and After (3:07/SD) - Several raw live-action shots are placed alongside their blended counterparts.
Toon Stand-Ins (3:14/SD) - This piece focuses on the rubber puppets used on set to guide the animators.
Behind the Ears (36:37/SD) - The disc's making-of documentary, this piece is a fairly thorough production diary with on-set footage, interviews, dailies and other insight into the production.
On Set! (4:50/SD) - A collection of behind-the-scenes footage with Zemeckis and his crew.
Toontown Confidential - Inexplicably listed only under the subtitles menu, this feature allows viewers to watch the film with a text-based fact and trivia track that pops up on screen.
FINAL THOUGHTS:
To celebrate its 25th Anniversary, Who Framed Roger Rabbit arrives at long last on Blu-ray. This thoroughly entertaining blend of live action and animation is an irreverent send-up of Hollywood noir and classic studio cartoons. Director Robert Zemeckis creates a witty, timeless film treasure where Bob Hoskins stars as a burnt-out detective who helps animated Roger Rabbit when the toon is penned for murder. This new Blu-ray looks and sounds great, the extensive supplements from the previous DVD are included, and several animated shorts are given an HD upgrade. DVD Talk Collector Series.
Additional screenshots: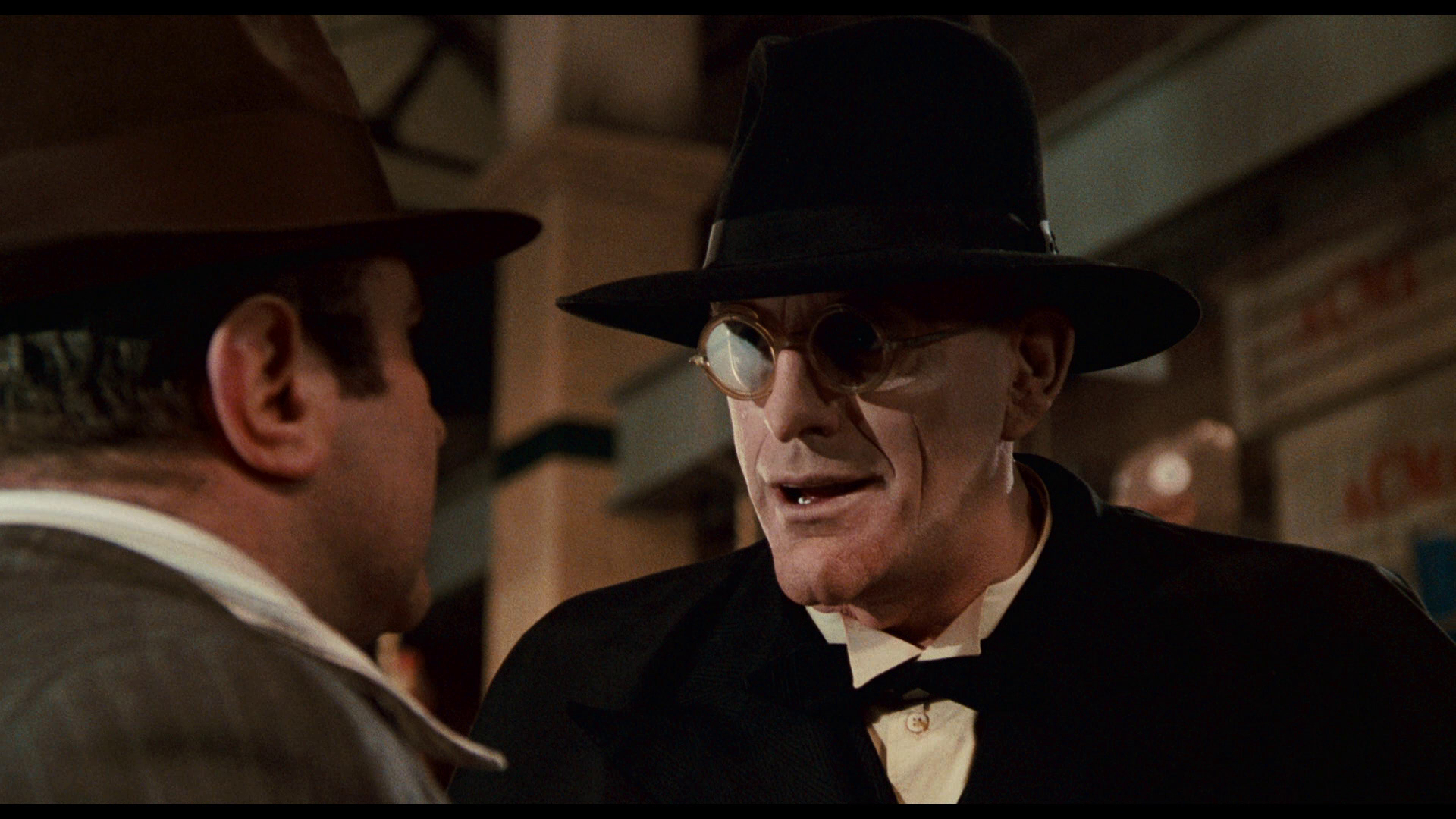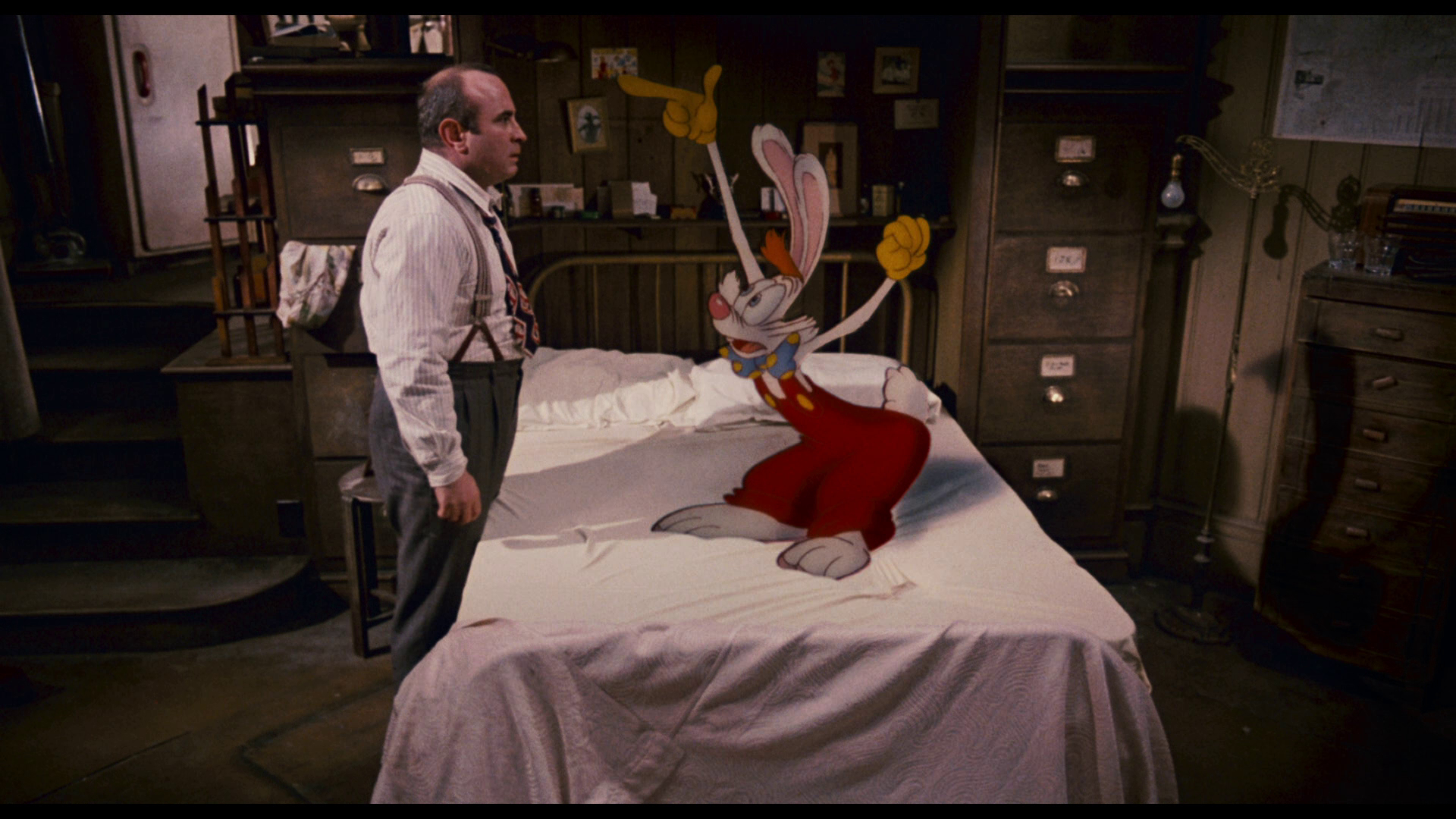 William lives in Burlington, North Carolina, and looks forward to a Friday-afternoon matinee.