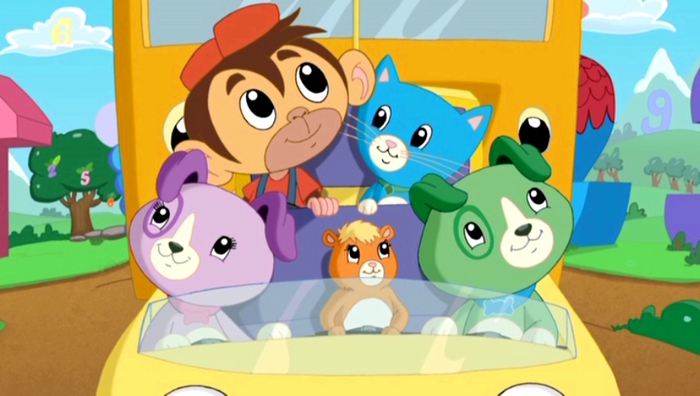 The Leapfrog brand of toys and animation is generally regarded for a certain level of quality, using its curriculum-based system to promote early math and reading skills for anyone working their way through the single-digits. Leapfrog's newer "Scout and Friends" line of DVDs follows a colorful group of talking animals as they get younger audiences ready for early childhood and kindergarten. Like all educational DVDs and books, these aren't designed to be "virtual babysitters"; though they don't necessarily require a parent or guardian present at all times, such programs are most effective when watched as a family. The Complete Scout & Friends Collection features four DVDs first released between 2011 and 2013.
---
Phonics Farm (2011) has a good heart and plenty of lessons to teach, but it's the most straightforward of the bunch. Scout and friends depart for Phonics Farm where they're greeted by 26 mystery animals (which should be in a zoo, not a farm), each represented by a matching letter and adjective, such as "bouncy bear" and "laughing lobster". Along the way, our friends also learn about vowels and sing a song or two...but at almost 40 minutes in length, it's kind of slow going for anyone older than three or four and doesn't seem to have a high amount of replay value. Even so, anyone still learning the alphabet will enjoy several of the interactive moments, since for the most part it's at least easy to follow.
Number Land (2012) ramps up the entertainment factor, thanks to a more engaging presentation style. This time around, our friends depart for Number Land to help a monkey and ten number characters get to a birthday party. They need help packing their things, setting the table, organizing the gifts and more, while a handful of more enjoyable songs help to move things along a bit. There's definitely less content, though: all that's taught is 1-10 by single digits and twos, and the addition of a couple more numbers or math-related ideas might've broadened the appeal of this one. But it's still an enjoyable lesson and a step up in style from Phonics Farm, so most anyone between two and three should have a good time.
Adventures in Shapeville Park (2013, reviewed in full here) follows Scout, Violet and the gang as they help Chomp and Chewbert ("The Beaver Brothers", seen above) build a new playground. Through colorful examples and catchy songs, toddlers will sharpen basic math skills with short lessons about shapes, size relations and measurement. Shapeville Park remains my favorite of the bunch, as it seems to strike the best balance between subtle education and a fun, entertaining ride. My daughter has seen and enjoyed this one over a dozen times and still enjoys it (and I do too), thanks to a simple program that's easy to follow and adorned with colorful artwork, catchy songs, solid animation and lively characters.
The Magnificent Museum of Opposite Words (2013, reviewed in full here), unlike the others, is pretty much a mess from start to finish. The setup feels extremely forced, the lessons are poorly designed and often confusing, and much of the vocabulary will probably go right over the heads of its target audience. The examples of opposites aren't intuitive (a loud goat and a quiet pig?) and the songs, while catchy in their own right, feel more like fluffy distractions than integral parts of the lesson. Even so, I tried to give it another chance for this review...but even a few months later, The Magnificent Museum still doesn't measure up to the others. Perhaps even more so, when viewed as an obvious weak link in the chain.
---
So, with three good-to-excellent titles and one dud, this Complete Scout & Friends Collection isn't a bad deal for those a little late to the party. The DVDs are exactly the same as the individual releases, from the menu interface to the disc artwork, so anyone who already owns most or all of these needn't bother. For everyone else who wants a cheap way to fill out a child's DVD collection, this is a pretty safe bet.
Quality Control Department
Video & Audio Quality
Presented in 1.78:1 anamorphic widescreen, Adventures in Shapeville Park looks very good overall. Colors and line detail are exceptionally crisp (though some of the reds and blues are a a little over-saturated at times), black levels are solid and only a few minor digital issues were present, including light banding and mild edge enhancement. Overall, this is a visual knockout that kids and parents will enjoy watching.
The Dolby Digital 2.0 Surround mix is crisp and well defined. Dialogue and music rarely fight for attention, while strong channel separation gives the outdoor scenes a pleasing atmosphere. Unfortunately, no read-along subtitles are included, though some of the bonus features include them. Perhaps I'm in the minority here, but all educational kids' DVDs should include such an option to make it easier to follow along.
Menu Design, Presentation & Packaging
Seen below, the colorful menus are simple and easy to follow, though little ones are prompted to let their parents help with the remote. A bunch of trailers and ads must be skipped beforehand. This four-disc set is housed in a thick keepcase, but the actual DVDs are stacked on a spindle instead of traditional hubs. It's an unwieldy and cheap design...but hey, at least we get a stupid matching slipcover with it, right?
Bonus Features
Not too much overall (and there's a lot of overlap), but at least we get something to pad out the main features. Each episode is paired with its own
Sing-Along
feature for the respective songs (with karaoke subtitles), as well as a partial
Curriculum Commentary for Parents
that details some of the lessons taught during each one. The rest of these are the same on each disc: a handful of unrelated
Additional Songs
, the short narrated read-along story
"A Surprise for Scout"
(also with subtitles) and a few
Trailers
.
Final Thoughts
When viewed as a whole, The Complete Scout and Friends Collection is a light assortment of kid-friendly shows that teach basic math, reading and comprehension skills in occasionally creative ways. Some are definitely better than others, though...and what's more, both the running times and structures seem to loosen with each episode, with the best balance of education and entertainment somewhere between Number Land and Adventures in Shapeville Park. Lionsgate's four-disc collection is a cheap way to fill out your kid-friendly DVD shelf, though the lazy packaging doesn't win any points for creativity. Still, anyone with rugrats between two and three should get plenty bang for their buck. Firmly Recommended.
---
Randy Miller III is an affable office monkey by day and film reviewer by night. He also does freelance design work, teaches art classes and runs a website or two. In his limited free time, Randy also enjoys slacking off, juggling HD DVDs and writing in third person.
---