Cheyenne: The Complete Sixth Season (Warner Archive Collection)
List Price: $47.99 [Buy now and save at Amazon]
---
Entertaining--if unexceptional--penultimate season for the hit ABC Western...with "caged animal" Clint Walker lookin' mighty bored. Warner Bros.' Archive Collection of hard-to-find library and cult titles has released Cheyenne: The Complete Sixth Season, a somewhat misleadingly-titled four-disc gathering of the 13 Clint Walker-starring Cheyenne episodes from the rotating anthology The Cheyenne Show's 1961-1962 season. With these top-line casts, crews, writers, and directors, Cheyenne: The Complete Sixth Season can't help but provide solid oater pleasures; however, a large part of Cheyenne's success rested on the ridiculously broad shoulders of its ingratiating, talented star, Clint Walker, and by this point in the Cheyenne, game, no amount of Walker's professionalism can hide the fact that he's mostly going through the motions here. No extras for these good-looking fullscreen black and white transfers (...including the absence of potential Cheyenne replacement series The Dakotas' pilot, A Man Named Ragan, that aired at the end of The Cheyenne Show's sixth season).
You don't get much more of a bare-boned set-up than Cheyenne's. 6' 6" jack-of-all-trades drifter Cheyenne Bodie (Clint Walker) travels from town to town, from job to job, encountering cowardly, venal men, and heaving, lusting women at seemingly every turn of the path. Orphaned as a boy by marauding Cheyenne Indians, Bodie was subsequently raised by the tribe, acquiring an acceptance of their ways and culture that few other White men share in the post-Civil War Old West. Working such diverse occupations as sheriff, freight hauler, cattle rancher, and U.S. Marshal, honest, kind, brave Cheyenne makes friends wherever he goes...but he never stays for long. He just keeps...drifting.
I wrote most positively about Cheyenne's second season almost three years ago...but we never saw another season here at DVDTalk until this sixth one, so let's see if you can follow the backstory on one the most contentious, complicated production histories in TV history. In 1955, ABC, the smaller, struggling network of the "Big Three" in TV, approached Warner Bros. with a deal to buy their backlog of motion pictures that hadn't yet aired on TV. Having seen the success that Walt Disney had with his promotional Disneyland program, Warner Bros. suggested creating wholly original programming (based on past WB hit movies) within a rotating anthology format, with time left over at the end of each episode to plug upcoming WB movies. Warner Bros. Presents premiered on ABC on September 13th, 1955, hosted by slumming movie star Gig Young, who introed the three revolving series as well as hosted the promo segments at the end of each episode (you've probably seen the famous one he shot with James Dean, dangling a rope, talking about highway safety on the set of Giant). The three series were Kings Row, starring Jack Kelly, Casablanca, starring Charles McGraw, and Cheyenne, network television's first hour-long Western, shepherded by future superstar television producer William T. Orr, and starring newcomer Clint Walker. Cheyenne proved far more popular than Warner Bros. Presents' other two spokes of its anthology wheel (King's Row was cancelled in January; Casablanca in April), with the Cheyenne episodes garnering Nielsen Top Twenty ratings whenever it aired every third week or so during this 1955-1956 season. Seeing the writing on the wall, Warner Bros. dropped the Warner Bros. Presents framework at the beginning of the 1956-1957 season (nobody had liked the Gig Young-hosted promos, either), expanded Cheyenne from 40 to 51 minutes to fill up that missing time, and alternated it with a new, independent anthology show, Conflict (fewer episodes of Cheyenne were produced during its run because of its hour-long length, requiring an extended production schedule of at least six days--a truly punishing schedule for Walker, who was in almost every scene, unlike future Western ratings' king Bonanza several years later, which rotated starring episodes among its four lead cast members). Conflict only lasted this second season of Cheyenne, creating yet another drag on Cheyenne's time slot's overall year-end ratings.
Enter Western Sugarfoot, starring Will Hutchins, for the 1957-1958 season. A reverse clone of Cheyenne (another Western wanderer, this time armed with law books instead of a six-shooter), Sugarfoot alternated with Cheyenne on the same Tuesday night 7:30pm time slot, and proved a sizeable, complimentary hit with Cheyenne, placing on its own at 24th in the Nielsen's, while Cheyenne's ratings exploded, landing Walker's episodes as the 13th most-watched "series" of the year--a remarkable showing for two "split" series...particularly since Cheyenne and Sugarfoot were two of the only five series struggling ABC had in the Nielsen Top Thirty. Everything then, should have been fine, right, with ABC, Warner Bros., and Walker? Wrong. Walker, who was landing some serious publicity as Hollywood's next big leading man, was chaffing at his restrictive Warner Bros. contract, an agreement that not only paid him relative peanuts per week for starring in a huge TV hit, but one which also took 50% of his public appearance money (and those early TV icons made a boatload of money showing up at county fairs and parades all over the country), and restricted him to Warner Bros. Records for his budding recording career...where again he was screwed on dough. Counting up how many millions Warner Bros. was making off him, Walker simply walked off the show at the end of the 1957-1958 season (something James Garner would also do with Warners, with his own ABC Western hit, Maverick), and that was the end of Cheyenne.
Wrong again. Warner Bros., the first major Hollywood film studio to successfully launch original programming on its rival platform, television, wasn't about to give up this sudden lucrative source of income. So, Cheyenne continued for the 1958-1959 season with a mix of repeats from Walker's first two season episodes, new Sugarfoot episodes, and new episodes of Cheyenne filmed with Texas A&M football star Ty Hardin, filling in as new wanderer, Bronco Layne. The result? The Sugarfoot episodes actually rose in the ratings, finishing off the year as the 21st most-popular "series" the year, while the Cheyenne Walker repeats and Ty Hardin "Bronco" episodes fell to a still-sizeable 18th for the year. Restricted from working anywhere else during this contract dispute, Walker took a compromise settlement from Warners (who still recognized that Walker was the main draw of the series), and returned to Cheyenne for the 1959-1960 season, in a different time slot on Mondays at 7:30, where he alternated for the first half of the year, rather incongruously, with ABC's Shirley Temple's Storybook series of filmed fairy tales (I swear Warners and ABC did that to teach Walker and all their other contract players a lesson). Meanwhile, Hardin's character was given his own series called, aptly enough, Bronco, which alternated with Sugarfoot's third season in the old Tuesday 7:30pm Cheyenne slot. Warners was right about Walker's appeal: his "rebooted" Cheyenne show rose in the ratings as the 17th most-watched series of the year, while Bronco / Sugarfoot faded out of the Nielsen Top Thirty during the "Big Three's" Western glut. Hoping to bolster Bronco and Sugarfoot, ABC and Warner's re-branded Cheyenne into The Cheyenne Show, pulling those two series in with Cheyenne to create yet another variation on Warner Bros. Presents anthology. Ratings, however, still dipped (they should have just left Cheyenne on its own on Mondays), and the series came in at 28th for the year--still impressive, and more to the point, quite profitable for ABC and Warners.
Whew! Which brings us to this 1961-1962 season of The Cheyenne Show, as it should be properly called. Warner's decided to cancel Sugarfoot for this go-around, so only Cheyenne and Bronco episodes were filmed, with repeats of both strung through to fill out the schedule (that's why unseen Hardin is credited in these episodes' opening credits). No doubt all that behind-the-scenes sturm und drang affected the Cheyenne production and its staff, and one could probably make an argument that that anxiety, seemingly perceptible or not, translated to audiences--The Cheyenne Show failed to make the Nielsen Top Thirty this next-to-last season. Certainly one can see it in Walker's performance here. By this point in the series, Walker was frequently quoted in the papers openly complaining about the show and how bored he was with the grinding routine and the sameness of the episodes (famously, he said he felt like a "caged animal, pacing in a zoo"). Regardless of the validity of his point, that kind of negative publicity had to affect viewers: who wants to welcome into their home--the number one criteria for a successful show--a star who's stated publically he doesn't want to be there? Walker's energy level in these 13 episodes is adequate...and that's it. Still smarting at Warner Bros.' treatment of him, and worked numb with the repetitiveness of the production schedule and the increasingly prosaic, familiar storylines, Walker the professional shows up for duty here, but in a manner that seems pleasantly removed from giving anything more to the series than is absolutely necessary. Put simply: he's a pro, and he does his job...but he's largely disengaged, and that puts a considerable drag on a series so dependent on its sole anchoring star.
A drag that isn't exactly helped by solid if unsurprising storylines, either. As I've written in many of my "adult" TV Western reviews, the level of dramatic storytelling, from scripting to performing to directing, was as rich and compelling on the popular Western network series like Bonanza, Rawhide, Dick Powell's Zane Grey Theater, Have Gun, Will Travel, Gunsmoke, and Wagon Train (just to name a very few), as it was on those once critically vaunted darlings of the golden age of live (and filmed) dramatic anthology television, such as The Lux Video Theater, Playhouse 90, The Kaiser Aluminum Hour, and Studio One (...some of which, if they were fortunate enough to be kinescoped, look mighty creaky today). As for Cheyenne, it was one of the first three original "adult" Westerns to debut on network television in 1955, and certainly many episodes from its second season that I reviewed, hold up with the best that genre has to offer. Unfortunately, I can't say the same for this sixth season. It's impeccably produced, as one would expect from Warners (even the lowest pap received a studio sheen back then that rivals today's more expensive efforts), and entertaining it certainly is, as well--occasionally even more than that--but overall, it's just...routine.
The opener, Winchester Quarantine, is an overly familiar mix of "cattle fever" vs. cattlemen's association story (of course it's the ticks and not the cattle), and unconvincing triangle love affair between a skeptical Bodie, hellcat Susan Cummings (fetching in her tight britches but pretty obvious in the thesping), and drunkard husband Ross Elliott (fine, as usual). Helping Elliott is a little juice from Steve Brodie as gunslinger Steve Maclay; he's always good playing a rat. Trouble Street's storyline (by Buckley Angell) of a power-hungry killer (James Coburn) taking over a little town may be just as familiar, but it's given a good jolt of energy by its fine cast and trim direction. Bodie continually slipping out of Coburn's clutches, as Coburn tries to feed his mining operation with new slaves, is suspenseful stuff (Bodie's Bible money stash is a good bit), while the cast of pros, including Tom Drake, Lee Van Cleef (just a few years away from international stardom in Italian "spaghetti Westerns"), Pat McVey, Dick Reeves, K.L. Smith, and Ken Strange, help put over this nasty, violent little whodunit--one of this season's best. Just as good is Cross Purpose, which finds Cheyenne involved in a dead military "hero's" legacy, clashing with the truth about his Indian killers. spoiler When it's discovered that Colonel DeVier was killed not by Indians torturing him, but rather from two bullets from his second-in-command, Captain Holman (Michael Forest), who was stopping the cowardly Colonel from squealing to the Indians about their unit's position, Cross Purpose gets into some sticky weeds, particularly when Bodie takes a completely non-plused view of the Indians massacring the troops. If anyone is held up for contempt, it's the weakling Colonel and his brother, Walter Brooke, for lying to create a phony "hero." The Indians' actions are accepted without moral judgment (...yet another instance of how multi-faceted the treatment of Indians was in these network Westerns, contrary to the P.C. police today who insist otherwise).
The Young Fugitives, however, is an overly familiar "coming of age" story featuring gun-loving Richard Evans spiraling down into a deadly situation his immature emotions can't control, while falling in love with Anne Whitfield--neither of which impress here, unfortunately. Much better is Day's Pay, an ethically complicated little actioner that finds Bodie upholding the letter and spirit of the law by helping murderer (?) Rudolph Acosta escape a lynching party. The opening is beautifully set up to conflict our emotions (yes, he shot the kid sheriff, Evan McCord, but as he explains it, you can see how it was, in one small way, justifiable self-defense), while the ending, though expected, is well-played (there's a moment here worthy of Sergio Leone: Acosta's harmonica is heard in the town before we see him arrive, as the townspeople look up and around in apprehension). Retaliation is a solid whodunit (with some interesting things to say about what war does to supposedly "good men"), featuring John Anderson (always fine playing rigid, murderous bastards) getting his self-inflicted comeuppance when he's exposed as a war criminal (good cast here, including Angela Austin, Kevin Brodie, Jason Evers, Richard Monahan, and one of my favorites, warbley little Percy Helton in a small role). Storm Center, though, is a forgettable exercise where Bodie plays detective for Robert Crawford, Jr., who wants to find out who his parents are, and why they abandoned him. You already know the answer.
Legacy of the Lost fills in a little more detail about Bodie's upbringing, explaining how he was spared from a stagecoach massacre by chief White Cloud (Richard Hale), and how he still regards his "father" with respect. I don't think too many viewers are going to buy the set-up of Bodie being promoted by con man/murderer William Windom as the heir to fabulously wealthy sociopath Peter Whitney, but what we're supposed to take away as the episode's message--eventually, the grudge killings between Whites and Indians must stop--goes largely unexplained, and thus unresolved, for the Bodie character. The writers would have us believe that Cheyenne feels no anger or resentment or even conflicted feelings at best, but only love and respect...for the Indian "father" who killed his real mother and father? Fine...but you have to explain that one to the audience, which they refuse to do here. The Brahma Bull is a straightforward but lackadaisical, overly-familiar outing with The F.B.I.'s William Reynolds portraying a duplicitous bounty hunter who may have been a coward during the War. The Wedding Rings offers up an interesting look at the effects of "always-in-the-right" Bodie's six-shooting--he can't be sure if he didn't kill an innocent man trying to help him--before it turns a little more predictable with Bodie's efforts to atone (...when the victim was a rat, anyway), and with Harold J. Stone over-acting as a Mexican military despot bent on controlling the village (how many despots taking over their towns do we have in this season?).
There's certainly nothing new in The Idol, either, a story about a notorious gunslinger, Jeff Morrow, losing his edge after years of duels with punks looking to score a reputation. And just to throw in one more cliche: the little boy he meets reminds him of the little boy he killed by accident in a gun-down. Still, the cast is first-rate (I always love to see stone-cold psycho Leo Gordon show up; he has a funny drunk scene with Walker), and the direction is taut and to the point. One Way Ticket finds Bodie acting as a U.S. Marshal escorting Cole Younger (Philip Carey, good as usual) to his final destination: a Denver prison. There's an enticing hint that Bodie may have rode with Cole (???) some years before, as well as an interesting romance between Cheyenne and Maureen Leeds, an emotional cripple who senses great strength in Bodie (I can't stand that kid actor, though...). Not exactly subtle (Bodie, looking at black stallion, intones, "Some wild things are meant to run free,"...and just in case we don't get it, another character spells it out for us: he was referring to himself), but well-made. Finally, The Bad Penny finishes off the set on a high note in this ingenious little murder mystery: who is sending the men of a little desert town death notes? Could it be pretty Susan Seaforth, who just happens to be in town the minute the men start dropping like flies? I won't spoil the ending, but it's an interesting one, with a cool, nightmarish flashback ending that looks like something out of early Peckinpah or Altman.
The DVD:
The Video:
Very nice. The fullscreen, 1.37:1 black and white transfers for Cheyenne: The Complete Sixth Season look quite sharp, with good gray scales, okay blacks, and mostly on-the-mark contrast. Scratches and dirt are minimal.
The Audio:
Problematic. The Dolby Digital English mono audio track was re-recorded at a level lower than I care for, with a tinny, somewhat muffled sound that wasn't the most expressive. No subtitles or closed-captions.
The Extras:
No extras for Cheyenne: The Complete Sixth Season.
Final Thoughts:
Oater on auto-pilot. It's clear that Clint Walker didn't want to be anywhere near the Warner backlot for this, the next-to-last go-around for Cheyenne--and that disengaged tone follows through many of well-produced but overly-familiar storylines. Entertaining, certainly, with a couple of episodes standing out...but no great shakes, either. Too bad. I'm recommending Cheyenne: The Complete Sixth Season for hard-core oater fans...but there's nothing here that might draw in a casual viewer attracted to more standard drama anthologies.
---
Paul Mavis is an internationally published movie and television historian, a member of the Online Film Critics Society, and the author of The Espionage Filmography.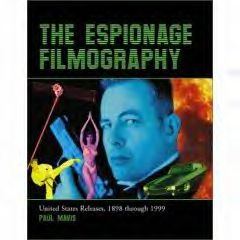 ---
C O N T E N T

---
V I D E O

---
A U D I O

---
E X T R A S

---
R E P L A Y

---
A D V I C E
Recommended
---
E - M A I L
this review to a friend
Sponsored Links
Sponsored Links