Day of the Animals (1977)
List Price: $16.95 [Buy now and save at Amazon]
---
Reviewer's note: Since this review of Day of the Animals is based on a screener check disc sent by Scorpion, DVDTalk policy is to offer no ratings or comments on the A/V quality of the transfer or the bonuses until a final street version of the title is sent for perusal--a pity since there's quite a bit to talk about in those departments.... Should a final copy arrive--which Scorpion never seems to do, alas--the review will be accordingly amended.
I'll tell you what's gone crazy with the ozone depletion: my memory of which movies rocked when I was a kid.... Scorpion Releasing has released Day of the Animals (a.k.a. Something is Out There), the 1977 drive-in actioner from Film Ventures International ("When it says, 'Film Ventures International,' it means, 'Quality!'"), directed by William Girdler, and starring Christopher George, Leslie Nielsen, Lynda Day George, Richard Jaeckel, Michael Ansara, Ruth Roman, Jon Cedar, Paul Mantee, Walter Barnes, Andrew Stevens, Susan Backlinie, Kathleen Bracken, Bobby Porter, and little Michelle Stacy. A drive-in favorite of mine back when ineptly-mounted PG-rated thrills were enough, Day of the Animals, with the exception of some expected nostalgic musings, dates pretty badly today, leaving a big hole in my fluorocarbon-saturated heart. As for that new transfer and stereo track, and those extras, well....
The Sierras of Northern California, 1977. The Carter Years (your first clue...). Fashionably-attired mountain man and nature guide-for-hire Steve Buckner (Christopher George) is all set for his next survival hike: no supplies, no food, no weapons, $300 jeans jacket, and no clue as to what he's getting into. In addition to Indian assistant Daniel Santee (Michael Ansara)--is he Bruckner's assistant?...because he acts like one--Buckner's colorful group of neophyte campers include a hodgepodge of humanity just itching to get rubbed out, 70s disaster movie-style: "what's it all mean?" TV news anchorwoman Terry Marsh (Lynda Day George); advertising executive/subhuman scum Paul Jenson (Leslie Nielsen); gentle, bespectacled Professor Taylor MacGregor (Richard Jaeckel); kvetching, divorced Beverly Hills housewife Mrs. Shirley Goodwyn (Ruth Roman) and her rock-throwing teen son John (Bobby Porter); wimpy, preoccupied lawyer Frank Young (Jon Cedar) and his, ahem...unhappy blonde wife Mandy (Susan Backlinie); young, in-love fools Bob Denning and Beth Hughes (Andrew Stevens and Kathleen Bracken); and cancer-riddled ex-NFL star Roy Moore (Paul Mantee). Local sheriff Tucker (Walter Barnes) warns Bruckner that some mighty strange accidents involving animals have been occurring lately, and that maybe Bruckner should postpone the trip. But Bruckner is confident the downhill hike--the campers are airlifted via helicopters to their departure site--will be event-free. Soon, however, the campers are stalked by a variety of woodland creatures, including hawks, buzzards, mountain lions, bears and wolves, all operating in what appears to be supernatural coordination. The group learns that, due to the ozone layer depletion, harmful ultraviolet rays--particularly at their 5,000 foot elevation and above--are causing the animals to go berserk...as well as some of the campers. Who will make it down the mountain alive?
Remembered as a fun title when I saw it as a kid at a low-rent drive-in, it's not like this Scorpion Releasing DVD of Day of the Animals was my first return visit to director William Girdler's half-assed "animals on the rampage" epic. In 2005, a birthday present of the three volume Evil Animals boxed set from Media Blasters, which included Day of the Animals, Girdler's earlier Grizzly, and the made-for-TV classic, Devil Dog: Hound from Hell, became something of an obsession with my animal-loving/weirdo kids who wanted to watch these every single Saturday night for months. They may have loved Devil Dog, but as far as I was concerned, Grizzly was the prize in that trio: a gory, crudely-made but energetic rip-off of Jaws that's still as much fun today as when I saw it at our local Jerry Lewis Twin back in the summer of '76. Director Girdler, a young self-starter who cut his teeth on successful exploitation fare like Asylum of Satan and Three on a Meathook (who wouldn't see that title?), hit it big with blaxploitation successes Abby (an Exorcist rip-off) and Pam Grier's Sheba, Baby, before scoring the mother load with Grizzly. Financed by the notorious Film Ventures International's Edward L. Montoro (Beyond the Door, The Dark, The Incubus, The House on Sorority Row) to the tune of a measly $750,000, Grizzly's insanely catchy hard-sell advertising campaign succeeded beyond all expectations, with Grizzly earning an astronomical worldwide gross of over 39 million dollars--that's 52 times its cost. Despite getting shafted over the profits, and a resulting lawsuit with FVI, Girdler stuck with Montoro for a fast follow-up, Day of the Animals. Keeping Christopher George and Richard Jaeckel, as well as the same basic plot, Day of the Animals had a bigger budget ($1.2 million)...but it also had the misfortune of opening wide on the same day another relatively low-budget, low expectation entry debuted--Star Wars. Suddenly, rocket ships and light sabers were in, and marauding German Shepherds and mountain lions were out, with Day of the Animals only pulling in a disastrously disappointing $2.8 million at the U.S. box office, during that summer of the Force.
Certainly there's a tendency to look at the overall goofiness gestalt of Day of the Animals, from its laughable sci-fi premise to its maladroit production, and not only desire to give it a pass, but actually celebrate its tackiness. After all, it's just a meat-and-potatoes exploiter from a talented-but-rough helmer that isn't trying to do anything but spook the little animal-loving kids who conned their parents into taking them to this PG-rated "thriller" (just as I did with my old man). In Day of the Animals, like one of those Disney True-Life Adventures nature documentaries run amok, director Girdler gives us lots of pretty second-unit shots of the beautiful, deadly animals silently stalking their prey in the spectacular Northern California locations...only unlike Disney, the prey is us, and Girdler holds the attack scenes just a bit longer than Roy Disney. Throwing in everything from Hitchcock's savage-yet-"family friendly" animal attacks in The Birds (bumped up just a bit for audiences already jaded by Jaws), and Frogs' phony environmental concerns, to a then-current disaster movie guest-star line-up of victims, Girdler isn't shooting for originality here, right? Just rudimentary suspense and coarse violence. So why give it a hard time?
Well...because Day of the Animals isn't so great that it's a "misunderstood" classic; nor is it close to being competent enough to be admired strictly for getting its simple job done...nor is it so utterly misconceived and feebly executed that it can actually be enjoyed as an exercise in hopeless incompetence. It's just a poor-to-middling piece of action moviemaking that can't even deliver on its modest aims. Any chance that we're not watching yet another Jaws knock-off is dashed when we hear composer Lalo Schifrin lay in a quick "dum dum dum dum da da dum dum" refrain in his opening theme. And from that point on, Day of the Animals is nothing more than a compendium of talky set-ups followed by thin, inadequate attack scenes that are as predictable in occurrence as they are rote in execution. I'm not even going to get into the movie's goofy science (I personally miss the power of a good fluorocarbon aerosol spray...), but it does bother me that so much of it is either illogical or simply unexplained here. Is it a virus released by the ultraviolet rays that is causing the animals to go nuts, or the rays themselves (the movie refuses to say)? Why is the cut-off 5,000 feet? Why does only one person--Nielsen--seem to be also affected by the virus/rays...or are they all suffering to some degree, as Christopher George vaguely suggests at one point? Lynda Day George seems fine...wait, she is fine. If the virus/rays are causing natural predators-and-prey to work together in a coordinated attack on humans...why are humans the target? Isn't it much more likely the animals would attack each other first, before moving on to humans? And why aren't all animals going berserk? If something as small as rats, or as domesticated as dogs, are attacking...why not rabbits and squirrels and kittens and chickens, too?
I usually never carp about such picky things in these kinds of movies (how can you love Godzilla like I do with anything past a 4th grade science education?), but between the stock characters and the blatant, needlessly annoying credibility gaps in the storyline, it's tough to keep telling yourself you're actually having fun with hopeless, brainless Day of the Animals. No mountaineer of George's supposed expertise would take himself, let alone a group of untrained city folk, into bear and mountain lion country without a weapon. Period. It's just not logical by any stretch of the imagination, and yet Day of the Animals's whole story is predicated on this ridiculous notion. To facilitate this kind of movie's mandatory splitting off of the group, George sends a wounded woman and her inexperienced husband off on their own to hike back up the mountain to a ranger station they've never seen before...after vicious wolves have tasted hers and their blood. What competent guide would ever do that (and while we're at it: am I ever going to get an Indian character in a movie who isn't strong, silent, otherworldly wise, yogi-like calm, and supernaturally attuned to nature? Everybody picks up on Nielsen's vile "Mad Man" here, but what's rounded and believable about Ansara?). What survival/nature hiking company, ritzy enough to chopper in its clients, can't afford bear-proof containers for its food drops...in bear country? This is the first time bears sniffed around their food drops? If martial law has been declared, and everyone has been evacuated from the town, wouldn't there be troops and/or army choppers buzzing around looking for the only known missing people on the mountain: George's group? And if someone like Sheriff Tucker is nonsensically killed in an Army truck (a fairly important scene we're not shown), 1) what's he doing in that truck? 2) where are the soldiers who belong to it, and 3) no other soldiers are looking for them?
Okay, if Girdler and screenwriters William and Eleanor Norton can't give me believable science or even logical exposition...how about some action scenes that make sense or at least kick me in the balls? Occasionally, Girdler (or his cinematographer Robert Sorrentino) comes up with an interesting frame or camera move (the best is that unsettling dolly from Tucker eating in the diner to a shot through the window of Bob the dog, sitting outside on the sidewalk, stone-still, with his muzzle grotesquely curled back from his bared fangs), but big pieces of the puzzle are missing here during the tentative action scenes. I don't care that Susan Backlinie's fall off a cliff is bad rear-projection; I care that everything before it was so poorly staged, including shots of Cedar trying to grab her hands over and over again...on an obviously flat rock while birds are thrown at them. Has there ever been a more anti-climatic rat attack than the one here? Nobody saw Willard? The sluggish, plump little buggers jump on poor Tucker, "bite" his face once or twice...before Tucker runs upstairs and tells the missus. End of scene. It's ludicrous. When Cedar is in the abandoned town, looking for a car that works, why does Cedar refuse to do what any sane person would do: steal a one-second glance into that VW Bug before opening the door and putting his hand inside (for what, by the way)? He couldn't even hear all that rattling and hissing inside the car? It would sound like a steam plant. And how the hell did the snakes get in there in the first place? And why are they hanging out in a VW (for that matter...why didn't he and the little girl from Airplane! just use the phone in that first abandoned house they knocked on, and wait for help?).
Nielsen's caveman flip-out actually seems to hold some late-term promise, with Girdler achieving a powerful-if-silly bit of momentum as Nielsen strips down shirtless and starts pushing people around (I'm pretty sure Herman Melville's "god," as Nielsen calls it, didn't espouse Nielsen's stated aims of taking what he wanted...). However, when Nielsen attacks the bear (reminiscent of Stuart Whitman and the baboons in Sands of the Kalahari), the scene just...ends, with them rolling around playfully in the mud. We don't even get the kill shot (I have written this many times before: you simply cannot have a bear attack where you don't see flesh torn and bones stomped. The Edge got that right). The final dog attack on the remaining survivors is even more amusing. First of all...why are they all German Shepherds? Forgetting that, and all the obvious hugging and rolling around the actors have to do to make us think those tail-wagging cuties are vicious (you want great dog attacks in a drive-in exploiter, try The Pack)...what happened to the two dogs on top of the raft--the ones snapping at the three survivors clinging perilously to the raft's sides? In what should be the final pay-off of Day of the Animals, this last action scene outrageously fades out--a literal fade-out, fercrissakes--denying us the most basic pleasure of an action scene: the cathartic pay-off. Instead, the scene fades back up, the survivors awake from their sleep (yup), and everything is okay...with no dogs on the raft. Absolutely shameful and inexcusable for a drive-in exploiter. Day of the Animals's science and characterizations and storyline may have been shoddy at best, but I truly wasn't asking for those elements to be top-drawer (or even competent). However, when you can't even stage a final, critical action scene without the necessary pay-off--not a "poor" pay-off, mind you, not an "inadequate" pay-off, not even a "familiar" pay-off, but no pay-off at all--then you have failed at the most basic level required of a movie like Day of the Animals. And that's really failing, pal.

The DVD:
The Video:
See note above.
The Audio:
See note above.
The Extras:
See note above.
Final Thoughts:
Deeply unsatisfying. I don't care about the stupid science, or the one-dimensional characters, or even the silly plotting and the choppy, inept direction. All I need from a movie like Day of the Animals is some gut-crunching action that delivers the goods...and jumping jesus christ I can't even get that here?! Talk about negative waves, man. A rental for sci-fi/action completists, but everyone else will take a hike on Day of the Animals.
---
Paul Mavis is an internationally published movie and television historian, a member of the Online Film Critics Society, and the author of The Espionage Filmography.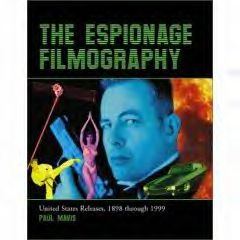 Sponsored Links
Sponsored Links