Sugarfoot: The Complete Third Season (Warner Archive Collection)
List Price: $47.99 [Buy now and save at Amazon]
---
"I guess I've been mixed up in folks' troubles long enough."
Steadyfoot. Warner Bros.' Archive Collection line of hard-to-find library and cult titles has released Sugarfoot: The Complete Third Season, a 5-disc, 20-episode collection of the successful ABC Western's penultimate 1959-1960 season. With ingratiating, increasingly adept Will Hutchinson anchoring Warner's typically smooth production values, Sugarfoot's ratio of strong-to-fair episodes is still relatively high by this third go-around...but with the producers refusing to do anything new with the character, and with some of the stories looking awfully familiar, it's not surprising the series was winding down at this point. No extras for these crisp black and white fullscreen transfers.
For newcomers to the show, quite frankly...the free-wheeling Sugarfoot has very little backstory to summarize; stand-alone "anthology" story-telling is the name of the game here. Young Tom Brewster (Will Hutchins), who grew up in the East and has come West to make his fortune, is a gentle, intelligent, thoroughly ethical young man dedicated first and foremost to "the law": pistol-work, fancy roping, showy duds and livery, the manly arts of fighting and loving--none of those skills and accoutrements of the typical TV Western hero appeal to Tom as much as peaceably righting a wrong against someone. Studying to become a lawyer through correspondence courses, Tom is a'gin killing, no matter what the circumstances, and that's why his law books are more accessible than his pistol and rifle. That diffidence to fight in this savage, hot-headed land--he'll tussle if he has to, though, boy--is also why he's garnered the nickname "Sugarfoot," a pejorative in the rowdy Old West that's even lower on the masculinity scale than the despised "Tenderfoot." Easygoing Tom, however, doesn't give a hoot about the nickname...particularly since he always comes out on top of his sticky, often-times deadly situations and confrontations.
Looking back over my January, 2014 review of Sugarfoot's second season, I went into plenty of detail over the show's complicated inception (basically as filler for Cheyenne's off-days), as well as its aesthetics (...and a particularly nasty skewering of Newton Minnow on my part, I might add), so lets ditch the context and get right to Sugarfoot's third season episodes, shall we (you can read that review here, for more detailed background on the series). The season opener, The Trial of the Canary Kid, from Catherine Kuttner, is an unfortunate rehash of the previous season's "Canary Kid" outings, with Hutchinson yet again doing double duty in an obvious switcheroo story that frankly was beaten into the ground the season before (as much as I enjoy Hutchinson playing good and evil...it's enough at this point). Unexciting cross-over cameos from Lawman's Peter Brown, Bronco's Ty Hardin (who's really bad here), and Colt .45's Wayde Preston--with Batman's Adam West repeating his Doc Holliday gig--don't help a bit, either (Don "Red" Barry's repeated "dipsy doo!" gets annoying real fast...). Much, much better is The Wild Bunch, a deliciously silly combination of The Blackboard Jungle and AIP punk Western from Dean Reisner, featuring Warner Bros.' contract heartthrobs Troy Donahue and Connie Stevens. When Sugarfoot has to take a job teaching, he doesn't count on big boy bully Troy Donahue giving him guff everyday--including several serious beatings. Ray Danton shows up at some point; Hutchinson turns to the camera and (I'm convinced) makes an in-joke about Sam Peckinpah, and Troy leaves a kid to burn to death in the school house. What else do you need? Reisner returns with the fun MacBrewster the Bold, where proud Scots Robin Hughes, Tudor Owen, and Alan Caillou (as "Wee Rabbie" MacBrewster) travel to the wild, wild West to crown Tom the wealthy heir and chief of the MacBrewster clan. Plenty of amusing lines here whenever the Old West gets a load of those kilts ("Which one of you girls is going to give me a dance?" is the clan's initial greeting in a saloon), and pretty Ruta Lee lends nice support (Hutchinson always seems to enjoy himself more in these comedic outings). Edmund Morris' The Gitanos, unfortunately, slows up the season's roll with an entirely too familiar gypsy tale where an unsuspecting Tom is nice to injured gypsy girl Suzanne Lloyd, resulting in his having to marry her (Bing Russell does well here as a nasty-minded villain).
Cripes: more "Canary Kid" shenanigans. Samuel F. Roeca's The Canary Kid, Inc. is the clumsiest of the "Kid" outings, when Tom is hired by Colt .45's Wayde Preston to go undercover in a prison to see how the Kid is busting out prisoners (pennies are pinched on the split screen shots by instead having a double as Tom swathed in bandages). Look for George Kennedy still anonymously toiling away in yet another one of his one-day TV bit parts. Lowell Barrington's Outlaw Island has an enjoyably mysterious Robert Louis Stevenson-like sweep to its story about Gerald Mohr's "The Baron" presiding like an emperor over an island caught between the U.S.' and Mexico's legal jurisdiction. Mohr is just right in this kind of role--smooth and commanding and morally corrupted--while Hutchinson has a fine time playing the spoiler (watch his little bit of expertly delivered ad libs when he's swapping clothes with Jon Lormer). The season continues to tick up with the entertaining Apollo with a Gun, from Warren Douglas (with direction from future big-deal Robert Altman, no less), where Tom becomes involved in a controversial stage production featuring real-life historical figures Miss Adah Isaacs Menken, Sam Brown, and Benecia Boy Heenan. Hutchinson's good-natured terror at man-hungry Mari Blanchard is quite amusing (beautiful, sexy Blanchard is quite funny, too), while his slapstick skills are put to good use in his unwanted stage debut. It's always dangerous to try and find auteur whiffs in early TV work of big-screen directors (particularly when one goes back and forth on the auteur theory as I do), but Apollo with a Gun does seem to have its isolated moments of unexpected Altmanesque whimsy (the wonderfully ironic scene showing the horse taking a prone Miss Blanchard to heaven could have come right out of Buffalo Bill and the Indians). Edmund Morris' The Gaucho shows Hutchinson to good advantage as he tracks down the story behind the death of a swindling rancher (Carlos Rivas is solid as the gaucho). Journey to Provision, again from Morris, is a nice Bad Day at Black Rock take-off that finds Tom in a small town that has a secret to hide (there's a remarkably creepy shot from director James V. Kern, showing Mort Mills, dead, hanging off a balcony, his blank eyes staring down into the camera--I'll bet that shook up the kiddies watching).
Director Robert Altman is back for Warren Douglas' The Highbinder, an action-filled outing that finds Tom the defender of an old Asian man who may not be on the up-and-up concerning a rival tong's efforts to kill him. Hutchinson is noticeably more assertive in this one--at one point he uses a sharp ink pen on a prejudiced hotel clerk's hand to get across a point of tolerance--while the action scenes are spot-on, including a nasty, prolonged pointed brass knuckle fight (look quick for Victor Buono as a bartender). Wolf-Pack, from William M. Stuart, has an old-fashioned "Northern" adventure feel to it (like a very cool, very violent Sergeant Preston of the Yukon outing), where a pack of killer wolves are knocking off trail hands left and right...with Tom in the middle, trying to solve the mystery (you can guess early-on how the crimes are being committed, but it's still fun). Nico Minardos has a good time as a stone mason friar/amateur boxer in Dean Reisner's Fernando, a Barbary Coast outing that finds Minardos boxing to save a local orphanage. An amusing twist with his boxing technique--Tom has to call out page numbers from an instruction manual for Minardos to win--and some interesting expressionistic camera set-ups from director Bruce Humberstone (I wasn't sure about the stock footage fights here--possibly from WB's Gentleman Jim, with Errol Flynn?). Warren Douglas' Blackwater Swamp has a catchy set-up: Tom is called in by old friend Robert Colbert (another WB contract player, soon to wind up on Maverick) to help stop a railroad from going through a sacred Indian burial ground. The twin highlights of this solid outing are the turns by Bewitched's Kasey Rogers, as a disloyal slut, and particularly WB contract player James Coburn, just a few years from his leading man days, delivering up yet another convincingly nasty, violent performance as a murderous schemer (no wonder he became a star--he jumps off the screen). Historical figures from the Old West return in scripter Warren Douglas' Return to Boot Hill, where lawman Henry Plummer (the marvelous Alan Hewitt), along with Tom, tries to figure out if Gary Vinson actually robbed his own father's stagecoach. Old pro Hanley Stafford is a stand-out as a drunk, humiliated judge who, with Tom's help, finally finds redemption, while future p.o.a. (you know what it means...) Diane McBain has a small but well-turned part.
Scripter Warren Douglas delivers up a violent, funny outing in Vinegarroon, a series' best, where Tom meets up with none other than Judge Roy Bean (Frank Ferguson, perfectly cast)...and finds him to be a willful, capricious, murdering psychopath. A particularly violent outing (someone gets shot point blank and falls to the ground...before the judge fines him $500 "for being dead in the street,"), Vinegarroon walks that careful line between ironic comedy and dark drama (several times Tom is almost snuffed out, while the Judges' yes-men act like dangerous children), and comes up with a suitably larger-than-life "tall tale" feeling that's right on the mark. Unfortunately, the ambitious The Corsican, from Ric Herelman, doesn't come off with its ultimately unbelievable storyline about an immigrant Corsican leading a band of renegade Sioux, despite a finely-wrought performance by Mala Powers as an abused daughter (Harry Shannon is suitably wretched as her uncaring father). Blue Bonnet Stray, from Warren Douglas, has Hutchinson saddled with a baby as he tries to find out what happened to its mother when she stepped off a train and mysteriously disappeared. Wynn Pearce is dynamic as "The Utah Kid;" too bad they didn't make him a series semi-regular. Scripter Buddy Angell (is that for real?) tries hard with the Biblical-influenced The Long Dry, where old coot Francis J. McDonald thinks the Flood is coming and wishes to kidnap Tom and Jennifer West for his Ark--but it gets bogged down in too many red herrings and false climaxes. The well-done but awfully familiar Funeral at Forty Mile, from Dick Nelson, finds Tom in another "town with a deadly secret," where five leading citizens are getting spooked about a past lynching (this is the kind of episode that leads you to think that Sugarfoot, at this point, is fast running out of original ideas). Familiar, too, is the season's finale, The Captive Locomotive, where new county tax clerk Tom Brewster finds himself in the middle (where else?) of a land owners' dispute over a local railroad's right-of-way. This is one of those episodes partly credited to the not-so-mysterious "W. Hernanos," Spanish for "Warner Bros.," and used as a phony credit by the studio to get around a writers' strike, a gimmick which Maverick's James Garner helped uncover in his lawsuit against Warner Bros. What past movie or television show The Captive Locomotive is taken from I couldn't remember...but there's certainly nothing new going on here, despite Hutchinson's typically winning performance whenever he's in one of these lighter-veined outings (lots of fun veterans in this one, like Horace McMahon, Jeanne Cooper, and I. Stanford Jolley...but Rex Reason is as stiff as always).
Ratings for ABC's Sugarfoot, which had been more than respectable (21st most watched show in the Nielsen's) for the 1958-1959 season when it was teamed on a rotating basis with the Clint Walker-less Cheyenne (starring at that time Ty Hardin as Bronco Layne), tumbled when WB and ABC alternated it with Hardin's own Bronco, now on Tuesday nights (when Walker finally came back to Cheyenne after a bitter contract dispute, Warner Bros. rewarded heartthrob Hardin with his own rotating series). Sugarfoot / Bronco still didn't have any competition from CBS (The Dennis O'Keefe Show didn't register a blip at 8:00pm), but NBC's new Western, Laramie, starring John Smith and Robert Fuller, beginning a three year run at the Tuesday 7:30pm timeslot, proved sufficiently popular enough to eat into Sugarfoot / Bronco's ratings, dropping them both out of the coveted Nielsen Top Thirty (Cheyenne, now on Mondays and with man-mountain Walker back at the helm, did just fine as the 17th most-watched program of the year). A move back under Cheyenne's anthology umbrella the following year wasn't enough, however, to stem Sugarfoot's ratings' bleed.

The Video:
As with the second season, the fullscreen, 1.37:1 black and white transfers for Sugarfoot: The Complete Third Season look quite good: sharp image, reasonable blacks, good gray scale, nice contrast, and few imperfections like scratches or dirt.
The Audio:
The Dolby Digital English mono audio track is fairly clean, too, with a decent re-recording level. No subtitles or closed-captions available.
The Extras:
No extras.
Final Thoughts:
The production is still big screen-worthy smooth, the supporting players well-cast, and Will Hutchinson still ingratiating as hell as Tom "Sugarfoot" Brewster. However...there's no getting around the fact that episodes are starting to look awfully familiar, not only from previous seasons, but from countless other big-screen B oaters and other TV horse operas. Still, for lovers of the genre, these are (for the most part...) first-rate TV Westerns; I'm highly recommending Sugarfoot: The Complete Third Season.
---
Paul Mavis is an internationally published movie and television historian, a member of the Online Film Critics Society, and the author of The Espionage Filmography.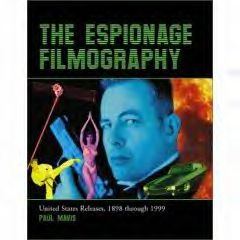 ---
C O N T E N T

---
V I D E O

---
A U D I O

---
E X T R A S

---
R E P L A Y

---
A D V I C E
Highly Recommended
---
E - M A I L
this review to a friend
Sponsored Links
Sponsored Links