Spongebob Squarepants - Season 5, Vol. 2
List Price: $26.98 [Buy now and save at Amazon]
---
Nickelodeon has released the latest SpongeBob SquarePants offering on DVD - SpongeBob SquarePants: Season 5, Volume 2 - a two-disc, twenty-one-episode collection from the funniest cartoon on television today...maybe. I've written numerous times already about SpongeBob SquarePants (please click on SpongeBob SquarePants: Season 4, Vol. 1, SpongeBob SquarePants: Season 4, Vol 2, SpongeBob SquarePants: Friend or Foe, SpongeBob SquarePants: Season 5, Vol. 1, SpongeBob SquarePants: Pest of the West, and SpongeBob SquarePants: WhoBob WhatPants? for more info on the series), so I won't go into detail again about the background of the series and its place in pop culture today. But to be honest, lately I've been a little disappointed in the show (the last SpongeBob disc release, SpongeBob SquarePants: WhoBob WhatPants? left me cold). Later episodes are hit and miss now (something that started to happen during this fifth season), and while some do fail to impress here in SpongeBob SquarePants: Season 5, Volume 2 (in comparison to older shorts which routinely hit it out of the park), enough work to make the release, on the whole, successful.
SpongeBob SquarePants doesn't seem like a show that would wear all that well. After all, it's relentlessly cheery (something that goes against the grain of most youth-oriented entertainment offerings today that seem to thrive on grim irony and deadpan apathy); it's juvenile in the extreme (SpongeBob often acts like a four-year-old - a very annoying, dim-witted four-year-old, I might add), and the stories often retrace the same ground, episode after episode (SpongeBob loves his job; Squidward wants some peace and quiet; Plankton wants the secret Krabby Patty formula; Mr. Krabs wants more money; and Patrick...well, who the hell knows what goes on in Patrick's head). Why does it keep working, time and time again? Why is there an anticipation factor every time that insanely catchy theme song pops up?
Perhaps it does succeed because it's a combination of the exceedingly familiar (after all, The Honeymooners was basically the same show, week after week, and it's arguably still the greatest sitcom in the history of television) with the endlessly inventive writers and directors - and most importantly voice talents - in charge of delivering the goods. As funny as the stories are, and in this collection, there are some real gems, I can't stress enough the importance of those voice talents in conveying the unhinged, manic quality that is so integral to the success of SpongeBob SquarePants.
Without Bill Fagerbakke as the seriously stupid sidekick Patrick, Rodger Bumpass as the almost-suicidally depressed Squidward, Clancy Brown as the boisterous, money-grubbing Eugene Krabs, Mr. Lawrence as the deliciously evil, stentorously-voiced Plankton, and most importantly, Tom Kenny as the insanely happy SpongeBob, I suspect that SpongeBob SquarePants, no matter how well integrated and executed, wouldn't be near the success it is today. There's a serious expression of total commitment on the part of the voice talents here, a willingness to take every line and deliver it with maximum energy, that frequently makes the show hilarious even when the line delivered isn't particularly funny in itself. My only worry is, considering the increasingly hit-and-miss nature of these later shows, that perhaps, perhaps the very premise itself of SpongeBob SquarePants is playing out.
Here are the 21 episodes of the SpongeBob SquarePants: Season 5, Volume 2 box set, as described on their slimcases, along with my comments in red:

DISC ONE


Atlantis SpongePantis
An ancient medallion helps SpongeBob and pals get to Atlantis, home to The World's Oldest Living Bubble. When Patrick accidentally pops the bubble, everyone's on the run from the Atlantean Guards.
It's always great to see Patchy head up these longer, special SpongeBob shorts, with this particular appearance by the snotty, hot-headed pirate (stuck in an Encino, CA traffic jam, his Frampton Comes Alive eight-track tape ruined) quite funny. As for Atlantis SpongePantis itself, it's creaky, sneaky political subtext (weapons and war are bad) is fairly obvious, and the various songs laborious, but the nano-sized video game exploits are pretty funny.

Picture Day
It's Boating School Picture Day. Can SpongeBob make it to school without getting dirty?
An admirably fast-paced SpongeBob, with a clean, simple premise (always best with these), and some quick, funny gags. I particularly liked the name of SpongeBob's yearbook ("Cautious Memories"), and of course, the photographer's trick teeth, guaranteed to make any kid smile: Pearlie.

A Flea in Her Dome
SpongeBob and Patrick try to help Sand rid her Treedome of fleas.
Some funny gross-out effects (the flea behind Sandy's eyeball), as well as some just plain gross scenes (the flea giving birth creeped out my kids), but at least this SpongeBob moves.

Mermaidman vs. SpongeBob
Plankton's brainwashed Mermaidman and Barnacleboy and ordered them to wreak havoc on the Krusty Krab!
More gross-out shots (the close-up anatomy studies of our superheroes), while some of the gags come across nicely (I like the anonymous customer who shouts, "Susie, no!" as he slaps the Krabby Patty out of her hand when he hears they're "evil").

Le Big Switch
SpongeBob switches places with a snooty French chef from a high-end restaurant.
Lots of big laughs in this one, including the French chef who spits after kissing each of our gang, as well as Mr. Krabs slopping his customers like hogs, complete with discreet squealing in the background.

The Donut of Shame
When Patrick takes SpongeBob's donut, the guilt starts to get the best of him.
A pretty cute SpongeBob, with Patrick getting a rare starring role, while some inserts of SpongeBob business (his slo-mo walking towards Patrick's house; Patrick imagining SpongeBob having to go to the bathroom), are quite funny.
Blackjack
SpongeBob's parents are missing and all clues point to cousin Blackjack, the family bully.
A good "SpongeBob is terrified" short, with some clever gags (Blackjack's prison-style threatening letters, made from cut-up newspapers and magazines, calling SpongeBob disparaging names like, "Little man-boy," are pretty funny). It fades at the end, but not bad.
Blackened Sponge
SpongeBob gives himself a black eye getting the cap off the toothpaste! Embarrassed, he makes up a tale about being in a nasty fight.
An extremely funny premise, and one very familiar to a lot of us from our school days. I love it when SpongeBob is trying to act brave and tough, telling everyone he made Jack Crazyfish cry and then he drank his tears for good measure - hilarious.
Pest of the West
While researching his family tree, SpongeBob discovers he was related to Western hero SpongeBuck. Flashback to SpongeBuck arriving in Bikini Gulch around 1882 and going head-to-head against dastardly Dead-Eye Plankton
Pest of the West is a real treat for fans of westerns and spaghetti westerns, because the writers play off time-honored genre clichés so well. Listen carefully during the final showdown between SpongeBuck and Dead-Eye Plankton and you'll hear the music cues from Sergio Leone's Once Upon a Time in the West, complete with Ennio Morricone's harmonica riff used for the Charles Bronson character. Naturally, other western conventions get spoofed, as well. Tough-guy SpongeBuck orders milk at the saloon ("Give me a shot...of milk. Two-percent!"), Patrick gets to play saloon gal with a song about Dead-Eye, and SpongeBob gets to go crazy in the desert heat. There's a great throw-away gag that only serious fans of westerns might get; a young boy asks his "Pa" a question, only to have the guy say, "I'm not your Pa!" - a beautiful twist on audience expectations. Plankton reaches insane levels of hilarity here, brandishing a whip like Lash LaRue and cracking it at the "hayseeds" that get in his way. It's a terrific vocal performance by Doug Lawrence (made even more funny during the town's ritualized squashing of villain Dead-Eye, as he screams grotesquely off-camera). The best line may be SpongeBob's, as he ponders a bird-fouled statue: "I'll bet you're somebody's famous poop-covered ancestor."
The Krusty Plate
Out, out darn spot! SpongeBob refuses to leave work until he gets a stubborn spot off one of the dishes.
SpongeBob obsessed with his job always equals a good laugh, and here, his use of the Spot Master 6000, complete with particle beam, water cannon, and special alloy steel wool makes for a great gag (there's a masterful, frenzied build-up to SpongeBob, going for maximum power, setting off a nuclear holocaust, with a perfect edit to an archival shot of a nuke mushroom cloud).
Pat No Pay
When Patrick eats his weight in Krabby Patties without paying, Mr. Krabs puts him to work.
A funny variation on the standard "SpongeBob screwing up at his job" works well here with Patrick. Uber-cheapskate Mr. Krabs' "Non-Paying Customer Alert", complete with clanging alarms and slamming steel plates over the windows, is a highlight. Patrick's ability to blow even the simplest task is par for the course.
DISC TWO

The Inmates of Summer
SpongeBob mistakenly boards a boat hauling inmates to prison. But being SpongeBob, he can have a good time anywhere, with anyone!
Rapidly becoming one of my favorite SpongeBob episodes, this side-splitting spoof of prison films benefits enormously from Full Metal Jacket's and Mail Call's R. Lee Emery's fantastically enraged voice work. An almost perfect comedic setup for a SpongeBob short, The Inmates of Summer expertly builds on one laugh after another (Patrick and SpongeBob, in "the Hole" covered in chum, is a classic, with Patrick thinking they were in a hot tub). Emery tops it when, running out of insults, his warden character just stands there, breathing insanely. And nobody but SpongeBob would put on a Gilbert and Sullivan take-off for the prison play.
To Save a Squirrel
Sandy tricks SpongeBob and Patrick into attending survival-training camp, where the creed is "eat or be eaten."
Sandy is probably my least favorite SpongeBob character, but she isn't around much here in this very funny romp. The highlight of the short is obviously when Patrick and SpongeBob, complete with Robinson Crusoe beards, turn first hermit, and then cannibal, as paranoia and dementia twist their heads as they try to eat each other. Of course, there's no explanation on how they're starving, if they have bread and ketchup to use as sandwich-makers for each other - other than the fact that they're both morons.
20,000 Patties Under the Sea
SpongeBob and Patrick discover an old submarine, and Mr. Krabs talks them into using it to take the Krusty Krab on the road!
This snappy parody of submarine films benefits from some very funny lines; Plankton's disdainful rejoinder to an uninterested customer - "I'm Plankton, you old hag! And your son smells like boogers!" may be the funniest SpongeBob line ever. I also like how Plankton's sub is shaped like a giant, threatening fist.
The Battle of Bikini Bottom
It's well-groomed SpongeBob versus never-washes Patrick. In this battle, will SpongeBob clean up or will Patrick resort to dirty tricks?
A fast-moving, funny SpongeBob, with a memorable opening ("Best Friends" T-shirts, with accompanying arrows, drive Patrick and SpongeBob insane when they can't match them up) and an equally memorable SpongeBob line: "Patrick's digging for gold!"
What Ever Happened to SpongeBob?
SpongeBob leaves Bikini Bottom, gets amnesia and finds himself Mayor of New Kelp City! When Sandy, Patrick, Mr. Krabs and Squidward finally find him, will SpongeBob return to his old life with these "strangers" or remain in the city where he's a hero?
The first sign I noticed that the SpongeBob franchise might be leveling off and possibly declining. A thoroughly ordinary entry to head up its own DVD release, this short has loads of promise but fails to deliver even the most basic SpongeBob lunacy. The Bubble Poppin' Boys gimmick is never explored, nor for that matter, is the "SpongeBob has amnesia" subplot, which would seem ripe with possibilities. A distinct let-down.
Goo Goo Gas
In his latest attempt to steal the Krabby Patty secret formula, Plankton turns everyone inside the Krusty Krab into babies.
The SpongeBob gang as babies (seriously; when is somebody going to float that idea as a spin-off series?) is a pretty good gimmick, and they do look cute this way. The gags are okay, too, but nothing special. (Plankton, as usual, walks away with the show).
The Two Faces of Squidward
When Squidward breaks his face, his resulting look is so handsome he becomes all the rage in Bikini Bottom!
Some nice "pain as comedy" jokes, including the hilarious, repeated slamming of the door on poor Squidward's handsome face. A solid entry for this second half of the season, but it still doesn't achieve lift-off.
SpongeHenge
The strong winds whipping through SpongeBob's pores are creating beautiful music. Everyone knows music attracts jellyfish, and this time is no exception.
Another later SpongeBob where the premise seems foolproof, but the execution seems somewhat tired. SpongeBob's hermit hairdo is a hoot, but there's not a lot to hang on this skimpy episode.
Banned in Bikini Bottom
The United Organization of Fish Against Things Fun and Delicious has banned Krabby Patties!
Another SpongeBob where someone on the creative team is trying to slip in little "messages" for the tots watching. Here's a note to that creative team member: we don't watch SpongeBob for messages. Not particularly amusing or clever.
Stanley S. SquarePants
Cousin Stanley comes to live with SpongeBob and find his purpose in life. But it's tough to find when practically everything you touch goes up in smoke. Literally.
Some good gags as Stanley destroys everything he touches, but the story is basically tired and formulaic, with the viewer way ahead of the on-screen action - which wasn't always the case with early SpongeBobs, where you weren't sure what was going to happen next.
The DVD:
The Video:
Despite some minor interlacing, the full-screen, 1.33:1 transfers for SpongeBob SquarePants: Season 5, Volume 2 look terrific: saturated, bright colors and a razor sharp image.
The Audio:
The Dolby Digital stereo mix for SpongeBob SquarePants: Season 5, Volume 2 is quite strong - and it needs to be with all those great/horrible songs. Subtitles and close-captioning is available.
The Extras:
For this second volume of shorts from Season Five, karaoke songs are provided (and a welcome relief from those animatics of previous seasons). Disc one has Bubble Song, Good-Bye Atlantis, and Dead Eye, while disc two has Together, and If I Could Talk. All these songs can be viewed with the characters singing the lyrics, or with music only, so you can solo at home. Both versions including subtitles, so you won't forget the lyrics (as if you could). A nice bonus for little kids, who love singing anything.
Final Thoughts:
SpongeBob may, and I repeat, "may," be starting to level off (if some of the later entries in this second volume are any indication of that potential trend), but enough funny shorts remain in this disc set to recommend the SpongeBob SquarePants: Season 5, Volume 2 collection.
---
Paul Mavis is an internationally published film and television historian, a member of the Online Film Critics Society, and the author of The Espionage Filmography.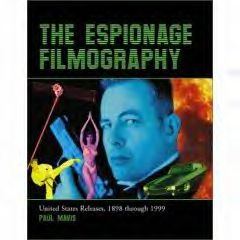 ---
C O N T E N T

---
V I D E O

---
A U D I O

---
E X T R A S

---
R E P L A Y

---
A D V I C E
Recommended
---
E - M A I L
this review to a friend
Sponsored Links
Sponsored Links