SpongeBob SquarePants: To SquarePants or Not to SquarePants
List Price: $16.99 [Buy now and save at Amazon]
---
Another SpongeBob DVD where the new headliner isn't as funny as the subsequent cartoons gathered on the disc. Luckily, the other included shorts are hilarious, with several achieving "classic" status (The Splinter is flat-out brilliant comedy). Nickelodeon has released To SquarePants or Not to SquarePants, a collection of eight shorts anchored by the same-titled toon that will premier tonight as the kick-off for Nick's 50-hour SpongeBob SquarePants toon marathon, in honor of the 10th anniversary of the series' debut. Buying this disc will again depend on whether or not you have the patience to wait for these specific toons to show up on your TV, but as SpongeBob collections go, To SquarePants or Not to SquarePants does have some heavyweight laugh-getters in its lineup.
I've written several reviews for various SpongeBob SquarePants DVDs, so I won't go into any more extensive detail on the background of the show, its aesthetics, or its place in current pop culture (you can click on SpongeBob SquarePants: Season 4, Vol. 1, SpongeBob SquarePants: Season 4, Vol 2, SpongeBob SquarePants: Friend or Foe, SpongeBob SquarePants: Season 5, Vol. 1, SpongeBob SquarePants: Pest of the West, SpongeBob SquarePants: WhoBob WhatPants?, SpongeBob SquarePants: Season 5, Vol. 2, and here for a review of SpongeBob SquarePants - Spongicus). I've noted in my last few reviews that the quality of newer SpongeBobs has been largely hit and miss - a feeling that was initially confirmed when I saw the promising but somehow lacking To SquarePants or Not to SquarePants. Thankfully, the rest of the Sixth Season offerings on this disc are terrifically funny, a heartening sign that may signal an artistic rebound for this venerable toon.
Dealing with the anchor cartoon first, To SquarePants or Not to SquarePants's simple set-up would seem to offer countless opportunities for the animators and writers to find laughs tweaking the SpongeBob character. On laundry day, SpongeBob is distracted by Patrick's phone call (he wants SpongeBob to listen to how long he can make a silly noise), so he lets Gary load his entire supply of squarepants into the dryer. Much, much later, of course, SpongeBob discovers all of his pants have shrunk, and with no new shipment of squarepants expected for months at the local mall, SpongeBob is forced to change his look - ultimately deciding on a pair of roundpants. The toon moves from laughs at the way SpongeBob's body looks in the roundpants, to no one recognizing him because of his changed look, to his re-applying for a job at The Krusty Krab, where Squidward certainly knows him, and where he teaches SpongeBob all the right ways to be a terrible employee. The short doesn't really take off until this final section, where we get a funny montage of SpongeBob being a bad employee (SpongeBob whipping bags of garbage out at dumpster, missing it on purpose, is very funny), but how this relates to SpongeBob changing his pants is sketchy, at best. There's quite a bit of buildup at the beginning of the toon, indicating how cataclysmic it will be for SpongeBob to change his pants (newsreel clips of hurricanes, that bending, twisting bridge we've all seen, and a screaming woman), but then...the writers don't really do anything with this premise. To SquarePants or Not to SquarePants becomes a "SpongeBob on the job" short, and the laughs come from SpongeBob acting like a bad employee - not specifically from gags derived from changing his pants. There are laughs in To SquarePants or Not to SquarePants (SpongeBob heartily agreeing to, "Oh yeah! Lots of fel-o-nies!" when filling out his job application is classic), but they don't come from the toon's supposed premise - one that should have yielded a steady stream of sight gags.
Squid's Visit is in-line with other SpongeBob shorts where SpongeBob's obsessive actions cause someone - usually Squidward - to cross over into mental collapse. Bound and determined to get Squidward to come over and visit, SpongeBob recreates Squidward's house, down to the smallest, most OCD detail, totally freaking out Squidward who wants nothing more than to get as far away from SpongeBob and his obsessions as possible (there's a very funny moment where Squidward's mind finally snaps, and he goes "inward," regressing to a point where he imagines having tea with his vacuum cleaner). There's a slightly creepy tone to Squid's Visit (the jump cuts to close-ups of Squidward's head as he hears SpongeBob's insane giggling repeated over and over again; SpongeBob panting weirdly on the phone, waiting for Squidward to talk), that reminded me of the toon when it was both funny and very strange.
After seeing pretty much all of the SpongeBob shorts with my kids (and on my own, I confess), I must say that The Splinter is one of the more brilliant examples of the series, a sadistic pain-fest that reminded me very much of the beloved Ren & Stimpy offerings. SpongeBob, ready as always for work at The Krusty Krab, gets his spatula stuck in the ceiling, and after pulling it out, he almost plunges to his death on a floor covered with up-pointing swords (a gag worthy of the classic Looney Tunes). Saved by his spatula, SpongeBob then proceeds to trip - in hilarious slow-motion - with the camera cutting in closer and closer to his thumb as it scrapes the floor, until we're treated to a hysterically funny/sick shot of a huge wooden splinter puncturing his thumb. That shot right there made me hit the floor, but The Splinter then goes on to top itself, over and over again, with progressively sicker and sicker sightgags (I particularly liked the one where SpongeBob rips off his own face when trying to yank the splinter out with his teeth). What's brilliant about The Splinter is the simple, primal nature of the gag: what kid and parent doesn't remember the terror of looking down and seeing some foreign object actually sticking out of their skin, causing so much pain from such a small object? Just the word "splinter" conjures up for viewers childhood memories of parents trying unsuccessfully to dig them out of one's hands, so SpongeBob's futile efforts to deal with this railroad spike-sized splinter are increasingly hilarious - and grotesque - as his thumb becomes more and more infected, ultimately resulting in a shower of green pus all over Mr. Krabs. This is SpongeBob at its most inventive: a simple pain gag taken to almost surrealistic, increasingly hilarious levels, and all firmly rooted in the viewers' shared childhood memories.
On almost the opposite tact (and yet equally funny), Slide Whistle Stooges is a delightfully simple celebration of childishness itself. SpongeBob and Patrick, newly outfitted with slide whistles, decide to accompany every one of Squidward's movements with a whistle, which of course eventually drives Squidward insane. Building on the gag, the short then has Squidward joining in on the fun, and of course taking it too far, until the townspeople, armed with torches as in a Frankenstein movie, come looking for him to avenge their annoyance with his mean-spirited whistling. Slide Whistle Stooges's main gag is just the sheer joy of watching SpongeBob and Patrick float around the frame to the accompanying slide whistles. We all love the slide whistle in cartoons (it's so obvious and yet perfectly "right" for a cartoon character's fall or rubbery movements), and I suspect the writers of Slide Whistle Stooges wanted to celebrate that basic love of that staple of cartoon comedy. If all Slide Whistle Stooges did was show SpongeBob and Patrick whistling at Squidward ("It's a way of life," SpongeBob says), it would more than succeed, but of course, in SpongeBob's world, someone has to pay for all that joy, and that's Squidward in this case, who falls off a cliff driving a gasoline truck (brilliant) - of course accompanied by the classic downward slide whistle - to a resulting mushroom cloud and the cheers of the people. A beautifully simple SpongeBob cartoon that deftly twists at the end.
Boating Buddies is a fast moving, very funny outing (again with Squidward, who gets a lot of laughs in this particular DVD collection) where SpongeBob gets to pal around with Squidward, who's sent back to Mrs. Puff's Boating School when he's ticketed for speeding...when he was trying to get away from SpongeBob (I don't know what's funnier: the image of gravel embedded in SpongeBob's face from Squidward's squealing tires, or the "Stop" sign embedded in the cop's head). The sequences in the boating school give the writers and animators a chance to show SpongeBob at his most obsessive and strange, with SpongeBob stage-whispering to Squidward, "Sit here. Heeeeeeerrrrrrrrrreeeeeee!" almost as funny as the truly weird (and hilarious) shots of SpongeBob panting and shuddering as he hangs on every word of his new best boating buddy, Squidward (even my older son lost it on that one). If these scenes weren't funny enough, the writers top themselves with SpongeBob's wild boat ride as he smashed through a costume shop (Mrs. Puff is then decked out like Friday the 13th's Jason) and a secret lab where scientists are trying to shrink a mailman (they spray water in his face, like a cat, when he tries to eat a potato chip with the shrunken SpongeBob on it). Another winner in this collection.
The Krabby Kronicle has a couple of inventive gags as SpongeBob takes on the role of junior reporter for Mr. Krabs' newspaper, The Krabby Kronicle. I liked the bit where SpongeBob witnesses a bank robbery, thugs destroying a boat, and a huge, disgusting, wailing creature crawling out of the sewer, all in the turn of his head, to which he promptly reports that there's nothing of interest here. SpongeBob's stories are quite funny ("Local Resident Watches Pole," "Plankton's Chum Made From Your Chums," "Bushy-Tailed Brainiac Really A Slow-Witted Squirrel"), but the toon doesn't know how to end itself. The Slumber Party is much more successful, parodying not only indulgent parents who let their greedy, demanding, sociopathic monster children get away with murder (Mr. Krabs and his irritating daughter, Pearl), but also grade-B monster flicks when SpongeBob, engorged on root beer from Mr. Krabs' root beer cellar, bursts through the floor of Mr. Krabs' home and terrifies Pearl's guest, grotesquely babbling, "Does anyone want to dance?" as they flee in terror. Parody of another sort in Grooming Gary - obsessive pet owners who indulge their own pets to sickening levels - is taken to typically SpongeBob extremes as SpongeBob takes Gary to the Bikini Bottom Pet Show. SpongeBob, worried that his "parenting" skills aren't up to snuff compared to the pampered pets on parade (the hilariously grotesque insert of Gary's rotting teeth is another Ren & Stimpy moment), proceeds to dress up Gary, who finally rebels and incites a riot at the show, meowing to his fellow pets to throw off their shackles of indulgence and get back to being companions to their owners (there's a great bit where the fervor of Gary's speech causes the "Bikini Bottom Pet Show" banner to burst into flames, turning into a demonic "Pet Riot"). A funny turn for Gary in this toon, and another sign that SpongeBob might very well be on an artistic upswing in his tenth year on TV.
The DVD:

The Video:
As usual with these SpongeBob SquarePants DVD, the full screen, 1.33:1 video transfer for To SquarePants or Not to SquarePants looks terrific, with incredibly bright colors and a super-sharp picture. There were no big compression issues to speak of (although interlacing is noticeable from time to time). Edge enhancement is acceptable.
The Audio:
The Dolby Digital English 2.0 stereo audio track is perfectly acceptable here, with appropriately loud levels and some discreet directionality. All dialogue is cleanly and crisply rendered. Close-captions are available.
The Extras:
Apparently, the animatics that one would routinely find on these SpongeBob SquarePants DVDs are gone for good. As with the previous SpongeBob SquarePants - Spongicus, a couple of galleries for To SquarePants or Not to SquarePants storyboards, as well as some character art, are included. Not exactly thrilling extras.
Final Thoughts:
The self-titled To SquarePants or Not to SquarePants short isn't up to the standards of the other toons included on this collection, and that's a shame, because the other seven shorts are some of the best SpongeBobs I've seen since the beginning of the series. The Splinter ranks right up there with Karate Island as one of the very best SpongeBobs, while Slide Whistle Stooges, Boating Buddies, and The Slumber Party are the equal of any SpongeBob season's best offerings. Even though the title short is lacking, I'm highly recommending To SquarePants or Not to SquarePants.
---
Paul Mavis is an internationally published film and television historian, a member of the Online Film Critics Society, and the author of The Espionage Filmography.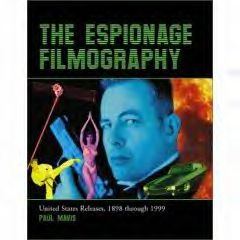 ---
C O N T E N T

---
V I D E O

---
A U D I O

---
E X T R A S

---
R E P L A Y

---
A D V I C E
Highly Recommended
---
E - M A I L
this review to a friend
Sponsored Links
Sponsored Links