SpongeBob SquarePants: Season 6, Volume 1
List Price: $26.98 [Buy now and save at Amazon]
---
Nickelodeon and Paramount will release SpongeBob SquarePants - Season 6, Volume 1, a two-disc, 24-episode collection of SpongeBob shorts, including the hour-long, widescreen TV special, Truth or Square, that was commissioned for the toon's 10th anniversary. Having already reviewed the two stand-alone disc releases that included most of the toons found in this first volume (Spongicus and To SquarePants or Not to SquarePants), I'll port over some of my thoughts from those two reviews, along with new material on the first-half Season Six toons that weren't included on those releases. As to the quality of these SpongeBob shorts, I'll stick with my earlier assessment that Season Six started off wobbly, but rebounded quite nicely with some of the funniest SpongeBob cartoons in recent memory. Let's look at the toons included in this set.

In my previous reviews of SpongeBob SquarePants DVDs, I've been aware of a noticeable drop-off in the series' quality since at least Season Five (after this many reviews, I won't go into extensive detail on the background of the show, or its place in current pop culture; you can click on SpongeBob SquarePants: Season 4, Vol. 1, SpongeBob SquarePants: Season 4, Vol 2, SpongeBob SquarePants: Friend or Foe, SpongeBob SquarePants: Season 5, Vol. 1, SpongeBob SquarePants: Pest of the West, SpongeBob SquarePants: WhoBob WhatPants?, SpongeBob SquarePants: Season 5, Vol. 2, and here for a review of SpongeBob SquarePants - Spongicus). And some of the toons offered up at the beginning of Season Six seemed to confirm that general downward drift for the venerable Nick series. In the season opener, Spongicus, Plankton erects a replica of the Coliseum in order to draw jaded, loyal customers away from Mr. Krabs' Krusty Krab restaurant with the promise of blood and guts - a funny notion that is pretty well dropped because this is, after all, a kids' cartoon, and because the writers don't have much to say about the central premise. Evidently, we're just supposed to assume it's funny that the customers want to see some killing, without the script or the action actually commenting ironically on this theme. What's particularly disappointing about Spongicus is the fact that the writers do almost nothing in terms of parodying the epic film genre, either. With all the well-known clichés associated with the gladiator and sand-and-sandals genre, there should be enough material for twenty SpongeBob shorts (Pest of the West was much better at getting to the heart of parodying spaghetti westerns). But after the build-up of the Coliseum event, with Plankton presiding over the expected spectacle like Nero...nothing happens. The characters look funny in their traditional Roman garb; there's the promise of the "sea-lion" ripping Patrick apart (the notion of dimbulb Patrick being the unwitting gladiator is good), but eventually, it all just falls flat, with a paucity of action that's especially disappointing when compared to earlier SpongeBobs. The ending sums it up all too well. The gang returns to the Krusty Krab; they laugh uproariously (for no reason); they realize there's nothing really to laugh about; they stare off somberly for a moment, and then they file out dejected. It's supposed to be cutely ironic, but it's actually quite correct: Spongicus ain't funny.

Krabby Road is even worse in setting up the audience for something special, only to pull the rug out from under them by nonsensically denying them what they want. In the short, Plankton (fresh out of prison for trying to steal the "Krabby Patty" formula), tries again to secure the prized secret formula by tricking SpongeBob, Patrick and Squidward into joining his rock band, "Plankton and the Patty Stealers." Okay, fair enough - an amusing premise, and SpongeBob does look hilarious in his glam rock platform shoes and his Jimi Hendricks fro. But anyone reading that synopsis above - anyone who's a SpongeBob fan, I should write - is going to expect one thing, and one thing only from Krabby Road: and that's a song. If you're going to set up the guys in a rock band, you had better deliver a song, or at the very least, show them playing something. But no; Krabby Road perversely brings the viewer to the very end of the short, just waiting for the band to finally rock out, before the short goes to fade out. Even my little kids, who aren't exactly discerning critics, didn't understand the cheat (my four-year-old said, quite seriously, "How come no song?"). Why anyone involved with this toon would think it's okay to structure the short with the main expectation of having the group sing, and then not delivering, is anybody's guess, but that decision results in a criminally unsatisfying SpongeBob.

Both Nautical Nonsense and House Fancy are take-it-or-leave-it SpongeBobs, with isolated moments of fun among the dross. Nautical Nonsense doesn't have a lot going for it other than the final action scene where SpongeBob navigates an old wrecked ship that's been used as a boating museum. The idea of SpongeBob cramming for his boating license exam by reading an encyclopedia-sized book on the subject is funnier-sounding that it actually plays, although SpongeBob is always amusing when he sounds like a little know-it-all wiseass. House Fancy seems interminable during much of its running time, as the House Fancy TV show parody of all those cable "home reality" shows grinds on in pointless tedium with nary a laugh to be had. Luckily, a few hilarious moments help end it on a good note. The very creepy shot of SpongeBob spying on Squidward through his window (we learn SpongeBob has been doing it for days) is quite unsettling (and sickly funny), while the close-up of SpongeBob ripping off Squidward's toenail in bloody detail is reminiscent of the best early SpongeBobs (and Ren and Stimpy, for that matter). But while Patrick fouling Squidward's toilet is amusing, the toon goes too far into silly ridiculousness when the toilet comes alive and begs to be killed after enduring Patrick's "offense."

On better notes, Penny Foolish and Suction Cup Symphony have some good, sustained bits. SpongeBob's spider-like brain runs away from him in Penny Foolish, before he pops it back into his spongehead, and there's one of those great line-readings from an outraged "supporting" fish that the great SpongeBob toons always have (he yells, "Yeah, I don't even know what this IS!"), while Mr. Krabs has one of his series' best lines, describing his daily fiber: "It goes in like steel wool, but it comes out like an angel from heaven." Suction Cup Symphony has some very funny gross-out moments, including SpongeBob making "courtesy" noises to cover Squidward's supposed flatulence; Patrick being "probed" by SpongeBob ("Whoa!", says Patrick off-screen), and certainly one of the better visual gags: Patrick "breaking" his bottom, with two large femurs grotesquely sticking out of it.

Gone takes a good premise - SpongeBob alone in Bikini Bottom - and has some fun with the visuals as SpongeBob takes on the appearances of all his friends, as he "recreates" their lives out of loneliness. His smashing his boat through every wall of anyplace he goes is amusing, as is his eventual paranoia that his boat is out to get him (this is the kind of skewed thinking that made the original SpongeBobs so much fun). And finally, Not Normal is a very funny satire of all those 1950s industrial/school training films, where SpongeBob longs to be "normal." I absolutely love his middle-of-the-road, non-committal voice (it sounds suspiciously like Barney the Dinosaur), and his maddeningly standard greeting, "Hi, how are you?" The animators have rounded off SpongeBob to look like some kind of shiny ice cream bar, evening out his features beautifully in service of the toon's central theme. It's a one of the better SpongeBobs I've seen in quite some time.

SpongeBob SquarePants vs. The Big One is a fairly ambitious long-form SpongeBob, but aside from some isolated moments, it seems to squander what should have been a memorable outing. A trip to the beach (because Mr. Krabs didn't pay the electricity bill and it's too hot at The Krusty Krab) leads to the some surf-boarding for the gang until a storm and resulting big wave separates them, stranding them at sea and on an island. Some funny gags in "The Devil's Galley" and a good inside joke having The Endless Summer's Bruce Brown do a little bit of narrating, can't hide the fact that not much goes on in the toon. Johnny Depp's voice work for Jack Kahuna Laguna is less impressive than the animator's work (JKL looks a gnarly Jesus newly arisen from Muscle Beach), but a paucity of gags and not much of a central point lets SpongeBob SquarePants vs. The Big One drift out to sea. A Life in the Day and Sun Bleached are much more successful beach-themed shorts. In A Life in the Day, Patrick takes extreme sports/life advocate Larry the Lobster's advice too literally, engaging in increasingly dangerous stunts in an effort to "live each day as if it's his last" (a natural as a toon set-up), with SpongeBob eventually getting the calling, as well (some big-scale pain gags work well here). In Sun Bleached, SpongeBob relies on Patrick to time him under their high-powered sun lamps, and naturally, two hours later, emerges looking like a 90-year old sponge while unknowingly attaining that highest tanning accolade: the off-the-chart ranking as "sun bleached." Again, some terrific visual gags give the toon a boost (the sight of SpongeBob's thong is worth the whole show, while the guy whose eyeballs melt, and who then falls flat over dead at the sight of blindingly bleached SpongeBob, isn't too bad, either). The last three offerings on Disc 1 - Giant Squidward, No Nose Knows and Patty Caper - are mild but amusing entries that use familiar set-ups to good advantage (Patrick and SpongeBob disgustedly exclaiming, "He inked!" when Squidward lets one loose in , is probably the highlight among these funny but unremarkable offerings).

On Disc 2, Plankton's Regular joins the ranks with the better episodes featuring Mr. Krabs' arch enemy. Despondent that he has no customers, Plankton rejoices in his first "regular" who can't seem to get enough of Plankton's "Chum Sticks." Fearful of what might happen should the unexpected customer actually eat one of the sticks (Plankton cowers in fear and immediately exclaims, "Oh, please don't sue me!" when the guy first bites it), Plankton eventually gains his confidence back...but not before Mr. Krabs begins to resemble his own enemy, when he looks to steal Plankton's formula. Some terrific sight gags (SpongeBob's face getting skinned off by Plankton's door is great, but Plankton's "regular" suffering dry heaves after eating Mr. Krabs' chum, is...priceless) makes this a memorable entry. To SquarePants or Not to SquarePants's simple set-up would seem to offer countless opportunities for the animators and writers to find laughs tweaking the SpongeBob character. On laundry day, SpongeBob is distracted by Patrick's phone call (he wants SpongeBob to listen to how long he can make a silly noise), so he lets Gary load his entire supply of squarepants into the dryer. Much, much later, of course, SpongeBob discovers all of his pants have shrunk, and with no new shipment of squarepants expected for months at the local mall, SpongeBob is forced to change his look - ultimately deciding on a pair of roundpants. The toon moves from laughs at the way SpongeBob's body looks in the roundpants, to no one recognizing him because of his changed look, to his re-applying for a job at The Krusty Krab, where Squidward certainly knows him, and where he teaches SpongeBob all the right ways to be a terrible employee. The short doesn't really take off until this final section, where we get a funny montage of SpongeBob being a bad employee (SpongeBob whipping bags of garbage out at dumpster, missing it on purpose, is very funny), but how this relates to SpongeBob changing his pants is sketchy, at best. There's quite a bit of buildup at the beginning of the toon, indicating how cataclysmic it will be for SpongeBob to change his pants (newsreel clips of hurricanes, that bending, twisting bridge we've all seen, and a screaming woman), but then...the writers don't really do anything with this premise. To SquarePants or Not to SquarePants becomes a "SpongeBob on the job" short, and the laughs come from SpongeBob acting like a bad employee - not specifically from gags derived from changing his pants. There are laughs in To SquarePants or Not to SquarePants (SpongeBob heartily agreeing to, "Oh yeah! Lots of fel-o-nies!" when filling out his job application is a classic), but they don't come from the toon's supposed premise - one that should have yielded a steady stream of sight gags.

Squid's Visit is in-line with other SpongeBob shorts where SpongeBob's obsessive actions cause someone - usually Squidward - to cross over into mental collapse. Bound and determined to get Squidward to come over and visit, SpongeBob recreates Squidward's house, down to the smallest, most OCD detail, totally freaking out Squidward who wants nothing more than to get as far away from SpongeBob and his obsessions as possible (there's a very funny moment where Squidward's mind finally snaps, and he goes "inward," regressing to a point where he imagines having tea with his vacuum cleaner). There's a slightly creepy tone to Squid's Visit (the jump cuts to close-ups of Squidward's head as he hears SpongeBob's insane giggling repeated over and over again; SpongeBob panting weirdly on the phone, waiting for Squidward to talk), that reminded me of the toon when it was both funny and very strange.

After seeing pretty much all of the SpongeBob shorts with my kids (and on my own, I confess), I must say that The Splinter is one of the more brilliant examples of the series, a sadistic pain-fest that reminded me very much of the beloved Ren & Stimpy offerings. SpongeBob, ready as always for work at The Krusty Krab, gets his spatula stuck in the ceiling, and after pulling it out, he almost plunges to his death on a floor covered with up-pointing swords (a gag worthy of the classic Looney Tunes). Saved by his spatula, SpongeBob then proceeds to trip - in hilarious slow-motion - with the camera cutting in closer and closer to his thumb as it scrapes the floor, until we're treated to a hysterically funny/sick shot of a huge wooden splinter puncturing his thumb. That shot right there made me hit the floor, but The Splinter then goes on to top itself, over and over again, with progressively sicker and sicker sight gags (I particularly liked the one where SpongeBob rips off his own face when trying to yank the splinter out with his teeth). What's brilliant about The Splinter is the simple, primal nature of the gag: what kid and parent doesn't remember the terror of looking down and seeing some foreign object actually sticking out of their skin, causing so much pain from such a small object? Just the word "splinter" conjures up for viewers childhood memories of parents trying unsuccessfully to dig them out of one's hands, so SpongeBob's futile efforts to deal with this railroad spike-sized splinter are increasingly hilarious - and grotesque - as his thumb becomes more and more infected, ultimately resulting in a shower of green pus all over Mr. Krabs. This is SpongeBob at its most inventive: a simple pain gag taken to almost surrealistic, increasingly hilarious levels, and all firmly rooted in the viewers' shared childhood memories.

On almost the opposite tact (and yet equally funny), Slide Whistle Stooges is a delightfully simple celebration of childishness itself. SpongeBob and Patrick, newly outfitted with slide whistles, decide to accompany every one of Squidward's movements with a whistle, which eventually drives Squidward insane. Building on the gag, the short then has Squidward joining in on the fun, and of course taking it too far, until the townspeople, armed with torches as in a Frankenstein movie, come looking for him to avenge their annoyance with his mean-spirited whistling. Slide Whistle Stooges's main gag is just the sheer joy of watching SpongeBob and Patrick float around the frame to the accompanying slide whistles. We all love the slide whistle in cartoons (the sound is so obvious and yet perfectly "right" for a cartoon character's fall or rubbery movements), and I suspect the writers of Slide Whistle Stooges wanted to celebrate that basic love of that staple of cartoon comedy. If all Slide Whistle Stooges did was show SpongeBob and Patrick whistling at Squidward ("It's a way of life," SpongeBob says), it would more than succeed, but of course, in SpongeBob's world, someone has to pay for all that joy, and that's Squidward in this case, who falls off a cliff driving a gasoline truck (brilliant) - of course accompanied by the classic downward slide whistle - to a resulting mushroom cloud and the cheers of the people. A beautifully simple SpongeBob cartoon that deftly twists at the end.

Boating Buddies is a fast moving, very funny outing (again with Squidward, who gets a lot of laughs in this particular DVD collection) where SpongeBob gets to pal around with Squidward, who's sent back to Mrs. Puff's Boating School when he's ticketed for speeding...when he was trying to get away from SpongeBob (I don't know what's funnier: the image of gravel embedded in SpongeBob's face from Squidward's squealing tires, or the "Stop" sign embedded in the cop's head). The sequences in the boating school give the writers and animators a chance to show SpongeBob at his most obsessive and strange, with SpongeBob stage-whispering to Squidward, "Sit here. Heeeeeeerrrrrrrrrreeeeeee!" almost as funny as the truly weird (and hilarious) shots of SpongeBob panting and shuddering as he hangs on every word of his new best boating buddy, Squidward (even my older son lost it on that one). If these scenes weren't funny enough, the writers top themselves with SpongeBob's wild boat ride as he smashed through a costume shop (Mrs. Puff is then decked out like Friday the 13th's Jason) and a secret lab where scientists are trying to shrink a mailman (they spray water in his face, like a cat, when he tries to eat a potato chip with the shrunken SpongeBob on it). Another winner in this collection.

The Krabby Kronicle has a couple of inventive gags as SpongeBob takes on the role of junior reporter for Mr. Krabs' newspaper, The Krabby Kronicle. I liked the bit where SpongeBob witnesses a bank robbery, thugs destroying a boat, and a huge, disgusting, wailing creature crawling out of the sewer, all in the turn of his head, to which he promptly reports that there's nothing of interest here. SpongeBob's stories are quite funny ("Local Resident Watches Pole," "Plankton's Chum Made From Your Chums," "Bushy-Tailed Brainiac Really A Slow-Witted Squirrel"), but the toon doesn't know how to end itself. The Slumber Party is much more successful, parodying not only indulgent parents who let their greedy, demanding, sociopathic monster children get away with murder (Mr. Krabs and his irritating daughter, Pearl), but also grade-B monster flicks when SpongeBob, engorged on root beer from Mr. Krabs' root beer cellar, bursts through the floor of Mr. Krabs' home and terrifies Pearl's guest, grotesquely babbling, "Does anyone want to dance?" as they flee in terror. Parody of another sort in Grooming Gary - obsessive pet owners who indulge their own pets to sickening levels - is taken to typically SpongeBob extremes as SpongeBob takes Gary to the Bikini Bottom Pet Show. SpongeBob, worried that his "parenting" skills aren't up to snuff compared to the pampered pets on parade (the hilariously grotesque insert of Gary's rotting teeth is another Ren & Stimpy moment), proceeds to dress up Gary, who finally rebels and incites a riot at the show, meowing to his fellow pets to throw off their shackles of indulgence and get back to being companions to their owners (there's a great bit where the fervor of Gary's speech causes the "Bikini Bottom Pet Show" banner to burst into flames, turning into a demonic "Pet Riot").

Finally, the much-anticipated anniversary special, Truth or Square, is included as the last selection on this Sixth Season, Volume One set. Split into two subplots, the animated portions of Truth or Square detail SpongeBob's efforts to help Mr. Krabs celebrate the "Eleventy Seventh" year of The Krusty Krab. Remembering back to all the special moments SpongeBob had at the Krab, SpongeBob decorates the joint as only he can (with pink toilet paper and ketchup and mustard), all the while unaware that Plankton plans on using the confusion of the ceremony to steal the Krabby Patty formula. Disaster strikes, though, when SpongeBob and the gang become locked in the cold storage room, and have to make their way through the labyrinth of tunnels that lie below The Krusty Krab (I smell a video game set-up). The live-action portion of the show, starring Doug Kenny (the voice of SpongeBob) as Patchy the Pirate, centers around his efforts to finally meet his idol: SpongeBob. Showing up at the Nickelodeon Studios in Burbank, Patchy is shuffled off to the Casting Office, where, since no one is around, he starts flipping through an available Rolodex, calling up celebrities and inviting them to his chintzy SpongeBob TV special. He manages to snag a few in the basement Green Room, but eventually, once it becomes clear that SpongeBob is going to be a no-show, Patchy sets out to find him once again.

Truth or Square is a strange mix of some truly memorable animated SpongeBob moments interrupted unfortunately by the largely unfunny Patchy the Pirate segments. I've written before that I've always enjoyed Patchy, but unfortunately, the "spot the celebrity" nature of his bits here, along with a scarcity of funny lines (not nearly enough of his parrot, oddly), makes his appearance here a bit of an annoyance, particularly when the animated SpongeBob segments are so strong. Only one of the "celebrities" actually made me laugh (naturally, Triumph, the Insult Comic Dog), while the rest offered little reason for being there...although a hearty "amen" was in order when Patchy incredulously asks, "Who?" when genetically unfunny Tina Fey i.d.s herself (Robin Williams allows himself to be embarrassed even more when he states to the camera, "This is where careers come to die!" Exactly, Robin). Luckily, the toon itself is great, with priceless looks at SpongeBob as a fetus (complete with umbilical cord) enjoying his first Krabby Patty; SpongeBob choosing from an array of snap-on faces in his medicine cabinet; Patrick the security guard aggressively knocking out Squidward's teeth; a beautifully-designed vintage black-and-white TV commercial parody with Mr. Krabs enthusiastically telling the viewing audience to "get yourself a case of Krabby Patties," and a very funny, very sweet take-off on old black-and-white cartoons, with SpongeBob and everyone else bouncing on their legs for no reason. All of those amusing moments in Truth or Square, along with the Charlie Brown Christmas ending, make one forget the patchy Patchy segments.

Here are the 24 cartoons included in the two-disc set, SpongeBob SquarePants - Season 6, Volume 1, as described on their slimcases:

DISC ONE

Spongicus
Plankton turns the Chum Bucket into a realistic replica of the Coliseum, complete with a man-eating lionfish!

Suction Cup Symphony
Squidward's inspiration for his musical entry in the Bikini Bottom Symphony Orchestra competition...SpongeBob and Patrick!

House Fancy
Jealous that Squilliam's on House Fancy, Squidward lures the show producers to his fancier house. Desperate to make his home presentable, Squidward lets SpongeBob help.

Krabby Road
Plankton forms a band that includes SpongeBob, hoping SpongeBob will write a song revealing the Krabby Patty ingredients.

Penny Foolish
Mr. Krabs thinks he sees SpongeBob pick up a penny from the ground. A penny that should be HIS!

Nautical Novice
Before a class trip to the Nautical Museum, SpongeBob memorizes the entire history of boating. Isn't that reason enough for Mrs. Puff to give him his license?

Not Normal
SpongeBob becomes "normal." And boy, is it boring!

Gone
It's the strangest thing: SpongeBob awakens to find everyone in Bikini Bottom is gone!

SpongeBob SquarePants vs. The Big One
Swept out to sea by a giant wave, SpongeBob and pals must learn to surf, or be stranded on a remote island forever!

A Life in a Day
SpongeBob and Patrick add adventure to their dull lives by "livin' like Larry." And boy does it hurt!

Sun Bleached
SpongeBob and Patrick can't attend the biggest party on Goo Lagoon because they aren't tan...yet.

Giant Squidward
Squidward's Kelp Grow garden spray makes everything it touches HUGE!

No Nose Knows
Patrick returns from the surgeon with a nose and experiences the smell of stink.

Patty Caper
SpongeBob and Patrick are on the case when the Krabby Patty secret ingredient goes missing!

DISC TWO

Plankton's Regular
Plankton has his first regular customer, but Mr. Krabs wants him at the Krusty Krab!

To SquarePants or Not to SquarePants
Can it be? SpongeBob's shrunk his last pair of square pants, only to find no store has any others! And without his square pants, will anyone recognize him?

Squid's Visit
Squidward says he wouldn't leave the comfort of his home to visit SpongeBob. So SpongeBob redecorates the pineapple to look just like Squiddy's place!

The Splinter
When SpongeBob gets a stubborn splinter, Squidward threatens him with being...sent home!

Slide Whistle Stooges
Patrick and SpongeBob use their new slide whistles to add sound effects to Squidward's every move!

Boating Buddies
To regain his impeccable driving record, Squidward has to attend boating school...with SpongeBob!

The Krabby Kronicle
Mr. Krabs creates a tabloid with SpongeBob as ace reporter. While SpongeBob wants to write the truth, Mr. Krabs wants "wild and juicy" - true or not!

The Slumber Party
Pearl asks Mr. Krabs to leave the house so he doesn't ruin her party. To keep an eye on things, Mr. Krabs sends SpongeBob to crash the bash!

Grooming Gary
SpongeBob gives Gary a makeover to compete in a pet show, and Gary can't stand the primping. As it turns out, neither can any of the competition!

Truth or Square
On the Krusty Krab's Eleventy Seventh anniversary, the entire crew finds themselves locked in the restaurant's freezer! It's going to be a really cold trip down memory lane. Featuring hilarious never-before-seen flashbacks!

The DVD:


The Video:
As usual with these SpongeBob SquarePants DVD, the full screen, 1.33:1 video transfers for SpongeBob SquarePants - Season 6, Volume 1 look terrific, with incredibly bright colors and a super-sharp picture. There were no big compression issues to speak of (although interlacing is noticeable from time to time). Edge enhancement is acceptable. One big exception, though - and it's a noticeable, avoidable mistake. Truth or Square, the first SpongeBob short to be presented in 1.78:1 widescreen...features a non-anamorphic transfer here. Kids won't care, but adults will see how noticeably softer the image is, and how the colors tend to wash out a bit. Bad form there.

The Audio:
The Dolby Digital English 2.0 stereo audio track is perfectly acceptable here, with appropriately loud levels and some discreet directionality. All dialogue is cleanly and crisply rendered. Close-captions are available.

The Extras:
The SpongeBob History Song is included here, running 3:21, while seven shorts - Separation Anxiety, Surfing Dreams, SpongeBoard, Balloons, Juiceman, Traffic, and The Outfit are included. Total running time is 5:01 (and that includes a "Watch SpongeBob every day!" Nick bumper tag on each short - annoying).

Final Thoughts:
The shaky start to the season, but the laughs definitely pick up on the second disc of SpongeBob SquarePants - Season 6, Volume 1 set. The Splinter ranks right up there with Karate Island as one of the very best SpongeBobs, while Slide Whistle Stooges, Boating Buddies, and The Slumber Party are the equal of any SpongeBob season's best offerings. Unfortunately, the excellent animated sequences of anniversary special Truth or Square aren't matched by its unexpectedly unfunny Patchy the Pirate segments. Still, there are more than enough laughs here for even the most die-hard SpongeBob, making SpongeBob SquarePants - Season 6, Volume 1 a natch for this Christmas season. I highly recommend SpongeBob SquarePants - Season 6, Volume 1.
---
Paul Mavis is an internationally published film and television historian, a member of the Online Film Critics Society, and the author of The Espionage Filmography.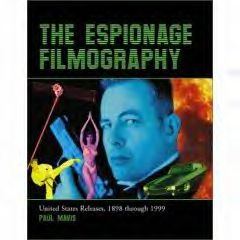 ---
C O N T E N T

---
V I D E O

---
A U D I O

---
E X T R A S

---
R E P L A Y

---
A D V I C E
Highly Recommended
---
E - M A I L
this review to a friend
Sponsored Links
Sponsored Links