SpongeBob SquarePants: Spongebob's Last Stand
List Price: $16.99 [Buy now and save at Amazon]
---
An absolutely solid SpongeBob SquarePants offering, for a change. SpongeBob SquarePants: SpongeBob's Last Stand gives us the last six Season Six shorts, along with the title toon which has yet to air on television (and luckily, it's quite funny). Titles include SpongeBob's Last Stand, Pet or Pests, Komputer Overload, Gullible Pants, Overbooked, No Hat for Pat, and Toy Store of Doom. A purchase will of course depend on whether or not you already have the sixth season on disc, but SpongeBob SquarePants: SpongeBob's Last Stand might make a nice addition to someone's Easter basket this year.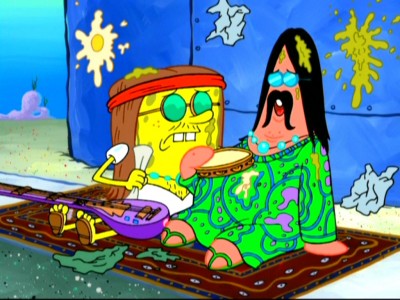 I've written extensively about SpongeBob SquarePants in previous reviews, so I won't go into a lot of background on the series and its place in pop culture (you can click on SpongeBob SquarePants: Season 4, Vol. 1, SpongeBob SquarePants: Season 4, Vol 2, SpongeBob SquarePants: Friend or Foe, SpongeBob SquarePants: Season 5, Vol. 1, SpongeBob SquarePants: Pest of the West, SpongeBob SquarePants: WhoBob WhatPants?, SpongeBob SquarePants: Season 5, Vol. 2, SpongeBob SquarePants - Spongicus, SpongeBob SquarePants: To SquarePants or Not to SquarePants, SpongeBob SquarePants: Season 6, Vol. 1, SpongeBob SquarePants: Truth or Square, and SpongeBob SquarePants: Viking-Sized Adventures for those reviews). A reoccurring theme in my last few reviews has been the feeling that if SpongeBob hasn't outright been slipping in quality since Season Five, it's at least been wildly inconsistent, perhaps due to the increased number of episodes being produced (Season Six had 39 episodes alone, as opposed to Season Seven's planned 20). So a "hit or miss" feeling has definitely creeped into these stand-alone SpongeBob discs, because you never know what you're going to get. Luckily, this last clearing-out of Season Six is quite strong, while the unaired SpongeBob's Last Stand, doesn't disappoint, either. Spoilers' warning: Since SpongeBob's Last Stand hasn't aired, if you're a die-hard SpongeBob fan who likes to go into the new toons clean, just skip over this next section. Marketing considerations, obviously, are the main reasons these SpongeBob stand-alone discs headline unaired toons slapped onto collections of previously released titles. Sometimes it works (Pest of the West), and sometimes not (Spongicus or WhoBob WhatPants).
SpongeBob's Last Stand fits into the former category, with a nicely worked-out story and strong, integrated gags. SpongeBob and Patrick, anxiously awaiting the opening of Jellyfish Fields, burst into song, celebrating the delights of jellyfishing until they come across a posted sign: "Future site of Shelly Superhighway." Aghast at the thought of losing Jellyfish Fields to urban development, SpongeBob and Patrick set out to gather old friends to help fight the project, but they're met with either apathy or chagrined approval of the new interstate - including Mr. Krabs, who thinks it will be good for business at The Krusty Krab. Despite their best efforts (which includes becoming hippies), SpongeBob and Patrick can't stop the development - a devastating turn of events for Mr. Krabs (the highway goes over his restaurant), and for Bikini Bottom (it turns into a slum), but good news for Plankton (the highway ends right at The Chum Bucket. With a definite beginning, middle, and end (which you don't always get in a SpongeBob short), SpongeBob's Last Stand's story keeps your interest while the gags provide the laughs. SpongeBob's jellyfish song, complete with the jellyfish offering funny hand-clap accompaniment, is memorable (there's a reggae break, with SpongeBob and Patrick as Rastafarians), while the one liners are solid, too (when SpongeBob says he feels moved to sing, Patrick, holding his stomach, replies, "I kinda feel a movement coming on myself."). Patrick and SpongeBob as hippies is a great visual gag, while the take-off on Bob Dylan's doc, Don't Look Back, is hilariously absurd (the flipping cards make no sense). And the final attack by the jellyfish has a large-scale feel to it that wraps up the toon quite satisfactorily. One of the better recent SpongeBobs.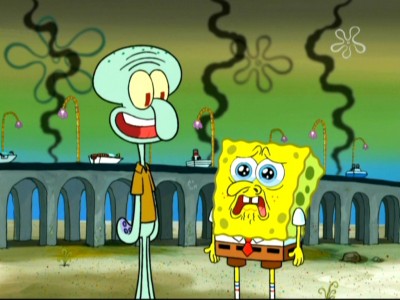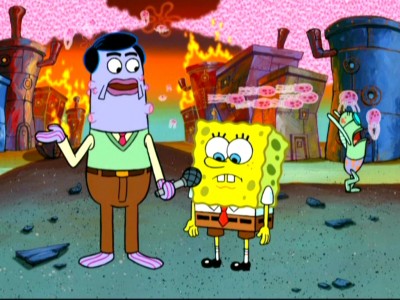 Pet or Pests is one of the more gloriously disgusting SpongeBobs I've seen (and I like them like that). During a game of leap frog, SpongeBob and Patrick come across "Mr. Wormsley," a grotesque, quivering worm that SpongeBob brings home. Gary doesn't like him ("Mr. Wormsley" barks at him), and things get worse between the pets when "Mr. Wormsley" gives birth to a handful of absolutely repulsive babies - an act that causes Gary to kick "Mr. Wormsley" out of the house. Now it's up to SpongeBob to care for the babies. SpongeBob toons always score a touchdown when they go for the gross-out, and Pet or Pests delivers with those revolting, nauseating worms (the animators turn up the stomach-churning quotient by having the babies always lolling uncontrollably back and forth, their eye goggling at nothing, until they hideously screech or vomit on someone - quite vile...and hilarious). Komputer Overload, a Plankton headliner (always a favorite), has the evil little sea creature suffering sagging sales at The Chum Bucket, while enduring more withering sarcasm from his computer wife, Karen (they could have their own sitcom). Deciding he can return to past glories and make new robots to help him get the Krabby Patty formula, Plankton creates some hilariously inept robots (I like the TU1 19A Kompu-Matic...which is a toaster) in the hopes of smashing The Krusty Krab. Some great stentorian line-readings for Plankton ("Oh, yeah! I don't need you! I'll show you, woman!"), along with a memorable, hilarious action film one-liner ("Bring on the boom-boom!"), but the writers really shouldn't have built up our expectations of Plankton's giant zord...and then not let him use it. Unusually good sound effects on the active audio track for this fun toon.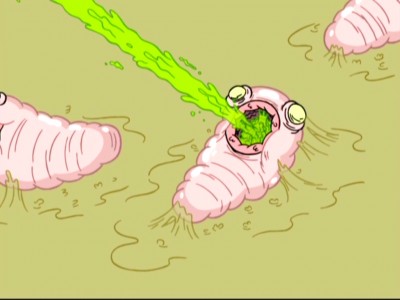 Gullible Pants is yet another variation on "SpongeBob screws up at work" theme. This time, he's left in charge of The Krusty Krab for all of 15 minutes (while Mr. Krabs gets an embarrassing manicure), an act of reluctant benevolence on Mr. Krabs' part that sends SpongeBob into orbit on the trail of rainbows. Of course, SpongeBob messes up by listening to terminally bitter Squidward, who manages to convince SpongeBob to dirty-up the Krab (some good, gloppy scenes with customers covered in slime). Overbooked is a clever, energetic entry, with SpongeBob overcommitted to three events all on the same night (Sandy's unveiling of her new invention; putting together Mr. Krabs' telescope at his house; and Patrick's birthday party), resulting in SpongeBob running around in a state of panic, trying to be a good little overachiever (a dependable laugh-getter for the character). SpongeBob gets naked in this one (always amusing), but Overbooked has one of the single funniest sight gags I've seen in a SpongeBob when, after forgetting to buy Patrick's cake, he takes the last one available. The salutation written on the cake? "Sorry about the scabies." Classic.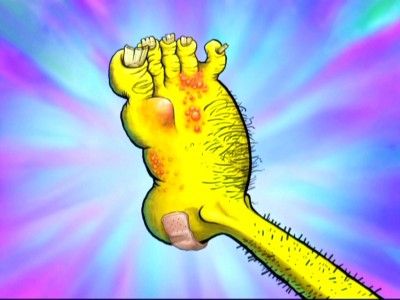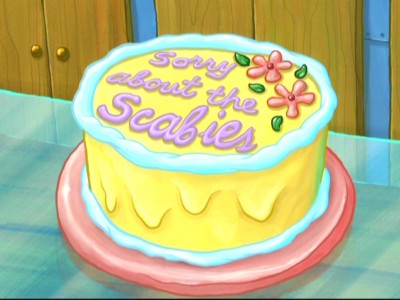 No Hat for Patrick, centered around Patrick's desire to get a job at The Krusty Krab just so he can wear one of the employee hats, succeeds not only because of the droll storyline, but also all the pratfalls Patrick suffers. Once Patrick earns the right to wear one of Mr. Krabs' hats, he immediately starts to fall down, with Mr. Krabs dubbing him "The Falling Fool" (love that moniker), and charging money for people to watch Patrick take a header. The toon builds nicely to its logical conclusion (people eventually get bored, so Mr. Krabs has to up the ante, eventually having Patrick fall off a high dive into spiny sea urchins), with a neatly observed wrap-up: the tiny little hat was just heavy enough to make barely-stable Patrick fall over. A clean, neat, funny little SpongeBob. And finally, Toy Store of Doom takes a classic childhood fantasy - who didn't want to get locked in overnight at the local toy store? - and twists it humorously around the SpongeBob conventions. Of course, the minute SpongeBob rebels or does something naughty, he pays for it, and sure enough, the minute the lights go out, little chickens SpongeBob and Patrick start to freak out. Patrick activates the flashlight in his head (until the batteries go dead) to see who is making those strange noises in the store, but eventually, SpongeBob decides to meet the enemy head-on...by dressing up like Rambo, complete with containers of blowing bubbles on his ammo belt, and liquorice whips for ropes. A silly SpongeBob that kids will particularly enjoy.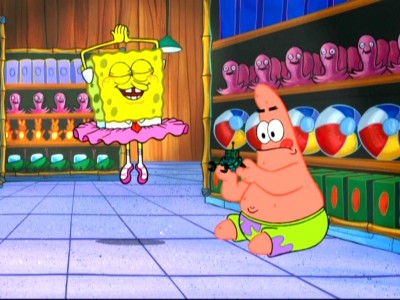 The DVD:

The Video:
As usual with these SpongeBob SquarePants DVDs, the full screen, 1.33:1 video transfers for the shorts look terrific, with incredibly bright colors and a super-sharp picture. There were no big compression issues to speak of (although interlacing is noticeable from time to time). Edge enhancement is acceptable.
The Audio:
The Dolby Digital English 2.0 stereo audio track is perfectly acceptable here, with appropriately loud recording levels and some discreet directionality (Komputer Overload sounds terrific here). All dialogue is cleanly and crisply rendered. Close-captions are available.
The Extras:
A few more extras this time around for a SpongeBob stand-alone. First, there's a sneak peek at Neptune's Party, which runs 2:11. Next up, Bollywood Bob, a music video in Bollywood style, runs 1:52, but since it only features the cast handing off the shape of SpongeBob back and forth, and not the actual character, it seems...incomplete. Much better is How To Make SpongeBob SquarePants, running 5:20, that shows you how to take a yellow sponge and some construction paper, and make your very own SpongeBob doll. We tried it, and my little kids loved it. Great extra. Finally, two karaoke music videos for Jellyfish Fields and the Jellyfishing Song are included. Nice extras for a stand-alone.
Final Thoughts:
A much-improved set of seven toons for a SpongeBob SquarePants stand-alone disc. SpongeBob SquarePants: SpongeBob's Last Stand features the new headliner (that hasn't aired yet), and it's a particularly well-crafted entry. The rest of the toons are solid, as well, providing plenty of laughs and gross-out humor. A perfect Easter basket-stuffer (but don't watch the grotesque Pet or Pests until after you eat your candy). I highly recommend SpongeBob SquarePants: SpongeBob's Last Stand.
---
Paul Mavis is an internationally published film and television historian, a member of the Online Film Critics Society, and the author of The Espionage Filmography.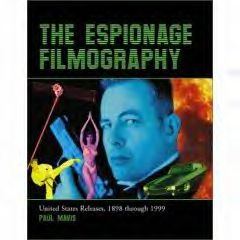 ---
C O N T E N T

---
V I D E O

---
A U D I O

---
E X T R A S

---
R E P L A Y

---
A D V I C E
Highly Recommended
---
E - M A I L
this review to a friend
Sponsored Links
Sponsored Links