SpongeBob SquarePants: Viking-Sized Adventures
List Price: $16.99 [Buy now and save at Amazon]
---
By this point, these collections really are hit-or-miss. You can come off some truly brilliant Season Six shorts like The Splinter, Slide Whistle Stooges, Boating Buddies, or The Slumber Party, and then...you get these relatively mild efforts. Nickelodeon and Paramount have released SpongeBob SquarePants: Viking-Sized Adventures, an eight cartoon collection featuring Dear Vikings, Ditchin', Grandpappy the Pirate, Cephalopod Lodge, Shuffleboarding, and Professor Squidward from Season Six, and Pineapple Fever and Chum Caverns from Season Seven. I wouldn't rate any of these shorts as top-rank SpongeBob efforts (although Pineapple Fever comes pretty close), and since they're on TV all the time, a recommendation is doubtful for SpongeBob SquarePants: Viking-Sized Adventures.
I've written extensively about SpongeBob SquarePants in previous reviews, so I won't go into a lot of background on the series and its place in pop culture (you can click on SpongeBob SquarePants: Season 4, Vol. 1, SpongeBob SquarePants: Season 4, Vol 2, SpongeBob SquarePants: Friend or Foe, SpongeBob SquarePants: Season 5, Vol. 1, SpongeBob SquarePants: Pest of the West, SpongeBob SquarePants: WhoBob WhatPants?, SpongeBob SquarePants: Season 5, Vol. 2, SpongeBob SquarePants - Spongicus, SpongeBob SquarePants: To SquarePants or Not to SquarePants, SpongeBob SquarePants: Season 6, Vol. 1, and SpongeBob SquarePants: Truth or Square, for those reviews). A reoccurring theme in my last few reviews has been the feeling that if SpongeBob hasn't outright been slipping in quality since Season Five, it's at least been wildly inconsistent, perhaps due to the increased number of episodes being produced (Season Six had 39 episodes alone, as opposed to Season Seven's planned 20). And nothing in SpongeBob SquarePants: Viking-Sized Adventures contradicts that impression that too many episodes may be diluting the formula (either that, or the concept is just plain played out after ten years). Good comedic set-ups anchor each short, but the gags - when they do bother to come - are less-than-inspired, while opportunities for many more laughs are either squandered or ignored. A telling example of this is the headlining short, Dear Vikings, another in a line of movie genre spoofs the writers of SpongeBob seem to enjoy plugging their insanely sunny character into (such as the successful spaghetti western satire, Pest of the West, and the not-so-successful gladiator send-up, Spongicus). Here, Mr. Krabs has devised an incredibly cheap promotional gimmick for The Krusty Krab: order the Viking-sized drink cup (which is the same size as every other cup), and the customer gets to try on a beat-up, 10-year-old cardboard Viking hat he found in his attic. SpongeBob, discovering he knows nothing about Vikings (and getting little help from a contemptuous Squidward, who makes up ridiculous lies about them), decides to write the marauders a letter, which miraculously finds its way to the Viking lair, high in the mountains. There, Gordon the Viking (the unrecognizable voice of Ian McShane) decides to visit SpongeBob...smashing and looting The Krusty Krab and kidnapping Patrick, Squidward and SpongeBob according to the Viking code of "redecorate, appropriate and liberate." Once on the boat, SpongeBob gets bored with the Viking way of life until he patches a hole in the hull with his body. And...that's...it. Surely one of the writers for Dear Vikings has seen a Viking film? There are countless clichés of the genre to exploit here, with enough spoofable material for a hundred good sight gags. But in spite of the agreeably silly SpongeBob way the material is set-up, Dear Vikings just lays there. The Viking destruction of The Krusty Krab is over too quickly, and then, once on their boat, nothing happens. There are one or two desultory gags about throwing flaming shields and Squidward getting catapulted off the boat, and then SpongeBob uses his sponge body to stop a leak in the boat (a weak gag we've seen numerous times before), and the short just ends, as if the scripters ran out of their allotted screen time. The comedic possibilities with Vikings and Viking films would seem abundant (just as they were for gladiator films in the equally underdeveloped Spongicus), but you'd never know it from Dear Vikings.
Ditchin' is far more successful in creating some movement and energy for its promising premise, even if the sometimes amusing gags could have been stronger. SpongeBob's and Patrick's favorite superheroes, Mermaid Man (voice of Ernest Borgnine) and Barnacle Boy (Tim Conway), have a new book out, and they're going to sign copies for their fans at the Bikini Bottom book store. Unfortunately, SpongeBob has boating class in the morning, and he never skips school. Patrick, however, comes up with an idea for SpongeBob: just tell Mrs. Puff he has to go to the bathroom, and then ditch class; get the autograph, and slip back into school before anyone knows. Naturally, Patrick and SpongeBob get sidelined heading back to school, before SpongeBob learns that all criminal behavior begins with skipping school. SpongeBob's twisted logic in denying himself relief in going to the bathroom the night before school (to make his request for a potty break more believable) is classic SpongeBob comedy (his subsequent leg-crossing fits in class are great), while the later dust-up between badminton opponent Dale and Johnny Law also fits in with the frequent SpongeBob riffs on campily square delinquency hijinks (I love the cop holding up Dale's "Quasi-Gummy Chewy Candy Fish," and spitting out, "Is this how you have fun? Eating your own kind? Scum like you make me sick!"). But more could have been done with the events that sideline the duo on their way back to school.
Pineapple Fever is probably the best effort here, with the promise of a pressure-cooker situation for SpongeBob, Patrick and Squidward as they're confined in SpongeBob's home, with a raging storm threatening outside. There's a beautifully sick joke when Squidward rips off a strip of skin when he's trying to pluck his eyebrow, courtesy of a perfectly-timed hammer blow next door by Patrick (they top the gag by letting Squidward smack his head on the toilet), and SpongeBob has one of his celebrated "annoying-to-the-10th-power-squared" moments when he lists - veeeeerrrrry slooooooowlyyyyy - all the cozy things they're going to do during the storm, like play board games, and drink cocoa, and watch TV. Patrick ages 60 years from excess brain activity (trying to figure out where the last piece of the jigsaw puzzle goes), and SpongeBob gets to affect a hilarious Communist bloc border patrol uniform - complete with a little Checkpoint Charlie barbed wire hut - to keep out Squidward when they play his "leave me alone" game, "Boundaries." All of this culminates in a bad case of cabin/"pineapple" fever, with everyone scrabbling around for food, but unfortunately, that final scene is far too short for the satisfying pay-off we want (I love SpongeBob screeching like an rabid monkey).
I thought Cave Dwellers might be a solid SpongeBob entry with its energetic opening. Plankton discovers Mr. Krabs' secret hiding place for the Krabby Patty formula, and in an effort to tunnel under the restaurant to get it, discovers a beautiful underground cavern with hideous, Time Machine-like Morlocks ready to be whipped into submission (the writers yet again get their kicks by letting Plankton use that bullwhip). But the short quickly deteriorates into a one-joke premise of Krabs and Plankton tunneling under each other, with both alternately crashing through the soil. This plays more like a try-out for a SpongeBob video game (as well as that old Dig Dug arcade game), than an actual short, and the laughs suffer for that design. Grandpappy the Pirate has almost no gags when Mr. Krabs' grandpappy comes to visit, expecting the restaurant owner to be what else, a pirate (the only good joke is when Grandpappy spots a sea monster: his granddaughter, Pearl). Cephalopod Lodge also suffers from a paucity of good sight gags, which shouldn't be the case with a natural set-up like SpongeBob getting Squidward kicked out his secret lodge (shouldn't more have been done inside the lodge, with bits about the rituals and initiation rites?). SpongeBob and the gang in chicken suits is funny - but that shouldn't be the best gag in the short. Shuffleboarding wastes the appearances of Borgnine and Conway, getting only minor laughs with the boomeranging "mermarang," and their "Wonder Twin powers" ring trick. And finally, Professor Squidward plays all too much like a retread of numerous other "SpongeBob-in-class" shorts, with curiously few if any jokes or sight gags in what should have been at least a by-the-numbers effort.
The DVD:

The Video:
As usual with these SpongeBob SquarePants DVDs, the full screen, 1.33:1 video transfers for the shorts look terrific, with incredibly bright colors and a super-sharp picture. There were no big compression issues to speak of (although interlacing is noticeable from time to time). Edge enhancement is acceptable.
The Audio:
The Dolby Digital English 2.0 stereo audio track is perfectly acceptable here, with appropriately loud recording levels and some discreet directionality. All dialogue is cleanly and crisply rendered. Close-captions are available.
The Extras:
Only some storyboards and character art are available in a gallery option in the special features section.
Final Thoughts:
Only Pineapple Fever comes close to being a top-flight SpongeBob short, so without the appeal of having a sweet little grouping of the best possible offerings from Season Six and Seven, there isn't much point in purchasing SpongeBob SquarePants: Viking-Sized Adventures...particularly when these are on TV all the time. Kids won't mind watching it once, though, if you need a quick rental.
---
Paul Mavis is an internationally published film and television historian, a member of the Online Film Critics Society, and the author of The Espionage Filmography.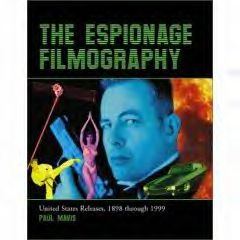 Sponsored Links
Sponsored Links