Wondering what to get that special film-lover in your life? How about an ultra-cool boxed set? There have been some excellent collections released recently, and you can't go wrong with any of these:
---
Batman The Complete TV Series Limited Edition Blu-ray : This guide starts off with a title that fans have been clamoring for: the 1966 Batman TV series. An influential show that is still referenced to this day, the pop-art imagery and the campy stories have made this a classic. At last the whole series is available in a very cool boxed set with some neat pack-ins and some worthy extras (though commentary tracks are notably missing). Still, it's a fantastic set and one that is sure to put a smile on the face of anyone who receives it this holiday season.


The Wonder Years: The Complete Series: Every year Time Life releases at least one big classic TV set, and it's always a doozy. Past releases have included The Dean Martin Celebrity Roasts: Complete DVD Collection, China Beach - The Complete Series, and Mighty Morphin Power Rangers: The Complete Series. This year the folks at Time-Life really outdid themselves by releasing The Wonder Years. A touching, sweet, and funny show that was incredibly popular when it first aired; it is a show that most people predicted would never see the light of day. The problem was the music. An integral part of this show, the classic 60's rock that permeated the episodes not only set the time, but also established a mood. Without it the show just wouldn't work. Licensing those tracks costs money, and thankfully Time/Life in cooperation with Fox Studios was willing to pay the expense. The show has an astounding 96% of its original music intact. The Wonder Years is a great show that finally gets the release that it deserves.


Herzog: The Collection: Have someone on your gift list who loves foreign films or just very high quality cinema? This set is for them. There is no filmmaker quite like Werner Herzog. His idiosyncratic, Bavarian sensibility manifests itself in films that can be ridiculous, gorgeous, surreal, and naturalistic, often all at the same time. The 16 films featured in Shout! Factory's new 13-disc Blu-ray box set are essentially the filmmaker's best known films from 1970 until 1999 including: Aguirre, The Wrath of God (watch the first five minutes and your hooked), Nosferatu the Vampyre (his remake of F.W. Murnau's classic silent film) and the legendary Fitzcarraldo where Herzog had South American natives actually drag a full-sized river boat over a mountain using nothing but sinew and pulleys. The films range from good-to-classic (nothing less) and are often complimented by entertaining and illuminating commentaries by the auteur himself. This is a giant, vital chunk of cinema history, all in one convenient collection.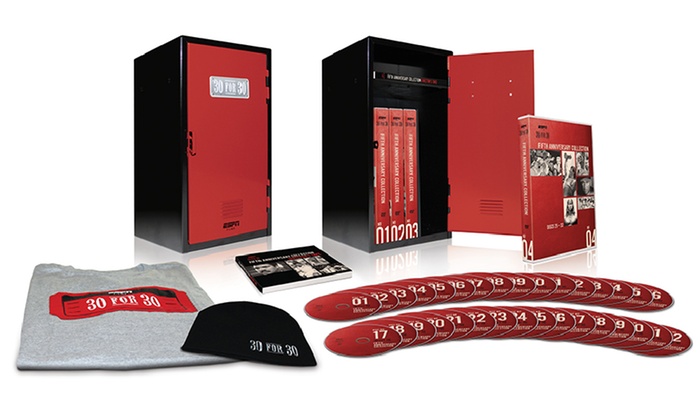 ESPN 30 for 30 Fifth Anniversary Ultimate Collector's DVD Set: Have a sports fan you want to get something special for? Look no further than ESPN's 30 for 30 line of films. To celebrate the 5th anniversary of the series ESPN has come up with an impressive set containing all of the 30 for 30 titles (up through August 2014). That's more than 100 (!) of the best sports documentaries of all time. The 32-disc set arrives in a very cool metal locker and inside, in addition to the DVDs, are some great bonuses: a 30 for 30 T-shirt, a hat, a commemorative fifth anniversary to all 100 films, a poster, and a Director's Take book book. All told it's 114 hours worth of sports goodness. This set is only available through Groupon however, and it's a limited edition so get your order in before they're all snatched up.


Steven Spielberg - Director's Collection: One of the most popular directors of all time, Steven Spielberg has crafted films that are part of the American psyche. This remarkable collection gathers eight films, a few which are new to Blu-ray and includes some of his biggest hits and lesser known, but equally impressive, films. The hits Jaws, E.T. The Extra-Terrestrial, Jurassic Park, and The Lost World: Jurassic Park are here, as well as Duel (new to Blu-ray) the director's first film, a made-for-TV flick that is tense, suspenseful, and one of the best movies ABC ever commissioned. Spielberg's famous bomb, 1941, is included with both the theatrical cut and the preview version (which adds back nearly 30 minutes of footage) being present. The Sugarland Express and Always round out this collection from one of the most influential directors of our time. Well worth the price.


Universal Classic Monsters: Complete 30-Film Collection: This massive set reminds us of how totally fun monster movies can be. It collects virtually all of the classic Universal monster movies in one box: Dracula, Frankenstein, Men both Invisible and Wolf along with their sons, daughters, brides, tombs, and houses. And after all that mayhem, Abbott and Costello jump in for a trio of fun romps. They're all here, 30 movies spread out over 21 discs in six cases (each monster gets his own case). While these have been released before this set does port over all of the extras that the previous releases boasted (which is a lot) and this can be had for a ridiculously reasonable price (less than $3/film (!) at this writing). Horror fans should know that owning all of these movies is absolutely essential, and here they all are, under one roof.


The Red Skelton Show: The Early Years 1951-1955 : Funnyman Red Skelton headed a comedy-variety show on television for twenty straight years from 1951 to 1971. It was popular enough to remain in the Top 20 of the Nielsen ratings for almost all of that time. Shout! Factory's Timeless Media imprint brings the earliest days of the show back with this collection which features 90 half-hour episodes on 10 discs and also includes a bonus disc with two other episodes and some interesting supplements. Red Skelton was a genius, a performer's performer whose imagination and timing are wonders to behold. This set captures his landmark TV show at a time when Skelton and his writers and producers were still experimenting with what exactly the show could and should be. And that frequent tinkering and experimenting is the core of what makes Red Skelton fascinating to watch, and what makes his frequent ad-libs and asides better than what dozens of others could have written.


Reno 911: The Complete Series: A near perfect parody of reality shows in general and the program Cops in particular, Reno 911! shows no signs of aging now (over 10 years after it first hit Comedy Central) and the 88 episodes here are tremendous fun, filled with excellent performances from some of the best in comedy. This set, which reproduces the six solid previous sets in one handy, cost-effective, if bulky package, is a great way for the uninitiated to dive in. Worth watching again and again.


Pee-wee's Playhouse: The Complete Series: Back in the 1980's, when it first aired on Saturday mornings, Pee-Wee's Playhouse was a world of wonder. A bizarre clubhouse full of oddball people, weird puppets and strange cartoons, was like a world you weren't supposed to see, but somehow got a chance to sneak into once every seven days. All these years later, the silly fun of Pee-wee's Playhouse remains a joy to watch, and now, a new generation can enjoy it with the same enthusiasm. The quality of the set in high-definition is outstanding, and Shout! Factory has loaded the set with a fantastic amount of retrospective bonus content. The clubhouse is just as much fun as you remember.


Agatha Christie's Poirot: Complete Cases Collection: After an impressive 25 years, David Suchet's iconic portrayal of Agatha Christie's famous Belgian detective comes to an end. Now mystery fans can get the entire run of the series, from his first mystery, The Adventure of the Clapham Cook , the final one, Curtain: Poirot's Last Case. This massive set is filled with all 13 seasons that have been remastered and restored to original UK broadcast order. In addition there are hours of bonus features. The collection is available in both Blu-ray (28 discs) and DVD (33 discs). [Review coming soon… we're still making our way through this huge set.]

Titles That Might Have Flown Under the Radar

There are a lot of movies, TV shows, and specials released every year and it can be daunting to keep up with everythign that comes out. Even the most ardent cinephile is bound to miss something: an independent film that didn't get much press, a great new transfer on a classic film, a high quality collection of rare shorts, or a niche flick that is put out by a MOD program like Warner Archives. The items on this list are things that many people just missed, and would make fantastic holiday gifts.

---
White Christmas: Diamond Anniversary Edition: Sure, everyone knows this film but not everyone realizes that Paramount's Blu-ray release of this holiday classic is also one of the year's best releases. The first film shot in the large-negative VistaVision process, the super-sharp, super-rich Technicolor-printed image is ideally suited to the Blu-ray format and is absolutely stunning. Watching it on a big widescreen TV comes close to the same feeling of awe one experienced with pristine 70mm roadshow prints in the big downtown palaces decades ago. A great gift for the whole family.


Los Angeles Plays Itself: If you want to really surprise the film fan on your list with a truly great film that they probably haven't heard of, much less seen, this is the one to get. Ninety-five percent of Thom Andersen's three-hour documentary consists of clips from various films, ranging from blockbusters to oddball obscurities, which are edited together with narration to explore the evolving relationship between the American movie business and its well-known hometown. The text (read by Encke King) is engaging, cogent and incredibly interesting. It provides a lot of food for thought as well as plenty of selections to be added to one's "To-Watch" and "To-Rewatch" lists. Tragically this 2003 movie was never widely released and only now makes its first appearance on home video. It would make the perfect gift to surprise the cinephile in your life.


The Marx Brothers TV Collection This is really a treasure trove of very rare material that will surprise and delight hard-core and casual fans alike. A quality set all around, Bill Marx (one of Harpo's sons) and Robert S. Bader have really put together an enlightening, entertaining package of material. Featuring both solo and group performances (including the Bros.' last-ever joint appearance on a General Electric Theater episode called "The Incredible Jewel Robbery") this three-disc set is filled with complete shows, excerpts from others, TV commercials and other miscellanea that is simply amazing. Even better, some of these shows, heretofore available only as copy-of-a-copy bootlegs, are often presented via clean crisp transfers. A must-buy for the classic comedy fan on your gift list.


Technicolor Dreams and Black and White Nightmares: Thunderbean is a smaller company that searches out rare and unusual animated films, cleans them up, and releases them on DVD. With this impressive collection Thunderbean puts out their first Blu-ray collection of cartoons, and what an impressive set it is. Filled with rare, odd (in a good way) and wonderful cartoons this is will be a fantastic gift for anyone who has the slightest interest in animation. Not only are the cartoons included in the main program great, but there are some really good odds and ends that are found in the extras menu too!


Doctor Who: An Adventure in Space and Time: Know someone who is a fan of the long-running British SF series Doctor Who? They'll love this film that celebrates the show's origins. This feature-length tale celebrates Doctor Who's golden anniversary by turning the clock all the way back to 1963. The crisis of the day isn't an Ice Warrior invasion but the BBC suffering from a gaping 25 minute hole in its schedule. Newly-instated exec Sydney Newman (Brian Cox) has some ideas on how to fill it, but a science fiction program for kids? Something about time travel and secreted history lessons for the junior set? No one at the BBC takes this "Doctor Who" project all that seriously, and the same goes for the young upstarts that Newman hires to bring his vision to TV.

Fantastic Mr. Fox : The Criterion Collection presents director Wes Anderson's most underrated to date: an animated take on the Roald Dahl classic Fantastic Mr. Fox. Beautifully crafted stop-action animation, an expertly-adapted Dahl book and a spectacular cast add up to a charming film that's almost the anti-Pixar: aimed at entertaining adults, while offering enough cute animal antics to be keep older kids involved. The package Criterion has put together is deep, informative and enjoyable, supplementing a top-notch presentation and highlighting both the movie and its source material. Anderson fans won't need much encouragement, but if you know someone who passed on the fuzzy fox movie before, here's your chance to correct that error.

---
Warner Archives: Want to really surprise someone this holiday season? Get them a Made-On-Demand (MOD) film from Warner Archives. They studio has found the perfect vehicle to distribute hard-to-find niche and cult titles to anxious fans: instead of pressing thousands and thousands of copies and sending them to a distributor's warehouse where they may just sit, Warner is burning discs as they are ordered. Available through their web site, you won't find these titles in your local Best Buy or Walmart, and therefore they don't get nearly the amount of press they deserve. They have a lot to offer, but here are a few standouts:



---
Dr. Kildare Movie Collection: A five-disc, nine-title collection of Metro-Goldwyn-Mayer's popular, influential high-end B series, based on author Max Brand's character, and starring Lew Ayres and Lionel Barrymore. This release from Warner's Archive Collection fills in an important missing piece of Metro's B series catalog on disc, so fans and historians will take special note of this entertaining gathering. The Dr. Kildare movies arguably defined the subsequent medico-drama subgenre. If you see a movie or TV show after 1938 that contains a young, dedicated, passionate doctor/nurse/medical student who clashes with his or her grumpy, seemingly misanthropic, brilliant older mentor over ethical/scientific issues, hen that movie or TV program owes a lot of its inspiration to these speedy, entertaining formula Kildare's. These are essential Hollywood history and also pretty entertaining.


Yankee Doodle Dandy (Blu-ray): Warner Archives has put out a few Blu-ray discs, and this is one of the most impressive. Not only is the film fantastic, but the A/V presentation is definitely amongst the finest we've seen for a film of this age. James Cagney consistently lights up the screen for two-plus hours in his Oscar-winning role as real-life Broadway legend George M. Cohan. Cagney's version of Cohan is a brash, self-centered braggart, the kind of go-getter most folks only dream they could ever be. He is full of himself, but one shouldn't mistake Cohan for a flawed protagonist; Cagney's characterization relies on the fact that the man has enough talent to back up that oversized ego, making him endearingly eccentric. Add in an outstanding running commentary by film historian Rudy Behlmer and over two hours of additional extras and you've got a perfect holiday gift.


Elmer, the Great : The great thing about the Warner Archives is that they release great titles featuring stars that are largely (and unjustly) forgotten. Take for example this title featuring funnyman Joe E. Brown in one of his best-known--and best--roles. His natural athleticism is matched by his beautifully choreographed, deliberately awkward preening in this baseball comedy. There are big laughs anytime Brown blinks those shrewd, tiny eyes of his and screws up that satchel-sized mouth to say something both cocky and guileless, creating a uniquely American comedic character: the annoying, infuriating showboat who doesn't seem to know what's what...but who can back up his mouth in the end and make us like him.