List Price: $27.98 [Buy now and save at Amazon]
---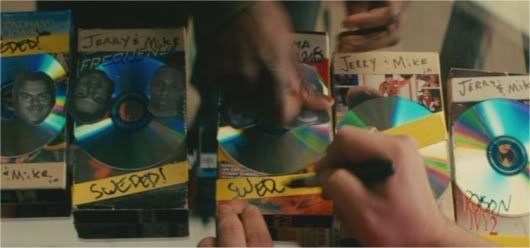 "It's all about the locals". That's what Michel Gondry reminded us during his 2006 documentary Dave Chappelle's Block Party, so it's no surprise that Be Kind Rewind (2008) takes his message one step further. Like its spontaneous, free-flowing predecessor, this tale of cassettes and creativity mixes local flavor with plenty of passion and heart. Those looking for another Eternal Sunshine of the Spotless Mind should look elsewhere, but you're still invited to the party.
Our story revolves around Jerry and Mike (Jack Black and Mos Def, respectively), who work less than a block from each other in Passaic, New Jersey. Jerry earns his paycheck at a local junkyard and lives in a trailer. Mike bides his time in a run-down thrift and movie rental store, stocked tightly with about 200 VHS tapes. After Jerry decides to sabotage the junkyard's electrical generator with or without Mike's help, an accident causes his body to become magnetized. As a frequent loiterer in the video store, it isn't long before Jerry's condition wreaks havoc on Mike's inventory. Since the building already violates city codes and is up for demolition in a few weeks, the future looks grim for Mike and the store's owner, Mr. Fletcher (Danny Glover). In typical comedy fashion, our band of outsiders have "x" amount of time to raise "y" number of dollars, before "z" swoops in and ruins the party.
Luckily, Jerry and Mike come up with a plan: to re-enact the store's entire library of movies, using trick protography, homemade props and locals to create "Sweded" versions. Through clever kitchen table effects, we're taken on a whirlwind tour of well-known films and a fictional documentary about "Passaic native" Fats Waller, who allegedly grew up in Mr. Fletcher's building. It's all tongue-in-cheek, of course: Be Kind Rewind wears its heart on its sleeve, serving as a call to action for creative individuals of all ages to get outside and make their own movies. Cinema Paradiso it ain't, however: the film takes a bit too long to get going, but the winning charm of our heroes holds everything together like glue. It may be remembered as one of Michel Gondry's minor efforts, but make no mistake about it: Be Kind Rewind is an engaging, heartfelt endeavor that movie fans should certainly enjoy.
It goes without saying that Be Kind Rewind doesn't rely on its goofball roots to entertain us; this is merely a means to an end. Along the way, it develops into an involving tale of unity and support for small neighborhoods, culminating in a truly moving climax that greatly overshadows its sketchy first act. Black and Mos Def bring the necessary amount of charisma and style to their respective roles, as do Glover and several local Passaic supporting characters. Gondry's trademark visual inventiveness, developed during his years as a music video director, is on moderate display here, though it remains as noticeably understated as ever. As always, the effects are done in-camera to creative a truly spontaneous atmosphere.
Presented on DVD by New Line Home Entertainment, Be Kind Rewind manages to play quite well on the small screen. The stylized technical presentation has been preserved nicely, but this release is seriously hindered by a lack of meaty bonus features. It's still worth a few spins, though it's not hard to imagine a more substantial double-dip in the near future. Before the technical portion of the review, however, there's one more thing worth pointing out...
Reviewer's Note: Fans will be interested to learn that a new scene has been inserted directly into the film for this release, though it's not advertised anywhere on the packaging. Dubbed "Michel Gondry's Added Train Scene" on the DVD Credits menu (below right), this brief sequence begins just before the 20-minute mark and runs for less than a minute. Interestingly enough, it changes Mr. Fletcher quite a bit: remember when he left for the "Fats Waller memorial", but ended up spying on West Coast Video instead? Well, it turns out that he went after all. Here, he chats with a few old friends about his failing business; in turn, they encourage him to adapt and give his customers what they want. His character seems a lot more honest and empathetic because of this, so the new scene is certainly a welcome addition in my book.

Video & Audio Quality
Presented in its original 2.35:1 aspect ratio and enhanced for 16x9 displays, Be Kind Rewind looks excellent from start to finish. A 1.33:1 pan-and-scan version is also included on this one-sided disc, but the compression quality doesn't seem to have been affected. The slightly desaturated color palette has been preserved nicely, while black levels and image detail are both solid. Overall, fans won't be disappointed.
The Dolby Digital 5.1 presentation (also available in an English 2.0 Surround mix) is also satisfactory, featuring clear dialogue and robust music cues. Surround activity is generally light, though a few clever directional effects keep things interesting. Optional English & Spanish subtitles are available during the film and one of the extras, while Closed Captions are only offered during the main feature.
Menu Design, Presentation & Packaging

Seen above, the animated menu designs are basic and easy to navigate. The 102-minute main feature has been divided into 24 chapters, while no obvious layer change was detected during playback. This one-disc release is housed in a standard black keepcase; in lieu of inserts, a matching slipcover has been included. Oddly enough, it covers up the movie description and technical information on the back with artwork and a few quotes.

Bonus Features

Here's where New Line completely dropped the ball. Only two brief extras have been included; especially disappointing, given the creative and "homemade" nature of the film. A featurette entitled "Passaic Mosaic" (10:28) is appropriate enough, featuring chats with members of the cast, crew and plenty of locals. Aside from a brief history of the town itself, it's also interesting to hear how the residents were involved in the production, either as extras or "consultants". Those looking for a more technically-minded featurette will be disappointed, but this is still certainly worth a look. The only other extra is the film's Theatrical Trailer (2:26). Both are presented in anamorphic widescreen, but only the first includes optional subtitles.

Due to this lack of bonus features, I'd imagine that fans should expect a Special Edition in the months to come (see also: Eternal Sunshine)...but why couldn't the studio at least throw in the stand-alone "Sweded" movies, or at least the alternate trailer? All are readily available online, but to have everything in one place would've been nice. Perhaps the next effort will include such obvious choices, or at least a commentary and a few more featurettes. This decidedly compact version still holds up fairly well, but die-hard fans should probably hold out for a more ambitious release.

Be Kind Rewind is a bit rough around the edges, but that's just part of its charm. The down-to-earth approach of Michel Gondry's latest film is certainly reminiscent of his previous effort, Dave Chappelle's Block Party, putting locals on a pedestal without pandering to the audience. Simply put (and paraphrased from a quote on the back cover), it's a film for people who love movies: creative and passionate, the surprisingly touching third act brings everything together nicely. New Line's DVD package offers a solid technical presentation, but the lack of bonus features certainly takes this release down a notch. Die-hard fans of the film are encouraged to wait for a Special Edition, but most should find this one-disc release satisfying enough. Recommended.
---
Randy Miller III is an affable office monkey based in Harrisburg, PA. He also does freelance graphic design projects and works in a local gallery. When he's not doing that, he enjoys slacking off, second-guessing himself and writing things in third person.
---

---
C O N T E N T

---
V I D E O

---
A U D I O

---
E X T R A S

---
R E P L A Y

---
A D V I C E
Recommended
---
E - M A I L
this review to a friend
Sponsored Links
Sponsored Links